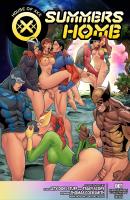 About This Club
An X-Rated X-Men Roleplay. Heroes and villains alike welcome, as well as canon and OC as long as the OC fits the X-Men/Marvel Universe!
---
Type of Club
Roleplay Club
What's new in this club

Okay started in hellfire club.

Austin was a young man, simply trying to live a normal life, even though that in itself wasn't easy. He was a mutant, someone with powers. Thankfully, his parents still accepted him, loved him, despite this. Recently, he had been given a mysterious invitation by a tall woman, whom he could have sworn had blue alluring skin and body. On this night,...

Nope. Feel free to start it anywhere.

Alright, is there a particular topic I should start In for this? I'll be playing an OC.

Just list what characters you play here. There can be multiple people playing the same characters. It can make things much more interesting. Kitten Plays: Emma Frost Lady Deathstrike [Yuriko] Mystique [Raven] Stepford Cuckoos [Celeste, Mindee, Esme, Phoebe, Sophie] Sabretooth [Victor Creed]

Well to stick with what you know for now, think you can play Both Emma and Mystique?

I've really only played the Stepford Cuckoos and Emma. But I'm open to playing others. I've also played Mystique and Yuriko [Lady Deathstrike].

Depends really on how many female characters you can play.

Who are you looking for? I can play anyone for now until we get more members.

Hop in where though? Don't really know what female canon characters you will be playing besides Emma of course.

Thank you. It's not done yet but feel free to hop in and I'll reply

Austin Skywalker joined the club

The Brotherhood is a group of mutants who oppose humanity. This is where their members and allies lurk. It is similar to the X-Mansion and has all the required necessities.

The X-Mansion is the main headquarters of the X-Men. Most of the members live on-site as it is easier. There are bedrooms, gyms, a kitchen, and many more places to explore. There is also a large grounds for anyone who wishes to take walks or just get outside.

Emma's domain. The HellFire Club is an elite club of mutants. The Club consists of various private and VIP Rooms. There is a bar area and much more. HellFire Club is open to any and all Mutants, but upon entering, they play by The White Queen's rules. Should they break any, punishments are doled out swiftly and efficiently.

Welcome to X-Men After Dark! This is an X-Men/Marvelverse RP. Heroes and villains alike are welcome. I hope you enjoy your stay here!
Newsletter

Want to keep up to date with all our latest news and information?

Sign Up