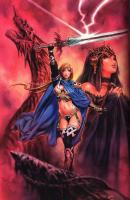 In the world of Haven, There are legends of heroes and monsters littering the lands. Things were beginning to settle down. However, this was but a calm before the storm. The demons and banished lower races launched a massive attack that has triggered a new and very destructive war. And now the higher races are under threat from a renewed and deadly army. However, there is hope. A rising band of knights of both magical and more mundane means. They may start out rather rough, But they seem to be the best hope for this world.   Though, demons and many lower races have ways to corrupt even these brave heroes and heroines.
Rules:
1. Be decent to each other OOC.
2. No God Mod, Mary Sue, etc.
3. Magic is allowed, though the character should have some independent martial skill.
4. Feel free to suggest lore bits, locations, bestiary, etc. though I have final say.
5. Can adjust rules as needed.
6. Have Fun!
Newsletter

Want to keep up to date with all our latest news and information?

Sign Up