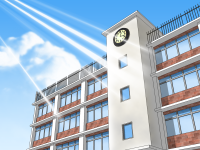 School Grounds
These topics will serve as the 3 Homeroom classes, (1 for each grade level) , club rooms, athletic facilities, cafeteria, and school roof (because anime)
Do be sure to behave yourself on school grounds, and if you want to engage in "other activity" invite your friend(s) to the "Off campus" thread! Any students engaging in illicit or immoral activity on school grounds will be punished by teachers or staff.
---
7 topics in this forum
Ms. Kutsunai kicks up her legs on her desk, excited to meet her students.

Mr. Hondo writes his name on the chalkboard, eager to meet his class.

A large, acoustically balanced room, with soundproofed walls. There are chairs and stands for sheet music, adequate for practicing solo or in a group. The centerpiece of the room is a well maintained and tuned baby grand piano.

Lots of tables for eating or chatting with classmates.

Mr. Araki closes his eyes and relaxes, waiting for students to begin arriving.

Make sure you bring your P.E. uniform!
Recently Browsing   

0 Dreamers

There are no registered users currently online