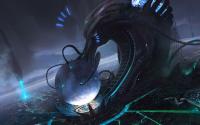 GBG Catagory Types
Galactic Battle Girls or also known as GBG, they are an organization who use volunteers or those who are ill that have no cure and on the edge of death by consent the patients or their parents or guardians are allowed to sign a paper for a chance to have a second chance for life and to fight against alien invasions and wars on earth or in space. Only Females are allowed to join the GBG, before the volunteers become official GBG Agents, they first go through a test to see what catagory they will be placed in. After that they are then sent to a scientific facility to be prepared to chance into Battle Girls. The different types of catagories are as follows: Android, Biohazard, Chemical, Creature, E.M.L, Eden, Energy, Gynoid, Mercenary, Military, Mutation, Phobia, Scientific, Special Forces, Unknown, and Vocaloid. Their bodies are then transformed and equipped with special liquids and/or weapons to help them fight in battle if they are given a type of liquid then they must be sure to keep that liquid refilled or they could die without it.
After the transformation they are given a weeks worth of rest day for them to get use to their new body, alongside with their last name being changed to the type of catagory they have been placed, and their title becomes Galactic Battle Girl and at the end of the title they are given a nickname to the type of catagory they have been equipped with, for example Nio Biohazard has been equipped with Plutonium so her title is Galactic Battle Girl Plutonium, they then begin their training. Once the GBG has finished with new soldiers they send them out into the world, the girls are then given their girst mission as a test run to make sure their new bodies are working fine outside and inside of combat, they are sent to both earth and space for their first test run, to see how they do on land, water, and air if they can fly or swim outside and inside combat and then into space to see how they do inside and outside of combat in open space or traveling to other planets.
Recently Browsing

0 members

No registered users viewing this page.