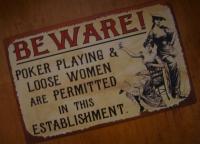 The Saloon
This is where the main threads will take place, along with special events!
---
6 topics in this forum
The Pearly Gates Saloon, six months had passed since it had undergone the name change with the appointment of new management. Two of those months being spent on repairs after a violent and destructive shootout had left the place rather uninviting. Another two months convincing suppliers that it was once again a legitimate establishment that would pay for shipments finally. An additional two months to get new gambling tables and hire people that could make the saloon profitable again. Six long months and it felt like hell just to get everything up and running once again. The new owner had never tried to run a business before, having made his living up until now as mor…

On a sign by the front of the saloon is a list of rules for the customers who enter the Pearly Gates Saloon. Rule 1. No fighting! Rule 2. No shotguns or rifles! Rule 3. No spitting! Rule 4. Ladies touch first! Rule 5. Always pay for your drinks! Underneath was a rule that had been scratched out by the new management. Rule 6. No Gambling

Rules: Post Length: This is designed to be a more laid back club for advanced Role Players. As such, I only ask for a minimum of one paragraph but feel free to go beyond. Gender/Species: Think of this as more of an AU rather than historical representation. Anthros, and all variations on gender are allowed. Violence: This is the wild west, so shooutouts are liable to happen. If you wish to engage in a violent confrontation with another player's character please consult the player FIRST. Any shootouts that occur outside the Saloon should be posted in their own idividual thread. Sex: The Pearly Gates is a Saloon and a Brothel meaning working girls will be…

Inside Liams toom after watching the dark skinned temptress prance around in her underthings, he almost wanted to completely forgo the bath and get right to things... but really he knew he would enjoy himself far more once he had had a bath. He chuckled. "Well thank you Coco... ive been walking and ridimg nonstop for a few weeks. Its good to get some rest." He said as she removed his boots and he began to divest himself of clothing as well, placing a dark hat off to the side and sighing. "Oh... and you can call me Liam lass."

Dack raised his eyebrows at her words, happily taking her hand and following her up to the room, his eyes fixed on her hips the whole way. She was really something else, she had a fire about her that got him very excited. When they got to the room he looked around with a smirk as he set his hat on the rack by the door, removing his duster and hanging it in the same place

Once the office door was opened, he pulled Gemini inside and quickly locked the door. He knew they didnt exactly have a lot of time before he needed to go back out to man the bar but had Gemini not been so insistent on having some fun... well... easy enough to say that the experienced cowboy still had hard time saying 'no'. He took off his hat and placed it on the rack before allowing a hand to coil around Gemini's waist to pull her body close to his. He locked eyes with her briefly before leaning in to place his lips over hers. Their kiss deepening as his other hand moved up the back of her leg under her dress to grab her ass cheek lustfully in his palm.
Recently Browsing   

0 Dreamers

There are no registered users currently online