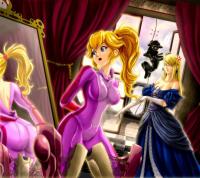 Roleplays(1-On-1)
For those private-ish roleplays. Those of you who want Mario to fuck Peach for once, probably go here.
---
2 topics in this forum
Hello everyone, Rucio here. It's been a while since anything's happened here, and I'll gladly admit I haven't been as active as I would like, but with a new year comes a new desire to Smash! Puns aside, I've realized actual rules for 1-On-1 Roleplays aren't really thing yet, and with @Commander Leafers bravely making the first post, I figured now probably is a good idea to set some ground rules. (Don't worry Leafers, you didn't do anything wrong, this is for future reference. You're fine.) 1) Standard Roleplaying Rules Apply! If something is not mentioned in these rules, the Standard Roleplaying Rules (from this point on referred to as "The Standard") will be th…

Link, after trying to beat Ganon the Demon King 13 times, awaited a challenger, any challenger, to train him against the tyrant from the underworld. His best bet was the Mario universe, as it holds most fighters.
Recently Browsing   

0 Dreamers

There are no registered users currently online