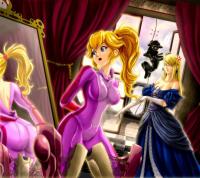 (OOC) Character Select Screen
Contrary to the name, this is not exclusively about picking your characters. Talk about anything involving this club, be it planning the roleplays, how charaxters will interact... How broken Bayonetta was... All that good stuff!
Special thanks to Sunstone for reminding me to make an OOC topic, because I am a fool.
---
2 topics in this forum
This is the list of all the available characters, Assist Trophies that are requested will be added at the bottom. Mario:-- DK:-- kingddude Link:-- Commander Leafers Samus:-- Dark Samus:-- Yoshi:-- Kirby:-- Fox:-- Pikachu:-- Ness: Commander Leafers Captain Falcon:-- Jigglypuff:-- Luigi:-- Peach: Previously Aura, may be inherited or Peach can be "reloaded" as a fresh start. Daisy:-- Bowser:-- Ice Climber(s):--/-- Sheik:-- Dr. Mario (does this count as unique?):-- Pichu:-- Falco:-- Marth:-- Lucina:-- Robin(Male):-- Robin(Female):-- Young Link(Also…

Welp, this is the main OOC chain in the OOC category, because I am not great with coming up with names. This would be where everyone talks about either the games themselves, or plans out the next stages of their roleplays. That being said, thank god Bayonetta is being nerfed to the edge of existence in Ultimate because I do not want to deal with that ridiculously broken character again! So... I hope everyone has a good time roleplaying, and smashing everyone you meet! ... I did the pun again, didn't I?
Recently Browsing   

0 Dreamers

There are no registered users currently online