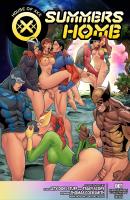 3 topics in this forum
Emma's domain. The HellFire Club is an elite club of mutants. The Club consists of various private and VIP Rooms. There is a bar area and much more. HellFire Club is open to any and all Mutants, but upon entering, they play by The White Queen's rules. Should they break any, punishments are doled out swiftly and efficiently.

The Brotherhood is a group of mutants who oppose humanity. This is where their members and allies lurk. It is similar to the X-Mansion and has all the required necessities.

The X-Mansion is the main headquarters of the X-Men. Most of the members live on-site as it is easier. There are bedrooms, gyms, a kitchen, and many more places to explore. There is also a large grounds for anyone who wishes to take walks or just get outside.
Recently Browsing   

0 Dreamers

There are no registered users currently online