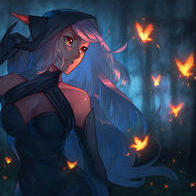 This topic is now closed to further replies.
---
Recently Browsing

0 members

No registered users viewing this page.

Similar Content

By

Neptune

Warning: This Side Story will contain scenes of a graphic sexual nature. This includes, but is not limited to, non consensual sex, bondage, rough sex, prostitution. If you find either of these themes distasteful, then please do not read. This thread will not contain any sex; it is an adventure thread.
Participants: Zack Winter and Aria Gale.
Description: After becoming frustrated with his wife at work, Zack had disappeared to buy alcohol and cigarettes in an effort to calm down. On his way back, he encountered a young, shy prostitute who offered to sell him her virginity. After some consideration, he decided to accept her offer and has taken her to the Star Lite Motel to take advantage of her services.
-x-x-x-x-x-x-x-
Normally, Zack wouldn't be able to stand the sight of a woman crying. Especially one so young and innocent. But today, it was bringing out a beast within him that was demanding to allow free reign on this unsuspecting woman. He wasn't entirely sure if he should give into its demands, and yet he found himself not really caring as to what would happen to this young woman. He didn't really care for what she wanted. Despite her insistence on a condom unless he paid more, he was going to fuck her without one regardless. He did have some condoms on him, for when he usually fucked prostitutes. After all, he didn't want to contract an STD from them. But this was a young, innocent young woman. Yet untouched by anyone else. It was a rare chance to go flesh on flesh without the fear of becoming infected with some disease. Plus, he was getting a strange thrill out of taking advantage of this young woman. He supposed it was because of how similar she was to Silvia when they first met. He was going to be taking out his anger and frustrations with his wife, on this young woman. 
He smirked down at her, his cock twitching at her submissive nature. He shifted so that he was sat on the bed, reaching down and tugging his shirt from his trousers as he said, "Good. Just like how a good whore should be. Now get over here and suck my cock." He ordered her, wanting to enjoy the sight of this fresh virgin sucking on his cock. If she was good enough, he might even return the favour. Especially if she was shy and embarrassed enough. He wanted to humiliate her which was why he had brought in his bag of goods. He wanted her completely exposed and vulnerable to him so that he could enjoy her fully. His dark green eyes watched her carefully, analysing her every movement and every facial expression. 


By

ArdillaVerde93

This is something I've been wanting for well over a year. Perhaps even 2 years. My character is an anthropomorphic Cinccino, a Pokémon hunted for their fur nearly to extinction. He has tried desperately to find some way to bring his species back, but has had no success. Worse yet, his goal has cost him everything. His job, his money, his trainer license,... all gone. But he keeps trying. That's where you hopefully come in.
I won't mince words. What I'm looking for is someone capable of granting this poor fluffball the fertility he wants so badly. I would prefer it not happen via sex, as I am terrible at writing sex scenes. However, as I have been looking for quite some time, I may be willing to bend that rule. But I would much rather he come across some magical creature, such as Jirachi, a fertility deity of some sort, Kyubey, a kitsune,... anything that can grant wishes or dish out curses. Either they hear his wish and take pity on him, or they find him and, not knowing him, cast a fertility curse on him. I should also note that I'm not looking for simple mpreg. I want massive litters; how else will he repopulate his species?~
I would greatly appreciate help from anybody. But I can't do long posts consistently.
This is a Cinccino.
https://e621.net/post/show/191873


By

Neptune

Welcome to the land of the Dead; Ashaea. A once thriving and bustling country that was leading the world in innovation and technology. Now now it lies as a wasteland, its cities and towns in ruins. Its streets swarm with the hordes of the dead, who relentlessly hunt down anyone that survives to either eat them, or recruit them to their growing army of undead. This is the world that your characters have found themselves in, and it will be tough for them to survive. They will be constantly hunted, and there is always the chance that when they wake up in the morning, it will be in their last day. Every day will be a struggle to survive. Can they escape the hordes, and make it to safety? Or can they build themselves a safe shelter? Your actions as a roleplayer will determine if your characters survive this harsh and unforgiving land. Be mindful of your decisions, and be mindful of the actions you take for your characters.
Be warned! This roleplay can result in permanent character death.
Skill level: Expert due to the rules, but roleplayer skill can be Advanced level. I am quite new to this kind of roleplay so mistakes are bound to be made, and improvements to be had. Please give me constructive feedback!
Relevant links:
Lore Thread Rules Character ID The Bunker (OoC) Joining this roleplay.
In order to join this roleplay, you must have a Character ID that is complete. Read the rules. It is very important that you read the rules before participating in this roleplay.

By KentuckyEevee

For information on this character, please view the other OC named Kayla.