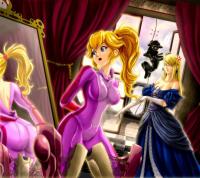 Archived
This topic is now archived and is closed to further replies.
---
Recently Browsing

0 Dreamers

No registered users viewing this page.

Similar Content

By Adverse

Excuse me, while I break theme and step out of character for this one.
My terms are simple.
- None of us are award winning writers, but I expect at least an intermediate level of competency in replies for those who participate. I'm a firm believer of quality over quantity, but if you're not, that's fine. 
- I don't want to hear complaints about who did what, this that or the other. I enjoy role playing and I like to let my imagination run wild, but it is just for fun and in no way should it be LITERALLY taken seriously.
- I'm workable and flexible on a lot of things, if you have ideas, throw them at me. Want to introduce stuff to the world? Let's do it. I made this role play but I'm not a dictator... When I don't have to be.
- There isn't a main character, the group is the main character.
- Smut can happen but I don't want a whole club full of nothing but. Yes, characters can have sex in-game.
- If you have questions, you can send me a message directly or put something in the Community Forum (OOC) section.