Hello fellow Dreamers,
It's that time of the year again, and this update has been focused on fixing as many bugs as possible, rather than adding new features or changing things. Some of you may already be aware of some of these changes, as I softly announcement them via my statuses, and this acts a sort of "This is what we did this season." This is not as big as the previous "2018: Spring Updates", but there have been a number of changes.
This announcement will cover:
New Staff
Site Changes

EcchiCredits
Club Changes
Chatbar (EcchiChat) Changes
Official Discord Server
Two-Factor Authentication Reminders

Semi-Technical: Bug Fixes

Known Bugs that Still Exist
New Staff
EcchiDreams is continuing to grow beyond our expectation, and as such, we took on new staff earlier in the season. It's with joy that I'd like to formally welcome both @Aura and @Sunstone to our site staff. Furthermore, I'd like to welcome @Kalvoras Vertal (AKA: Shuya) as our official Discord moderator. 
Site Changes
We've made a number of updates both in the background and in the foreground this season. One of the main changes in the background is the transition over to HTTP2: this should now speed up the loading of site resources, as well as improve on security a little too, although the site is backwards compatible with the previous protocol. Most browsers happily accept HTTP1.1; although there is a bug for people who use BitDefender, where these browsers will not use HTTP2. This isn't a problem with EcchiDreams at all, as BitDefender does this to every HTTP2 site, thanks to it's "Scan SSL" or "Encrypted Web Scan" feature - which they say is more secure, but ironically they make things less secure when enabled because it disables HTTP2. Geniuses. To find out more information on HTTP2 and what it means, click here to see this infographic. 
In addition to this we've also tried to improve the speed and loading times of EcchiDreams, which has been getting to be a noticeable problem - especially if there are 20-30 people online at the same time - due to how resource heavy the site is, especially with the likes of EcchiChat. However these teething problems have been resolved for the most part, and everything is starting to run more smoothly again. 
EcchiCredits
In the last update, I touched on an exploit with reactions for EcchiCredits, which you can click on and see in the article posted next to this text titled "2018: Spring Updates". But to basically summarise the problem: this exploit would essentially break the EcchiCredit economy, by allowing a group of friends to like and dislike each other's statuses. This would add the EcchiCredits to the accounts each time it was done, and not take them back if the content was unliked again. 
The developer of the original application had gone AWOL with there being a massive exploit that had been known about for quite some time; some people on the developers site had pointed this out way back in February, with some pointing it out in December of last year, and the developer had done absolutely nothing about it since then.
When the exploit was independently found on here; I was able to find out who abused it, and to what extent, and deducted the ill-gotten gains manually. The feature was also disabled due to this. 
However, this has now changed. Another third-party developer (the one who made the background software behind the EcchiStore, which was originally two different applications made by two different people) has basically stepped in and introduced the features of the first developer to his application, which is properly supported and a well trusted source of our advanced development needs. He realised this problem and had already taken steps to preventing it, after he realised that telling the first developer was going nowhere.
So TL;DR, what does that mean for us?
Well I'm happy to announce that FINALLY reputation for EcchiCredits is back online, working, and not exploitable. The new developer is reliable, so should a problem like this crop up in future, and I cannot fix it, we can be confident that the developer actually will. 
Club Changes
There has been a minor change to the amount of clubs that dreamers can open. Previously it was set to four universally; however after receiving feedback from certain Dreamers, we've changed this up very slightly. Now it is dependant on what user group you're in, so it gives yet another (albeit small) incentive to our premium dreamers. Currently it is set to the following:
Dreamers: Six clubs.
Gold Premium Dreamers: Eight clubs
Platinum Dreamers: Ten clubs.
This can increase universally (like +2 on each one), or in part (like +2 on just Gold and Platinum), later on, depending on how the clubs continue to evolve. To clear up yet another misconception: no, you cannot pay for premium membership with real life money; you pay for it via Ecchi Credits in the EcchiStore, which you get as a contribution credits. The reason there are limits is pretty self evident: we would rather have quality over quantity and, if for whatever reason a club owner falls inactive completely, then the "damage" is rather contained.
Chatbar (EcchiChat) Changes
As you would have been aware, we've recently changed our chatbar software (EcchiChat) from Cometchat, a company that I can no longer recommend to anyone. As I announced here; we were in the middle of an active licence with them that entitled us to receive updates for their software, which we were also allowed to host on our server. This privilege cost us around $64 a year; reasonable eough in my opinion. Rather unexpectedly, this company suddenly changed their pricing and ceased to support the software on hosted solutions. It gets worse...
Cometchat now wants $299 a month ($3,588 a year) for the same functionality we had before at $64 a year, and we were no longer allowed to host their latest software. They "have to host it", which means all messages sent are stored on their servers and not protected by the EcchiDreams Privacy Policy; this is absolutely unacceptable. Considering the software was extremely buggy and practically non-functional 'out of the box', and required lots of intense and heavy modification just to get it to integrate properly with the forums, most of the testimonials on their site at the time of writing were written way before this change happened, and they're claiming big name sites use their software - of which there is no evidence when you look up their sites. You can see why we dropped this like a hot potato...
Sketchy business practices aside, I realise that "They're a private company and can do what they like" in regards to pricing; so I will say that "And I can choose not to accept it and move on to a better provider", which is what I did. Instead we're now using a US based solution that allows us to host it on our own servers, and unlike Cometchat; it actually works. 
Official Discord Server
EcchiDreams now has an official Discord Server, which you can only join by linking your Discord Account up with EcchiDreams via this link here. In the past we had an unofficial one set up by @Kalvoras Vertal (AKA Shuya); however, it became very apparent that a closer integration with EcchiDreams and the Terms of Service was required. You don't have to come and join us, but you are welcome to. It's still very much a work in progress; but it's mostly up, and we're happy to take suggestions. 
Two-Factor Authentication Reminders
Currently only one Dreamer who isn't staff has activated Two-Factor Authentication; this isn't good. You can find out how to do it here. We've added little reminders to sensitive areas of the site (for now), that will nag remind you to set it up when you enter it for the first time. This includes:
Managing Authorised Devices
Changing your Password
Changing your Email Address
You can absolutely choose to opt-out, but we'll try one last time to advise against it with the following warning message. If you click on OK, the site won't mention it again to you: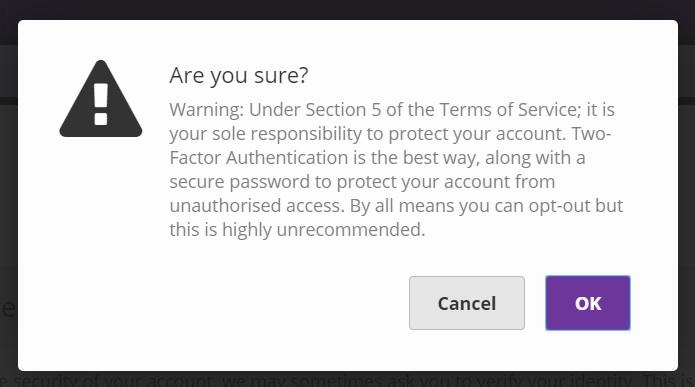 Semi-Technical: Bug Fixes
We have made the following bug fixes since the previous release:
Changed: Moved the signout button towards the bottom of the navigation menu on mobile devices, due to the amount of times people were voicing their completely valid feedback that it was too close to the notifications/EcchiText buttons. This was a design oversight on the UI menu, and whilst it's not perfect right now, we'll look at continually improving it. Thank you. 
Fixed: All Cometchat related/caused bugs - Fixed by ditching Cometchat completely.
Fixed: A MySQL Table limit bug when entering a description for a Gallery Image, which prevented roleplayers from entering more than 

65,535 bytes (including formatting), which either presented a strange error message, or simply cut off the text. We also told IPS about this bug and they've included it as a standard fix in their latest IPS Suite release. 

Fixed: Rare bug with Avatar Upload that would cause a (ERR_NO_CONTENT) failure when uploading.
Fixed and Improved: Performance of the Activity Stream has been enhanced. 
Fixed: Registration is now scrollable on mobiles. 
Known Bugs that Still Exist
Sometimes there is a menu overlap with the new position of the Logout button and some menu elements on mobiles. We're working on getting this fixed and has become a top priority for us.
When buying a lottery ticket, or really doing anything in the EcchiStore, it seems to automatically redirect you to the homepage. Which is annoying.
Premium Memberships brought from the EcchiStore still don't appear to be working properly. Whilst they're actually usable this time, they're expiring, even though they shouldn't be. We can still manually promote people to Premium Membership status upon the purchase of a Premium Membership, so it's not so much a problem as an annoying bug. 
We hope to have these fixed by the Winter Updates (2018), and we apologise for the inconvenience. 
---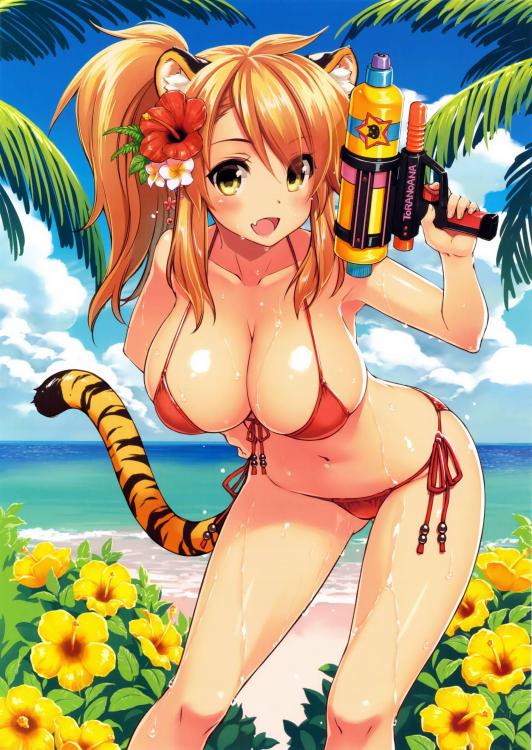 Source: けこちゃ
For many of us in the northern hemisphere it's been way too hot to be cooped up indoors roleplaying and the like, so I thought a nice picture of a cat girl with a water gun might cool some of us down a little.