Mega Announcement: The Big Update!
Article Image Credit: 米倉ちき。
This announcement contains a brief overview of the information about the big update; including revealing to you all what our secret updates were. There are a lot of areas and sub-areas to cover, so much in fact that I will include a list and get straight to it. We would love to hear what you think, your feedback, any comments and questions, there is no such thing as a stupid question, seriously. This topic is very picture heavy, so it might take a while to load on slower connections.
I can confirm that Project: EcchiDreams 2014 - was the intermediary between the much older version of EcchiDreams and the Big Update, we've collected all the data from our open beta's and put it to good use. All screenshots shown, show things that might not look the same in the final version as they're from the Beta. Without further ado; let's begin.
Forum Software Changes
EcchiDreams will be using Invision Power Suite 4 (IPS4); which is by far the best software Invision Power Services have released to date. Although we're still waiting on an third party theme (Which I then have to edit) and a third party modification (iCredits) which again I have to modify for use as EcchiCredits. This is an update on Invision Power Board 3.4 that we're currently using that introduces a lot of modernised and new features. I will attempt to cover the monumental list of changes that affect EcchiDreamers. We have to give Invision Power Services credit here; they did a fantastic job in IPS4.
If I quote them here you can find their quote by searching the internet for the entire quote, as a source.
Fully Mobile Compatible and Responsive
Previously we could only do partial support for Mobile devices, this was in part due to limitations with the Invision software. Now, however it's built into the core and operates just as well on a desktop or laptop as it does on a mobile (and even some handheld gaming consoles!). Anything we add in will be as close to mobile compatible as the software will allow us to make it. With more and more mobile devices browsing the web this is a most welcome feature indeed.
Our site should seamlessly switch from portrait to landscape, redesign and shuffle itself to fit your browser window (responsive design) which you can test on a desktop PC by simply resizing the window. The interface is designed for both tap/touch and mouses.
Profile Overhaul
Thanks to the guys over at IPS, the Profile Section has been overhauled so much that it'll be virtually unrecognisable when you first go on it, and yet it'll be so easy to use and intuitive I'm sure many of you will love it. Your profile is "a powerful tool", and it's become a lot more useful. First I will go through IPS changes; then changes that we've made to the profile, on top of that.
Header Images
In our current version of EcchiDreams the Header Image is something we introduced to replace the monstrous background image, which was implemented by IPS in 3.x, even by their own admission this "didn't work well when the software was integrated into an existing website design" and no,  it really didn't. This and the Avatar (Which is circular now) was something we covered in an informal announcement back in February to show how easy it was to upload images from a desktop or laptop, of which I did a 39 second video demonstrating how easy and quick it was.
Reputation
The reputation of the user is shown in the profile like before; but now it's shown across the community too. Comments, EcchiTexts, Reviews, Posts, you name it - your reputation is open and transparent across the community, it serves more of a purpose. You can earn Reputation by making posts that people will press the "Like" button for.
In the roleplay section as a "good habit" and a form of acknowledgement between the people you're roleplaying with it's used the most. To say "I read the post, I liked it and you should do more like this." Not everyone does this, of course. But it's one example of many that it's used for, at the end of the day it's still (and should always be) up to whomever taps/clicks that like button.
We have made the conscious decision not to revert back to the Negative/Positive reputation buttons that we had in 2009, that said if there's a post you like - press or tap the like button. Both you and the person who gets their content liked should (at least currently, anyway) get EcchiCredits for it.
Warnings
Your infraction sheet is visible to you; in the interests of transparency. Without leaving your profile you can look at your warnings and see why you got them, who by and such. Currently the warning system is semi-transparent; meaning in most circumstances we will not make issued warnings public or allow Dreamers to see each other's warning points and/or reasons. You'll be able to see when the warning expires, how much points were applied to your account and what punishments if any were applied as well. Warnings can (finally) be revoked by Senior Staff and/or Community Administrators, as you can see in the image below, it's short, sweet and tidy.

 Followers
Invision Power have replaced "Friends" with Followers, but they're not the same - which is why everyone is starting with 0 followers. Both IPS and EcchiDreams understand that some people might not want to be followed for any given reason, and this can be turned off and back on again from your profile. When you follow someone you're notified of content they make.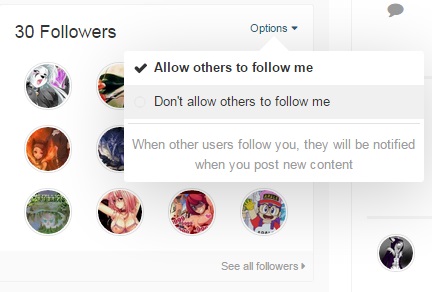 A knock on effect from this, is that it affects the EcchiChat Bar. As the button that read "Chat (?)" with "?" being a number only displaying how many of your friends are currently online, will now display all users that are online, including staff. So asking a question to a member of staff has never been easier, and hopefully this will improve response times providing we're actually online and/or not idling. Again this too can be turned off for whatever reason. If you don't wish to appear online, you can of course turn this off.
"About Me"
Your "About Me" is still in the profile, but instead of it being displayed as the first thing inside the profile it's moved to it's own tab within the page. If you haven't filled it out; it won't appear. Thus keeping your profile tidy.
Recent Visitors
Shows your most recent profile visitors; which you can enable/disable at will. You either click "Enable" to enable it or the "X" in the corner of the block to disable it.
Follow/Message Dreamer Buttons
You can send an EcchiText other Dreamers from the profile without leaving their profile page, as well as follow a Dreamer by clicking the follow button; if they have these features enabled.
Your Content
In addition to the activity stream which shows content any given user has posted recently, you can also view every single piece of content they've ever done (If you're able to see it publicly, IE If you have the permissions for it in the first place). It is done within the profile; again and transitions smoothly and easily. You can even view all the albums and images the given Dreamer has posted to the gallery, again if you have the permissions for it.
Status Feed
As I had already somewhat informally announced; you are now able to make your statuses coloured, bolded, underlined, etc. I don't know if anyone remembers but once; a long time ago you could like Statuses, but we lost that ability in EDC 5.0; about three years ago because of severe bugs and compatibility issues. It is now apart of the Core software and counts towards reputation, so it's actually a returning feature for us. A great request by the community and something I wanted to see done, there is (finally) no longer a limit on comment replies. Although I am working on a way that will only load a few lines and have a "READ MORE" if it's over - say... Six lines, I will make a follow up if I can indeed make this possible.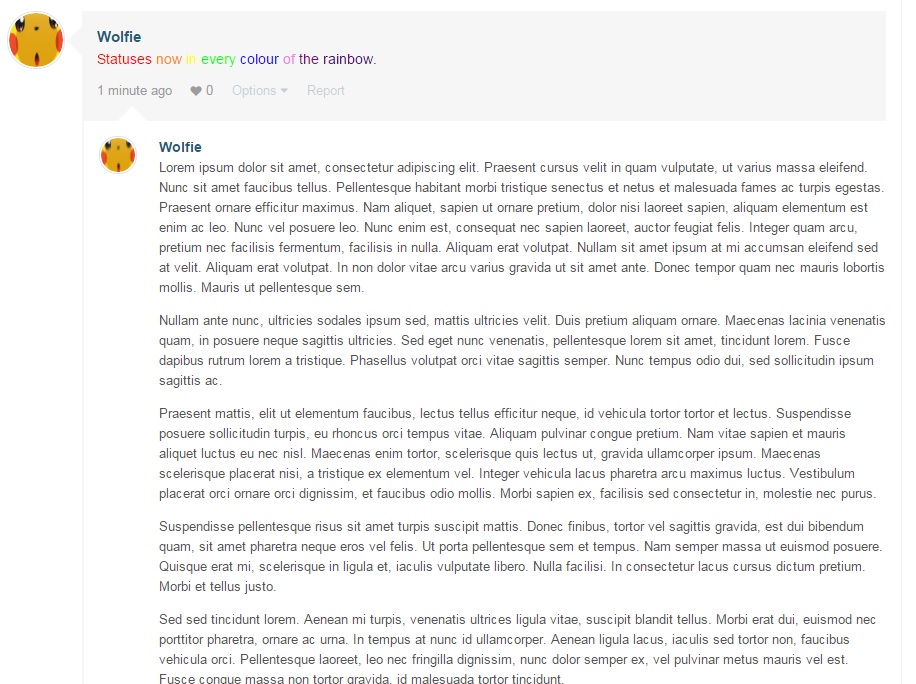 Staff Directory
As a replacement for the Moderator Team page which is quite unintuitive we have a Staff Directory which allows you easy access the list of all staff members on EcchiDreams, their roles and contact information.
General Changes
Announcement Changes
The traditional way in which we deliver announcements is changing, back in July/August 2013 we started trialing a new system of delivering news and announcement updates to the EcchiDreams Community as a whole. Granted we haven't made an announcement (in an official sense) for over a year, mainly because all of the development energy has been directed towards the Big Update with exception to bug fixes, minor changes and security updates. Instead of posting in a forum (The Announcement Forum) all senior staff, and community administrators will be able to post articles which can be commented on, and rated (through a simplistic five star rating). The Announcement Forum will be removed completely and all registered Dreamers will be able comment on said announcements.
We hope to keep people up-to-date more often, but sometimes there might literally be nothing to report. Although we have got plans from some new things to roll out over the course of 2015 and 2016; where we will shift our focus on to content creation rather than development; as announced in "Updates 3: Staff Applications System, One on One Roleplaying and Project: EcchiDreams 2014 Announcement".
All old announcement articles will be removed due to incompatibilities, and all other articles will be messaged back to their respective authors to repost in the new system as I will explain later in the announcement.  
Radical Staff "Reforms"
The Staff Structure will be changing, before we had staff separated by sections this worked well at first, however the effectiveness didn't last long for the Gallery Section at all, then the Forum Section started suffering and although it took longer for this structure to fall through it stopped working for the Roleplay Section, it also never worked for EcchiSocial either.
The new system is simpler; easier to understand for all parties involved and has flexibility to expand as we expand.
This is how it looked before hand:
Site Administrators

Site Moderators (Global Moderators; with more power than sectional Administrators)

Forum Administrator
Roleplay Administrator
Gallery Administrator
EcchiSocial Administrator
How the new system will look:
Under the previous system; no one had power over certain sections of the site over than the sectional staff that were assigned to it. This left quite a number of us paralyzed in their responsibilities and unable to do anything about it, although we are more than aware that there are certain individuals (previous staff) who were just never active; at all. This will be changing under tough new rules for all staff present and future, and all staff will be retrained again until it is gotten right. Being a member of staff here is voluntary but it's also a responsibility; one that hasn't been taken seriously in the past. That is going to change.
Performance Enhancements
On top of IPS's performance enhancements, we've also done some major improvements, for example the homepage is more controlled in terms of what images are displayed on there and how, which means download times are decreased which means quicker page loading times. The huge image slider is gone and replaced with a much smaller, much lighter version that just displays less images, and gives you just about as much information. It also contains a clear and visible warning; that this site is for adults only.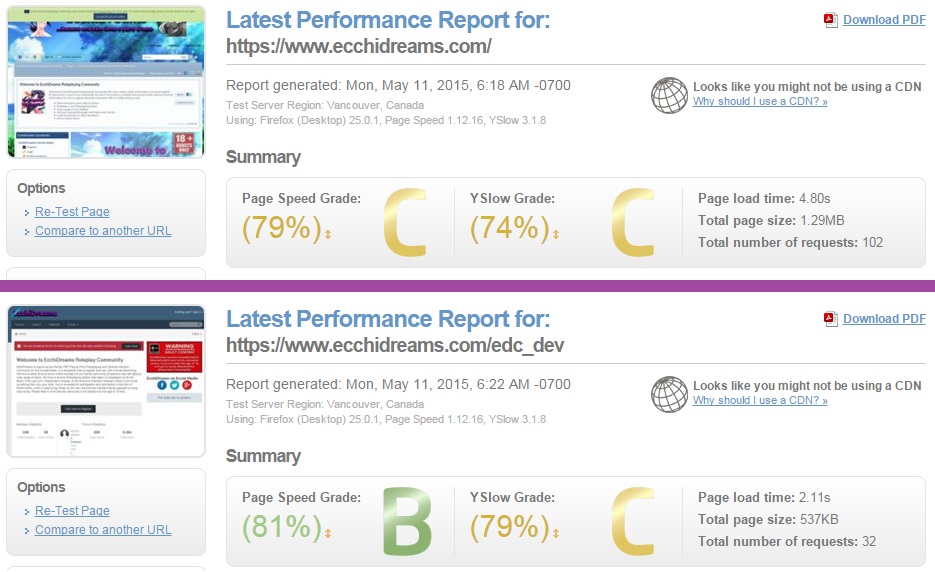 Above tests are the before and afters which was ran on the homepages.
Performance has been a strong concern from some Dreamers in the past; and it had been a concern of mine for a very long time, you see... EcchiDreams has a Bandwidth Addiction problem, and we're putting it into rehab. Each update with EcchiDreams since has been to speeding it up without compromising security, the Big Update is no exception. Whilst there's plenty of room to improve - this will be done in subsequent updates. What the above mentioned tests didn't tell you was the total page size after the first image of the image slider.
Size of first image on the image slider in the first test: 150 KB (153,688 bytes)
In total the images on the image slider in the first test total: 1.34 MB (1,410,544 bytes)
Corrected fully loaded "Total Page Size" of first test: 2.48MB (2,600,469 bytes)
Size of first image on the image slider in the second test: 95.8 KB (98,172 bytes)
In total the images on the image slider in the second test total: 179 KB (183,557 bytes)
Corrected fully loaded "Total Page Size" of second test: 620.2KB (635,085 bytes)
Total reduction: 1.87MB (75.57%) - the kick to this is; this is going on the data provided by the Beta, which is subject to change on the live version. My point stands; it's an improvement and it is something I want to keep that way.
Full Emoji Support on Desktop and Mobile Devices
We're replacing our Emoticons completely in favour of Emoji; and to assist with cross compatibility between mobile devices and desktop/laptop devices. Yes there are over 800 to choose from and they're all uniform across all devices (which means they'll all be the same drawings no matter what you're using) supplied by EmojiOne (Open Source).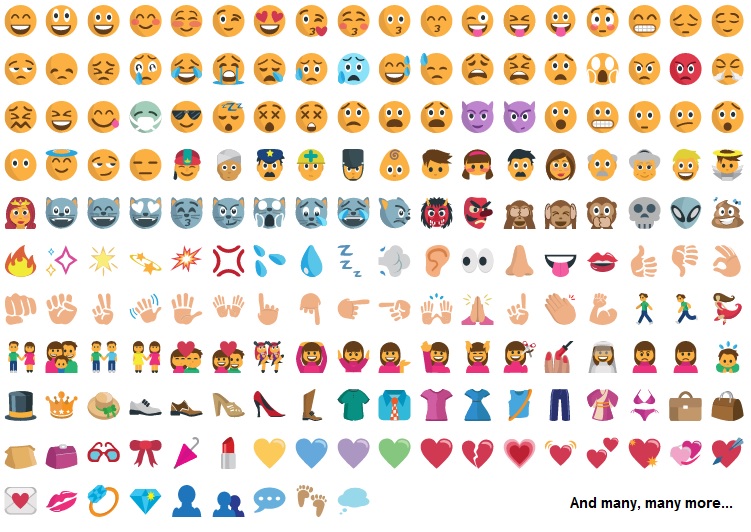 SSL now uses Modern Cryptography
EcchiDreams now uses "Modern Cryptography" rather than "Obsolete Cryptography" for the SSL security of our website, at the expense of supporting older browsers that wouldn't be able to render our site anyway. This was applied before the Big Update for security reasons.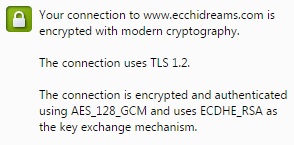 We still have no interest, and now no incentive to revert back to the unsecured "HTTP" system that we were on before, as most of the system is now built around the fact that we use "HTTPS".
On the 7th May 2015 we had to make an emergency change to the Terms of Service surrounding images served from non-HTTPS sites. To quote: "All external images posted to EcchiDreams in (but not limited to) signatures, profile, comments, must be served over "HTTPS". If this isn't possible then please download the image to your PC and upload it to one of your albums on the Gallery, and post the image that way. Posts that contain external images served over "HTTP" will be removed." Broken SSL is a bad thing.
In the Big Update this will no longer matter, as it has the ability to detect if the image you're posting has a HTTPS accessible version, if it doesn't it'll serve the image through a SSL proxy, which means it won't break your secure connection to our site.
TL;DR:- HTTP is insecure. HTTPS is secure. This is a great thing.
Roleplayer Preferences Section -
This was already announced 21 April 2015 - 06:00hrs (GMT) although we're somewhat stumped at the response it's gotten and has ultimately bolstered our cynicism on if this announcement will even get a response. Custom Roleplay Owners and Custom Roleplay Players will have badges in their Preferences Section.
The new system is by no means perfect; but it's much better than before and we hope to improve it as time goes on. Yes we will monitor it and assess how it's being used and what we can do to improve it; but of course we rely on your feedback too.
Notification of Planned Updates (Informally Announced)
We will be notifying all logged in Dreamers whenever EcchiDreams goes down for scheduled updates or maintenance, with at least 6 days notice, from now on we will always book these scheduled downtimes with at least a week in advance. You'll be able to see these on the Calendar. They should appear prominently on the Forums.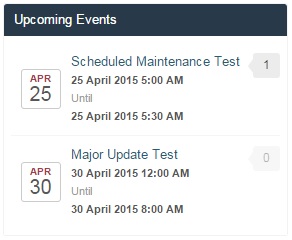 Mood System Changes
The mood system has been overhauled and contains a more simplified array of faces, which display in various areas throughout the site like so:


As you can see in "Hovercard (2)" and "Profile (3)" you can set a piece of custom text you can also see it on desktops when hovering over the icon in "Postbit (1)". The custom text is limited to 48 characters; so be creative. xP
This is where you'd set it: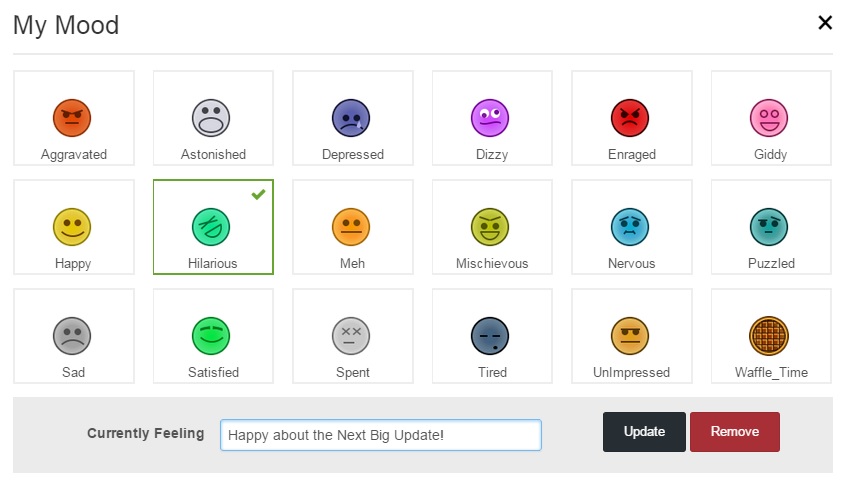 Ability to *poke* other Dreamers
No I'm not kidding. I'd be interested in seeing how this plays out on our community.
Roleplay Changes
The big update has a lot of changes to the Roleplay Suite. Things have been added, changed and removed. The aim was to give Dreamers a Roleplaying experience that suits their needs, and tastes while also giving them a challenge. Before, there was simply the Roleplay Suite with the Scenario Roleplays that Dreamers could enter. Then there came the One on One Roleplaying, which allowed Dreamers to advertise to other Roleplayers about their desire for more private roleplaying. Now the roleplay section is getting a complete and total overhaul. The list of changes is long, but well worth the read;
Suite Wide Changes
Previously the "Roleplay Suite" was just the Scenario Roleplay section; everything else was external to it. Not anymore. The Roleplay Suite is all the Roleplay Sections on EcchiDreams tied into one. There will be four sections of the Roleplay Suite; EcchiText Roleplays, Independent Roleplays, Scenario Roleplays and Custom Roleplays.
Posted Guides for all roleplaying sections.

EcchiText Rolelaying and You
Independent Roleplaying and You
Scenario Roleplaying and You
Custom Roleplaying and You

Defined Difficulties

A set of difficulties have been defined for the new Roleplay Suite. "Casual", "Beginner", "Advanced", "Expert", "Hardcore" and "Overkill". Each EcchiText, Independent and Custom Roleplay must be tagged and set as prefixed (So it appears next to the title listing). Below is an example of what I am talking about - the ones that have red "X" next to them are examples of not how to do it.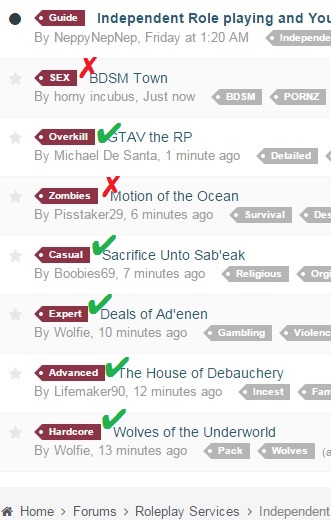 Old example taken from Guide (it was updated since this screenshot, but it gives you a rough idea).
EcchiCredits for Roleplay Advert
If you have an EcchiText, Independent or Custom RP* you can advertise your roleplay with the Community Roleplay Adverts. This will be available to all EcchiDreamers for 1,000 EcchiCredits**; however there are few restrictions. One Advert per Roleplay, if you have two roleplays you can advertise both of them, but one advert per roleplay. There's no preference; for example Premium Dreamers won't have their ad four times more likely to show, and active members won't either. You have to come up with a 280x280 image, (I guess there could be an EcchiCredit market for people to make adverts for you if they so wish). The advert can only point to your Roleplay on EcchiDreams; if it's hosted anywhere else - the ad will be rejected (Hey, you're not paying real money for it). Adverts cannot break Terms of Service, or the Terms and Conditions of the Advert.
We're actually quite excited by this; and we look forward to seeing what our clever and awesome community can do with this new feature.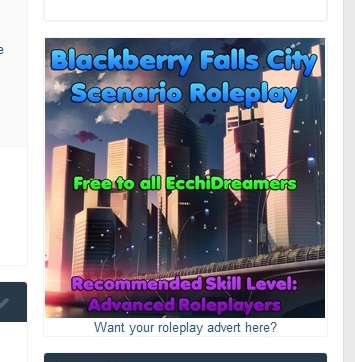 * Custom Roleplay must be public. Invite and Private Custom Roleplays cannot be advertised.
** Price locked until January 2016. Feature's Introductory Price - Only.
EcchiText Roleplays
One on One Roleplaying has been renamed to "EcchiText Roleplaying".
Independent Roleplays
Now; this was our secret. The New Independent Roleplaying Forum are for those who wish to make their own roleplays without making it private. It comes complete with an OOC Discussion area, Side Story, Character ID and Extra Information subforums. This will allow you to create your own Roleplay, although there are stark differences between an Independant Roleplay and a Custom Roleplay.
Scenario Roleplays
Changes to the Scenario Roleplay Rules (These rules only apply to the Scenario Roleplays only)

Removed Character Limit. Roleplayers are now allowed to make as many characters as they wish.
Stricter rules on post length. Posts are now required to at least be a paragraph long.
Tougher rules on those that do not respect Location thread restrictions.
Side story inactivity closure time has been extended from one month, to six months.
No single character will be removed for inactivity. As long as you are active with at least one of your characters, all characters will be considered active.

The Roleplaying Guide has been moved to the Scenario Roleplaying section of the site, and has been re-written and renamed "Scenario Roleplaying and You". This contains the rules, and Character IDs.
Changes to the Scenario Roleplay Character ID. It now has several more fields, however they are optional. The Religion field has also been made optional.
Opening posts of the Scenario main threads had been improved.
Blackberry Falls
Blackberry Falls is no longer a co-owned island between the UK and the USA. It is now its own country, with its own currency, the Blackberrian Dollar which is similar in value to the GBP. The Thorndown University Information Pamphlet has been re-written. It has also been changed to Thorndown University Brief Prospectus.
Craethiel Kingdom
There are no specific changes to the Craethiel Kingdom Roleplay
Utopian Curse
Utopian Curse will now be free and available for all Dreamers, not just Gold and Platinum Dreamers. Utopian Curse has a new Overview thread, containing information of the Roleplaying Environment including a new map.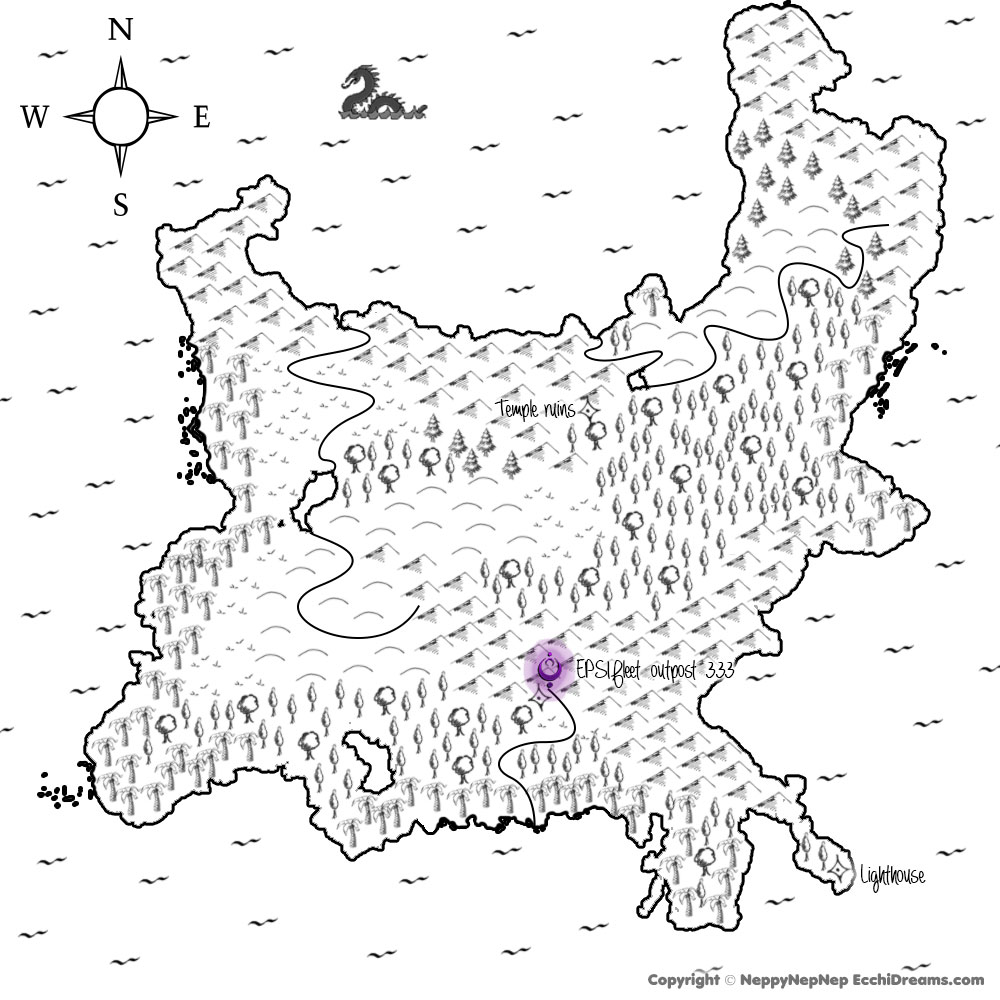 Andromeda Galaxy
Andromeda Galaxy will now be free and available for all Dreamers, not just Gold and Platinum Dreamers. Andromeda Station has a new Information thread detailing about the Station, inhabitants and the environment.
OOC - Out of Character Threads
Re-written and changed the OOC (Out of Character) threads for the Scenario Roleplays. Each now reflect the Roleplay that they are tied in with.
Renamed OOC Discussion (Blackberry Falls) to "Blackberry Café".
Renamed OOC Discussion (Craethiel Kingdom) to "The Creaky Tavern"
Renamed OOC Discussion (Utopian Curse) to "Palm Beach"
Renamed OOC Discussion (Andromeda Galaxy) to "The Red Velvet Club"
Custom Roleplays
If your Custom Roleplay has News, Events and special conditionals you can request an Article Section; based on "Community Articles" what categories and such you want will be created for you by a Community Administrator. These Articles will fit the same restrictions as your Custom Roleplay.
Removed Features
I suppose I should get around to this too… This is the list of currently confirmed dropped/removed features or dropped support.
Arcade
The list of reasons I'm dropping this is extensive, I have nothing against the developers and their works has been exceptional. Unfortunately they seem to cling on to a relic of the past and that is Shockwave Flash (SWF) instead of more modern HTML5 games, something I won't support on our servers. Secondly their code is completely encrypted (Ioncube) which means I cannot edit it, I cannot manually fix any code which might be broken, I can't verify that it's secure-as-possible and I certainly can't vouch for it in anyway shape or form, the server also requires me to have Ioncube Loader installed on it just for that one application. The last big reason is that it is not mobile friendly, or compatible, in most cases.
Link Exchange Program
As I said previously and this is my official statement on the matter:
"Our Link Exchange program was done in good faith. For a time back in 2007/2008 - Kari's Administration, 2009 - Illogically Logical's Administration on EcchiDreams it was a good thing. It had good intentions and it was all free. However during NekoLust's Administration (2010 - 2011) there were heavy problems in that some of them were becoming virus/malware infected sites, or they removed our link in violation to the agreements that we had. This meant that anyone approaching us for Link Exchange had to do so through his contract; one I honoured in Good Faith.
However…
As of 1st May 2015; all the websites that were tested for compliance - failed. Three of them contained malware and viruses which automatically downloaded onto people's machines. This was wholly unacceptable to me and I pulled the plug on the whole thing immediately. There has been no interest since our last signup in 2011 (Before I was granted control over EcchiDreams). There has been no interest since. We'd rather not take that risk ever again, so we're not doing it anymore. Simple as that. I don't see why I should have to spend the time that I don't have, chasing these people up for compliance; and to be honest when something sweet is abused like it has been; it becomes very bitter. It was something that was with us since 2007, and on May 1st 2015 it died and became history."
Personalised Font Settings (Customised Fonts)
This was the setting in the User Control Panel where you could go to, to set up your "default" font across EcchiDreams; as in when you make a post or reply it allowed you to do so without customising your font colour, text and size every single time you made a post as it did it all for you. Currently only one or two people use it. Therefore an update has not been developed for the Big Update, and it's likely to be a canned feature all together.
Support for Internet Explorer
EcchiDreams should still work on Internet Explorer; but if you have problems with it and EcchiDreams well… If I can fix it not that the expense of other users then I will try. I'd advise a different yet more up-to-date browser, there are plenty out there. It does seem to work in IE11 though. So yay?
Just because I am dropping official support for it - doesn't mean it won't work and will never work. Chances are it'll always work if you keep it relatively up-to-date.
Support for Old Browsers
If you can't get on and can't find the site at all - you're using an old browser and the server refuses to communicate with it because (most likely) your SSL capabilities are outdated and pre-historic. I doubt it'd even display the page if we weren't on HTTPS because of all the new HTML5 content we use.
Friend System
See "Followers" (up at the top there)
YouTube and MP3 in Profile
As stated previously in the announcement you will no longer allow you to attach an MP3 to your profile; because of legal complications and we no longer have a dedicated block for YouTube Videos - instead you can put them into your About Me section, as we support YouTube (and various other video site) embedding. We also support Soundcloud Embedding which you can do in the About Me to.
You can actually do this right now if you liked.
Character ID Shop
(Character ID for EcchiCredits) due to lack of interest.
Rainbow Links
Might be back in a future update; we'll see if there is any demand for it and what it would look like implemented on there now. Although it does seem to work best on the Dark EcchiTheme, so it might be something for that, or site wide again. - We'll see what the demand is like for it.
In Closing
This is just a brief overview of the new features and exciting times ahead for EcchiDreams and the Big Update. It's been in the works for a long time and soon, when we wrote this in Google Drive it was just shy of twenty pages long, and we tried skimming it down a little and breaking it up to make it easier to read.
There's plenty to come and we would love to hear your thoughts and feedback on this. Of course if you have any questions; then don't hesitate to ask!