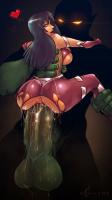 This club is to help those of us who enjoys kinks that are either extreme, rare or weird.
If you are like me, you would know that certain fetishes can be hard to find partners for: I hope that this club will make this process easier.
It's important to know that here we can enjoy any sort of kinks without anyone getting bashed for it, so please keep a respectful tone. It will more than likely have kinks you do not enjoy in the slightest, but all sort of fetish talk will happen in the designated topic for this.
With that said, here are the few rules of the club:
The club owner and mods have final say in any matter - please follow the directions and rulings of these.
Please hold a respectful and civil tone within OOC topics. Your RPs are a different matter.
Any kinks go here and thus is fair play in any RP.
Uphold the ToS of the site at all times.
RPs are to be done in the "Roleplays" tab and all OOC planning happens in the "OOC topics" tab.
Do not make extra topics of any other sort than just described.
These rules can be modified by owner at any point if needed.
Newsletter

Want to keep up to date with all our latest news and information?

Sign Up