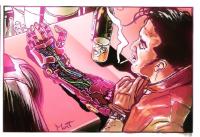 About This Club
A Tabletop style version of Cyber punk adapted to online roleplaying
---
Type of Club
EcchiDreams Specific Community Club
What's new in this club

Mercy scowled at the sight of his aimed shot at the wriggling mass in the bag was off by a hair having impacted into the wall of the compactor above the decomposing hand that ripped through the bag. At the sudden burst of fire from Camilla's sub machine gun that ripped through the decomposing lump of flesh resembling a human hand with strange flowers budding off the remains. His vibrant green eyes would light up at the sight of the flowers that had been in the file given to them from their fixer client, before he growls out in anger at the flower crumbling away into dust muttering, "Fuck!" At the sudden grinding of the gears from behind the compactor walls and the screeching of the metal walls closing in around them, he would curse out again and shout to Camilla, "We need to get out of here Now!" as he tries climbing one of the garbage ramps to get out of the compactor. Mercy would look on in horror at the dust cloud billowing out from the remains of the spores coming from the decaying mulched remains of the bioweapon that seemed to infect any organic material around it. With the ever-increasing remnants of the infectious spore cloud decomposing everything and the strange remnants of a zombified humanoid crawling mass that would arrive in spitting distance would bring a sudden yelp of surprise after being yanked up into the crawl space above the compactor by Camilla. Hearing the clunking of a metal hatch opening would bring his attention to the sudden appearance of their companion Kara and just as he was going to celebrate with a smile on his face at the escape route, he would growl in frustration as he watched helplessly as their companion was ripped to shreds by a barrage of bullets from the Arasaka drone that was sent to investigate after the close encounter in the air ducts. He would clench his fists tightly causing his leather gloves to creak as the bullet hole riddled body of Kara brought back memories of his first patient that cost him the once loving relationship he had with his sister. Softly growling out to himself, he would mutter, "Fucking Arasaka......" as he added another mental check mark to way he hated the mega-Corp and refused any clients employed by the Corp or job offers to work for the corps. He would sigh noticing that they appeared to have another way out of the compactor into the ducts leading further into the building and calls out to Camilla, "Guess it's just us now...." before asking, "Any wounds from the fall or that thing?"

The bag writhed and contorted on the pile of waste. And once a decomposing hand ripped through the bag Mercy started firing on it. It was then Camilla deployed her sub machine gun and finished it off, connecting the dots on the shot gun holes and ripping it to pieces. What remained looked like mulch in the shape of a human being with flowers comming out of it. The same flowers from the file BTB gave them. It was starting to seem like things were starting to go their way. Just grab a sample and get it out, but no the flower began wilting as soon as Mercy reached for it. It didnt help matters that the walls were closing in on them. Garbage started to slide up the walls as they closed in, however the closer the walls got they began to form ramps of garbage that were soon going to reach the top wall, acting quickly the two ran up the garbage hills both trying to jump and grab the top of the wall. They agreed that Mercy would give Camilla a boost then she would help pull him out. It was then that they noticed a ŧhick cloud of spores comming from the remains, and whatever that cloud touched began to form buds and decompose. It was then they realized they had to move their asses. Mercy gave her the boost to get out all while watching the cloud grow closer, but there was something else It seemed like some kind of lump clawing its way closer. It was the remnant of the creater, leaking spores and crawling like a dismembered zombie. Soon it was in spitting distance, ready to lunge when Camilla yanked Mercy up by his shot gun with her powerful metal arms. Mercy was yanked with enough time to watch the creature get crushed along with all of its spores. Then suddenly a hatch opened before the two. Confused they looked up and saw that Kara somehow popped the lock on the door to get them out. It seemed like the three were going to regroup and get this heist back on track. The three took a moment to give eachother a thumbs up. However the celebration didnt last, before they coule even out their hands sown Kara's body began writhing and exploding with blood abd brain matter to a chorus of machine gun fire. Her lifeless body draped over the opening and raining blood down to the metal floor. When the drone came to examine the body and the area it found nothing out of the ordinary the hatch had already been closed and the two already gone

One thing after the other was going wrong, after Camilla dived down after the doctor her footing was lost for a brief moment as she tumbled into the trash compactor doc was stuck in. Launching to her feet mid roll she tried to get a read on the situation... only for the ear splitting explosion of a shotgun rang out as stealth was now completely off the table. "Fuck it we are going loud boys and girls!" With a flick of her left arm the plates of her inner wrist snapped back as a fire arm snapped to her hand from within her mechanical arm, with a rushed bit of aiming she took two quick shots at whatever was in the bag. One approximately at the throat, the other about level with where she expected the heart to be. The two pops of her gun where muted, not as loud as expected but certainly not silenced, it was fair to think she tried to silence it as best she could without compromising the firepower

Mercy softly groaned having crash landed in the heap of facilities medical bio-waste and discard medical equipment, which brought a small sigh of relief finding out that neither himself or Camilla were injured from his incompetency at the possibility of being found out by the Araska Head Guard. Standing up in the dank, dark garbage compactor with the flashing red light warning of the impending cycling of the medical compactor would bring a brief panic to the doctor figuring that his previous experience with medical waste disposal usually involved incineration. He would call out to Camilla exclaiming, "We need to get out of here, this medical disposal machine is going to turn on any second" and as he began to look around for an access hatch or way out, he would stop pointing his shotgun on the wriggling black mass, while terrified at the words that played through his mind from the Araska Agent, "Bio-weapon". He would quickly fire a round at the wriggling black mass with his shotgun as he exclaimed out in anger and horror having immediately recognized the thing from his simple deduction after running through an impromptu medical examination a safe distance away, "What the fuck kind of experiments are they doing with bioweapons!" He calls out to Camilla and Kara incase she could hear him from the safety of the airducts, "Be Careful, Araska has BioTechnica working on Bioweapons for them and there could be more of them!"

IIt was then that Arasaka guards deployed a drone into the air duct. The head light of it could be seen getting closer and soon it would be on them. What could they do the thing not only had guns but a camera and if they see their faces the jig is up. Hell even if the try to fight back how long would it be until they are swarmed by security. Kara stayed quiet making sure to stay out of sight so the drone didnt see her. She stayed low and out of the way of its front end camera. Opting to loose the drone before doubling back to regroup with the others. Meanwhile Camilla and Mercy had fallen down into a waste compression room designed to compress waste before being dropped down lower and further disposed of. The two roll down a hill of trash before they suddenly stop. They were lucky to not have fallen onto any of the hyperdernic needles that littered the place. However they both perked their head up when they heard a strange dull clicking noise. The red light from before being the warning to stay clear. The machine was about to turn on, but as the two got up the noticed something strange a big black bag moving and writhing in the corner. Roll for initiative

the chameleon paused for a beat, a bio weapon this time? she had seen tools of war countless times, everything from revolutionary fire arms, viruses that could brick entire cities power grid in seconds, vehicles that could cover miles in moments well making less noise then a dragonfly... but a Bio weapon was a bit interesting. she almost felt a pang of delight at seeing something new for a moment, that moment passed quickly as a loud ear splitting clang came from mere feet in front of her as their paramedic seemed to have a para-left-feet as he made a bit of a racket ahead. and there was a god damn green glow further up. it was almost expected when she heard the god damn Suits below ask if someone was working in the vents. It didn't take a netrunner to realize this was quickly going south. normally this is where she would consider skipping out, letting the others get caught, well she finished up the mission. but it was too god damn early to even consider. there had to be some- ~CRASH~ with a deep, quiet breath she looked over to where the cacophony of noise came from, realizing there was a momentary spitup where the medic decided to split off... annnnd fall down a ducts shaft. God fucking damnit with a speed that some might think unrealistic for the absolute lack of noise, Camilla launched herself down to join their misplaced medic

At seeing Kara's reactions to his mouthed words and witnessing her finally notice the conversation, he would glance briefly in wonder about the conversation and grit his teeth at the mention of a bio-weapon. He would snarl softly to himself as he chides himself for having pulled out his phone to check the message from his contact near the conversation allowing him to be possible found out. As he followed Kara down the corridor into the ducts with them taking the first corner, he would see a glowing red light out of the corner of his eye from a slopped duct to his left heading down into the depths of the building underbelly. He would lightly grasp Kara's leg seeing her glancing out another grate and shake her leg before pointing down the secondary maintenance duct that has the red light coming from it. He would hope mentally that the girls followed him as he attempts to move toward the secondary duct. He would yelp in surprise as the duct slopes down toward the red light. he begins to panic as he seeing the broken duct before him and the gap to the next part of the duct being too far for him to grab onto or jump onto. He would muffle a soft scream as he falls through the gap in the broken metal air duct into the empty darkness below illuminated by the dull red glow.

Seeing Mercy mouth the words, Kara tilted her head a touch and... There, she heard them. Close one, idiot. She chided herself. She nodded back at the medtech and thought for a moment. They'd have to keep going, shuffling deeper into the ductwork and see if they could find a way. A flutter of panic fileld her belly, at the realisation that they'd been noticed. But that was a feeling she'd fallen in love with. A smile crinkled her eyes and she began shiffling forward. Be moving, that was the trick, it was always harder to hit a moving target. She slipped further into the ducts, taking the first corner she could and praying that her companions were keeping pace. She kept on, moving until she came across the next grate and peering into it, heart in her slender throat.

Though "Mercy" had trouble hearing the the conversation Camilla could hear it clearly. Though one word did stand out to Mercy. "Bio weapon" both he and Camilla could see that it was a woman talking to what looked like the head of Arasaka security. Camilla can hear them go into detail about how it was going to be transported with the flower. It doubles as a polinating agent for the flower since it is so rare but used as a weapon it can wipe out whole waves of infantry. The head of security seems pleased because this could give Arasaka the advantage it needs. As they were talking a green glint from the air ducts caught his eye. Mercy can see him glance up at the air duct. It was a heart pounding situation. It was clear they had been found out, it was then he asked the woman if someone was working up there. She replied that there could be. So he decided to have the shafts checked out just to be sure before he left the office. While Kara was at work the others tried to get her attention but the ducts were muffled from the noise of other exects talking to eachother. They had to move fast because security was making their move and activating a drone to slip into the ducts to have a look.

Mercy followed after Kara fumbling through the metal tunnel of the maintenance duct, while pausing momentarily to check his hand-held agent device causing the dull green screen light to illuminate around him allowing the hacker friend's message to be seen. At the arrival of the executives conversation coming from the nearest grate openings, Mercy would listen into the muffled conversation for any important details to their mission or the building security before shooting out a message asking for a nearby exit away from the filled meeting room. Spotting Kara's newly changed illuminated features from her neon hair tech-mod, he would notice her pointing at a new exit to a maintenance room that might lead to the board room. His attention would turn back to the conversation and mimic Camilla's action of opening the maintenance grate just past the meeting room holding a board meeting, which he would frown at the potential issue of the grate opening being heard could cause holding up his hand for kara to stop mouth out the words, "don't room filled!"

for some this would be a heart pounding adventure, filled with action, suspense, and drama. for Camilla? this was Tuesday, a fairly busy Tuesday, but still a Tuesday so with a quiet little flourish the chameleon was in the the ducts behind the others, taking a moment before moving on to realign the vent grate cover up any signs of their entry, and taking a beat to realign her mods as well with the grey metalic hues inside the duct, taking up the rear to mask the others further up in the off chance any of the guards peak in through this end of the duct. and once the others had made their way she went about catching back up. supporting herself on just her finger tips and the padding on her calves the chameleon soundlessly makes her way forward. catching up in no time, the others might not have even noticed she stepped away to cover the rear for a moment. locking eyes with kara as she looked back. giving her a quick nod despite mostly being hidden in the shade of the vents. but she held up a hand, catching some of the voices nearby. wanting to get a better read on where exactly everyone was she put her ear close to the vent underneath them.

Kara loved this, sneaking around and slipping unnoticed over the heads of people who'd kill or capture her the first chance they got. The thrill of moving unnoticed was deep-seated in the young woman. So, she kept onward until she reached a duct panel, leading to a room below. It was hard to tell what the purpose of the room was, but she listened carefully and didn't catch the sound of anyone below. She turned her head and looked back at her companions, touching a strand of her hair to create just a little neon illumination. Then she lifted one hand and gestured that they could go down here. She didn't realize how the wan light and her grin made her look like a complete madwoman.

All three had made it into the duct without a moment to spare. The moment the door shut three armed Arasaka guards walked onto the roof for their shift. Cypher remote piloted the AV to the next roof and let Mercy know that he had done so via text. It appeared to the guards to be just another AV passing by a common sight in this section of night city. The message on Mercy's phone urged him to let him know in advanced when you need the AV dropped off. It was a close call that could have put the whole building on high alert, lucky Cipher had the good sense to move it when he did. Now it was tine for him to break further into the security system to held guide the crew along and take care of any security hiccups. As the crew moves through the maintainance shaft faint noises that sound like talking could be heard from offices and the executive meeting room of Biotechnica. It will be a little while before cipher gets back to you with the layout of the building. The duct is pitch black but surprisingly roomy. No ones head hit the top and your shoulders dont hit the sides. The steel is reenforced so no worries about falling through it. Still without the lay out you are crawling through the dark figuratively and literally. Roll Perception (d10 + skill) to hear the talking Stealth (d10 + skill) so no one can hear ya up there Movement(d10 + stat) fo how much ground you cover in the shaft.

During the rather silent flight through the city night life, Mercy had reached out to one of his old regular patients called "cipher" via his hand-held agent requesting assistance on hacking into the Biotechnika security system. At the sight of the large Biotechnika neon-building sign, he would send out a final message on the encrypted chat channel provided by Cipher that reads, "Do it now. Landing now. Owe you one!" as he quietly puts his agent back into his pocket after silencing the device. He softly hopped down out of the AV and followed after the two ladies as he states softly, "So the security system should be offline for a couple minutes at least." At the quick work of Kara's security hacking ability, he would hum softly to himself before his thoughts drifted to his older sisters that followed after dad in the CyberTech security field unlike his twin sister that had taken to the criminal life of being a hacker that hated him for some reason. He shakes his head sighing to himself thinking to himself, "Not the time to get lost in thought about my family issues" before he raises an eyebrow at Kara's quick glance back at him from her bent over form in the emergency shaft, while she is inspecting the tunnel. He chuckles softly calling out to her, "If your wanting some fun, you'll have to wait until after the mission to find some fun" as he grins in her direction. He quickly checks his equipment ensuring it was stored securely before crawling into the metal emergency duct, he shives slightly as he recalls an incident during his childhood when living with his uncle in the archeology city and getting trapped in an old underground ruin when he went spelunking for lost tech with old childhood fling - Bianca. He shudders slightly following after Kara muttering softly to himself, "Its a good thing I'm not claustrophobic" trying to reassure himself about the metal death trap.

Kara has always had the keenest awareness of the perceptions of others. It started in the combat zone when she and her sibling would have to slip through the violence and lawless madness every day to find food or tech scrap to sell. Those kids who didn't learn, on an instinctual, beneath-thought, kind of level were all dead. But Kara had become the best, she'd slip into the gang hideouts and bases, steal whatever she could get her hands on, and out again before anyone knew the difference. This evolved once she reached adulthood, and she discovered just how effective a distraction a pretty face and a tight body could be. So, when they hit the roof, she leaned into shadow and raw concrete to shield her from view. There was a heavy steel roof access door, built like a trapdoor in one corner, there primarily for the maintenance grid for the networking and power cabling within. Kara watched the Chameleon approach, a little fascinated by the shifting colors and thinking, I really gotta learn how to do that. She focuses on the lock, a complex series of failsafes, alarm chips, and self-testing sensors. But she grins, these locks are pointless if you know the trick. She slips a small length of wire, no more than a paperclip really, and casually slips it into one gap before sticking out her tongue and fiddling for a short time. The red padlock symbol flashes green and then fades dark with a click. Kara can't help but grin at Camilla, then she silently slides the trapdoor open, turn her hair black, and lowers her head into the narrow shaft. She then flickers her eyes up to Mercy, judging that the man will fit... Just. With no more hesitation, she slips into the maintenance duct and starts wriggling in an enticing manner until she disappears, hoping to make it to a storage closet, or some other unmanned spot to slip into the building proper.

Camilla glanced over the city, it was a nice sight but far from anything new or particularly captivating. The AV could park on a dime and it was hardly any time before she had the aircraft nestled discretely atop the building tucked more or less out of sight... or as out of sight as it can be atop an open air roof. regardless she was doing her best to make due, her mods quickly adapting to the colors of the concrete and paint, adjusted to match as close as possible with shadows taken into account. well on the AV she had assured Mr. mercy that she did not have any particular allergies or the like of note.. and as she slowly worked her way towards the roof access she glanced back at them.. it wasn't half bad to have someone be concerned, not that it was really worth jack in this line of work. her skin, hair, and eyes where slate grey as she worked her way further and further in... as the author of this post ran out of imagination to figure out the actual layout or look of the area around her..

GM: Once you all got what you needed out of the car, you drove to pick up the AV. Take off went without a hitch, everyone getting a good view of the city at night as you flew between the buildings to Biotechnica corporate headquarters. The crew landed on the roof unnoticed, they guards being between shifts giving you all a narrow window to arrive undetected. However it wont be long before the guards arrive for their shift, and the security camera manned. Fortunately Mercy's friend hacked the security cameras but you will still need to sneak past the guards to enter the building. Each one will have a key card to the door which will also grant you access to other parts of the building. The roof is a mostly open area with very few places to hide. You could hide under the landing pad or behind the ac units. Each of you make a stealth roll any other actions you take will need D10 + skill and or stat

MadamBrain13 joined the club

"Speaking of contacts, I've got some friends among the nomads who could help with the get away. Give us a back-up way out. If we're unable to get up to the AV, we just need to get down to street level and I could have some wild motherfuckers with lead feet to get us out of dodge." Kara speaks with delight glittering in her eyes. She always loved this part of a job, the talking it through and learning more about the people dhe'd go in with. Neither had provided her with any reason to doubt them, and usually, in her experience, idiots and cowboys showed their colours fast. She flickered her hair through a range of colours and settled on a silvery white, her face set in a grin and she leaned back. "This is going to be fun."

Mercy would nods his head in understanding about having an understanding on the accepted job and further information about the data pack, which he calmly replied to BTB, "Sounds like the infiltration would be the best option of getting into the R&D department though we might need a hacker or hacker program to get in depending on the security" as he cringes at the mention of the killer AI on the net. He shrugs shoulders responding, "It was a thought since my field of expertise is medical and cyber-enhancements not that fancy-dance techno hacking or net-running" as he chuckles softly after downing the last of his drink, while placing the empty glass on an empty table. At the mention of acquiring their own method of securing the goods and even having the limited information available would cause small frown to cross his face as he thinks out loud, "Well if they are planning to transport the flower than something should be near it or have it already in a transport module?" His attention would be drawn to Kara and Camilla at the sight of them both changing their look via the CyberTech as he replies, "I don't fully expect you to trust me or tell me your life story just anything I need to worry about as a medical professional, since I don't want to accidentally kill you by giving you something that you might react to.... it defeats the purpose of BTB even hiring me." At Kara's question about flying an AV and his ability to stay low-profile would cause a chuckle to escape his lips, "Eh yeah no I can't fly a damn thing and as for staying low-profile..... I ain't as good as you two ladies, but I should be alright." He would continue by saying, "If necessary I can earn my own keep" as he places his light jack helmet over his face and replies to Camilla's comment, "Well then I'll leave combat expertise to you both and let me see if I have any contacts or past clients that might be able to help" as he begins to mull over past clients in his personal database on either acquiring a hacking tool or uniforms to assist with the job from previous favors that he was still owed. As he types away on his data pad contained in his handheld agent, he would follow after Camilla with a chuckle and shakes his head at her comment, while grabs the data pad from BTB with the further details on the mission.

Camilla paused for a few long moment as she looked kara eyeing her own mods, namely the brightly colored hair atop her head, before letting out a little click of her tongue and deciding to elaborate a little on the girls question "well the long and short of it boils down to a mixture of three mods, one of which im assuming your familiar with on acount of your hair... past that some comon mods for altering hair and eye color, with a little bit of military grade modifications... or so some pirate tech snob assured me atleast was military grade, you end up with an appearance you can fuck with fairly freely if you know how to make it work.... anyways.." The chameleon turned her attention back to btb's statement, nodding along to his assessment before cutting in "to be clear my plan was assuming a reasonable amount of prep time, resources outside of just us 3, and the leeway to attack at an ideal time. My plan was less of a plan and more of a conversation starter of options to look at or consider. Im the brawn not the brain after all, usually my default is infiltration followed by copious amounts of violence if and when that fails" with a quick flick of her wrist the chameleon caught the keys as her mods shudder across her body, quickly switching to a blond haired blue eyed girl, even tweaking her complexion to give the appearance of light makeup and scarlet red lipstick as she quickly switched up her hairstyle to a loose ponytail. Without batting an eye she started walking for the back where the vehicle was, answering docs questions haphazardly as she went "we have very little time for planning so if you have a better one im all ears. Better to assume heavy guards then a little for this kind of situation, ill be happy to do an infiltration route but i was under the impression we were meant to get the flower well it was in transit. As for Hacking and the like... closest skill i have in that regard is demolition, but i have training with several vehicles, and some tracking experience... but ultimately when im hired its for infiltration and combat purposes. The drop off point is certainly an important bit of info. As far as allergies go i have non so severe that im concerned enough to share with someone i just met... any other questions?" With that she opened the door to the next room, which hopefully had the car, before she turned back to look at the rest of the group and simply asked with a little laugh "so who's ready to commit grand theft flora?"

Actually the year is 2023 and we are at the tail end of the corperate war months before the bombing and almost a year after bartmoses death

Let me know if this is overstepping GM! But I thought it might be good to have a post to put some fun cyberpunk stuff. I've got a couple to start. Some podcast-y, long format easy listening. First half ends around where we are in history now. Ofcourse, our benevolent GM will probably have changed some stuff to suit his Night City, but the broad strokes are here. Does have a wonderful break down of some of the major gangs. Perfect music for the vibe! This is a constant running mix, stellar background music for when you're writing.

Kara nodded thoughtfully as she listened to Mercy. Sneaking would suit her skills better for sure, though even she wasn't wholly confident about breaking into a corpo factility and getting out without a lot of noise. She let her hair shift a burning orange, her eyes lifting to the medtech. "No, no allergies or nothing. I'm pretty good with security tech and, despite my shining personality, I am good at slipping in and out of places unnoticed. I suspect our chameleon might be good for that too." She nodded toward the other woman, who still left her unsettled but intrigued. "What about you? I'll be glad to have you around if- No. When, shit goes sideways, but you think you'd be able stay low-pro enough for that kind of infiltration? Also, does anyone here know how to fly an AV?" Kara considered alternatives, their chameleon seemed like she'd be able to blend and deceive, perhaps. So if they could get some uniforms, maybe 'borrow' some IDs, that might be a way in without relying on quiet feet. She thought that getaway via AV would, of course, be great. But she didn't have any piloting skills. But Mona, of the Aldercaldos, still owed her a few favours. Fast cars and daring feats of driving were there specialty.

"We are on same page about that and I have DataPack right here, I think if you are going to make move make it when it is quietest. where you will be going is Biotechnica headquarters R&D department. They are keeping this one close to the chest, which is probably why you have not heard of it. The less people know the easier it is to control. Special containment will just have to be what is on hand at site, I can't speak for them but with killer AI all over the net you can't exactly find net runner to lend a hand. Also, it's not like Biotechnica are going to give grand tour of their restricted areas. Aside from whatever details are in that DataPack you will have to go in blind, but if anyone can get you in It is Camilla, but as far as solid plan it will just have to be whatever you can come up with on the fly." "I don't know how but you will have to find you own way in and secure the goods. I know this is not much to go on but we are lucky to even know flower exists at all. Even then all info on DataPack is before the net apocalypse. I just hope there is no chance ups." He said finishing his drink and setting the glass down on the table."I wish you all the best of luck and God's speed."

Mercy nodded his head in thanks to BTB about Kara's rude comment should have been avoided and at the mention of the second drink, which he gave a small smile to the barkeep that had slid the drink over to him after his little episode. He wordlessly picked up the newly acquired drink and followed after the trio to the backroom, while making a note of the apologetic smile from Kara deciding to discuss the drug remark at a later date. After descending into the depths of the club through the bleak hallway into the backroom, he would recline in a chair across from BTB and watch the pair of ladies with them before whistling at the advanced CyberTech disabled by the Chameleon and the proposed job. Once Kara had proposed her own input on a plan of questions and the Chameleon's possible attack avenue using a bait n switch tactic involving Millitech, caused a brief flicker of a frown to cross his face at the mention of the dreaded Mega-Corp and a whistle to escape his lips exclaiming, "That is certainly an interesting flower" as he takes a drink from his glass that he brought from the bar. He would continue by asking, "While the thought of setting up on ambush is possible in your scenario, what about the major risk imposed of having team trauma, city police and both organizations being after us from attempting your plan, miss? Its not exactly a quiet plan of attack to accomplish this and more importantly how would we make it look like Millitech is attacking from behind when were coming up from another avenue?" He would continue on stating, "I mean Araska wanting the flower under wraps and delivered quietly would make sense to be little guarded" before asking his own question, "Do we know the route they are taking or where the flower is currently being held at?" His thoughts would be wondering on if any of his contacts might be able to assist with further information or insight into the job, while wondering how he hadn't heard any rumor about this medical wonder flower in the field of medicine from other medics. He would be pulled from his thoughts as he nods in agreement with BTB, "I agree on that notion of being quieter and faster to infiltrate the building and keep the smash n grab as a backup plan" before glancing between the others asking, "Though are either of you specialized or have any skills in CyberTech, electronics or security tech?" At the statement from BTB about the accelerated timeframe and needing to leave now brought a grim feeling to his stomach as he asked, "Is there at least a DataPac or something in the jeep with more information that can be given about the location/assignment? Also where is the drop-off point for the package and do we need it to be specially contained in anything?" At the keys being tossed to Camilla, he would enter in two different timers for 24 hours and 48 hours respectively before turning his attention to his two companions asking, "Do you two have any medical conditions or allergies I need to be aware in case I have to treat you?" and follows by asking, "Or do you happen to have a bio-monitor installed?"
Newsletter

Want to keep up to date with all our latest news and information?

Sign Up