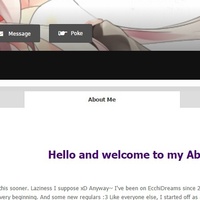 Your 'About Me' section is a good way to put in more information, having an about me page is perfect for spicing your profile however you see fit. Be that an embedded YouTube Video; or an image or whatever. The 'About Me' is a page on your profile that is completely up to you to fill out, with as little or as much information as you like.
Difficulty: Very easy.
Tutorial Format: Text/Image (Video Soon)
Steps Required: 4
Step One.
Either click or tap your avatar in the top left corner of the screen, under the logo (or Text that says 'EcchiDreams').... or where your name and a drop arrow is and click "Profile". 
Step Two.
Click/Tap Edit Profile. 
Step Three.
Go to the About Me section, under Profile Fields and Create. :)
Step Four.
Save. 
1) 
2) 
3) 
4) 
Things you might want to consider including (But don't have to):
A YouTube Video
Character ID Threads
RP Preferences
Images 
Gallery Albums
Information about yourself or your persona
Embedding a YouTube Video is as simple as copying the entire URL from the address bar of the video you wish to embed, and pasting it here on EcchiDreams. :)
Edited by Wolfie
1