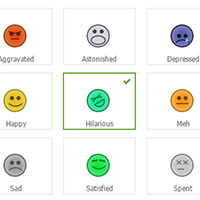 Your mood is like a mini-status. 
Difficulty: Extremely easy.
Tutorial Format: Text (Video Soon)
Steps Required: 3 (+1 Optional)
Step One.
Next to your EcchiText's button, under the EcchiDreams Logo; you'll see an icon with a face on it. Click that icon (Or click this link) and it'll open the Moods list.
Step Two.
Click/Tap the mood that expresses you.
Step Three (Optional).
You can clarify your exact mood with 48 characters or less. 
Step Four.
Click/Tap the Update button.
Edited by Wolfie
1