Hello fellow Dreamers,
We have some more information on the clubs thus far and we're very keen to share these ideas with you, as well as keep you up-to-date on what's going on around the forums, as well as the future direction of the Roleplay suite, which was updated only a year ago. This is a' follow on' from the Summer Update news article we posted a few weeks ago. 
Thanks to the feedback we got on the article itself, in EcchiTexts and the Chatbar, and though internal discussions between @Neptune and I, we have both come to the conclusion that the clubs will indeed be kind of a multi-use feature on our community. For example, we spoke about the clubs different "Genre's" if you will, of clubs which is filterable in the actual application (We've attached some pictures below) these genres, are:
EcchiDreams Specific Community Club - For things that are highly specific to EcchiDreams; such as "Poke War Warriors" for people who take part in Poke Wars, or for "American Dreamers", "British Dreamers" etc...
Fan Club - Specific to a certain fandom, such as the Nekomimi Fan Club, Kitsunetsuki Fan Club, Startrek Fanclub, or I don't know: PHP Fan Club.
RP Club - What was once either a public or premium RP, something we're going to talk about in a moment.
Social Club - A good example would be general interest or product clubs, such as the Hentai Connoisseur Club, PS Gamers Club, or PC Master Race, Headphone/Audiophile, Anime Junkies, etc...
- Other - - If your club doesn't fit into the above categories it'd fall under other. Although we will be listening out for suggestions and adapting as time goes on.
We'll look at how this useful feature evolves on our community, going forward and try to improve it based on real world use of it. 
There will have to be some changes however to the Premium Membership feature; that is, it's been two years waiting for a reliable Credits system; that allows you to earn Credits on EcchiDreams through contributing, (Posting, getting likes and leaving likes, coming on once a day, etc). Since the Big Update however this functionality has never materialised, and the developer of it seems to have attracted a lot of real life priorities that has left him unable to develop the next version. The one we have in place, the Basic Points that still lets to accumulate EcchiCredits has not received any feature updates either and thus has become remarkably useless and unusable. Less than 1% of our members are premium members, and a lot of that has something to do with points not being added to people's accounts (According to some reports I've gotten and are looking into) despite posting, liking and getting likes. So it's very on the rails at the moment as to what is going on in this area and I can only apologise. Premium members have next to no benefits of being a premium member other than a sparkling tag and increased Gallery Bandwidth limits.
We're also going to go into the process of moving all the Public and Premium Roleplays over to the Clubs system; luckily this affects absolutely no one, other than staff because Staff are the only ones with these in the first place, and no one has posted in there, yet. Premium members will still have some benefits over this; such as an option to have their own Articles System but there isn't much else. We will have to update our Roleplay Guides to reflect this change before it's released, but the Public Roleplay Forums and Premium Roleplay Forums are pretty much closed at the moment. We will also need to re-write parts of the Terms of Service; and fix things on the site as well as Ecchia's welcome EcchiText to reflect these changes. So please bear with us as this will take some time. That said we hope to have it online and running by the end of the weekend, with all the changes made too. (Sunday the 13th of August, or Sunday the 20th of August 2017 at the latest). 
Now that's out of the way, here are some screenshots of the Clubs feature and I hope to explain them as I go along. When you first go into the clubs you'll arrive to the front page as you can see in the image (Click to Expand).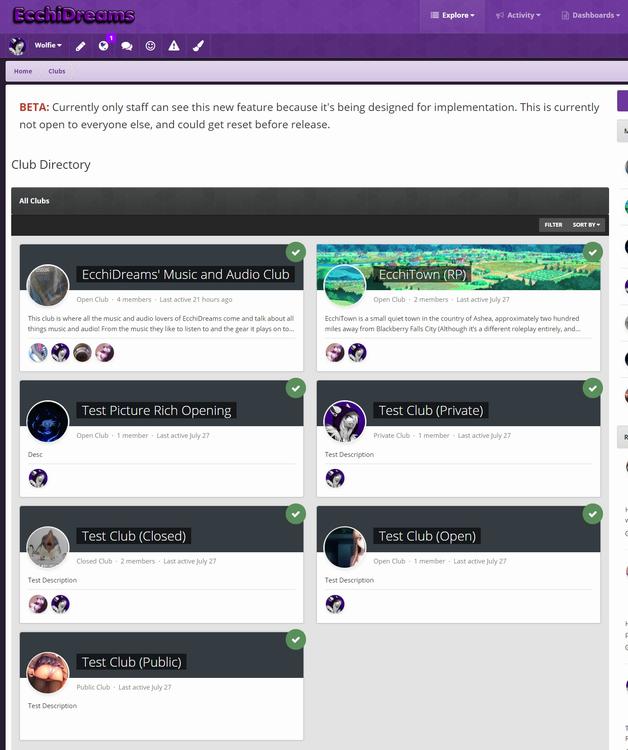 You can of course filter these, say for example you only want to see certain types of clubs, well with the button next to "Sort By" which in this picture above, is above the EcchiTown (RP), club, this will allow you to sort and filter the clubs so you can display only the ones that fit what you're looking for, we're thinking on having it that the Public Roleplay Link on the forums will redirect to a filtered page that shows only RP Clubs, but you can view all with exceptional ease. 
Making a Club, is exceptionally easy, and open for you to play around with, as follows: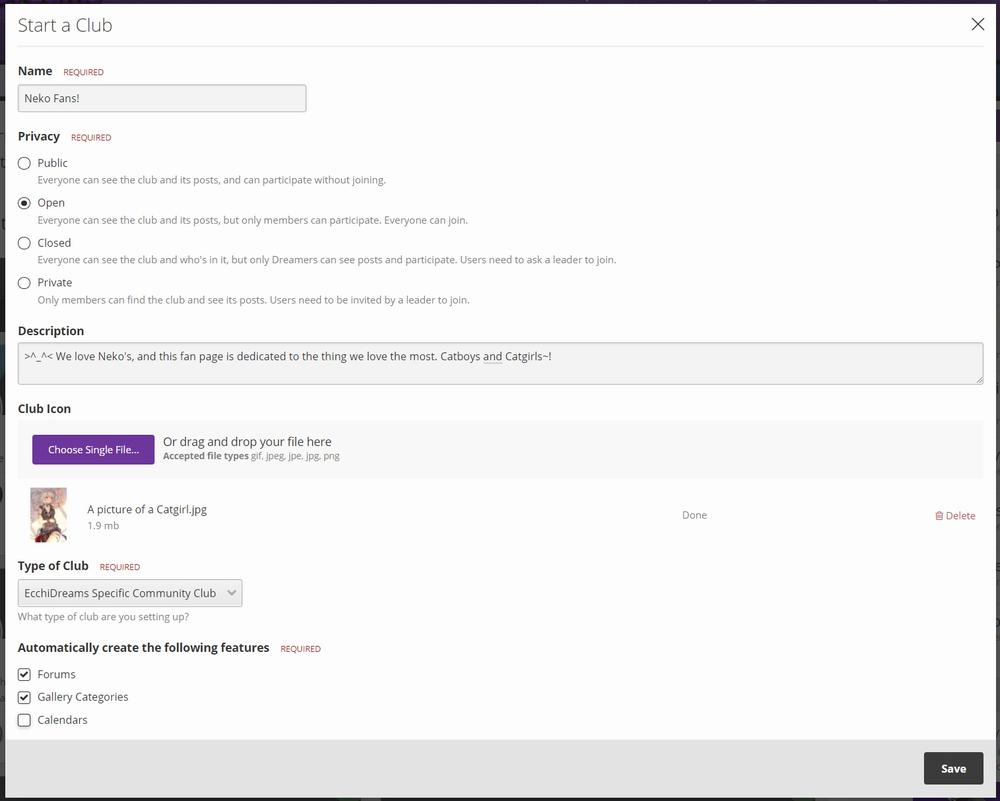 Obviously the name; is the title you want to use for your club, your clubs name, if you will, the "Privacy" is the type of club you want, as you can see it lets you know what each setting means. The Description is the brief introduction which is seen on the Clubs Frontpage, the Icon (Although I recommend making the club first then setting an icon, although nothing stops you from doing the icon again) as it's like a profile picture. The reason I say that is because it squashes the picture where as if you change it after, you can crop the icon to fit what you're looking for. This way around works very well. The type of club, which as I stated earlier is the "Genre" if you will, and what features do you want to automatically create. I'll show you them in a moment. 


Managing your club is exceptionally easy; there is a "Manage Club" button that club owners can use to modify the club structure itself. Such as adding Topics, Images and Calendar features. You can edit the club settings, invite members, activate and edit the homepage (Which will split Home and Activity up and allow you to customise your clubs homepage), add members *Maybe*, change/transfer the owner of the club to another dreamer, change it's type or manage it's features, such as disabling sections, deleting them, or just re-organizing them, to put them into a new order (I will touch on in a moment). 
The Topics are useful for creating sections in your club roleplay, for example such as OOC, Roleplay, Extra Information and so on, as you can see you can again customise how you want the page to be displayed as if it was a normal post or topic on EcchiDreams. This allows a great number of options such as displaying the rules of your roleplay, or club, in this case the images above is showing it in an RP situation. In the previous news article, I discussed how moderators and even the club owner themselves can "Hide" content, this will appear as what you can see with "Rulebreaking Topic" in the second picture. As owners you should be able to pin any topic you want to the top of this, that will mean they will always appear on the top of the list above all other topics below regardless as to which topic is newer or more recently posted in, unless that is also a sticky... When you create the forum section of your club you can select one of two options "Discussions" which as featured above, or "Questions" where people can ask questions, and you - or other members of your club can respond. This doesn't have to be used for giving support to your members for your RP or club, but it could be used in a tech club for example as a place for people to ask tech related questions. What you choose to do with it, is on you. 
A club homepage is a great way of telling Dreamers who come to check out your club, what your club is, is it a RP club, and so on. I've, for this example, have shown the first page to the EcchiTown RP visible here, which tells people it's a Club RP, as would '(RP)' in the title, and as much information as I can for them to read and decide if being apart of that club is for them. You'll want to impress prospective users if you want them in your club, so making it look sleek, and awesome is the best way of doing this, as an ugly, janky and messy homepage will probably put people off. As you can see above, if you choose to turn the homepage on; you'll get an Activity Tab, which separates it from your club homepage (Which is default). The Activity Tab will also show a small "About the Club" for your club. 
Similar to adding forums, Image Areas are created for storing images in albums, or as is depending on your set up. For example if you have people who have multiple characters, in the above examples; of making an image area you have a few options. In the description you can pretty much do anything again, as well as set a standard as to how you want images to be posted for character IDs in your club. If you don't want people to post up a character ID with their images and you think it'll be fine to dump the images straight into the directory then you are more than happy to do so, you might not need albums for your needs so you can turn it off. You can also turn comments and reviews off; depending on your needs. For the above example. I have made character ID's non-requiring of Albums (that split up who's characters are who's) because EcchiTown will probably only see one character per person, due to design choices I made.
For something like Blackberry Falls however, you might see a system where people have to make an album for all their characters in your RP club and character ID's are posted with the images themselves - which is indeed possible for everyone under this system. For something like Extra Informations though; that's typically something that will be used for an Extra Information Topic so you might just make it a dumping place (and put it on the end of the club) and allow people to use it to upload the images they need for their threads - again that's completely up to you and how you organise your club. So make your club your own.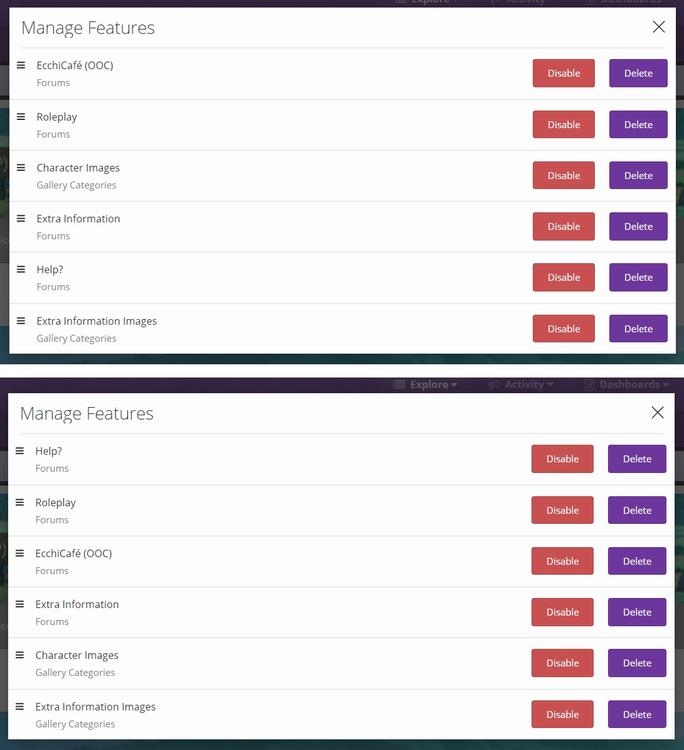 This is an example of changing the order; disabling or deleting any sections that you don't require; this makes editing your clubs no matter what the type of club you're hosting, easy.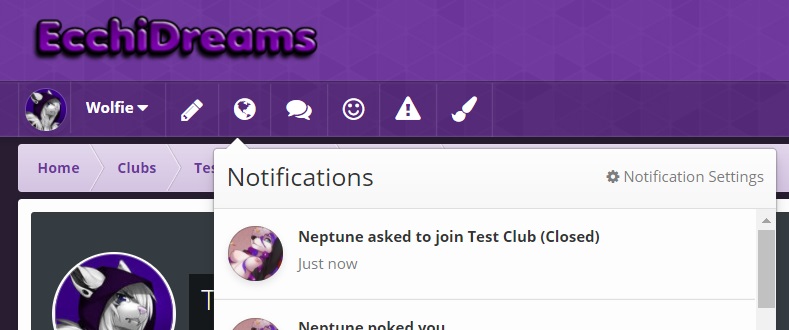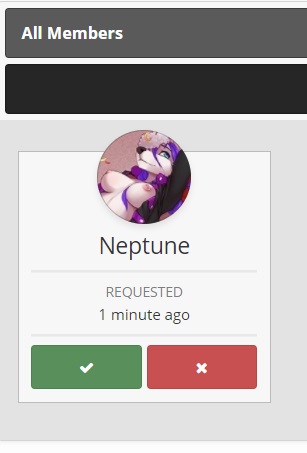 In "Closed" Club scenarios The first image above; is a request notification that I spoke about in the last update topic, once you click it you can choose to accept or reject. Accepting or Rejecting is as simple as a sweet short click, and is honestly as easy as it can be. As you can see above.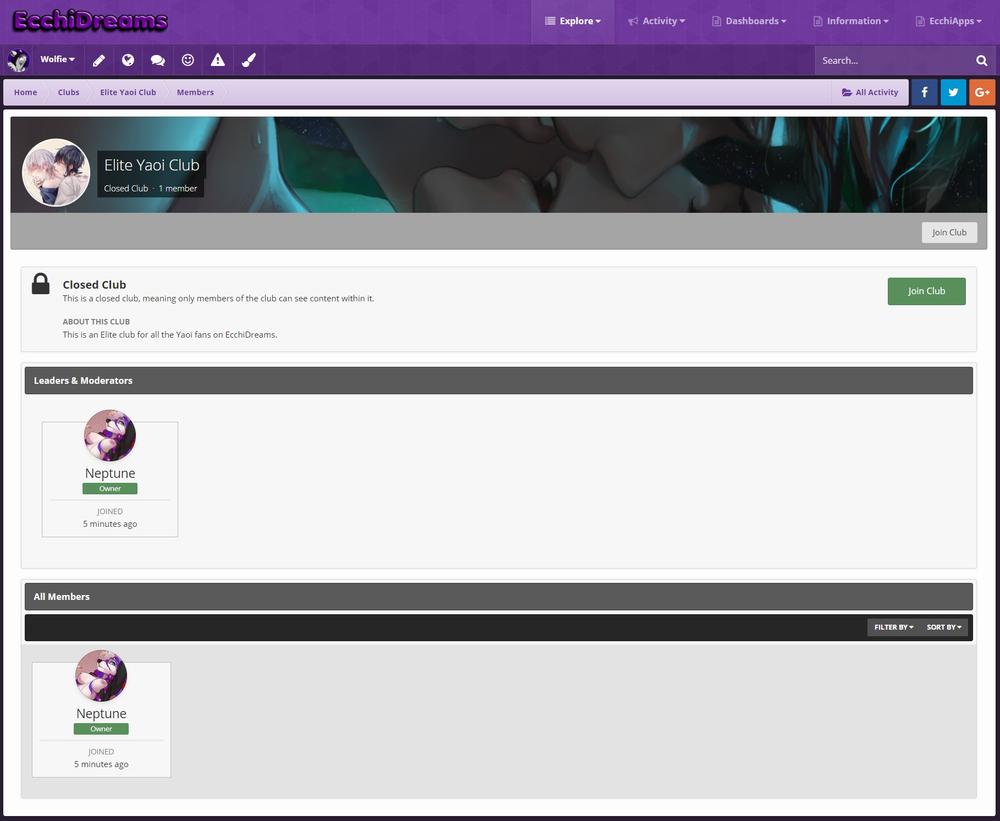 If you're trying to join a club that is closed, you're told on the home page of that club, that it's closed and are given the option (Twice) to join the club. If you've clicked that, but the request is pending, you'll be told on the club page (Above image) that you're request is still pending. As the message says if you're accepted - or rejected (Trying to say positive, lol) then you'll get a notification, that looks like this:


In other news...
We are aware of a number of bugs that have been present in our update; we hope that most of them are addressed as of today, such as the Leaderboards Bug when trying to filter by content type.  We're also looking at making the help section more intuitive, as well as putting in a process where people can appeal their infractions, and so on, so this is something we're looking at doing after sorting out the clubs and RP sections which are going to require some migration time. I wanted to keep you all up-to-date and hopefully by this or next weekend we'll have a better RP section on EcchiDreams, with something easier to understand, use and is much more controllable, by YOU the club owner. Finally I'd like to remind all dreamers; to please DOUBLE CHECK what images you are uploading, before you upload them, far too many people got their accounts banned or given infractions last week over major terms of service violations. We do not allow Beastility, Lolicon or Shotacon (Child/Minor in Nude or Sexual Situations). Thank you.
As always please leave comments, suggestions and feedback relating to this article below, I read every single comment posted and it's my pleasure to. 
Article Image Artist: Wolp
Links: Deviantart
There is no reason I chose this image, its not related to the article in anyway shape or form. I purely chose it because I like the picture and I think the artwork, something I'm not usually a fan of, but it's actually very well done. Such simplicity of detail oddly suits it, and I think the Artist has managed (with this and a few other pieces) of getting me to like a kind of style that not many can seem to do very well. It's a very stunning image, and I highly recommend checking his work out if you like it. It's in my opinion one of the best I've seen from this artist.