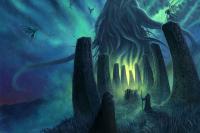 About This Club
A modern world where science in most cases have trumped religion, there is still a much higher and unknown existence to us. One beyond the veil of reality and which will induce madness the more one delves into it and learns the horrible secrets of the universe. Inspired by the works of H. P. Lovecraft, this club aims to put you into the shoes of an investigator and explore and learn about the many lurking horrors that lurks beyond normal human comprehension.
---
Type of Club
Roleplay Club
What's new in this club

Randall sat up in a cold sweat, his eyes staring at the clock he had brought with him to the hotel. Aside from the soft moonlight casting shadows through the trees, it was still dark outside. It had all been a dream... thankfully not a psychosis and definitely not reality. But he could still vividly remember the shrill yelling of what he had surmised to be from a female, followed by something that had been closer to a baritone. The sounds had been coming closer to where had been at and then... what? One moment he had just stood there smoking his pipe as he had taken in the landscape all around him, the next moment he had found himself back here in bed. That was a given of course, if you went to sleep in a bed then you would wake up in one... so what was this unsettling feeling he was having? Was the anxiety he had been feeling over the scheduled conference finally getting to him? The mind of man was still mostly uncharted territory, but with what knowledge science had managed to glean it had pretty much been settled that a healthy body helped keep a healthy mind. Stress and long hours working without sleep would take a toll on you. Finding time to relax was important, but so was keeping the mind entertained. When he had arrived at the hotel yesterday he had seen that desk-clerk reading a newspaper about a local woman that was making a lot of money interpreting dreams. Tomorrow he was going to have a day to rest up on before the seminar, maybe he should spend some of that time checking out this small rat-hole of a town? See what all the hubbub was all about? Laughing at the local side-show should definitely help him take his mind off of work.

The young detective pushes himself to move on, despite the very possibility of this being some sort of trap or an illusion of some sort. The voice from before seems to be a light guiding tool in an otherwise endless landscape of sameness. As he moves onto the nearby rope bridge it does creak a little bit, but seems able to hold his weight just fine. Moving slow, but steadily seems to be the way forward on this on, at least on the parts that are a tiny bit rickety and noisy below his feet. The professor of the group stuck here calls out, still intent on believing this to be some elaborate hoax and all smoke and mirrors. However, every step he takes, every sight and sound all feel completely real. If someone is indeed making a prank here, it is very well done, executed and thought out. Also moving closer to this voice, he makes his own presence known in return, giving the otherwise silent land some sort of noise in the air. Luckily, none of this yelling causes any change in the behaviour of the odd creatures above. Just like the others have heard June, so does she hear the older man call out, making it easier for the people here to be able to divert their travel and attention towards each other. Of course, she has uttered her own name, but it is highly unlikely that any of the others are able to recognize it. Still, if any bad entitites would be out here, they were more likely to trick people with a familiar name and thus June does something clever, albeit maybe not on purpose, as she cries out even more. As he sits there and smokes his pipe in all peace and quiet, the voice from before, June @AraAraOneesan , and another one coming from professor Eric @DrMender chiming in as well, both of them heard somewhere in the distance. ----------------------- After some travelling, the three people, June, Eric and Francis get close enough to each other that they are able to spot each other from a short distance away and even able to get a look at each others faces in order to memorize them. Finally, they are all able to see another person in this godforsaken landscape of alien origin. However, just as they have seen and scanned the faces of the other people there, all four people in here wake up with a shock in whatever bed they fell asleep in and in whatever room that was in, everything seemingly back to reality from the looks and feel of things. However, the memory of their short time in this other place is imprinted firmly in their minds. It is still in the middle of the night and the sun has yet to rise outside. If they try to go back to sleep, they are able to calm down eventually and rest until morning time. One thing that suddenly dawn to each of them all, is that the small town has a local person, a lady who happens to have a strong reputation around interpreting dreams and what they might mean for each person having them. Randall @Nan-Yo - Remembers reading a local news story about her in the paper from yesterday, which was about a sudden rise in the number of new clients the last week. Francis @Jholdono - Suddenly recalls overhearing someone discussing her somewhere in public, very likely one of the new clients she has had lately. The gossip was troubled, yet still positive about her abilities. Eric @DrMender - despite working in a place of higher education, not everyone working there has abandoned alternative methods. He has been talking to a colleague who recently made use of her services June @AraAraOneesan - Lives near her small house and recalls seeing much more traffic towards her place lately. He knows her somewhat since the neighbourhood is not that big and many people know each other here to either bigger or smaller extent. Name of NPC: Jessica Whitford.

June heard the professor. "WHO ARE YOU! This isn't a joke! And what chalkboard!" She screamed. Her voice was grating and high pitched. "I want to go home... Do you know me? IT'S ME, JUNE MILTON!" Of course, June wasn't his student, but she thought he may have known her.

At the sound of a young woman's screaming about wondering if anyone is there, which the professor would pause momentarily on his adventure across the old rickety bridge over the bubbling black tar-like liquid and begins a cursory look around for the feminine voice calling out. He quietly pursue his lips and rub his smooth pale chin as he mutters quietly to himself, "This is certainly an elaborate prank, but whom is the student that is screaming out" as he tries to puzzle out on who the voice belongs to from his class of high school students. He shakes his head softly as he glances up at the strange black bats flying around in the air as he decides to get more information from the mysterious voice by yelling out in a stern gruff elderly voice," Alright Young Lady this prank has gone on long enough! Have you and your friends all come out now!" After a brief moment, he would continue to hobble across the old bridge towards the other end as he watches around the area and continues on with his yell, "If you and your Friends come out now, I won't give you detention cleaning the chalkboard if you fess up on to how you pulled this hoax off!" As his mind continues to try to puzzle together how they had rigged this strange scene together and more importantly how they had managed to get into his house without waking Brutis the Saint Bernard up, whom should have been sleeping at the foot of his bed or more importantly his wife that should have been sleeping next to him since she was always a light sleep.

Although fruitless in testing the bridge with rocks, Francis was able to take comfort in knowing that at least something in this place was (for the most part) normal. Holstering his Colt pistol, he picks up a handful of small rocks and puts them in one of his trench coat pockets with the thought that perhaps they could be used elsewhere. Although warm to the touch, at least they didn't seem to be warm enough to burn a hole through his coat pocket. He then looked to his only way forward - the bridge extending from his plateau to the next. Deciding to take it slow, Francis tests each step taken on the bridge before fully applying his body weight. Everything seems to be going well as he progresses across the bridge, when he faintly hears a noise off in the distance. He stopped dead in his tracks to hone in with his ears. After a moment, he is able to determine that it sounds like a woman crying for help somewhere up ahead. He contemplates his options... 'Am I not the only one here? Or perhaps it's the trick of some strange beast? What else could be here besides myself and those strange bat-creatures...?' After such contemplations, he decides to pick up his pace ever so slightly - this bridge could still be weak in some areas, and he really didn't want to take the long fall down if a section of it broke on him. However, if it truly was another person, he had to go see who it was and probe them for any further information. And if it wasn't another person and just some monster imitating human speech?... 'Well, hopefully my .38 Special can deal with it...', he thought to himself. If anywhere was a place to let the imagination run wild - this would be the place, after all... Francis steels himself and pushes forward across the bridge - now with a stronger sense of purpose...

Randall continued to remain calm, the tobacco helping him a lot as he allowed his sense of taste to focus on the addictive plant. In what he guessed was the far off distance he could briefly make out what almost sounded like a person screaming, the fear in the voice more discernible than the possible meaning of what was being yelled. He took another puff from his pipe as he stomped down the gut instinct to move from his position in a vain attempt to locate where the sound was coming from. Had that really been yelling? If he was just having a dream then it didn't matter, but if he was having a psychosis right now then any action he took could have some unforeseen actual consequences for him. His surroundings suggested that he was high up on a ridge, maybe a mountain? But if he was awake what did this represent in reality? Was he standing outside in the streets? Or was he perhaps on a rooftop? The plateau he was on and the ones spreading as far as the eye could see also disturbed him... his first impression that they were mountain-tops slowly eroding away and being replaced with this feeling of wrongness. The plateaus reminded him of something... but what? He couldn't quite put his finger on it but the longer he looked the more convinced he became that he was on to something. What was it though? Where had he seen this before? What was it reminding him of? Pondering these questions he kept his eyes and ears open. That sound he though he had heard... if it was somebody screaming, what did that mean? Was somebody in trouble, or were they trying to get his attention? Randall took another long puff from his pipe....

Quick addition: As a way to enchance the mood I will be putting up various music for ambience. I recommend putting these on whenever you read or write posts For this scene:

As he throws a rock or two, there are nothing indicating any rocks. The rocks feel warm to the touch, just like the more solid ground below him and any rocks tossed at the bridge doesn't really affect it in any way. Either the distance is so far that he cannot hear a rock hit the tar-like sea below or it simply did not generate any noise. As Randall nonchalantly carries on like normal, there is no real reaction or response from the surroundings on his simple actions of smoking his pipe. Just like the rest of the people who are present in this otherworldly realm or dream, he too finds nothing but rock, these odd creatures and the thoughts of how this must some stupid hoax meant to make a fool out of him. Luckily, the bridge he soon makes his way across, is fairly sturdy still. Whilst June hears no response, both from the other people trapped here or the environment, it still has serves some sort of purpose as she calls out loudly into the what seems more like an endless landscape of otherworldly beings and nature(?). Her lungs cry out for someone to hear her and indeed, there is a faint sound reaching the ears of both Francis @Jholdono as well as the more calm and collected Randall @Nan-Yo. These two are able to discern what does appear to be a voice in the distance. The same goes for the older man, Eric @DrMender

After an over forty hour long journey by automobile Randall finally arrived in the small town of Hillsboro where the medical convention he was supposed to participate in would be held. A proud owner of a Stutz Bearcat a few of his co-workers had jokingly said he would be insane to go all the way from Ridge Cliff, Idaho to Hillsboro, Oregon... but Randall had been adamant that it was not a fools mans dream. Working with the unfortunate insane he did not think it proper to make jokes about madness and had taken quite the umbrage with what they had been saying. Now looking back at the whole endeavor he could say for sure that he had been right, but he couldn't say that his co-worker had been wrong either... going by automobile had been more troublesome that he had ever foreseen and if he had to make the trip again he would have gone by train like any sane man would. Or maybe not, while he was not looking forward to the trip back, having his automobile at his disposal in a place where he had never been before gave him an advantage that those lacking the fortitude and foresight had not. It was late evening and he still had two days before the meet up would happen so he drove up to the large hotel where the gathering would be held and walked inside. In such a small town like this, not even half the size of his own wonderful Ridge Cliff, this large hotel was no doubt its pride and joy. Large and spacious the foyer was lavishly decorated but not badly enough that it looked decadent. Dark oak wood floor covered by large red mats, brown wood panel and green almost garish wallpaper. The receptionist was a young man, no a kid rather... maybe in his mid twenties he had the look of a person that would never be able to contribute with anything to a conversation. An imbecile for sure, but such was the case for almost all, especially those lacking in age and what came with it. Experience? No... insight. Whether the young man had any insight or not he provided had provided Randall with a key to his room and then left him to carry his own luggage up to his room. Yes, not surprisingly the service at this hotel was like the rest of the town, lacking. Bringing up his luggage and hanging his spare clothes in the cupboard Randall could feel the stress from the trip already catching up with him. Doctors hailing from Idaho, Washington and even Oregon itself would all be gathering here in this tiny little town for a three day long convention. Just one out of multiple medical conventions held all across the country at around the same time, the one here in Hillsboro seemed to have been chosen more for it's location than anything else. It was a bad choice though and only made sense geographically and on paper. Connected by train and by roads it was what could only be referred to as a backwater town, a place that had no future. Holding the convention in his own hometown of Ridge Cliff would have been a far more rational choice, but rational was something that seemed to be increasingly rare in the world. With such thoughts sleep still came surprisingly easy... but there would be no rest for Randall. ¤ ¤ ¤ ¤ ¤ Gazing out over the rather bland landscape Randall pulled out his pipe and started stuffing it with tobacco. The sight surprised him far less than the poor service of the Hotel he was staying at which would probably have shocked more than a few people. In his line of work where he dealt with those that had to be locked away from the rest of society, proper treatment was key in making breakthroughs. Simply administering and testing new medicine on those that were already to far gone to give proper feedback Randall had opted to use use animals and other people to. It had given him some insight of course but none of it had been able to come close to being as effective as testing it on himself. The sepia sky was new and so were those large birds and the funny looking plateau that he was standing on but Randall found some comfort that he still control of his emotions at least. Experience had taught him that the last thing a man wanted to do when caught having a psychosis like this was to react badly to it. Was he asleep? Maybe he had consumed alcohol or something else before going to bed? He could not recall but that only made it even more crucial that he did not act rashly. Finished stuffing his pipe he patted his coat and vest and found a packet of matches that he lit the tobacco with and took a couple of light puffs from. The taste was the same at least and didn't seem to be affected by this delusion he was experiencing. OOC: I'll remove the part where he is awake if it is not approved.

"What the hell..." the woman said. "IS ANYONE THERE!" She screamed, looking around. She adjusted her skirt as she wondered what happened to her. "Wake up, June, wake up!" she thought to herself, trying to piece things together. "Why am I here?" She said, out loud, cause it seemed there was no one there.

A raspy voice groans out as a pair of cobalt blue blink away the haze of the deep sleep that he had once been in as a fair skinned white hand shields the person's eyes from the bright light filtering down from the twin binary suns hanging in the reddish-brown sky as Eric Whitmore or the person whom prefers to be called the "Professor" glares up at the disturbance in his sleep muttering to himself, "What in the bloody hell is all that light shining into my room?!" After giving himself a moment to adjust to the newly glaring sunlight baring down on him before he bolts start up in a seated position at the strange alien surrounding that reside around him and angrily mutters out, "Alright whose the wise guy responsible for this damn prank!" as his keen eyes scan the surrounding island that he finds himself in taking note of the black lake of strange liquid with the strange hill-shaped plateaus that make up the surrounding land masses continued by old worn-out rickety bridges. Once his cursory glance of the landmasses around him is finished, he would turn his attention to the cloudless reddish-brown sky with twin suns and he would raise a thin delicate black eyebrow having spotted the numerous bat-like creatures in the sky before he blinks his eyes a couple of times followed by rubbing both eyelids with his hands in astonishment at the strange creatures. After a moment of contemplation, he would sigh seeing that besides the strange bats, he appears to be the only one on the plateau that he woke up on as he cautiously stands up and dusts himself off in the process revealing an old worn black suit with a blue tie that he quickly adjusts with a slight cough before he runs his left hand through his slicked back raven black hair as he mutters, "No where but forward until I find the one response for this situation..." He would cautiously proceed forward with hi black buffed leather dress shoes carrying him towards the only bridge in front of himself, while keeping an eye out for anything strange or possible writing to identify where he is currently at.

Name: Randall Scott Age: 35 (1923) Sex: Male Profession: Doctor Time era: 1920s Current sanity: 100! Skills: Drive Automobile: Anyone with this skill can drive a car or light truck, make ordinary maneuvers, and cope with ordinary vehicle problems. If the investigator wants to lose a pursuer or trail someone, both participants might attempt Driving rolls until one fails and the other succeeds. Dangerous maneuvers always call for Drive rolls. Medicine: The user diagnoses and treats accidents, injuries, diseases, poisonings, etc., and makes public health recommendations. If an era has no good treatment for a malady, the effort is limited, uncertain, or inconclusive. Failure in application requires that the user wait some amount of time to try again, but another practitioner could make his or her attempt in the next round. Pharmacy: The user recognizes, compounds, and perhaps dispenses a wide variety of drugs and potions, natural and man-made, and understands side effects and contra-indications. He or she has a good practical knowledge of poisons and antidotes, and can use Pharmacy as a first-aid skill in cases of poisoning. The skill grants no ability to diagnose diseases nor the right to prescribe medicines. Psychology: A skill common to all humans, it allows the user to study an individual and form an idea of his or her motives and character. In general, the keeper will make the rolls for this skill and keep the results secret, announcing only the information, true or false, that the user gained by employing it. Players should not expect that this skill penetrates skillful deceit unless the person's confidence somehow has been shaken. Personality: He has a no-nonsense personality and is not one for idle chatter. He does not believe in the so called occult and considers testimonies of such things to be mass delusions and psychosis born from over-imaginative minds. He does not blame those with mental deficiencies because he believes that man cannot be faulted for how they were born. In Randall's opinion the blame lies with the father that impregnated the woman, and the woman that gave birth. Randall is not shy about making it clear he believes that not everyone should be allowed to have children. Background: Born in Ridge Cliff and a proud graduate from Bedlam university, Randal continued his higher learning at the local hospital and later transferred to work at the Ravenmore Asylum. Showing a high work ethic he quickly gained acumen and respect from his peers.

Francis Clarke jolted awake by the sounds of the new environment he found himself in. At first, the reddish-brown hue of the sky entering his eyes caused him to think that someone had put a bag over his head. Thrashing upright, he realizes he is not bound, and that his vision is not obscured - quite the opposite, in fact, as he is greeted with the binary stars illuminating an alien landscape and notices the bat-like creatures soaring overhead. At first drawing his pistol from its holster and cocking the hammer, he keeps his guard up, just in case there is anything here that would take the opportunity to attack him, but realizes that the only creatures he sees are simply... looking at him... Easing up ever so slightly, he de-cocks the hammer on his Colt, but keeps it in-hand just in case. Looking over the horizon, he sees the plateaus and the bridges connecting them to the land he stood on, and at the thick black sea which surrounded him. Seeing the bridge as the only way forward, Francis cautiously looks around for a rock to test out for any traps and the structural rigidity of the bridge. Hopefully, he would find rocks as he knew them and not... well, whatever the Hell else this place could contain... "One thing's for damn sure - I ain't in Kansas anymore...", he muttered to himself, thinking back to a fantastical story he read once as a young adult...

June Milton, a flapper girl if there ever was one. June was pretty indeed. Blonde, blue-eyed, stylish, lithe, with a pretty bob... But descriptions are unimportant. What is important, is the sight in June's blue eyes. She looked up. 'Two suns. There are two suns...and the sky...it looks pretty, but it's nowhere near an ordinary sky.' June thought. The scenery was beautiful, but unfamiliar. Was she in a dream? She only remembered going to sleep before she woke up here. The bats weren't helping her unease at all. She wanted to explore, on the bridges. 'No, absolutely not. I'll fall..' thought the woman, still bewildered by this sight.

Reference Image Name: Professor Eric Whitmore Age: 48 Profession: Professor - English Time era: 1920s Skills (up to 4): Adept Linguist - He has a keen eye for languages and the usage of different languages with grammar. He has an easy time learning languages and translating writings into a readable language. Cryptographer - His specialization and fascination with puzzles and ciphers from his curiosity allows him to decipher puzzles or codes be it written or spoken. Calligraphy - Due to his hobby of the ancient art of calligraphy, he has a stylish and unique knack at tracing or writing with any form of material onto a surface be it symbols or copying symbols/writing. Personality: Professor Whitmore is a general kind and caring old man that enjoys helping his students with learning the English language along with teaching the different forms of writing that is available. His students consistently comment on his curiosity and love for learning will get him into trouble since he is quite commonly seen writing or reading to pass the time. Although if a student or townsfolk is in need of help, he is never far away or unwilling to assist others in need being a good Samaritan and spends his weekends volunteering at the local library when he isn't assisting the local priest at church. Background: Professor Whitmore grew up in a low-income family on a farm in the small town of Hillsboro, Oregon helping his father tend to the livestock and crops to support his family, while his mother tended to the home with her famous bake goods being sold at the local town festivals. At the age of 18, he was drafted into service for the military and spent his time with the cryptography department after showing his keen eye and quick wit being able to decipher coded, which he was quickly transferred to the cryptography department until he returned home and found himself quickly completing colleague to be able to pass on his knowledge as a high school teacher. He also married his high school sweetheart, Sarah upon returning home and had two twin boys by the name of James & Erick, whom are currently 2 years old. Current sanity (starts at 100!): 100

Name: Francis Clarke Age: 32 Profession: Detective Time Era: 1920s Skills: 1. Heightened Senses: Being a detective for several years now has trained Francis to keep his wits about him, and hone in all five of his senses (touch, taste, smell, hearing and seeing). 2. Gut Instinct: You don't make it long in the seedy underworld of 1920s America as a law enforcement officer without two things - street smarts and gut instincts. No situation goes by the book, and a lot of times demands what some might call a "sixth sense". In conjunction with Heightened Senses, Francis has an almost premonition-like feeling about many of the situations he faces - and it has saved his skin more times than he would like to recall... 3. Firearms Proficiency: Francis carries his Colt Detective Special chambered in .38 Special everywhere he goes - never leaving home (or the hotel room) without it. In addition to his high accuracy and proficiency with his trusty revolver, he also retains a high proficiency with other firearms (rifles and shotguns). Personality: Quiet, calm, cool, and collected - Francis has taken to a more solitary lifestyle. His line of work allows him to be sociable when he needs to be, despite the solitary nature of detective work while out on the streets. He can work with a team, depending on the individuals that compose it. However, much of his life's work has seen him operate by himself - chasing down leads, catching a murder suspect, and the long days and nights in which he would travel the country to find his quarry and bring them to the light of the law. Background: Growing up in Chicago, Il in the early 20th century can be a death sentence for anyone. You either carve out a life of squalor, following your old man's footsteps and working yourself to the bone for pennies a day at one of the various steel refineries or in construction work; or fall into the dangerous life of crime smuggling hooch, dealing drugs, robbing banks - hey, the sky's the limit! Francis, however, chose a different path - one not chosen by many who lived there. Choosing the life of a detective, he had hoped would improve the living conditions for all in Chicago by cleaning up the city and putting an end to the crime spree. But the seeds of corruption had not only taken root in the heart of Chicago - they flourished and stretched out far to the coastlines of America and beyond. During an investigation for a murder, his primary suspect seems to have left a trail of breadcrumbs for Francis to follow - leading to a small town in Oregon... Current Sanity: 100

Adventure tite: The Dream Demon Location: Hillsboro, Oregon - population of 7354 Year: 1923 -------------------------------------------------------------------------- START: Each investigator starts off the adventure being asleep whereever they are at. Once deep in slumber they are all suddenly feeling fully aware in a very unexpected and weird place. None of the humans are able to see each other when they come to their senses here. The entire sky is free of clouds and in fact is completely sepia toned rather than being blue and normal, as if a filter is covering everything here. Beyond being weirdly coloured, two huge bright sun shine on the sky, with them being at two different positions as well. All around them, every piece of land is rising up like individual plateaus of varying size. Huge pillars rise up from below to support these mostly round shaped plateaus. The sort of rock that these plateus is made of, looks sort of strange to all of them and upon touch, it feels pleasantly warm. The only ways between these plateaus are rickety-looking step bridges. Most are still up and intact, while others are broken and have collapsed. Way down below, a sea of tar-like substance makes out the bottom of this place, like a vast and endless sea. The only other "company" the humans seems to have are odd creatures fluttering around in the sky. Their bodies are like bats, but much bigger and with a giant eye showing up to fill most of their torsos. They have wings just like bats as well and it feels like they are constantly watching these humans, but does not appear aggressive in any way. This landscape stretches as far as their eyes can see and nothing indicates that to not be the case endlessly. --------------------------------------------------------------------------------

Hello there and welcome @Breakbox_Muses. Thank you very much for considering and joining my club! Let me know if you have any questions either. So far we have a current story going on in the "Dark ages" setting and I have one planned for the 1920's time period and current these people interested in that: @DrMender @AraAraOneesan @Jholdono and @Cash Money Chad

Breakbox_Muses joined the club

Name: June "Junie" Milton Age: 22 Profession: Unemployed. Time era: 1920's Skills (up to 4): Art, dancing Personality: June is an annoyingly energetic girl. She's kind of flirtatious, overly sweet, and will protect her friends no matter what. Background: June Milton has thrown herself headfirst into the flapper lifestyle, getting herself by with a string of inadvisable/illegal means. Rum running, moonshine-making, petty theft, bogus door-to-door makeup sales, you name it. However, June still has a gigantic heart. Current sanity (starts at 100!): 100

Malcolm pauses in sweep of the surrounding area as they start to enter the forrest his second home and place of solitude before his curious eyes lie a strange yellow amulet with a symbol he has never seen in his life time. He calls out to the others as he asks, "Has anyone seen this symbol before as I am mot sure this is a beast we are hunting" as he brushes his finger tips against the strange yellow sigil hanging from the branch entranced by the eldritch item.

Would have to depend on the others that joined but more people in the dark ages or a different era would not be bad.

Sure thing. I am up for any of those options.

Well we can always with have the 1920s scenario or the modern age had an option unless they join the dark ages?

It's not really 1-on1 stuff though. We have a very fresh story going on in the dark ages era. There is a topic for character profiles in the same tab as this topic.

I'd very much like to start a Lovecraftian horror RP! Where's the best place to post a character for this?
Newsletter

Want to keep up to date with all our latest news and information?

Sign Up