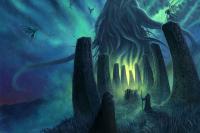 About This Club
A modern world where science in most cases have trumped religion, there is still a much higher and unknown existence to us. One beyond the veil of reality and which will induce madness the more one delves into it and learns the horrible secrets of the universe. Inspired by the works of H. P. Lovecraft, this club aims to put you into the shoes of an investigator and explore and learn about the many lurking horrors that lurks beyond normal human comprehension.
---
Type of Club
Roleplay Club
What's new in this club

Winchester paused as he stepped through the threshold into the main room, his stomach stirring in unease. It was very quiet. Normally, such a quiet would be peaceful, however this was the kind of quiet that raised the hair on the back of his neck. There was not even the buzzing of nighttime insects, as if they were too afraid to reveal themselves. It gave a sense of warped reality, as if he wasn't truly awake. However as he gripped the pommel of his sword, it felt all too real. His eyes slid towards the window, gazing out into the night time stillness. Slowly, he made his way to the front door

The black smith opened his door and saw no one." FUCKING KIDS!" but when he glanced down his irritation turned to dread and panic. Eyes locked on the puddle of blood at his feet before they followed the trail that lead to the near by river. His heart sank so low he could feel it pumping in his shoes, going back inside and getting an axe and a mallet. His face expressionless mouth a gape thinking only that if he had not tarried that poor person could have been spared such a grizzly fate. He stepped outside nervous, dreadful, and afraid; there were no guards in sight and for all he knew it cou

I have decided to go ahead and move our "fun" story along. I hope you guys like it, despite the wait for it, as well as the choice of optional music you may use when writing posts

Surprisingly, there is no commotion or other monks up and about, despite what Deaca experienced and what woke him up. Instead, the monastery is silent as ever when it's night time. The monk on night duty is nowhere near Deaca on his way out of there and is most likely in a different part of the place. The road towards the village is not very long, but it still takes a few minutes to walk even, even in a brisk pace. As he makes his way into the main room of the inn, the place seems deserted and quiet. By now, it's lights out and only the moonlight provides a subtle, yet still sufficient

Seeing how @Nafarman is not around much these days, should we move on with the scene? @Neptune @Thatannoyinggod and @Cash Money Chad

Once Winchester had settled his horse into the stables, and purchased a room. The bed was a little more lumpy than he would like, but he was able to fall asleep quite easily, excited for the work he intended on doing the next day. However his rest wasn't as peaceful as he had hoped. He was awoken in the dead of the night by the loud shrieking. He jumped awake, immediately reaching for the sword that was resting against the bed, "What in the name of the Queen?" He cursed softly. He pulled himself from the bed, dressing himself quickly and picking up his sword which he clipped onto his belt. He

The black smith was now feeling worn out and fatigued the to point where his work would suffer if he kept at it, meaning that it was time for him to go to bed then wake up to get right back at it again. He laid down in his little make shift bed and closed his eyes, but not an hour had assed before he heard and loud banging at the door. His eyes shot open weariness and fury washing over him as he dragged his aching sore body out of bed to get the door." SHUT UP I HEAR YOU!!! I'm coming I'm coming!" The black smith swung open the door but was immediately aroused by the blood curdling scream.

How do you guys like the transition? Was it done okay?

Upon hearing the blood curdling scream, Brother Deaca woke up immediately. He opened the door to the hallway and looked out, seeing many other monks looking around and asking what the noise was. Brother Deaca did a hand motion of the crucifix. "God be with the poor soul that made that noise." The monk made his way out of the church to find the source of of noise, making sure to bring his bag of supplies with him.

Time passes by and everyone in the village, except those up on guard duty, are asleep in their respective places, aiming to find rest for the night and hopefully be refreshed the follow morning. There is a quietness over Duskhill and with nothing at all going on. Pretty much every day is like this - quiet and tranquil. The most noise coming from the animals that are active during the night and the occassional footsteps of the guards as they walk around. The stream that runs near town gives a soft bubbling noise as well, adding to the idyllic rural symphony. Among those slumbering peaceful

@Thatannoyinggod and @Cash Money Chad - do you want me to fast forward to everyone being asleep?

In order to finally move along again and get on with things, how do you feel about we move to night time and we go from there?

I am awaiting a post from @Cash Money Chad to keep order, before I do a post as the other two have posted since I last did a post.

How do you guys like the last suggestion of mine? Also...would really love to move forward, if possible!

You're welcome! As mentioned, it is mostly just what I could think of at the moment. There is room for changes if we should run into any issues. By the way - if any of you have requests for fun future settings you would like to do, please do tell! I am also open for someone being a storyteller as well, running their own adventures - these will most likely be put into a new tab made for "guest story tellers". I think it could be interesting to see what other members could come up with and I want it to be possible for them to have a platform to do them - and I would get to

This gives a good idea! Seeing moving and physical maneuver being listed differently, I assume dodging would be a major action, even though it can be classified as "moving"? Hmm, I think I got what I was looking for. Thanks!

Saying what would constitute a minor and major action can surely be subjective, but I will try and give examples of what I would consider being either of those. Feel free to give critique, good and bad. Overall, I am using the ones from Modern Age as my primary source of inspiration. Minor actions: Moving Drawing a weapon or item Going into a stance of some sort - like aggressive or defensive Interacting with object Major actions: Attacking A physical maneuver (probably spelled it wrong) Reloading a weapon Climbing Casting

Okie dokie Can you kindly give me an example of a minor move though? Like, would leaping on someone to ground them be a minor move?

As per normal with Lovecraftian horror, combat is usually best to avoid. If we do end up in combat, there really isn't a system to follow. We can always make it a cinematic thing, but I am open to better suggestions. The idea of one minor and one major action sounds pretty simple though.

Hey! @JennyDK So I had a question. If a fighting scene was to break out, how many major and minor moves an investigator can make each post? And also, what would be considered a minor move?

The younger monk gives him a gentle smile and bow back."Welcome to Duskhill monastery brother. Luckily, we have a few empty rooms for guests that you may use. Please, do come inside and let us get you some needed rest. It is good to see another member from beyond this town", he politely responds and offers Deaca to come inside and within 10 minutes or so, the travelling monk has been shown one of the meager, but still useful chambers for guests.

When Deaca arrived at the monastery, he waved to the monk on night duty. "Good evening and God's grace upon you, brother. I am Deaca. I am on a pilgrimage, and I ask for shelter for the evening in your parish." He gave a small bow with his head and made certain the monk could see his crucifix. His feet were sore and tired weariness was beginning to weigh upon him.

The guard is not really one to let a stranger wander about here this late at night."I cannot let you pass before you identify yourself. Also...show us any weapons you may carry. We do not want any potential criminals here. Duskhill is a peaceful place and we intend to continue to being so. Once we are sure you are harmless and know your identity, I will gladly point you towards the inn in town", he says, not really happy about letting someone wander about, thus the extra security and questions. The other guard just keeps himself ready, whilst trying to observe the surroundings a bit as well.
Newsletter

Want to keep up to date with all our latest news and information?

Sign Up