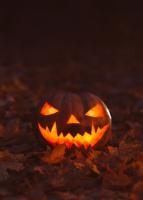 Film and Event Discussion
After a long drive through the seemingly infinite darkness ahead of you on the road, broken up only by the broken yellow lines between lanes, you make it home safely and head inside to lay down and rest. But, you have an uneasy feeling. Something about the bizarre behavior of the ushers and other workers at the drive-in. Something just wasn't... Right.
You shake it off as nerves from the frights on the silver screen you'd just witnessed, yet you can't seem to shake the fact that you're not alone, as you contemplate the media you'd just consumed...
---
2 topics in this forum
Yeah, yeah. I know. Everyone's all about making Art the clown a new icon of horror and shit, Terrifier 2 was so good and all that. So, seeing it was on a streaming app, I decided to check out his origin film, All Hallow's Eve. This is gonna be short. There have only been an amount of movies that I can count on less than one hand that I actually could not wait for the end of, that entertained me to such a minimal degree that I focused on literally everything other than the movie itself. This is one of those movies. Now, I wasn't huge on the Terrifier movies either. They were okay, at best, but they were nothing new. But I am a fan of my antholog…

I've wanted to do reviews of movies and games for a while, so I figured this was the best place for the spooky flicks I find myself engrossed in on any given evening. And what better place to start than with the biggest fucking head scratcher I've seen in a long while? This is Night of the Animated Dead. Or, Night Animated of the Dead, if you're nasty. This was a purchase made on impulse when looking for something else. It was on an end cap, new and cheap and I own... Probably something like four other versions of the original Night of the Living Dead, considering you can find it on most of not every single horror bundle that plague the bargain …
Recently Browsing   

0 Dreamers

There are no registered users currently online