Hello fellow Dreamers,
Quite a few updates have been made since our last announcement from just over two weeks ago, that we wanted to go over here. 
Table of Contents:
A message from our Community Administrators

Events in the United Kingdom

More changes to the Terms of Service

Section 14 Changes
Section 18 Changes
Section 19 Changes

EcchiMates
Loading Bar/Client-Server Comms Bar
Roleplay Advertising Changes
Roleplayer Preference Changes
Discord Server Changes
Other Small Changes
A message from our Community Administrators
It has been an extraordinary few weeks, and a very busy few weeks. I've been enjoying my evening sitting in the voice chat on our Discord server, speaking to and interacting with people of the community, and Neptune has made an appearance a few times too. We've worked pretty hard the last couple of weeks, even as our nation enters a period of mourning. 
There are likely to be more improvements over the coming months as we enter 2023.
Events in the United Kingdom
This might seem weird on some "Random Roleplay Smut Site", but both of us Community Administrators are British. We were born in England, and will likely die in England. We're British through and through, and we make no apologies for it. 
So on the 8th of September 2022, we were saddened to learn of the passing of our Queen; Her Majesty Queen Elizabeth II. Many of us felt like she was timeless, present throughout our entire lives; at least the majority of the lives of most people in this country. Our thoughts and condolences are with the Royal Family, as we mourn the loss of our longest-serving British monarch. We are indebted to her dedicated service to this country. She truly was a magnificent woman who endured much with dignity and decorum. 
It truly is the end of an era.
More changes to the Terms of Service
Do you know when you proofread something, and then you get other people to proofread it, and you all independently think that it's good so you send it up to go live for potentially hundreds if not thousands of people to read, and then - and only then - you find grammatical mistakes in it, despite going over it with a fine tooth comb?
Yeah. That happened. We've corrected the ones we've noticed and we've actually made changes to Sections 14, 18, and 19, to clarify our stance on monetary transactions on EcchiDreams. We've also added "Not to add the other party as an EcchiMate" when it comes to NCO's, which makes sense with the new system in place. We've also changed a lot of grammatically incorrect sentences and changed most, if not all mentions of the word "User" to "Dreamer". This will not require reacceptance as most of it is stuff that was already against the rules before the update, and the NCO sub-section is agreed to upon taking out said NCO. 
So this announcement will suffice.  
Section 14 Changes
We have added personal donations to the list of things that aren't allowed, this includes - but is not limited to - things like GoFundMe links, Ko-fi or Cryptocurrency Addresses. We've also stated that the rule of thumb is if it asks for the money and the context is that dreamers should buy it, give to it, or donate to it, it's not allowed. 
Section 18 Changes
Very minor changes here. We added "Any kind of QRCode, Datamatrix, Barcode and other such things that contains anything that violates any Section of the Terms of Service."
Section 19 Changes
We've changed this from "Commissions on Art" to "Monetary Transactions" which covers 'Commissions on Art' anyway. We have reaffirmed that all transactions on EcchiDreams are restricted to EcchiCredit transactions only. Content posted on any part of this site such as, but not limited to; commissions on art as well as donation services, and cryptocurrency are not allowed on this site.
EcchiMates
Some of you might have noticed; we've re-released a new system which we lost in 2015. First let's get the rumours out of the way: Yes, this is a friends system. No, it is independent of the followers system. With this comes a basic profile feature that allows you to set some new privacy settings.
You can have a maximum of 300 EcchiMates. There is no difference between normal, gold, platinum members, or even staff, everyone gets 300, and that's your lot. This number may change later down the line, but for the foreseeable future it's capped at 300, universally. 
There were a few hiccups along the way such as the fact that it was sending out emails, despite being told not to, but this has since been fixed and we'll be making improvements to it, with any luck as the feature matures and comes out of Beta.
Why EcchiMates? Because in England, a friend is a mate. But "Mate" has other meanings depending on context. So it's a bit of an innuendo too. I know, cheeky, isn't it? But at its core it's a friend system.
Loading Bar/Client-Server Comms Bar
Noticed that pink bar running across the top of the page? It's been with us since around 2011 or so, in one form or another. It used to be a bouncing ball in the top corner but it slowly changed into the pink line that is seen today. 
Basically it's your indicator when everything on the page is loaded when you navigate to a new page, or if you haven't it shows communication between your device (Client) and EcchiDreams (Server). 
For a long time it's been a pink bar regardless of which EcchiTheme you're using but I've recently changed it to make it more noticeable, and have a bit more variation of colour, be a little bit thicker and to be a little bit smoother. Otherwise it still uses the same library and not much else about it has actually changed.
Roleplay Advertising Changes
In October 2013; we brought a little fun feature that essentially turned every link on the site into a rainbow link when you hovered over it with a mouse over it. One person (out of many) who really appreciated the Rainbow Links was Xander. This was back when >75% of our users were using laptops and desktops now it's on average less than 30%. However in 2015 with one of our biggest updates to date, we unfortunately removed it because it didn't work too well with the new system, and the fact is, today most people won't see it on their phones unless it was active all of the time... Which, yeah - no. 
But in that very same announcement it was also where the roleplay advertising thing started, here is how it looked back then: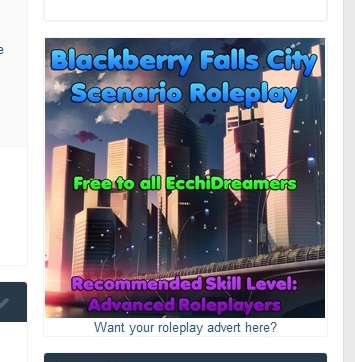 This obviously morphed and evolved as Roleplay Clubs became a thing. Now it's for roleplay club owners who want to advertise their club. As such it will now show an embed showing that club, which is a bit more rich than just a picture. It also means that people looking to advertise don't have to do as much work to make an image that fit our rigid specifications. All you need now is a club (That complies to the advertising Terms and Conditions) and more EcchiCredits than you know what to do with, and you can apply for it.
In memory of @Xander this link is now a rainbow link, and you don't need to hover over it to get it to flash. It will just do it, with any luck (I've not tested this outside of Chrome).
Roleplayer Preference Changes
There have been a few minor updates to the roleplayer preferences section. Such as:
People are now physically limited to one roleplay preference. If you try to submit more than one; you will get an error.
There is now the option of a "Might"/"Maybe" field, which shows up as a yellow-ish orange in the preferences. (Thanks @Sinful Vampire, for this suggestion.)
A rainbow link of your preferences, if you have one put on your profile, will appear next to your posts across the forums of the site. 
Discord Server Changes
We've made a few tweaks to the Discord Server which is a place to socialise and talk in real time to other Dreamers from the site. Please note that it is not a roleplay server.
Despite the fact that our Discord Server is protected by the same Terms of Service as the site, Discord has a few extra rules that we don't have. Which meant that our server was technically in violation of Discords Terms of Service/Community Guidelines. This has been rectified. As such we've made a new channel called "#important-information" which outlines the extra rules on that server. 
We've also added a channel to counter "#memes-and-shitposting". The new channel is for wholesome (completely SFW/SFW-ish) memes and stuff. A brief snap poll was announced on the server for the name of the channel and @Neptune's suggestion won by an absolute landslide. The new channel is called "#wholesome-shit". No, I'm not kidding.
We've added icons to the channel names.
EcchiVoice Text Channel (The voice channels, text channel) has been removed as voice channels now have this built in. If you can't see it - update your app. 
Our server, at the time of writing, is currently Level 2, thanks to the generosity of our Discord Boosters: @Mini Magi, @Azalyn, @Sinful Vampire and @Moon Hound Hati. Please note that of course we appreciate those that donate their boosts to the server, it's not mandatory, and we don't see a penny of it. It's purely a Discord thing, but it still means a lot to us that you'd donate your boosts for the betterment of our Discord Server for others to enjoy. Thank you to those who have boosted the server!
We might be holding a competition to come up with a server banner and invite page images at a later date. The prize pool is sitting at 20,000 EcchiCredits; this could go up (but won't go down) when the actual competition is announced. 
Other Small Changes
There have been a number of small changes too: 
We've added an Achievement/Award for people who have boosted our Discord Server. 
As a trial run, we've set out the default theme to the Dark EcchiTheme, and renamed the previous default to "Light EcchiTheme." 86% of Dreamers who have logged in over the last six months have switched to the dark theme. I'd say that message was loud and clear. People prefer the dark theme. If you don't, the option is there to switch back to the light theme.
The search box has changed a bit now. It now includes a drop down of the area you want to search in, within the box itself. 
---
Image Source: はちお (hachio81)
This article wasn't really planned and for this one I was just looking at landscapes on Pixiv for something unrelated and I found this, and thought that it looked extremely beautiful, especially with the summer we've just had. It's a very beautiful and colourful image, it conveys a sernie, tranquil peace that is both neutral and unoffensive. It's very detailed too, and it kind of makes me wonder if it's a real place and the artist took inspiration and if I can visit there. Looks like it'd make a lovely holiday spot and the water looks inviting enough to lounge around in. I think the artist did every well with this picture, and I like some of their other artwork too and it's also as incredible as this one. I highly recommend checking them out!