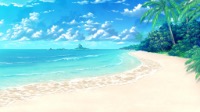 Just as how any good hentai begins, Japan's birthrate has seen a drastic fall over the last few decades.
It's a scary development, and with the current development, we're headed with seven mile steps towards a worker shortage within the next few decades. What can be done about it?
People aren't fucking. They're too shy, or simply never develop an interest in it. Then we have to ask ourselves - How do we make our youth interested in one another, in developing romantic - And sexual - relationships with each other? 
between aphrodisiac chemtrails and economic stimuli to families, another, much less ludicrous, and far less expensive, option shows up.
"So, for this year's school trip, the usual Kyoto trip has been cancelled. Instead, we'll be headed to a private nude beach in Okinawa! And, anybody who skips the trip fails my class."
So proclaimed Ms. Niijima at the start of the Biology class. of course, there were ample protests, but with cabinet approval and a lot riding on the pilot project, protests went in one ear and out the other.
And now we're here. After a plane ride from Tokyo to Okinawa, on a private beach resort, staring at a sign saying "Nude beach - Clothing not optional"
-----
Hello, and thank you for reading!
My name is - Pretty self-evidently, Lynnette, though Lynn is plenty. I've been a Roleplayer for many years now, and used to run a few games on another site, but this will be my first time among dreamers. I'm not super-familiar with the site just yet, but I'm hoping to get the full hang of it soon. Any recommendations in regards to how to do things different, common policies on the site, do inform me, I'd be thrilled to hear it.
For those not familiar with the material I'm basing this off - It's called "Nudist Beach" by the doujinshi author Shiwasu No Okina, which deals with more or less the same story. There's also a hentai adaption of it if you're more audio centric and like things to move. Either way, it's one of my personal favorites, and I'd highly recommend checking it out - And all of Okina's work really. I love how he manages to make a variety of body types and characteristics look so gorgeous. I'm aiming for this to be a light-hearted story at around 70/30 smut to plot, with replies ranging from 1.5 to 3+ paragraphs. Game on!

Newsletter

Want to keep up to date with all our latest news and information?

Sign Up