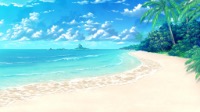 About This Club
Based on the doujin/Hentai of the same name, a lighthearted story following a school trip to a tropical nude beach!
---
Type of Club
Roleplay Club
What's new in this club

Silver117 joined the club

@Moon Hound Hati With how rapidly and expertly Makoto was attacking her sweet-spots, Yasui's vision begins to become a little unfocused, her breathing ragged and hard, her deliciously tanned and sculpted body dripping with sweat among the water from the shower. She couldn't even remember the last time she'd been so willing to let a guy just have his way with her like this, but she was loving every second of it now. She had no doubt in her mind that Makoto could do just about anything to her and make it feel good somehow. Her scrumptious tomboy pussy continued to relentlessly squeeze and suck on his cock while he pummels her cervix over and over, her achingly tight hole greedily swallowing his dick over and over. Her insides would tremble and quake around him with every thrust, her thighs starting to shake harder and harder while a familiar heat begins to build in her core, "H-Holy fuck, yes!!~" She growled out between moans, her eyes burning with sinful desire as she looked back at him, "Keep going. Don't stop for even a second until I cum all over your cock, got it!~" She demanded, baring her teeth and taking a nip at his face when she was close enough. With that out of the way, she got back to simply enjoy the aggressive pounding she was taking, every fiber of her being eager to see what else he could do. Oh yeah, after this trip is over…she and he are going to stay in much closer contact than before~

@badassblonde Well, that certainly made things... Not just easier, but more fun. It seemed she enjoyed decisive action, and not minding if things took place somewhere in the semi-open. Given the illicit activities he'd gotten up to on the beach earlier among the trees, it was no surprise that he had little to no qualms about being seen. His fingertips roamed and dug in to her flesh, stroking her fair skin while his tongue trailed around her sex. Whatever she had been about to say, she lost her sentence, a distinction that excited the pink-haired male as he dug his tongue into her cunt to sample the fine, wet flesh within. "Mmmh... Much better than the food downstairs, if you can believe me. I think I need a second taste... And a third..." Takuya smiled, licking his lips and pushing back in for more. This time it wasn't just his tongue that touched her sensitive flesh, but his whole mouth. He was no stranger to performing oral, and here he pulled her hips toward his mouth, tilting his head and dipping his tongue in deeper, lashing at her inner flesh. His hands moved, dragging fingertips over her hips before settling on the front, where he used his thumbs to help her flesh petal before his eyes and give him easier access to the pink muscle within. "Heehee... I could do this all day... Wonder how you'll react when I do... This?" the male was wicked, pulling his head back just a little, finding the sensitive bean of nerves that was her clitoris. His thumb brushed upward, flicking and rubbing the button with a wicked look on his face, all the while running the tip of his tongue along her slit. "Don't be afraid to just grab my head and pull it where you need to, Liv~"

@Gardsorm She chuckled, smiling and nodding at him. "I can appreciate a guy who knows what he wants. This is fine, of course." She'd never been shy about doing things in the open. In fact, she'd often find herself in some very public places in some very intimate positions; it all added to the thrill of it, in her opinion. So she was happy to know her new companion felt the same. It seemed she'd been missing out, not having gotten together with him before, and she imagined this could be the start of something very...hot. Liv opened her mouth to talk again, but his tongue was on her and she lost her train of thought. Closing her eyes, she leaned her head against the door, her fingers tangling in his hair some more. Her skin formed goosebumps as he trailed it up her thigh and along her slit. She moaned quietly, biting her lip as he licked her slowly and as he grabbed her ass, she opened her eyes, looking down at him with lust in her eyes. "Taste good?" She smirked, teasing him.

@Flip_Flop_and_Sloppy Makoto firmly noted the positive feedback he was receiving from Yasui's body, from her moans to the vice-like grip of her dripping wet pussy. With hips keeping up the assault, moving like a piston in a car engine going at high speeds, he decided to push the offensive even more. Placing his hands firmly on her shapely hips, the next thrust forward pushed her up and forward, dragging her up onto her toes and front of her body pressed up against the tile wall, full, round breasts squashed even more than before as a result. The swimming club ace was determined to make the tanned vixen cum and cum hard, slamming deep into her as if attempting to carve the shape of his dick into her pussy and battering her cervix as if it were a battering ram at the gate of the enemy castle. Placing his lips back on her neck, he went for the other side this time, instead, biting and sucking on her sun-kissed skin to have his mark appear on it later, for all to see. His grunts and groans were muffled against her neckline, fingers digging deep into her hips to keep her in place, trapped between himself and the wall as he pounded her vaginal hole with all the vigor and ferocity she could hope for.

@badassblonde "What!? ... You got half already? Damn, I don't even have twenty percent of them..." Takuya blinked and looked shocked. Of course numbers like that were likely easier when you were of the fairer sex and with looks both sides of the equation could enjoy. On the other hand, it also meant that Aliviana had a great deal of experience, and... That he was worried for nothing in how he acted around her. "Maybe it was... Sometimes I'm not the most perceptive, eheh... I try not to let it get to me though since I get through my problems one way or another, and sooner or later I'll be able to leave with the education I want." There was more than a little glint of mischief in his features. Takuya was not the most gifted in his studies either but he seemed to try, or at least didn't let the failures bother him. Besides, there was much more important stuff to worry about right now as Liv was against the door and he was kneeling before her. "Well, why not? I kind of have a thing for doing it in the open, or semi-open... A nude beach like this is too hard a chance to pass up on indulging some of the habits, you know? Lots of good-looking bodies and naughty fun going around if you know where to look... And some, like me, like to do more than looking..." With that said, and her fingers running through his pink hair, the male leaned in, dragging his tongue up along her inner thigh, giving a soft nibble at the flesh. Just like him, she didn't appear to have an aversion to fun in the open, but if she needed to, his card would be ready to open the door at a moments notice. The pink-haired male leaned in more, tilting his head up as his tongue traced up her inner thigh and to her exposed pussy, keeping his eyes on her features as he lashed his tongue out. The tip dragged along the lips of her sex, before slipping between them, running along the flesh just past the slit. His hands came up moments later, both relaxing on her hips while his fingertips pushed into the cheeks of her ass. "Mmmn..." Few proper words could be exchanged while his mouth was against her cunt, but the appreciative hums would hopefully tell her he enjoyed performing oral for her.

Anthro63RP joined the club

@Moon Hound Hati Each of Makoto's subsequent actions brought Yasui to a whole new level of bliss. First his aggressive thrusting, then him clamping his fingers on her sensitive clit, and even feeling his teeth and lips attacking her neck. All of it was enough to make her shudder like a cold day in December, her pussy clamping down even harder as a result. "H-H-Holy f-fuck!!~" She said, only just barely managing to keep herself from screaming it. She hadn't felt this good with a guy since…well, shit, she can't even remember. Most guys she'd been with at school were either total noobs or were too busy with their own pleasure to make sure she got the optimum experience. That was partly why she hadn't really bothered with trying to get any in recent months. She'd just kinda grown to expect they'd all be disappointing. Makoto was anything but~ Hoping to return the favor, Yasui began to shake her ass a bit and press her hips back against Makotos' matching his rhythm rather nicely. Her pussy kept on clenching and wriggling around his cock, the intensity suddenly spiking whenever he managed to touch her womb. He could easily tell how much she was enjoying this so far, and she could easily tell the same of him. She just wished there was more she could do to make him feel better as well. However, in the position she was in, her options for moment were…rather limited. Not that she was about to complain~

@Gardsorm "The only kinky horndog? You know, it's interesting that we haven't gotten together up until this point, if that's true, because I've basically slept with half our school." She watched him curiously, as he took in her words. For some reason, she'd expected him to be a little more shy about her suggestion, but it seemed he was as into it as she. She grinned as he took her hand and she let him drag her along. No one even spared them a passing glance as they made their way through the halls. "Have we really? How interesting because I don't really care much about my studies. Are you sure it was me? Maybe I was just having an off day." She considered, studying him as they walked and trying to remember him from class. But after a minute, it just didn't seem to matter anymore as they made their way closer to the door. She waited for him to open it, but instead, he backed her against the door. His threat of being terrible only intrigued her more and she bit her lip, nodding that she was ready as he crouched in front of her. "Oh, are we starting out here?" She smirked, teasingly, her fingers tangling into his hair.

@Flip_Flop_and_Sloppy "Yeah, that's nice to hear… But we're just getting started~!" Raising his hand, Makoto smacked her right ass cheek firmly, a wet clap bouncing off the walls before it was followed up by the wet slapping of their pelvic regions as he began plunging deep into her tight, vaginal hole repeatedly at a fast and rough pace. So far he'd come to understand that the tanned, fit tomboy liked it quite rough and, well, who was he to deny her that? Slipping his arms around her curvy frame, one wandered down to where they were connected, feeling around for just a moment until he found her clitoris. Capturing it between index finger and thumb, he applied a firm, clamp-like grip to the sensitive nub. Leaning forward, his lips and teeth clamped firmly onto the soft, smooth skin of her neck. Sucking and biting her playfully, he would surely leave a bruise to develop and become visible later. His cock slammed deep into her wet, coiling pussy, the fat tip poking and pounding against the entrance to her womb, making him grunt against her neck and pleasure to surge up through his spine with each subsequent thrust into her.

@badassblonde Well, the redhead was a lot more understanding than Takuya would have expected. He was also maybe too expectant of her being willing to let him lick food off of her if it came to that, but fortunately the mess was nowhere that severe. There would always be a nagging feeling as to why the girl stood out in his mind, but as long as they were here at the beach, it probably wasn't too urgent to need to remember just yet. One thing he had to admit... He didn't expect her to take his notion about sauce and twist it into more of a sexual innuendo. It made both his brow, and his dick, rise just a little. "Heh... To think I was legitimately just asking about food, and you went and twisted it that way. I thought I was the only kinky horndog around the school." He moved to set the tray of food down, a movement that proved helpful as the moment he turned around, he all but immediately found his lips set upon by the girls' own. The kiss was a simple, chaste one, so Takuya didn't feel the audacity to try and make it a little less than chaste, but the words she spoke to him certainly spoke of things much less than chaste. "Hmhm, are you actually suggesting that, or just reading my mind? I almost can't tell..." He grinned, leaning back a bit to look toward the halls, moving his hand to take hers and lead her along to the bedrooms. Part of him was curious anyway, because they'd been told about the rooms earlier, and he wanted to see what they were like. "While we're walking there... I suddenly remembered why it feels like I know you. You're... Uh... Ali... Liv... Aliviana, right? That red hair is a little hard to forget, we actually share a few classes! Though, you kind of just keep to yourself most of the time... I actually tried flirting with you once in class, but I think you were too focused to notice." He remarked, looking back at the girl. "It's alright though, I figured you were someone more focused on studies than fooling around... But maybe I was assigned wrong about you as I was about some of my other friends." There was a knowing smile on his features, referring to his friends Akiho, Aiko, Rin, even Takeo... The halls had a couple of students wandering, though not for very long as some either headed for their rooms or returned downstairs to either enjoy the food or troll the Beach some more. Maybe some even went for the pools or the gym... No matter the case, Takuya followed the ID number on the key around his neck, before pulling Aliviana forward and against the door. "Last chance... I can be pretty terrible to play around with. You sure you want to go in the room with me?" The question was asked, before the male slowly lowered himself with a wink, crouching as he leaned dangerously close to taking a lick out of Liv's bare crotch. Maybe if she answered in time, he would pause before starting anything out in the hallways... He seemed to be rather incorrigible.

And then Taku makes things worse with all the dirty talk. Which a certain voyeur may it may not be able to hear depending on how far she is... >.>

@Bluenails@Chiyako@SakuraT Did... Akiho really admit that? Rare were the moments that Takuya looked like a deer in headlights, as it usually took a lot to really give the male cause for pause. However, he had never expected his friend to come out and admit something likenthat, and while the prospect did certainly interest and excite the pink-haired male... "Mmm... Dirty boy, how dare you dangle that kind of prospect infront of me..." Takuya grinned with wicked delight, licking his lips as he pushed his hips up enough to completely sink himself in Akiho, leaning over the boy to whisper into his ear, but not before nibbling on his earlobe: "I would love that... But don't do that to yourself. You're a gorgeous cutie who can easily get yourself someone more cuter than me, like Aiko here. But... If you don't mind fooling around with me and cuddling up to me after, I could do that 'til the day you found someone... Besides, your sister scares me." He had to hold back a snerk, a combination of his rather attractive but equally terrifying sister being overprotective of her sibling putting poor Taku through the wringer in his mind if he accidentally mistreated Akiho, and the wonderful squeezing his friend did on his throbbing cock as it buried its way into his friends' back door. One of Takuya's hands moved, running along Akiho's waist and to his hips, giving his ass a pleasant squeeze while his other continued to pluck, tug, and gently pinch his nipples until they began to puff up ever so slightly. Even a body like his could react in ways a girl's might if subjected to enough stimulation... Meanwhile his eyes watched as Akiho went down on Aiko, seemingly slowly and gently so as to not completely blow the pinkette away. "Nnn that's right, Aki... Squeeze on this cock filling your ass while you hungrily feed on her cute pussy... That's good..." Takuya couldn't resist talking a little dirty, leaning in to wink at Aiko and give a gentle nibble to her thigh while Akiho was the main attraction. The male's eyes fluttered shut for a moment, breathing picking up as he quickened the pace of his hips, but tried not to be too disruptive with his thrusts so Akiho could stay focused on Aiko. That and he couldn't wait to fill his willing ass with a nice, heaping helping of warm cream to watch it all ooze out. He could still hardly believe they were doing something like this...

Whew! There we go! Her first real kiss sure is a strange one!

@Gardsorm @Bluenails @SakuraT She knew that Aiko was pretty strong. That was blatantly obvious. Even so, Aiko did feel a little bad about the girl's situation. Didn't she want to join in on the fun? Was this really enough for her to get some enjoyment out of things? If nothing else Aiko would just have to repay Takeo later. Somehow. Aiko didn't remain stuck within her mind for too long. Takuya's words snapped her back to reality, eyes lifting to meet with the boy's. She nodded, perhaps a bit more eagerly than she'd meant to, but then it was the truth and she was quite distracted by the continuous line of kisses planted upon her thigh. "I r-really do" she responded timidly, to both questions actually! She was really enjoying this, and she really did want to help! Although I think that would help me more than it would help Akiho. When Takuya's eyes met with her crotch Aiko's face flashed red again with heated embarrassment! It also drew her own gaze down to meet with Akiho's, a nervous smile etching across her lips. Wait, more permanent? Was he talking to her? No, it was probably Takuya, right? They would make a cute couple! Her thoughts were interrupted again, this time by Akiho's breath. As it washed over her crotch a jolt of sensations briefly pricked along Aiko's spine, only to be followed up with a sharp inhale when the boy's tongue made a single slow drag along her pale skin! So close! The poor girl's body wiggled with a mixture of glee and anticipation! But she also couldn't prevent a nervous giggle from slipping free. He really was good at teasing, wasn't he? Something about the way he stared at her also made her heart beat just a little more quickly, like she was some prey being stalked. As Akiho suddenly leaned inwards again the teasing came to an abrupt end. The boy latched onto her groin, and this time his tongue was directly on target! Her eyes widened, breath catching within her chest at the intense feelings created by her friend's surprise penetration! Aiko's entire body twitched and jerked within Takeo's grip, toes curling whenever Akiho's tongue shifted even just a little bit within the incredibly tight sweet nectar soaked walls of silken flesh! Her grip upon Akiho's hair unconsciously tightened, tugging him in against her sex, and only a few moments passed before the pinkette started to jerk her hips forward against her friend's sleek muscle. "Akiho~!" she moaned in a hushed voice. With his lips locked against her own it was almost like he was kissing her! Heck, she hadn't ever really had a real kiss before! She would have plenty of time to worry about that later however. Right now all she could really think about was Akiho's tongue.

@Gardsorm Covered in food, she huffed, about to say something but she covered it with a short cough. "Oh, yeah, no it's alright. I should have watched where I was going too." Her eyes looked him over and a sense of familiarity set in. She knew this boy. He must be a classmate or...something. At his words, a wide grin spread across her face. "I don't think there's any sauce, but if you're propositioning me, I'll have to say, I eagerly accept." Her smile grew as he continued to babble and she took a step toward him. She knew exactly what to do when someone talked too much. Her lips found his and she met him with a gentle, chaste kiss. "I hear they have rooms here for us..." She suggested.

It like it when things are hot... but not this kinda hot x.x

I feel that on a spiritual, and literal, level. -_-

Oh, this was a very good day indeed. His secret life getting revealed by Takuya had made Akiho blush, although that only added to cheeks already reddened by exertion and excitement, but the hands on his head, tightening and pulling him towards Aiko's glistening, needy little mound and, of course, the cock being plunged inside him were a wonderful combination only added to by the hands on his chest, playing with his nipples and the small amounts of flesh that wouldn't be nearly enough to pass for a breast. Takeo was, perhaps, watching all of this, although her attention seemed to be more on Aiko, so there wasn't really anyone around to just see him on all fours getting felt up and fucked like a cute girl, but it was hardly as if that absence made the whole thing at all bad. "Play your cards right," he murmured, lips lifted off of Aiko's skin for a few moments. "And I might not object to something more permanent." He wasn't at all sure he was ready for any sort of boyfriend, but he liked the idea and, if Takuya did anything he knew that Yua would protect him. He wasn't sure how she'd do so, but she could be scary sometimes. For now, he had other things to think about, and while dick was a common topic of his mental activity, going down on a cute girl wasn't. Making sure that Takuya got some good wiggling of his hips as they pushed back and pulled forwards in time with his own actions, he continued his slow kissing up towards Aiko's sex, finally reaching those slightly parted lips. Making sure that his eyes stayed open despite the urge to let them close while he was getting fucked, he fixed his gaze onto the girl's, unblinking as he leaned in, his breath washing over and no doubt tickling the moist, delicate flesh before his tongue slowly extended out and he tilted his head back, keeping his eyes locked on hers as his tongue was drawn lightly over the soft, sodden flesh ... that was just barely to the side of her labia. With a brief pause for a small but intensely smug little smirk, then he dove right in as his head went back down, the tongue this time running downwards between her lips and pushing inwards hungrily as he switched from the previous slow, hopefully nearly torturous teasing to something relatively harder and more aggressive. Not that he was actually going hard, of course. Aiko seemed new to all of this and he didn't want to go too heavy too fast.

I'd best fix that, then. In other news, it's too bloody hot to anything.

Shoot! You're right, I did the thing again where I got confused. >.<

Ah, I thought it would be Akihiko's turn?

A quick glance through shows that it looks like it's @IsabellaRose 's turn to post in the scene with you folks. Not sure about separating since I still see 3 tags for each

Also, is it me with Yua next, or Aya, in the other Beach thing? Or has that separated out into two pairs at this point?

Ooooooh yeah, this place isn't for the working class man. This is a private resort for the people in the tall chairs with the tailored suits! The kind of place an executive would bring his third wife, to enjoy the weekend - And one another. It's certainly not on any booking list, though the place doesn't seem to be struggling in the slightest. Beyond regular housing, the resort offers a number of amenities. Several places to eat are among them, with three meals per day being covered as part of the trip. There's an indoor pool (though who'd ever want to use that? Maybe for the Jacuzzi?), gym, a few shops, there were even a few rumors about a slightly more... Specialized shop down in the basement. And, for once, the staffers are easily identifiable, given that they're wearing clothes, something visitors are expected not to. As far as trip-rules goes, clothes are permitted but discouraged in the indoors areas. The type of discouraged that could lead to a docked grade. Bedrooms nobody checks, though if you're found hiding out behind closed doors, good luck explaining your score card to those back home. There's not enough rooms to not share, though any crafty student should know how to swap keys for a night. Other than that, not much else to say, have fun!

Beautiful white sand, ocean as far as the eye can see, all shrouded by a thick veil of tropical trees and shrubbery. It is, undeniably, a beach. And not just any beach, but a private beach, a private nude beach! Several miles in length, and far off from civilization - The utmost level of privacy, surely to the relief to many a student frightened to toss their clothes. Though, on that note - Maybe it's most intimidating, undressing in front of the people you'd otherwise go home with, or study alongside? The beach offers a number of amenities. Some key points would include plenty of space to merely lounge around, getting your tan on or catching up on that book you'd been saving. Vending machines are spread out in small roofed areas, offering a mix of small snacks, drinks, ice cream, you name it they have it. Best of all, no need to carry cash around, after all, that would be quite the challenge, would it not? The same band used to access your room or lockers can be used as a form of payment. Aside from that, there's plenty of other things to explore and enjoy. Beach volleyball nets are set up all around, same with parasols. There's even some rumors about a cave down the southern end of the beach. Just be careful, you wouldn't want a teacher to spot you sneaking off! There's much to explore, just keep the etiquette in mind - You did read the pamphlet handed to you on the flight, right? ____________ 1. Looking is alright, but try to avoid staring at your fellow students. 2. Making a conscious effort to cover up is considered poor manners. 3. Showing your crush how hard you can get is not flirting. 4. Footwear and small accessories are acceptable, consult your homeroom teacher if you're uncertain. On this beach, clothes are not acceptable. 5. Have fun! ____________

Used for planning, talking with your fellow visitors, and what have you!
Newsletter

Want to keep up to date with all our latest news and information?

Sign Up