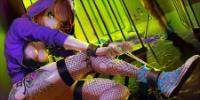 About This Club
The most popular night spot in this near-future cyberpunk city, the Garden of Hedonism isn't just another place to dance, drink, or go deaf from the EDM quaking the ground with a pulsating bass. It's a place where all are allowed to let their freak flag fly right out in the open with stranger and familiar face alike. It's a place where a woman on a dance floor can randomly have her skirt hiked up and a cock plunged between her thighs, grinding to the beat of the music. A man leaning back against the bar chatting with his friends can keep his cock free, strangers passing by to grope, kiss, or suck as they please. Where outright sex isn't hidden in the shadows but occupying the most well lit spaces of the club. So come on in, set yourself free, and soak in the pleasures of the Garden of Hedonism.
---
Type of Club
Roleplay Club
What's new in this club

So who is going to get this party started?

Yaa... i have this place pulled up as one of the places i need to reply to... but i just... cant... i think i may just have to redo my character to make something i can work with a bit more easily x.x

This sure has gone quiet.

An android in the style of a kitsune or nekomimi would actually make a lot of sense as well. Regardless, I appreciate the thought you put into the setting itself. I've yet to play Va-1-hall-a or however the letters are arranged, but I think I recall seeing something about a talking dog in it. Game's on my "to play" list.

For the record, I was half joking. I place furry characters where they seem to belong. The only reason I actually mentioned it is because Va1-halla is a bit the theme similar to your club and a character is a talking dog, basically. I like that you're willing to let some things pass but I won't push my luck by forcing it where it doesn't belong. Just look at Rocket from guardians of galaxy. He's literally a one of a kind because of (I assume) a genetic experience. If such a furry existed, it wouldn't be, like, a race. It would be just that, a genetic experience and even there, there should not be anyone else like them. In the case of the neko, it could be more like a common practice. In short, if I did that, I'd do a talking animal more than an anthro because it would feel more realistic in the case a human brain gets successfully implanted in the body of an animal. Honestly would be amusing to see that. Everyone having a good time and you just have this animal drinking a cocktail (basically a human stuck in its body but has to deal with it) being like "Hello there." and everyone is like wtf. I doubt anything could be as cool as Rocket ever was, though. Trying to match this level of coolness would be hard but eh, one can dream. For the record, there would be no sexual scene going on with them for sure. Just the coolness alone would make up for anything else. XD But to be honest, I'll probably just go with a human or someone with implant (Neko, kitsune, etc). Heck, an android would probably fit better, even. A talking animal sound fun, though. hehe...

I can't wait for this to get started! Should be fun! Especially when she runs into others with familiar additions that should be interesting!

Apologies, everyone. I've learned to be cold-hearted in certain circumstances. I've been a part of and have run too many games that end up having problem players, even if they seem well-meaning at first. I run ensemble stories, which means there's no room for anyone to hog the spotlight. If I see someone that sets off the red flags that they'll try to be the latter, well... I will respond in kind. Nonetheless, I'm always willing to be proven wrong. It seems Mega chose not to or found himself incapable of proving me wrong. Now then. This is something where I'm willing to let there be some semblance of creative freedom. So, while Chiyako's character got her nekomimi traits from genetic experiments, any others could be from commercially-available cybernetic implants, or the genetic experiments that gave her character her traits are now widely available as body modification on the market (so, effectively, her character was the test run before it got approved for widespread use in the past few years). In terms of more furry characters, as I mentioned with scales, certain traits can be present such as fur along the back of the neck, down the spine of the back and shoulders, or along the arm, but still retain that human appearance. Granted, I'm not a furry so I may be missing other traits that carry the appeal of such a character, such as the form the genitals take or something else. I suppose it depends on what you want to do. You can always PM me if you're curious about certain specifics.

My apologies. I did not mean to imply that it was unreasonable. I have overstepped my bounds once more. I shall leave, as has been requested. Thank you for having me. I'm sorry for the trouble.

And to what extent is a character with a tail and wings not going to be disruptive to the actual purpose of this setting? What need does a character have for dimension-hopping in a setting whose whole hook is simple and yet direct? I have attempted to allow certain freedoms for a variety of physical character types, but the real draw is a very specific sort of experience. You already made a bad impression on me in another club when you literally told me how my character thinks about your character in a post. That's a red flag. Now you're arguing that the very same character should be able to exist in a completely different setting regardless of the purpose of that setting. The red flag you're now flying is that you cannot actually write compelling characters, but are only able to write one over-powered munchkin character for the sake of self-insert power fantasy. And sure, a setting such as this is intended for some degree of self-insert fantasy given its nature, but that doesn't mean you can't write a unique character with their own background, motivation, and goals directly tied to that setting. I recognize I have limited tastes in certain things, but asking someone not to bring some dimension-tearing dragon god into a setting or scenario where these concepts serve no purpose and have no place is not unreasonable. If you find them to be so, then please leave. I want more players, but I'm not that desperate.

star got her extra tweaks through a mixture of family friends, owed favors, and horrible tragedy! (woot!)

Evi got her changes through fancy illegal totally legal genetic experiments.

Nobody said to do that. And yeah, this doesn't look like the roleplay where fantasy things happen. At least not like that. The characters here are still "realistic" in sci fi design.

I'm just not gonna use my main OC for this roleplay because Minori said no, regardless of him being an outsider. Not "person from another world," or any kind of interplanetary travel bullshizz, I'm not joking when I say Mega can tear holes in reality to travel between dimensions. I repeat. Mega can tear literal holes into the fabric of reality and can therefore go to whatever universe/multiverse he wants to. Even one where what he is shouldn't exist by its rules.

Yeah, a catgirl (nekomimi style) seems fine, if I look at the character list. I'd even push to say furries COULD work if I gave examples such as Star Trek and even that game, Val-ha11a or something (which is sci fi more than it is fantasy. But I could be wrong) however I don't want to push crazy semantics XD. Besides, I don't think we visit other planets in this roleplay. A neko is what in this context? A tail/ear implant or where do they come from? o.o

Evi is cat-like! Cat-lite!

... Wait, Minori, you already know that Mega looks incredibly human despite being a dragon. Literally just a human with dragon wings and a tail tacked on is how he looks.

Oh noes, no furries allowed. (Just kidding, I already knew). Still thinking about what character I should fit in this club. I have a few humans, just need to pick the best.

Ah. So no breaking through realities to get here. Gotcha. Taking down the character and gonna work on a new one.

It's breaking the nature of the theme and allows further potential breakage of it. You can have a character that would maybe have genetic modifications so they have some scales on their body, like the back of their neck and temples and such, but nothing too crazy. It's sci-fi, not fantasy, so I'd say work on a new original character with the setting in mind.

FemboyBrat joined the club

True. @Minorikawa You okay with me bringing in the dimension hopping dragon god? He's not native to this dimension, just visiting really, but if that's not allowed for whatever reason, please do tell me.

Im just mentioning its a bit off theme, ultimately if its fine with the owner then alls good! Personally i thought some psionics or magics sprinkled in would be neat!

Ah- ... I probably should, yeah. Despite him having the ability to create holes in reality and then seal them back up again, thus able to hop dimensions at will. If need be I can take the sheet down and make a new character.

You may need to check with @Minorikawa as magic was not intended to be allowed in this cyberpunk-esk setting... and humens, genetically modified or not, where the only species if i recall.

Character sheet done. I ended up just going with my dragon god.
Newsletter

Want to keep up to date with all our latest news and information?

Sign Up