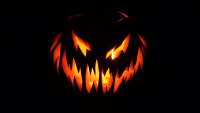 About This Club
There are many names for this night, All Hallow's Eve, Samhain, most commonly, Halloween. For some, it is a night of mischief, fun and sweet delights to fill the evening. To others, it is a night of terror, mystery and morbid fascination. There are some who ride the line between the two on the night where the barrier between realms are the thinnest, and easiest for malevolent entities to cross over into our world.
---
Type of Club
Roleplay Club
What's new in this club

Storytime88 joined the club

Okay so this is what I have so far. It probably needs a lot of work. But horror generally isn't the genre I do. So I feel like it's lacking a lot. House on the Hill

This is the purpose of this particular thread.

So. I have an idea. But it isn't fully fleshed out. Wondering if you'd be interested in hearing it.

An interactive hayride where the guests fend off zombies with paintball guns. Its a popular attraction annually. Except something goes wrong this year.

One of my most favorite things is the haunted hay rides. There was this one year where the fire station where I grew up went all out. Had a guy with a chainsaw that chased the hayride around. Speaking of hay, maybe a maze could be involved somehow.

I planned a festival, for sure.

I mean maybe a stereotypical fall fest that towns normally have? With bobbing for apples, hay rides through a "haunted" trail, churches normally hold events for those sort of things so it could be interesting depending on what sort of monsters are going to be brought in. If course there's always the halloween keggers that college age students like...

Now would be a good time to start discussing events. Obviously I have a few in mind, but let's toss around some ideas for things to be happening around the town.

I wonder if you can guess what each legend is inspired by?

Note: Not every legend will have the length of Scarecrow Jack. I'll have to throw in somewhere that his story is easily the most famous and he is essentially a cryptid for the town.

- The Nowhere Clown - An urban legend that seems to be more popular around Autumn with the elder residents of Noware. It is said, during the festival held in the town during Halloween, there is a clown. Mind you, not like any other clown, a clown that only specific people seem to be able to see. The stories say that if you're...

Harmony Frost joined the club

- Howl - The first family of Noware was said to have a hound, a hound that disappeared into the woods surrounding the developing town when ruin fell over the family's house. Cursed as the family was, the hound was no more fortunate and though it escaped, it wasn't without price. Stories tell of a single wolf who prowls the woods...

You'll notice a "Legends" topic started and soon history of Noware will be added. These are purely for stories to add flavor to the role play. These are NOT to be role played in. If you choose to reply with your own legend, by all means, have at it! Note that stars of legends ARE playable as characters if you wish to work them in creatively,...

- The Girl Who Played in the Dark - "Isabelle, Isabelle, sad in her home, mother and father would leave her alone. "Isabelle, Isabelle, Come home before dark", the young girl was told before playing in the park. Isabelle, Isabelle, so playful and kind, in the dark she had friends from life's other side. "Isabelle,...

- The Legend of "Scarecrow" Jack - Generations ago, a farmer lived on the outer side of Noware. His name was Jack O'Lanton. He was a kind man of middle age, he would regularly sell his seasonal crops at the market in the Noware square on weekends and mid days of the week, they say that his harvests were fresher, crisper sweeter than any...

I like the sound of this. Now I'm just wondering if I should be a monster or human for this.

TheMonikan joined the club

I'm a simple kinda guy with simple expectations and requirements for anyone who I role play with, especially in groups. - I'll say up front, this role play is gonna be what you make it. Want to have a fun night for your character while others try to survive until sunrise against ghouls and goblins? Great! Wanna get corn syrup everywhere...

Ohhhh. I am so stoked for this! I absolutely love fall and Halloween. Double, double, toil and trouble; Fire burn and cauldron bubble. So glad you made this though. Looking forward to more details and such!

EnchantedNymph joined the club

This is a fabulous idea. I also love the idea of stories intersecting. I have some experience with this as I have several novel series in the works and they all tend to overlap or will overlap in the future.

NightRose90 joined the club

I love Autumn. I love everything surrounding the season. The not warm, not cold breezes. The scents of pumpkin, fire and marshmallow that float through the air. The cheesy horror songs and movie marathons. Most of all, I fucking love Halloween. Naturally, in celebration of the rapidly approaching spooky time, I wanted to do a role play to share...
Newsletter

Want to keep up to date with all our latest news and information?

Sign Up