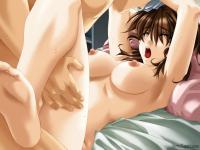 About This Club
This time I decided to try a rather open world setting with a twist. A world where the realities of hentai (to an extent porn in general) are just part of life. It is a setting that is not 'free use', but sex in general is much more common and in many cases and with the often weak/illogical justifications such circumstances would imply. More extreme fetishes are all also much more common. Things like 'breaking' girls, training them to be sluts and incest are a few examples of things that are much more common (the last at least is still rare and the sort of thing people keep secret, but it does still happen with a lot more frequency than in reality and people know it but don't talk about it). There are people who still have more realistic relationships/sex lives but this other stuff is happening just under the surface (and sometimes in the open) and it is a lot easier to find. That is just the more conventional stuff, then there are the demon cults and isolated tentacle/other monsters that crave the bodies of human females. **************************************************************************************************************************************************************************************************************************************************************************************************************************** Again, it is an open world setting. Most stories will be independent of each other but in the same world so the various characters can mix with each other to varying degrees. For maximum flexibility the setting could be split into three 'sub-worlds', fantasy, modern and sci-fi. These worlds will be somewhat more divided. It is possible, but not easy, to move between them. Feel free to be as kinky as you want, all subjects/kinks are allowed as long as you can find someone else interested in them. Adding extra story around all the sex is strongly encouraged but not required (and I will be doing so in mine).
---
Type of Club
Roleplay Club
What's new in this club

saincastadie joined the club

EternalOne69 joined the club

Ginger Jailbait Gwen joined the club

A few more ideas: Both MxF, I could play either character. (Fantasy) Female warrior and the boys of the town. A bit of an age gap somewhat older woman story. Woman in her early-mid 20s and teen boys. The idea is the woman is a traveling warrior, skilled strong, but still with the figure of a woman in her prime. She has no interest in settling down or marriage, but that does not mean she doesn't have desires. At the moment, she has decided on something new to indulge her pleasures on. As she walks the street, she seeks one of the boys who tend to try to stare at her discretely, to give them a personal lesson and night of fun before leaving town. This one is a bit open for longer term options. (Fantasy) An angel loses her wings. This idea has a character who is initially genderless, simply somewhat feminine in appearance. A guardian angel of the male character. He is probably a warrior, maybe noble/royal (perhaps one attempting to reclaim lost land/titles). Eventually the angel appears to him, using its great power to aid him, sometimes discretely, sometimes openly. Gradually she gets closer to him, love starts to grow. Slowly her body becomes more physical, more human, and clearly a woman. As it does, her power gradually fades, she loses connection to Heaven. Eventually she gives herself to him, with marriage and later children. By this point she is permanently physical, truly a woman, and mostly human, though still with wings and a portion of her power.

Bea5tmode joined the club

Flip_Flop_and_Sloppy joined the club

Let's try to inject some life into one of my inactive clubs, with a few new ideas. Posting basic concepts for both, character/story details can be discussed.: A Futa Teen Sexually Experiment's With Friend (or optionally sister) My thought here is a teen futa. One who has kept that fact secret her entire life, pretending to be an ordinary girl. As a kid this was easy, though now as new desires come over her that has been getting harder. In particular, she has looking at one of her old friends in a new way recently. One way or another, the truth eventually comes out. Maybe the friend is curious, even turned on by the idea and they eventually start experimenting. With things gradually growing more serious. Alternatively, under the incestuous route, the sister is quite aware and sees the frustration her sister going through and perhaps helps her relieve it. (Sci-Fi) Primitive Humans in Alien Zoo (this will be a longer description) (MxF) Not sure how practical it would be to get a longer story out of, though hopefully, with the right person we can do it. You have the option of playing more than one character which could make it more interesting. It is the distant future. Humanity has spread among the stars, a large empire, but a fractured one, where communication between various parts is slow. That is how we eventually get to the current story. A fringe world on the edge of humanity's empire and explorations was attacked viciously by a neighboring species, who felt these newcomers were intruding too close to their territory. The colonies on the world were wiped out before they could try to call for help and the population massacred. A small number of survivors were taken prisoner though. They were broken, beaten, into complete submission. But they were allowed to live...and even have children. Most of these children were taken away though, without explanation to the parents. The aliens had a project in mind for them. They were deposited into various zoos, which had both creatures native to their original world as well as creatures from worlds they conquered/plundered (some always animals, some other species like humans too, forced into a primitive state). They were left to grow up naturally, curious to see how such creatures lived. No clothes, no education, eating what they were fed and left to live their lives in the various enclosures set up for them (we can discuss just how large these are and what/how much is in them). This was four or five generations ago. The zoo humans have no memory or awareness of any other way to live. No memory of the world their ancestors came from, let alone Earth. The only society they have is the limited one they have created for themselves. That is where we begin, my character is a male who has just been transferred to an enclosure with several females (maybe up to 5. Some or all or which could optionally be sisters. Perhaps their mother too, if that is the case). They are probably all between 13-18, but they of course don't have a precise concept of age, just a vague idea of how young/old someone else is by looking at them. The male was sent to breed with one or more of them. The aliens not being sure if the male would mate with more than one of the females at a time or not. Observations of other enclosures showed them, sometimes it happened, sometimes not.

HornyYuria joined the club

The Pervy Baka joined the club

HoneyBunWithAGun joined the club

OrdinaryDemiGuy joined the club

KaiTheDog joined the club

I would be interested as well.

What if the boy is someone considered an unsavory type, at least in terms of appearance. Like, a big dude, maybe has an eyepatch or something like that, and is generally viewed like some kind of villain despite being a nice guy underneath his looks. As for the meeting, going with the general idea of "a guy who seems like a bad guy but actually isn't, yet people think he is simply because of his looks," maybe this guy is being forced to work on this quest to pardon himself from his prison sentence, due to getting involved in eliminating a cult that kidnapped his younger sister. When she unfortunately died, he went into a berserker rage and it eventually led to his arrest and imprisonment. As a chance for 'redemption" (in the eyes of the snooty nobles in charge), he's being given a chance, even though behind the scenes, they have no intention of giving him freedom. One could always go with the classic "go and gather some super rare artifacts to prevent a world ending scenario" type of treasure hunt, or a cult going crazy and summoning monsters from another world in order to conquer it for themselves, or following that first possibility, trying to stop an army of undead soldiers under the command of a lich king. ...but these are simply ideas.

I ended up creating a separate topic to work on the setup of this idea. Cleaner to leave this topic just for requesting ideas and then setting up specific stories in separate topics.

I did not have many details in mind when coming up with the idea. There are a number of ways it could go. As far as the couple themselves go, I figure the boy is a fairly ordinary but skilled swordsman, the girl is probably some sort of magic user, whether offensive/defensive/both. A few potential optional twists for her include that maybe she is not human/half-human, maybe a princess on the run. They very likely did not know each other before ending up together. Some possibilities for their adventure could include, trying to hide from, or fight when possible, some sort of invading army, some sort of treasure hunt, maybe the last survivors of a larger group/organization, who now have to struggle first for survival and later justice/revenge, or something like that idea, but the last survivors of an attacked town. These were just some possibilities that quickly came to mind, other ideas could be considered. The meeting is likely either the boy stumbling on the girl in some sort of trouble or possibly running into each other in some town and the girl 'hiring' him or asking for his help in some manner.

I guess the standard amount, like "what kind of adventure are they going on" and "why things ended up the way they did so they have to travel together." You know, those types of details.

We can focus on the fantasy one for now. Now the question is how much character/setting setup we want to do before starting the actual story?

I like open world ideas in where mc goes around and fucks random women as a daily routine. A subway scene or something out on t hff e open would be cool

This idea has my interest. Along with this one to a lesser extent as, while I like the idea, scenarios bound to reality (AKA no magic and cool stuff like that) tend to be boring to me.

NyxAvatar69 joined the club

Will try to inject some life back into this with two semi-related ideas: Fantasy: A boy and girl end up together on some sort of quest, as they tend to do. They have to rely on each other to survive. Traveling long distances and either camping out in the wilderness together, or sharing a room in a cheap inn. In what is arguably a more realistic scenario, in such a situation, it doesn't take more than a few nights before they start sleeping together. These could be teens/adult/a mix (though in their world, they might be considered adults even as teens). It could remain purely sexual, with no bond except as traveling companions and fighting for each other, or it could shift to love. Optionally there could be a party and a little switching around of who sleeps with who, especially early on. I could play or female (or both if we go party). Sci-Fi: Similar but in this case it is a boy and girl stuck together as mech pilots on a ship. One or both of them could be proper soldiers and/or civilians unexpectedly picked up and pressed into fighting due to a lack of man power. Most of the time, confined to a single ship, they are drawn together out amid of frustration, boredom, and again that they have been saving each other's lives a number of times. Again, could play either character. In both cases, looking to a wider story, while mixing the sex scenes in with some frequency. In both cases it could be worth taking a little time to set up the larger setting in addition to the characters. One other idea, not as related. Modern: Imagine a school with an unusual quirk as part of its efforts to educate its student for later life. As part of the yearly registration process, each student is given a picture and a little basic information (name, age, possibly contact information, anything else that might be important on an individual bases) of an opposite sex student. Sometimes older, sometimes younger, sometimes same grade. In all likelihood there is no real attempt to match compatibility, not caring much other than that they are opposite sex partners. Except for rare occasions they have the same homeroom, they are not together a lot of time, though there are classes that are made up only of pairs of partners. At things like school dances and other school wide activities, you expected to bring your partner as a date. Certain classes, like home ec and even sex ed, involve the partners together, learning to at least act like a couple. Officially students are not allowed to date anyone other than their partner, but the school of course has rather limited ways to enforce it. Sex is basically an unspoken assumption, but generally not encouraged, with the possible exception of actually having sex as part of sex ed. That's the basic idea. They may or may not already know other, as classmates, or even friends/neighbors/friend of the other's sibling. I could play either one. There are several varieties we could go with here. 1. A 'lucky pairing', reasonably compatible and without complications. 2. The boy is a quiet kid that has no idea interact with girls, or possibly people in general, the girl needs to encourage him to much of anything. 3. The girl is a lesbian, the school does not care, and pairs everyone up with the opposite gender. I'm open to consider other possibilities as well. Looking for a longer story, exploring their lives and having to deal with each other as basically an 'arranged couple', boyfriend/girlfriend in all but name, and not by their choice, at least in the beginning.

Gaia White joined the club

Notorious F.U.D.G.E. joined the club

DreekShen joined the club

TheNekoTamer joined the club

Passive Phantom joined the club

Doll Face joined the club

Sinno101z joined the club

PapiChubs joined the club

ShySubBoy joined the club

Moooonchan joined the club

JustPhoneGuyFromFnaf joined the club

Heisenberg 24 joined the club

I was thinking of an idea of my own here to try. It's for the fantasy topic. My character finds himself being brought into a fantasy world, one in which had been quite peaceful. Now however was a different story, the various female humans and non humans have been turned into sex slaves, subjected by the monsters into this forced service, creating a sex empire for all. Elves, dark elves, knights, nuns, queens, princesses, it didn't matter who, as long as the person was female. My character had been brought here by a goddess to help free the women and bring down the empire. Of course, he obviously can't do it alone. He will need an army from the various kingdoms across the land. He would venture forth, gaining allies to help him, even a great deal of lovers, be it saving there lives or helping them stand up against there ones that force them around. Adventure, action, magic, romance and plenty of sex scenes to go around.

Austin Skywalker joined the club

Name: Alexandrine Deforest AKA Diamond Sorceress (had a hard time coming up with an alias, used a random title generator). Gender: Female Native World: Fantasy Species: Human Unique Physical Traits (for non-humans): N/A Age: 26 Height: 5'9 Hair: Blond Eyes: Blue (I think, the picture makes it a little hard to tell) Short Bio: The last of the previous generation of magical girls. She had gained her power as a young teen and had around a decade of experience fighting various threats to humanity as part of a larger team. Under her alias, she is something of a legend, one most people look up to and idolize, though there is no one left at the moment who knows her true identity and she had gone into hiding after the last battle a few years ago. Where she was the sole survivor. Physically she has recovered, but the happy, energetic teen she was once was has been replaced by someone whose spirit has been dulled, her personality hinting the deep emotional/psychological pain she still feels. Now though, sensing another approaching shadow, she is covertly searching again, looking for one or more girls to follow in her footsteps. To rebuild the team she was once a part of. Right now she is being discrete about it. Observing others in public settings, looking for other girls who have the potential power sleeping inside them. Sexual Orientation: Bisexual

I previously posted this in the Public RPs club and as a private RP just now, but I just realized it might fit here. This one is likely to have a heavier story but still plenty of sex mixed in. It could be a mix of FxF and MxF. I'm thinking anime style 'magical girls' here. In the past many threats to humanity were dealt with by such girls. Sometimes the larger population was aware, many times they were not. The previous threat was ultimately defeated but at great cost. There was only one survivor (will add an image in the image tab). This would probably be 'Modern World', though the image has a fantasy feel. She had not been the leader previously. She was merely the last one standing, with the help of damage her comrades already did, last minute assistance from their spirits as they died, and using all her power, she managed to defeat the enemy but was mentally and emotionally drained and scarred. It was her hope that they ended the threats that would require magical girls for the foreseeable future. For at least a few years, this seemed to be the case. Eventually she foresaw a new threat though. By herself, maybe, she could have dealt with what was coming but sooner or later a new generation would be needed to take over. So now she seeks out one and eventually more apprentices. We would begin with you playing the first apprentice and I (we if you want) could play various other side characters, which could be a mix of male and female. The focus is on the older magical and her first appearance and the bond developed between them, mentor/student, very likely lust, possibly love. One or both could get involved with other girls or men too and they could include people around them, or the enemy. Others could play side characters or other trainees as well. We can discuss the details, I have more of a vague overview in mind and open to suggestions on the details. This is a little story heavier than I was originally thinking stuff here might be, but I having considered it, I still think it fits and the club needs more activity.

Lux Corvus joined the club

Hiddensub joined the club

willrpwithanyone joined the club

Charlie_2001 joined the club

Raunchy Raceplay joined the club

Montagore joined the club

DreamsnThings joined the club

Quivering_Thoughts joined the club

melodiousmachinations joined the club

I want to play the role of a ero mangaka on the Earth who can transform in a succubus during sex. Open for all kind of kinks

Name: sumire Gender (this can include futas or gender bent characters): Female Native World: demon world Species (mostly relevant to the fantasy/sci-fi worlds, ideally most will be human): Succubus with woman form Unique Physical Traits (for non-humans): When she transforms: long thing, wings and pointed ears Age: unknow Height: 1.60 Hair: wavy blue Eyes: gold Short Bio: born in the demon word but grown-up on earth. She was a timid and reserved girl. Love drawing, she want to became a mangaka. Now she is working like a ero mangaka, but nobody know. Sexual Orientation: hetero

Tim the Drekkubus joined the club

We can go with it if you want. Can you explain me in details by a mobile chat message?

Imouto Kanna joined the club

MysteryShade joined the club

amoro7979 joined the club

Little Miss Cupcake joined the club

NyghtMyst joined the club

Right, I figured it would be 3 different scenes, written one after the other.

Other than the fact that Jonathan is my character's and Natasha is Geoff's that sounds wonderful. I'd love to do something like that.

It would be fun to play a young, single mother, a nursing student, who needs to earn extra cash and works a part time job while going through nursing school. Her mother usually takes care of her daughter for her, but every now and then she needs a babysitter. So the quick plot I came up with involved her finishing her nursing training and being subject to @Rucio Natasha's new drug and whatever misadventures arise from that situation. Afterwards, she runs to her second job where her new attributes (leftover from the drug) get her into trouble with the accident-prone @Geoffb87 Michael and they both get fired. Heading home early, she finds that her new babysitter got her daughter to bed, but the effects of Dr. Natasha's drugs haven't worn off, and she puts the moves on @Geoffb87 Jonathan, trying to work off the last of her excessive arousal. The poor girl would wake up wondering what happened to her!

I was thinking something along the lines of what was heavily implied by Jonathan's description, but with an older girl. Babysitting for her so often that she occasionally offers something else for him for being so nice and charging so little...

Hello I am wanting to play a large variety of characters while I tie down an innocent sexy curvy girl down and make her take all the cum she can get. Of course good girls do eventually get rewarded. Mother of your character will be a shemale. Also if you want there are gloryhole scenes

In this case it is probably easier to find people interested in similar stories first and work on characters after that is found (with some/all characters eventually moving on to other stories too). I will add some ideas of my own later, but I wanted to get the topic set up first.
Newsletter

Want to keep up to date with all our latest news and information?

Sign Up