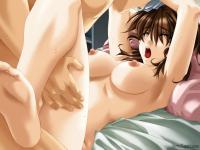 About This Club
This time I decided to try a rather open world setting with a twist. A world where the realities of hentai (to an extent porn in general) are just part of life. It is a setting that is not 'free use', but sex in general is much more common and in many cases and with the often weak/illogical justifications such circumstances would imply. More extreme fetishes are all also much more common. Things like 'breaking' girls, training them to be sluts and incest are a few examples of things that are much more common (the last at least is still rare and the sort of thing people keep secret, but it does still happen with a lot more frequency than in reality and people know it but don't talk about it). There are people who still have more realistic relationships/sex lives but this other stuff is happening just under the surface (and sometimes in the open) and it is a lot easier to find. That is just the more conventional stuff, then there are the demon cults and isolated tentacle/other monsters that crave the bodies of human females. **************************************************************************************************************************************************************************************************************************************************************************************************************************** Again, it is an open world setting. Most stories will be independent of each other but in the same world so the various characters can mix with each other to varying degrees. For maximum flexibility the setting could be split into three 'sub-worlds', fantasy, modern and sci-fi. These worlds will be somewhat more divided. It is possible, but not easy, to move between them. Feel free to be as kinky as you want, all subjects/kinks are allowed as long as you can find someone else interested in them. Adding extra story around all the sex is strongly encouraged but not required (and I will be doing so in mine).
---
Type of Club
Roleplay Club
What's new in this club

Hiddensub joined the club

willrpwithanyone joined the club

Charlie_2001 joined the club

Raunchy Raceplay joined the club

Montagore joined the club

Nebua joined the club

DreamsnThings joined the club

Drexel joined the club

Quivering_Thoughts joined the club

melodiousmachinations joined the club

I want to play the role of a ero mangaka on the Earth who can transform in a succubus during sex. Open for all kind of kinks

Name: sumire Gender (this can include futas or gender bent characters): Female Native World: demon world Species (mostly relevant to the fantasy/sci-fi worlds, ideally most will be human): Succubus with woman form Unique Physical Traits (for non-humans): When she transforms: long thing, wings and pointed ears Age: unknow ...

Tonsar joined the club

mimifire joined the club

Tim the Drekkubus joined the club

agdiv joined the club

We can go with it if you want. Can you explain me in details by a mobile chat message?

Imouto Kanna joined the club

MysteryShade joined the club

Tsuki joined the club

amoro7979 joined the club

Little Miss Cupcake joined the club

Ryuuga joined the club

NyghtMyst joined the club

Green joined the club

Right, I figured it would be 3 different scenes, written one after the other.

Other than the fact that Jonathan is my character's and Natasha is Geoff's that sounds wonderful. I'd love to do something like that.

7eureka joined the club

It would be fun to play a young, single mother, a nursing student, who needs to earn extra cash and works a part time job while going through nursing school. Her mother usually takes care of her daughter for her, but every now and then she needs a babysitter. So the quick plot I came up with involved her finishing her nursing training and...

Userbeam joined the club

Tbone joined the club

I was thinking something along the lines of what was heavily implied by Jonathan's description, but with an older girl. Babysitting for her so often that she occasionally offers something else for him for being so nice and charging so little...

(You bet your ass I'm using this character for the umpteenth time. Really should find more pics to roleplay based off of...) Name: Jonathan Cote Gender/Species: Male Human Age: 23 Occupation: Babysitter/Game Designer Brief description: After his last game sold much worse than any other, Jonathan has had to resort to...

Rucio joined the club

Raven Crimson joined the club

Samira joined the club

Sinisterproxy joined the club

Kendra Love joined the club

Hello I am wanting to play a large variety of characters while I tie down an innocent sexy curvy girl down and make her take all the cum she can get. Of course good girls do eventually get rewarded. Mother of your character will be a shemale. Also if you want there are gloryhole scenes

Name: Sonja Petronov Gender (this can include futas or gender bent characters): Female Native World: Earth Species (mostly relevant to the fantasy/sci-fi worlds, ideally most will be human): Human Unique Physical Traits (for non-humans): Age: 22 Height: 6.0" ft Hair: Dark Brown Eyes: Blue Short Bio:...

Thewritinghead18181818 joined the club

onearmeddruid joined the club

Deezy joined the club

Bluestin15 joined the club

londonguy24 joined the club

I'm thinking of doing this roleplay where I and some girls boyfriend as the girl has a female friend that is extremely Pervy, devious, flirty, a fetish freak, a total unloyal who're that convinces me to be hers, is a trash talking slut and is basically a prostitute that holds a strong and unbreakable connection towards me

GageTheHedgefox joined the club

SabrinaBelton12 joined the club

Goddessunspoken joined the club

Krystal joined the club

primalkrisis joined the club

shylo1994 joined the club

Sweet_DreamsForYou joined the club

Blitz69 joined the club

Talons joined the club

[Koura] joined the club

Bro joined the club

cockygrill joined the club

Sat(Athena)ches joined the club

Akela joined the club

bigbiteyboy joined the club

I've been thinking about what I want to role play. Maybe a classic landlord situation. Where MC happens upon a landlord position and have to maintain it or risk losing everything. But since it's Hentai world nothing is as simple as that. I'm a bit rusty with coming up with ideas but hopefully that'll get things started a bit.

So i have a story idea centered around training of girls. The story is that the mc is a highschooler who has never been popular sorta like an outcast. And is constantly bullied by a girl he secretly likes. The girl herself is secret a pervert but puts on a facade. One day the mc learns that he is secretly an heir in a very wealthy family that owns...

Name: Dr. Natasha Neil Gender: Futanari Native World: Modern Unique Physical Traits: Her futa cock is hidden when not aroused. She doesn't have testicles on the outside but does produce sperm Age: 35 Height: 6'2" Hair: Dark purple Eyes: Emerald Short Bio: She graduate with her medical degree at a young age....

Name - Annette Gender- female Native world- Elvenore (world of elfes) species-Elf Unique physical traits- elf ears Age- 19 Height- 5'4" Hair- Blond with hint of a light pink shade Eyes- green short bio- Annette was raise protected and sheltered from the world after all she is one of the 14...

Gender: Male Native World: Modern Species: Human Age: 21 Height: 5 foot 11 Hair: Brown Eyes: Blue Short Bio: Ever since puberty he has been an accident prone person. In highschool when he would trip and fall he would end up in sexually suggestive positions with his female classmates. This would either get him...

Well this is the basic information, stuff I thought would apply to all stories (sometimes directly, sometimes in the background) to varying degrees, more specific story ideas are in the other topic. I suspect you would not be interested in mine, after looking at your preference sheet, but there are a few others there too and you can suggest...

A second story idea I had is of a hospital location. People can come and go or work there. Of course this would be a hentai hospital so lots of hentai shenanigans between patients, nurses, doctors. A character I was thinking of creating is one off Tokubetsu Byoutou. A futanari doct/researcher experimenting on nurse's or patients. With a focus on...

I have the profile posted in a separate thread now.

I'll start with the brother, might consider making the boyfriend later, depending on how we play it. You are free to do what you want with the sister for the most part, I was thinking she would be somewhere in the 13-15 age range (if you want her to be a little older we can discuss the ages). The bio is going to be a little simple vague, since...

Sure I'll work on a profile for the brother after getting home tonight.

Could i play the younger sister in the incest story?

You can include more information if you want, but this is the key stuff. Name: Gender (this can include futas or gender bent characters): Native World: Species (mostly relevant to the fantasy/sci-fi worlds, ideally most will be human): Unique Physical Traits (for non-humans): Age: Height: Hair: Eyes: ...

Have a few ideas here. The first one is one I have posted a few other places on this site, so it is possible at least some of you have already seen it, though not many people have looked at it in those places. I am not looking to play all at the same time, but want to throw a variety of ideas out there. You don't have to be as detailed in...
Newsletter

Want to keep up to date with all our latest news and information?

Sign Up