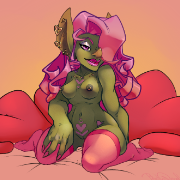 Rooms for pleasure
These will be the various rooms for our workers to do their thing.
---
12 topics in this forum
The chapel is a good and perfect place for those coming to both get purified or corrupted by the pleasures of the flesh.

This is the room for those inclined to spend time with nobles of various stations, from queens and down to dukes and countesses.

The bath house room is perfect for those who wishes to incorporate some nice bodily cleaning and lovely hot water.

The place for those inclined for the more dark surroundings.

For those who love that little bit of possible public sex exposure

The pool is a large outdoor area perfect for your own private gatherings of various sort and sizes. So those of you wanting to do things more out in the open, this is a good option.

Very popular for those ageplay inclined customers.

The room for those inclined to feel like they are on the high seas.

A very simple, yet elegant locker room, complete with a large shower room to go along with it. Perfect for scenes taking place in schools, clubs and so on.

Perfect setting for stuff like gangbangs or when you avoid guard duty.

The room for those loving to be loud in the place meant for silence.

Ever wanted to take that office flirt further? We have just the place!
Recently Browsing   

0 Dreamers

There are no registered users currently online