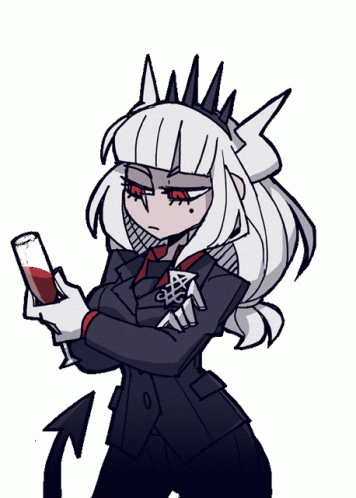 About This Club
Ironclaw High is a large academy which was build shortly after the dimensional gate between the monster realm and human realm appeared suddenly one day about 10 years ago, making travel between the two worlds possible. This is an academy for monsters to get regular education, as well as an insight into the human world and all that it encompasses, such as culture, history, geography, social norms and so on. The academy is part of the only massive town where humans and monsters live together.
---
Type of Club
Roleplay Club
What's new in this club

Millie had glanced over at her sister at her introduction after she had noticed miss Violette the store owner when she heard the store owner's voice causing her to roll her eyes in her direction muttering, "air-head" as she turns back to the store owner before them that was behind the glass case. She would stifle a giggle at the mention of the rich patrons not being in their prime with her hands covering her mouth with a small sound escaping, "Tee-hee" before her face turns a similar scarlet red as the compliment of being cute finally process in her mind. At the lack of response from her sister about the package or whom their Lady would cause Coco to look over at her sister showing her frozen in shock with her hands covering her mouth, which would cause Coco to smirk with a laugh at her sisters predicament stating, "I thought Lady Thompson broke you of that..." She would smile politely with a small laugh and looks in Violette's direction, "We know her as Lady Thompson ma'am, but I believe you would know her as Monika Thompson" as she pokes her sister in the left side sharply. Millie would squeak out in pain and jump slightly glaring at her sister about to say something before noticing Violette in front of her, which she replies, "Oh umm my apologies ma'am, Lady Thompson asked that we bring this to you" as she would pull out the small package that was expected to be given to Violette and proceeds to lean up closer to the counter to hand it over having to stand on her tippy toes to reach the top of the glass cabinet.

"I know that feeling, sometimes it's not possible to sleep..." He replies, going along with the funny thing she said, obviously catching on to what she meant, but not elaborating on it since the further topics take his attention away more. As for his comment, it could come off as odd and weird, but that likely wasn't Hiro's intention, since not only he's new to this whole dating thing, but he's new to intimacy. While every human has heard about kissing and probably imagined what it's like, monsters are still recent in the world and a human kissing a monster is probably not yet everyday stuff. "Oh! Uhm... hm, maybe... we could use this... moment, so that b- both of us could learn what it's like, then? If you don't... mind, that is. I'll have to be careful, though, I... wouldn't want to damage your parchment, or anything..." He mentions, talking about her parchment that is hanging in front of her face, from her hat, presumably. He's unsure how to get around it. He can't make himself look into her eyes properly, he seems a little embarrassed and nervous, but that's the norm. Still, he has a blush on his face.

"If the academy is any kind of way to determine and measure such things...then I think that is quite true. The one next door can be a bit...shall we say...noisy, at times, haha", she says, lighting the mood with a funny little comment like that. She corrects some of her hair by putting it back behind of her ears, also giving her something to do with her hands so as to not seem too awkward. She keeps up listening eagerly as he goes on. While his comment about wanting to kissing a zombie could come off as rather odd and weird, Yoko can conclude that it is rather revolving her as a person rather than some low key fetish for the undead."Oo..ohh..a...a lo..long time? Well, I guess I would be lying if I said I had not...you know...though of...how it would feel like...well..with..with a human", she says in return.

The store owner doesn't seem to mind the minor exchange between the sister happening before her as she simply lets them finish whilst watching with slight amusement."Ohhh, hello miss Millie and miss Coco...it is not often we get visits from such cute young girls like yourself. You may call me miss Violette. You would be surprised by how many rich ladies usually are not exactly...in their...prime. But yes, there is a package for me you say? Let me see it then. Who is it that you work anyway?", she asks them, still going on in that same tone of voice.

Coco would smile at the mention of trying to speed up their work as she replies, "Thank you ma'am!" before watching her leave into the backroom and resumes looking at the different shiny babbles in her mind at the nearest jewelry case. Millie would nod her head in understanding as she replies with a soft, "Thank you" shortly after her sister before shaking her head at Coco's short attention span. Millie would keep an eye at the backroom door that the store clerk had went through keeping an eye out from the store owner once she has spotted the store clerk leaving from the backroom door that was opened with her return. She would nod her head softly as her attention is drawn to the small green figure before her that was behind the counter, while replying, "Yes ma'am that is correct. My name is Millie and Lady Thompson asked that we deliver a package to you from her. I believe she said that my sister - Coco and I would be stopping by with it." before motioning at her sister whom is bouncing slightly in place looking in the jewelry case, while a heavy blush would slowly form on her cheeks from the seductive tone being spoken to her at by the store owner. As Millie was talking to Coco was marveling at the shiny rocks in the case wiggling in place before she jumps back slightly at the sound of a new voice and her sister calling her name, which she blushes a deep scarlet red calling with a sheepish laugh, "Umm yes ma'am that's me Coco. Pleased to meet you ma'am" as she quickly bows before straightening back up

"No problem at all. It was merely to help you get your errand over with quicker....one moment", she says and walks into the back of the store and through a door to what is likely the storage, offices and such. A few moments pass by before the clerk once more emerges from behind the door and behind a short and green figure also slips out, dressed in a simple, but still classy outfit. She gives the two girls a quick glance and with the help of something behind the counter, she is able to reach over the counter herself."Greetings. I was told someone wanted to see me? You two?", she asks, her tone very soft and almost seductive without intending to be.

Coco and Millie both glances at each other as hear the comment about simple giving the deliver to Shelly the store clerk or to speak with the store owner about the delivery. which causes Millie to shift uncertainly for a moment before she replies politely, "If it wouldn't be too much trouble, we are suppose to deliver the item to your boss and if they aren't busy we would like to follow the lady's instruction on the deliver please" as offers a small smile. Coco worriedly looks at her sister and the store clerk as she debates on interrupting her sister about giving the item to the store clerk instead of being an inconvenience to the woman helping them.

"Ye- yeah, they are normal! Every other people do... them, so uh... yeah... I am pretty sure monsters work the s- same way and do the same things, at least... the TV and other... sources say so, haha!" Hiro tries responding as well with little stutter, but he seems a little embarrassed too, although not for the wrong reasons. Perhaps he is just a little shy, which is something he always was around other people, but it's as if this type of "shy" that he's currently showing is a much different one than the usual. "I do... want! Yeah, I want to, because... I always wanted to experience some of this, truth be told, but only with somebody I really like... I always wondered what's it like to... kiss a z- zombie... I've wondered it for a long time now, actually..." Looking away a little, he shifts his gaze back to her after managing those words out, his cheeks keep up a faint blush. "But then again, I never kissed anyone before, so..." He adds, although a bit more quietly.

Around the two young people, as they ride the thing, the scenery is various romantic scenes from different folk talkes and even movies being depicted with a few of them being animatronics doing simple stuff. There is also soft, classical music playing from loudspeakers, which adds to the atmosphere and feel. It all adds a consistent mood befitting of this theme of a ride. Yoko listens intently at his reply, her face not turning less red, though it is still fairly faint at most."Ahhh...yes...yes, of course. Those are pretty...normal to do...right? I can still lie down in a bed...even if I don't sleep", she says, trying to hold it together and not stutter too much. Her other hand fiddles with her hair as she tries her best to continue, with her pause being quite obvious."So...uhmmm..yeah...I...I think we can try...you know...doing some..or more of those things...if you....want", she says, her shy side showing much more as this is completely new and alien to her.

WolfFang slowly woke from the sexual trance he was in at the HeadMasters words, his eyes rising to meet the woman's. He had never felt such strong desire before, his cock so hard it hurt. He wanted to go wild, but he remembered that this was the HeadMaster and a Woman, which his mother had taught them to respect before and during sex. He shook his head to focus and gave his brother a slap to bring him back. "We are sorry for staring, Ma'am." WolfFang said, his voice rough from barely contained desire." You are just really beautiful, so it is hard not to admire it, but if it ok with you we will start now." The young Orc moved closer, followed by his brother. He glanced down at his cock, but there was no way to hid that, so he hoped the HeadMaster was ok with it. He squirted some oil on his hands and his brothers to. "Is it ok if we start?" He asked, wanting to know if she was ready.

The clerk doesn't really mind Coco gawking at the shiny and glittering pieces as she likes others admiring what the store has gotten a hold of and find good enough to display."Well hello there miss Coco and miss Millie. I am Shelly and I will be happy to help you out with that. You are free to simply hand it to me and I can pass it along if you prefer or do you prefer to speak with the boss?", she asks politely.

Skipping over the first topic as it has finished either way, he listens on to Yoko's wonders, her words surprising him momentarily. He widens his eyes a little bit, before looking off to the side, then onto Yoko with a slight smile, albeit a little nervous. "Uhm, well... not exactly, but... I suppose, it should be whatever co- couples normally do, I guess! I don't know much, but I am aware that couples spend most time together... sleep together, which... is something we can't really do since you don't sleep, they cuddle a lot, and kiss. Just spending time together in general, almost always. I wouldn't mind having you around my dorm, or being over at yours, whichever is more comfortable to you." He explains as best he can, shrugging slightly as he's as clueless about it as she is, but it's cute in a way.

As Coco is distracted by the shiny sparkly variety of items in a nearby jewelry case, She is standing on her tippy toes to be able to peer into the case and over the large elegant box acquired from the first shop being their lady's ordered dress. Millie would curtsy slightly in greeting from the store clerk as she gives a small polite smile as she looks up at the clerk before motioning over to Coco by saying, "Hello miss, this Is my sister Coco and my name is Millie. Our lady, Miss Thompson asked us to deliver a package to the store owner of this shop are they available?" as she pokes her sister in the lower back causing her to jump slightly and turn away from case glaring at her sister before she notices the store clerk. Coco would quickly bow with a blush of embarrassment as she quickly says politely, "My apologizes miss, its nice to meet you" before she straightens back up standing next to her sister with her eyes glancing back at the glittering jewelry in the nearby cases.

Yoko nods softly as her first response to what he is saying as she does agree to that quite a lot herself."Oh yes, definitely. I think we can manage a lot more, both on a personal level and collective one, if we just focus on the good parts and try to make those grow and stand out", she replies back with the slow ride still going on with them in the heart shaped unit. She is even gently squeezing his hand from time to time and sometimes having a hard time doing eye contact, but nothing too serious,"Soo...uhmm..I do really want to ask...have you ever...you know...thought about what kind of stuff..we would be doing...together?", she asks, clearly a bit nervous.

Indeed, there are many, many things here that women of nearly all ages would love to wear. Everywhere one looks, something colourful, bright and shiny appears, begging to be worn by someone, The young maid quickly manages to find and fish out the small package meant to be delivered here at the store. It doesn't take long before a clerk approaches the two of them."Good day, young ladies and welcome to our fine store. How may I be of assistance?", it comes from a young, perky looking woman in a pretty, but subtle dress.

The mood dimmed very slightly upon Yoko's reactions to Hiro's words, so his brows dropped slightly into a pensive one, but soon enough his face beams up brightly along with his eyes widening a little bit, smiling in return continuously. "Yeah, same! To be honest with you, I don't even care about what other people would think. You probably noticed how a few people looked at us holding hands, and me from a few months ago would've definitely felt strange, but not this time. It didn't affect me one bit! If anything, those glances made me feel... proud of myself, and us, if you know what I mean..." He explains, shifting his gaze forward at the last sentence as he sighs, keeping a light smile on his face as he holds onto her hand still.

As the twins marvel at the shiny and elegant accessories and jewelry located inside the store, Millie would quietly search for the package that needed to delivered to the store owner pulling out the item from her purse. She would gently nudge her sister as they would step inside the beautiful store full of different glass cases as they look around at the different items looking for either the owner or an attending store clerk.

The clerk finally nods lightly in a polite manner as they leave the store with the items they needed. So far things are going nice and smoothly, though their items accumulate little by little, making it a bit cumbersome to lug around, even if the boxes are nearly all just small ones. The directions brings them to the store, which is called "The Rough Jewel", which seems rather small, but only has top shelf and lovely looking jewelry, which is sure to attract nearly any female with good taste in accessories of all sorts.

Hearing that, is both very nice for Yoko to hear, but also a tiny bit anxiety inducing, since neither of them have any frame of reference or past experiences to draw upon. Thankfully, the latter of those sensations are the far lesser one, leading to the zombie girl to feel mostly at ease."Ohhh, that is surprising. Of course, you cannot force such things either. I do not have any memories of such feelings or situations, so I am afraid I cannot fully answer you...", she said with a soft sigh as she feels bad about not being able to."Ohhh..well, very new and unexpected most of all. I know we have likely seen such stuff on TV and in books and such, but being romantic and such in reality and happening to you...especially when you are not used to it..is a bit jarring...but I am excited to experienced it!", she says, with a puff of gusto at the end of it.

The twins smile brightly at the information about where the next store being located nearby and how all the stores knowing one another quite well. Coco replies cheerfully, "Thank you ma'am" as she and her sister quickly leave the story in the direction of the last store on their list.

DoIEvenExist joined the club

Hiro keeps a smile on and shakes his head in a negative manner. "Don't worry, I'm not uncomfortable and you're not bringing up any bad memories, because I don't have any of them. I haven't had feelings like this for someone, ever. It's my first time, basically. What about you?" He asks her in return, basically the same question, casually conversing with her for now whilst also continuing to keep an eye on the surroundings as well, enjoying the slow ride. "Or rather, what does it feel like, for you? Being a zombie and all, isn't it different?" He asks in addition to the previous question.

Yoko nods along as these odd looking beings are explained to her and even she finds it pretty farfetched."Well, I think so as well, but they must have some cultural value though...and even if it is make-believe, it's still a bit cute at least...tell me though: have you ever had feelings for someone before? If I may ask...of course. I don't want to bring up any bad memories or make you uncomfortable, after all", she says, scooting a bit closer to him as the ride keeps going. She too gives glances to Hiro whenever the opportunity presents itself and her soft smile stays on her face still.

Whilst Yoko is fixated on the surroundings, Hiro is more fixated on Yoko, although in secret as he doesn't want to be deliberately noticed that he's staring at her. Not in an ogling manner, just simply looking at her, perhaps appreciating this friend that he found. He is snapped out of his thoughts though, as he raises a brow and quickly looks around, his eyes landing on the cupids. "Oh, those?" He then looks back at her, smiling slightly. "They're cupids. A type of Angel that focuses on uniting two people romantically together with special arrows. At least, that's what the books say! Personally, I think it's a natural thing." He gives a more in depth answer than a simple one, but he hopes that that's not an issue. He continues giving his zombie partner a bright smile, whilst peering through his glasses that slowly slip down every once in a while.

Greetings and welcome to the club @horny_cow_slut. Always happy to see new faces Let me know if you need help to get started

horny_cow_slut joined the club

"Very well. You are always welcome back if you change your mind. Thank you kindly for your patronage and I hope your Lady will find these to her liking", she says in a soft spoken, articulate and polite manner. Before the twins then leave, she is asked something and shown the name of another store."Oh, that place. Why yes, of course. Nearly every up scale boutique here pretty much knows all of the others. After all, we do need to look the part for our own", she says before giving directions to where Coco asked for.
Newsletter

Want to keep up to date with all our latest news and information?

Sign Up