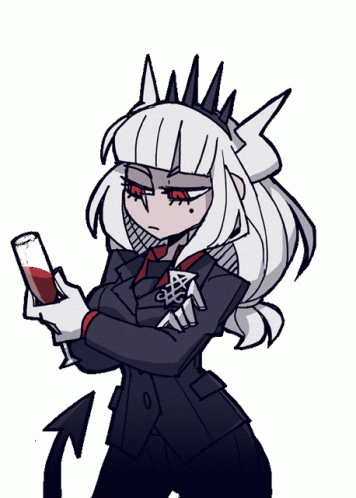 About This Club
Ironclaw High is a large academy which was build shortly after the dimensional gate between the monster realm and human realm appeared suddenly one day about 10 years ago, making travel between the two worlds possible. This is an academy for monsters to get regular education, as well as an insight into the human world and all that it encompasses, such as culture, history, geography, social norms and so on. The academy is part of the only massive town where humans and monsters live together.
---
Type of Club
Roleplay Club
What's new in this club

Bella looks at the result that has emerged from the hot oven, with her being asked what she thinks of it. Not eating any sort of food, does not mean not really spending much time looking at it either. So the countess only really has the one the teacher made and the picture in the cook book to compare to. The finished product seems to resemble what it's supposed or at least close to it. In any case, there is probably not much they could do, other than bake it some more if needed."I think this looks pretty decent miss Hellhound. Hopefully Mr. Maxwell will agree on that. It smells fine...it seems", she answers, her senses more aimed at other types of...diets.

Maxwell watched the students prepare the same recipe for the baked apple with varying results of how the pie turned out with only a few having an issue with the pie coming out a burnt or overcooked. He chuckled softly as he called out, "Don't feel discouraged for any of you that might have run into issues with baking this dish as it can be a bit difficult or easily over cooked" as he glanced around the room as the baking times start to go off, "For those of you that have already pulled the pie out and let it cool down to serve should now see a golden brown pie crust with the apple filling being to just bubble underneath" as he holds up his own glass pie dish with a completed apple pie within. After a couple of minutes, he calls out, "Simple cut a couple of slices and lay one out for you and your partner before setting a slice of the pie aside for me to score it for a grade" as he gives the class a few minutes before walking to each station to sample the finished product quietly giving out a grade to the pair of students at the station.

Isabella ignores the odd look that the other teacher sends to the floor as all of the books have been picked up already. Of course, Akira @Kitsuyumia would know the subjects from what she saw before. They were all of a scientific nature, easily telling her of the field of study that the dragon teacher is involved with."Oh, I see. Well, hopefully most of them should be fine, if you are efficient, professional and well organized. It is important that we instill discipline and proper learning within our students after all. Have any students been particularly troublesome?", she replies back whilst pouring them both a nice cup of tea.

OOC: Let us make the next post the first "round" out of 5. So we both get 5 posts to do stuff. Misha is just wanting to do a duel and the current discussion is making her groan inwardly."Let's just do this! I grow weary of all of this talking!", the little goblin finally speaks up and walk towards the center of the arena, readying herself for what is to come. With a new and unknown opponent, it is best to try and be more defensive at first. She grabs her spear and speaks towards Niyol, who is likely behind her."Just tell me what you wish me to do and go from there!", she almost barks, her impatience fairly clear. "That suits me just fine. I could use some practice myself little friend", Bridget says and seems to get fired up herself, both mentally and literally.

Niyol turned looking confused at Bridget. It seemed an odd thing to say as he thought of Misha as an extension of himself but can see why she would think otherwise and nods. So much for that idea. With a heavy sigh he turns his head to look at the goblin on his shoulder, thinking for a few moments before nodding his head. "You want to fight first? I wouldn't mind watching and going second if Bridget would be willing to go for another round."

" Akira Kobashigawa, and some tea would be nice, and I am going to be teaching some first years. Basically the first year is a more generalized class and the next two years will have more focused lessons based on what each student picked. Only issue is since this class is just starting up if any 2nd or 3rd years join in they won't have as much time to hone their skills, well unless if they ask for additional private tutoring that is. " Akira said in response. Her eyes would glance down at the books that had spilled onto the floor in brief curiosity to what the subject it was that this teacher dealt with.

Hello and good evening folks! So I was talking about doing a new event soon and it seems there was a big interest in a festival with booths. Do you guys have any wishes or suggestions for such a thing?

Isabella brushes off her clothing once the books are all off the floor and for now put onto a table near them."Oh, I see. Which students are you looking to assign seats? I...I am not sure I remember you name...sorry. I am Isabella Scopelli and I am not sure we have properly met before", she says and smiles before extending her hand for the other woman to shake. The dragon woman then remembers that she has some leftover slices of cake still in the fridge."Since we are having a moment together, may I offer you a nice treat....perhaps with a cup of tea?", she asks politely.

" Ah well I was just about to assign some seats for my students, that I will be having in my classes. " she said, though she had personally not started just yet with doing so since the current incident had occured. Bur at least the dragon woman was unharmed by her tumble.

Bridget gives the tauren a lifted eyebrow as she hears what is being said towards the goblin."I think you may have misunderstood something mr. Niyol. Duels are one on one deals. You must trust in the abilities of your partner or face me yourself. Whilst I could probably take both of you on in some capacity, there are still the fact that anyone must face their opponent solo. Otherwise, we could have groups of ill-intentioned people fight against single targets. I hope you can agree to this term", she says, trying her best to sound firm, but not demeaning.

"I believe in you my little green friend. You are a gift from the spirits so I trust in your abilities." While Niyol believe in what he is saying, he still understands it will take time to adjust to wielding his magic, much like it took him time to get used to wielding his earthbreaker. Having retrieved his big two handed weapon, he unharnessed the massive totem like weapon his kind is famous for using. "I have so many ideas on what we can do to work together. Many would take practice but for now let's just keep it simple, I will try to keep her between the two of us so she is flanked, just shoot at any openings you see for I will keep an eye on you to watch how the magic flys."

Isabella, slightly red in the face from embarrassement, frantically begin to pick up whatever books she can. She honest did not notice her fellow teacher being here until she spoke up to her, making stare in a manner that makes her look slightly weird."Oooooh, I am just fine...I hope the books are okay though", she replies back and smiles slightly whilst accepting the hand as the other teacher pulls her back up. She looks at her desk afterwards."Sooo...what were you up to before I literally...crashed...your thing, haha?", Isabella adds, trying this thing people call "humour".

Keya doesn't mind how close she gets on the bed and just smiles at her anyway, laying on his back now as he then reached up only to put a thin blanket over himself and her, but she can remove it from herself at any time. He yawned as well, showing his very sharp teeth. "Yeah, good night." He says, sounding weaker now but he finally falls asleep soon afterwards.

She tilted her head to the side to look around her computer to see the aftermath of the Scene that had infolded. She stood up and walked around to help clean up the spilled books. " Are you alright? Looks like a nasty spill you took there." she said as she put some of the books on the desk nearby. She then took a breif second to offer her hand to help the woman up.

Isabella Scopelli, soon makes her way into the office as well. She seems to be carrying a large stack of books with her, which she is trying her best not to topple over with. As her hands are more than full, she cannot really close the door behind her it seems, so she tries to gently push it to close with one of her feet. Sadly, she gets out of balance and falls to the floor with the many books scattering all over."Aaaarggghhhh.....shoooooot!", she cries out as she pratfalls more comically than anything else.

She spent a few minutes in the shower before she tuened it off. She would grab one of the towels and pat herself down, removing any excess water so as not to soak her hosts bed. Even after drying off her skin felt softer to the touch having residual moisture from the water. This wae fine for her anyways. She hung the towel to dry and she would make her way back to the bed. She smiled when she saw Keya had left room for her. She would get into the bed almost snuggled up against him in fact her breasts lightly brush on his arm. " well I guess I will see you.in the morning, " she said just before yawning.

Seeing as it was getting late, while Miyue takes a quick refreshing shower in the apartment, Keya takes the time to clean up in his room quickly, tossing away things that shouldn't be there and changing the sheets of the bed and such, placing the old one aside on the ground so that they're not in the way and the slight smell of it from the previous session wouldn't remain there either. He also opened the window a little bit, since it was slightly hot in the room, so fresh air could get inside. He didn't remain dressed the same way either, because he took off his clothes and decided to just stay in his boxers, as the weather was perfect for that. He sat down on what will be his side of the bed as he closes his wings and keeps his large tail close to himself, waiting for Miyue to come back from the shower.

Fair enough. I kind of assumed we would discuss a few details about a scene beforehand, so we had an idea in what direction we want to go and such...

Soon Akira would enter into the teachers office and lounge area. She had a light smile on her face as she would find the desk that was assigned for her and she would sit at it. Being careful to not sit on any of her nine tails that she had. She would turn her computer on and wait for it to boot up. She would have to make a seating chart for her class.

After checking to make sure everything came in she would feel satisfaction and she would leave to head to the teachers lounge. [Scene moved to teachers lounge]

Yea maybe they will meet up in the teachers lounge

" Well yeah we kinda skipped a fee steps. Anyways I will be back. " she said. She would ealk towards the bathroom and enter it. Her dark metallicy colored purple skin had some jiggling as she walked mainly with her ass and breasts that was. She turned the shower and would immediatly enter as the cold wasn't as shocking to her as it was to others. So she was perfectly fine. Plus it was still on the cooler side even after it got to temp as she was using it more for hydration than actually washing herself. As she stood in the shower she would spread her fins out a bit toe wet them as well.

@Kitsuyumia were you still up for that teacher and teacher scene?

"Hey, same! It's not every day I meet somebody who I click with in a near instant." Keya chuckles after he said those words, watching her as she stretches herself, not hiding it anymore that it's just plainly nice to watch her move around, seeing how she wears no clothes. When she mentions the part about sleeping together with him, he nods at her words. "That would be alright, yeah! I mean, we already had sex, so sleeping together is a couple steps before that, meaning it shouldn't be a problem." He says with a cheeky tone, smirking at her as she watches go anywhere.

" Alright, sounds good with me. I glad I was able to make such a nice friend on my first day, " she said as she sat up and moved to get out of the bed. As she stood she would stretch as if she was feeling stiff or something. " I think I will use your shower to rehydrate real quick. And then I might turn in for the night. I assume it would be alright if I share your bed with you for the night. " she ssid looking towards Keya.
Newsletter

Want to keep up to date with all our latest news and information?

Sign Up