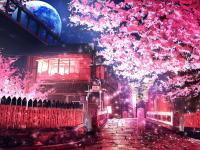 OOC for Yamatai Onsen
A list of out of character topics such as chat and character sheets.
---
7 topics in this forum
[Reference Image required] Name: Age: Species: Sex: Gender: Sexuality: Role (Staff or Customer. If staff what kind of job do they have): Personality: History: Kinks: Limits:

Annoucements will go here. make sure to follow this topic.

If you have any questions you can ask them here. I will try to do my best to answer them.

In here you can make suggestioms for areas to add and what not. This is not a QnA area and /or a critique forum.

There had been rumors going around the village of a woman who attends to the needs of the lonely old men late at night. Rumors have naturally circulated around the village about what she does with them and who she is. The most common rumor is that it's the wife and shrine maiden of the local temple. Whether or not these rumors were true would only be known to her. However plenty of the young men had left the village to serve in the war, leaving the elderly to take care of themselves. The taxes placed on the peasants were high, leaving them little money to donate to the temple. Rumor was she was servicing the elderly men with her body in exchange for temple donations. Agai…

New to the site. Hate on me.
Recently Browsing   

0 Dreamers

There are no registered users currently online