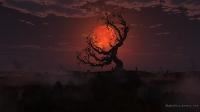 Pine Heath and Surrounding Areas
The town of Pine Heath, self sufficient and quite the jewel despite its isolation from other settlements. There are also areas and landmarks surrounding the town. 
---
8 topics in this forum
The farmlands that litter and scatter all around Pine Heath, they are numerous and quite prosperous with many even having temperature controlled greenhouses, allowing them to function and grow crops all year around. This is found between Pine Heath and Pine Forest.

A small diner in the center of the busy Pine Heath Town. It's a popular spot for the Midnight Pack and a variety of delinquents at night, but during morning its a quiet spot for businessmen/women to come for a quick cup of Joe or a bite to eat.

Parks Mall is a massive building of ships, vendors, and whatever else of the imagination. There is a Cinema movie theater, an ice ring, an indoor water park, and much, much more! Surprisingly the mall stays open 24/7 with only a few shops open.

Directly across from "Fantajī + Noodles" is a well renowned restaurant known as Hye's Steakhouse, a Korean-American spot that has been around since the 60's. Pricey but overall the best quality food around, Hye's aims to serve only the best. It is generally visited by the "high class" and those of very high standards, but that hasn't stopped the low and middle income families from dining.

The large town of Pine Heath spans between two mountains, it has plenty of business and always seems to never really sleep. However despite its population the town is actually peaceful and quiet, abd sports a variety of shops as well.

The harbor, or what is known as "Westport" is an extension of Pine Heath, acting as a docks for ships from across the massive lakes they have to trek; roads were not built between certain areas, so fishermanand suppliers tend to use boats to help deliver shipments versus going through dense forests. Westport, while part of PH, is considered its own town. It was rumored that a small wolf pack resides here, however they have yet to present themselves as friend or foe to the Midnight Pack. Then again, rumors are rumors.

Owned by Kain O'Callaghan, K&L Hunt 'n Lure is practically a massive Bass Pro Shop in design and shape... Becauseit was a Bass Pro... Now with everything people actually need at a decent price! The massive center sells fishing, hiking, survival, and hunting gear, as well as boats and ATVs, and acts as a secondary garage for such! It is well known place to buy a gun or two for hunting, collecting, and home defense and holds auctions for odds and ends.

Fantajī + Noodles or, "Fantasy Noodles" is a recently opened and popular Japanese restaurant surrounding Manga, Anime, and popular media from Japan. While meeting supply and demand, prices here at "Fantajī + Noodles" are agreeable for even low class families, there is a family who built it in honor of their youngest member who loved the things surrounding the shop.
Recently Browsing   

0 Dreamers

There are no registered users currently online