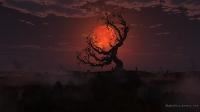 Midnight Mansion

The home of the Midnight Pack and all its members, this massive mansion is designed to be self sufficient and out of the way of travelers, hunters, and so forth. The territory is large enough for an overabundant pack to thrive evenly, filled with plenty of flora and fauna. To the West in a massive river that feeds a smaller lake where a large abandoned ferry boat was turned into an additional location for the pack leaders. 
---
19 topics in this forum
A small doctor's office, connected to a miniature expanse of rooms acting as a "hospital," the Gammas Office is where wolves go for treatments and annual health inspections. There is a separate room for the newly born, tended by the Gamma and their following ranks.

A wide open space designed as a place to test and build the physical prowess of the Midnight Pack. Off to one side is the weights sections with a variety of machines, while the other side is open for a wide variety of activities.

A small and cozy room filled with books, comfortable sofas and pillows. It also has a great view of Pine Forest, and even contains a fireplace, candles, and a variety of other miscellaneous things. There's also a speaker system built into it.

Except the walls are burgundy the carpets black and the bed is much bigger(big enough to fit at least 4 normal people... the stone seen is the same

One of the few remaining rooms in the mansion one the East facing side. It is a perfectly cozy space with books and a homey feel. The room is considered ranch house minimalism, this is due to Anais not really needing much in her day to day life as she is fed, trains and does other things elsewhere. No one besides her and the Beta's have been in her room. Her favorite part is the loft upstairs which is covered in lush furs and blankets along with lots of pillows as there is a large window that overlooks the mountains ridge and gives a clear view of the night sky. It's where she goes to be alone when upset.

The rustic aesthetic of the Midnight Mansion can date back to the 17th century. The Foyer is the entrance of the mansion, and is used for a variety of things such as events abd announcements thanks to its massive size.

Clawhammer's private bedroom is small, cozy, compared to the expansive living areas of higher ranking pack members. The room is clean, the furniture neatly arranged, but it is all highly worn or damaged, and is almost all salvaged. The most notable of which are a tidy new mattress set atop old palettes to use as a bed, and a thread bare couch, sagging in the middle that is too far gone for even the least discerning student's dorm room. The walls are covered in posters from local punk bans, and full page images cropped from old magazines. This aesthetic mirrors Clawhammer's personality. It is well taken care of and spartan, but also highly eclectic and personalized. It als…

The bedroom for Samara and Keiko is a nice cozy room with a platform bed that has storage in it, a large walking in closet that has a side dedicated to Samara and a side dedicated to Keiko. Their room also has an attached bathroom so they can have some privacy in the mornings.

The stone kitchen is large in its own right, having two deep freezers and two regular coolers, it is normally stocked and packed full of meats, vegetables, and other goodies. Due the packs obvious appetite, it must be halfway stocked if not mostly or fully.

A small messy room with a single twin sized bed in one corner, posters of various rock bands lining the walls, opting for the more flashy album covers over the group shots of the band members. In another corner stands a bookshelf filled with countless books, all of them falling into some kind of fiction... some fantasy, some sci fi, some mystery... stuffed behind the more normal books one could find countless romance novels, with a frequent theme of werewolves in the titles names... besides the bookshelf rests a guitar, carefully cared for, despite the noticeable lack of music coming from the room... ever... a personal laptop is set up on a desk on one wall.

Acting more as a War Room for the pack, the Delta Quarters are used by the Deltas, hence given the name. These are the "Barracks" for this particular rank, as if there is no room in the packs mansion there are bunks and living space for the ranks. Warriors are more than welcomed to it... If they can prove themselves just as good as a Delta.

The room Belonging to Alexander. He rarely lets anyone in his room unless he invites them or they are of higher rank than him. Will find image as soon as I find one I like)

This is June's new private room.

The massive botanical gardens of the Midnight Mansion, this greenhouse is home of some of the most rare plants in the world, and some common ones too. However these plants aren't just for show as they are applied in medical uses by the Gamma!

Personal Chambers of the Alpha and Luna, this room is large and always has a different design based on the leadership it seems. Reserved for those invited, high ranks, and of coursevthe heads of the house... That hasn't stopped common Wolves from entering at their own risk...

A dining room built more like a wide restaurant. It has fragrant trees planted around it and of course is decorated beautifully.

The office space of the Beta, many can come here for advice or for even requests of supplies, should so they desire it. The Beta can spend their time here, they can make appointments for the Alpha from the outside world but here they can also contact connections in Spruce Moore.

The area that is just outside the gates of the Midnight Mansion, there are a variety of pathways that lead to cleared areas and into the Spruce Forest. Perfect for practice and events. Most pf the Ourskirts is covered in clover.
Recently Browsing   

0 Dreamers

There are no registered users currently online