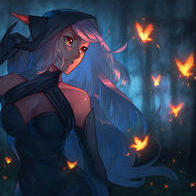 About This Club
Advanced RP! Craethiel Kingdom is set in the year 1200BC in the mythical, dangerous land of Craethiel Kingdom with a medieval, fantasy adventure theme.
---
Type of Club
Roleplay Club
What's new in this club

Rae Sloane joined the club

BelleSoumis joined the club

Hello, welcome to Craethiel Kingdom

What's up, everybody. I'm new to this site, but i do put in work on my erps, and i hope to meet you all.

Dominus Auron joined the club

Teh_Tap joined the club

Fall1n joined the club

DarkestPrinceofCha0s joined the club

Location: Hermitage. On the very moment that Daedrin told the nurse to leave and that he himself would take care of Lucius, Izanagi already knew his friend was about to use his special skills and knowledge to deal with the infection affecting Lucius' body. They have been traveling for more than enough time for the demon to recognize these...

1

Pinned against the wall, Natia couldn't resist her king's orders. As if on command, her body immediately ejected the fluids that had built up inside her ovaries. Her cumming so quickly didn't seem to be a deterrent. In fact, it seemed to only make Rowan lust for her more. With cum now leaking from the lips of her sopping pussy, the sound of...

1

"Then. Cum." Rowan ordered in a snarl down Natia's ear as she squealed out that she was going to cum. He was pleased that she was cumming this quickly, and made sure to continue aiming his cock deep into her willing and eager body. He loved the way that her pussy gripped hard around his dick, trying to hold him deep within her body. It...

1

DeathIscariot joined the club

As Rowan's meat plunged deeper into her muff, snapping her hymen and throwing her back into an arch, Natia couldn't hold back the symphony of moans in her ecstasy. "Ooh fuck! Rowan!!" While his cock was certainly taking claim of her body once again, her cunt certainly wasn't going to let go either. This cock was hers. At least for now. And she was...

1

vindiction joined the club

Location: Hermitage. Daedrin looked up when Izanagi walked in through the door with the nurse with the water. He took the cup from her, nodding his head at her. He ignored his friend for the moment as Daedrin told the woman, "Take a break. I'll look after Lucius for the moment." She glanced at the human on the bed before looking at...

1

Location: Hermitage. Izanagi was still enjoying his meal when Daedrin said he was going to check up on Lucius, so he simply nodded a bit before saying, "Yeah, I'll go after I am done here" in response. The demon took his sweet time eating, since he had eaten stew and meat for the last few days. While Daedrin's cooking skills proved...

1

Another growl clawed its way up Rowan's throat, this time a little quieter, as he encountered the resistance of the hymen against the top of his dick. He heard her words, but they barely registered with him as he was running primarily on base instincts. He tightened his grip of her, before pulling his lips back slightly and then slamming his...

1

(As the previous post is a collab, I'm going to be the one to post next) Location: Hermitage. When Daedrin had finished his meal, he pushed it back away from him. He felt slightly better for having something warm in him, and having his stomach feeling full. He relaxed for a few moments before he straightened and informed, "I'm...

1

Colab Post: This post was a collaboration between myself and @Akira who did the Tahurin and Hanshaerin. We did this over at Google Docs before transferring it to here on EcchiDreams. Location: Edge of the Forest Daedrin jerked awake the moment Izanagi touched him. He stiffened a little, before relaxing as his friend spoke. He blinked a...

1

That familiar growl caused Natia's hear to freeze. It was somehow even more scary this time than before. Yet, she only found the sensation of fear that much more exciting. Before she knew it, his teeth had sunk into her neck, pulling a cry of pain from her body while filling it with a sense of euphoria. Once again, she was marked. She was his...

1

Rowan was pleased when instead of fighting back against him, he felt her tongue surrendering to him. Playing along, but never trying to push back against him, allowing him to completely dominate the kiss. He absolutely loved every moment of her submission. It made him ache for her even more, and his cock throbbed even harder than before. He needed...

1

Natia's heart skipped the moment Rowan placed his other hand on her hip. He was taking control already and that was simultaneously exciting and, strangely enough, a little scary. Rowan was quite savage the way he dominated her out in the woods. And now she had tempted him more than ever before. It was no secret that she'd be met with far more than...

1

Rowan was broken out of his reverie when Natia suddenly twirled around, breaking their physical contact. He blinked his golden eyes as he watched her move around, showing off the sexy outfit from all angles. He swallowed, finding that his mouth was suddenly very dry. He couldn't believe how different she looked. Like an innocent little...

1

[Continuation from the Side Story: A Quest for Kraerhil] Location: Edge of the forest. "Well, your father really does sound like someone interesting, to say the least. I would really like to meet him some day, if possible" Izanagi replied to his friend as he too finished his meal. Once again, he noticed Daedrin rambling, this time it was...

1

As she stood back from the kiss, finally allowing her lover to see her outfit, her heart was racing. She just stared into his eyes at first with a somewhat seductive smile, but as the moments went on she could feel her face getting redder and her smile became more nervous. Why wasn't he saying anything? Did she... Put something on wrong and he was...

1

As Izanagi detailed out about how he had been taught how to wield a blade, Daedrin sat silently as he ate the meat of the rabbit straight from the bone, tearing off as much of it as he could. He nodded his head slightly in approval when Izanagi said that he had improved upon the techniques that his own father had taught him to better suit the...

1

Bunny♡ joined the club

"Heh, right back at you. I never saw a fighting style like yours" Izanagi replied with a slight chuckle to his friend's first comment. "Hmm... the smell surely is good" Both warriors then sat down near the campfire once again so they could eat, and Izanagi was right, a duel with someone who equally strong surely is a nice way to prepare an...

Daedrin side stepped away from the fire, allowing them to get into a space where they could move without worrying about stepping into the fire and ruining their food. He pulled his sword from its sheath, the bright blade making a hissing sound as it was drawn. Daedrin took a rather simple stance. His right foot was slightly ahead of him, while his...

1

The recent few day have been about what Izanagi would have expected. They continued on traveling through the forest, being as careful as possible to avoid any unnecessary confrontations, but some of the forest's residents disagreed with the two adventurers and made the foolish mistake of trying to attack them, but hey, it would be no fun...

1

@Aura I've made modifications.

1

Don't sweat it. I've done stuff like that before xD I'll have a look and make any edits to my post tomorrow. I'm just having a last look through ED for today before heading to bed. Honestly, I didn't mention it because my imagination had inserted the collar into her image when doing my post.

1

Rip, @Neptune I somehow completely forgot about Natia's collar while describing her outfit. While describing it, I initially wrote it as an armband but then for some reason I questioned why I made it an armband when a choker would be cuter, so I changed it... Seeing your response has made me remember why I initially went with the armband ...

Rip, @Neptune I somehow completely forgot about Natia's collar while describing her outfit. While describing it, I initially wrote it as an armband but then for some reason I questioned why I made it an armband when a choker would be cuter, so I changed it... Seeing your response has made me remember why I initially went with the armband ...
Newsletter

Want to keep up to date with all our latest news and information?

Sign Up