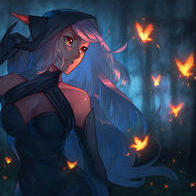 About This Club
Advanced RP! Craethiel Kingdom is set in the year 1200BC in the mythical, dangerous land of Craethiel Kingdom with a medieval, fantasy adventure theme.
---
Type of Club
Roleplay Club
What's new in this club

Location: Hermitage. Daedrin looked up when he sensed Izanagi moving closer to him. The moment he saw him, Daedrin paused in mid-chew before he leaned back and slowly finished his mouthful as he watched Izanagi with an amused glance. He swallowed his mouthful before he said, "Good morning. Yes, I slept well. And by the looks of your hair,...

1

Rowan felt Natia's head press against his chest, and he turned his attention back to her now that the woman had walked off. He tilted her head to the side slightly as he looked down at her, and was glad for his sensitive ears so that he heard what she said. He reached up and stroked her hair in a reassuring fashion, "I really wouldn't worry...

Location: Hermitage. It took a little while, but Izanagi was eventually able to fall asleep. Even though he had a lot to think about, having a comfy bed and an actual roof over his head after having to spend so many nights sleeping on the forest's floor was more than enough to make his eyelids heavy. While in the dream world, he...

1

When she heard such a soft, nervous knock on the door, Natia suddenly felt an unexpected wave of shame washing over her body. She listened along with Rowan as the pleasant voice of a clearly nervous woman spoke into the room from the other side of the door. Natia hadn't intended to make anyone else feel uncomfortable by the sounds she was making...

1

Location: Hermitage. "Please, sleep well." Daedrin told Izanagi as the other man left the room. His gaze lingered on the door before he turned his head and continued to watch Lucius. He knew where Izanagi was coming from; he certainly didn't like to see his friends disrespected. But this situation only highlighted the fact that Izanagi...

1

Rowan's vision flashed, blinding him as his mind went completely blank from the force of his orgasm. It seemed to tear through his body, leaving nothing untouched by the ecstasy that he was experiencing. Despite his entire mind and body acting almost like a maelstrom, he was acutely aware of the burning skin pressed against his own and the...

1

Location: Hermitage. "Tch…" Izanagi simply said with a bit of a annoyed and angry expression on his face while averting his gaze from Daedrin once he was done speaking. The thing is, Izanagi wasn't really mad at his friend or Lucius anymore. Instead, he was mad at himself for being so careless with his emotions and words. Not...

1

'everyone will know' those words swirled inside the lustful head of the Aequu, absolutely mesmerized by Rowan's possessive nature. Something about that promise just filled her with that much more passion for her submission. His erratic thrusting deep inside of her delicate pussy tore grunts, moans, cries, and gasps left and right from her body as...

BagOfBags joined the club

Location: Hermitage. Daedrin didn't answer Izanagi's question at first. Instead he was giving him a long and steady look that suggested that he had said something that he had not particularly liked. Finally, after a few moments he said, "I will ignore that implied threat to Lucius on the grounds of your ignorance. If you do like to be...

1

Rowan could feel Natia's tight, hot pussy clenching chokingly around his cock. The muscles seemed to simultaneously squeeze his cock with a crushing grip and yet caress him lovingly, tempting him to remain inside of his lover. He could feel her hot cum gushing over his cock, causing her passage to become slicker as the liquid squeezed out around...

1

Daddy Pheonix joined the club

Venari99 joined the club

SweetMeat joined the club

Character Identity Information Name: Toshi Age: 28 Gender: Male Religion: Druidic Species: Human Origin: Rosayia Forest Nationality: Craetharian Occupation: Traveling Herbalist Rank/Title: Journeyman Physical Appearance Height: 6'1 Weight: 172 Eye Colour: Blue Hair Colour: White Physical Description:...

Character Identity Information Name: Toshi Age: 28 Gender: Male Religion: Druidic Species: Human Origin: Rosayia Forest Nationality: Craetharian Occupation: Traveling Herbalist Rank/Title: Journeyman Physical Appearance Height: 6'1 Weight: 172 Eye Colour: Blue Hair Colour: White Physical Description:...

Toshiflow joined the club

Rae Sloane joined the club

BelleSoumis joined the club

Hello, welcome to Craethiel Kingdom

What's up, everybody. I'm new to this site, but i do put in work on my erps, and i hope to meet you all.

Dominus Auron joined the club

Teh_Tap joined the club

Fall1n joined the club

DarkestPrinceofCha0s joined the club

Location: Hermitage. On the very moment that Daedrin told the nurse to leave and that he himself would take care of Lucius, Izanagi already knew his friend was about to use his special skills and knowledge to deal with the infection affecting Lucius' body. They have been traveling for more than enough time for the demon to recognize these...

1

Pinned against the wall, Natia couldn't resist her king's orders. As if on command, her body immediately ejected the fluids that had built up inside her ovaries. Her cumming so quickly didn't seem to be a deterrent. In fact, it seemed to only make Rowan lust for her more. With cum now leaking from the lips of her sopping pussy, the sound of...

1

"Then. Cum." Rowan ordered in a snarl down Natia's ear as she squealed out that she was going to cum. He was pleased that she was cumming this quickly, and made sure to continue aiming his cock deep into her willing and eager body. He loved the way that her pussy gripped hard around his dick, trying to hold him deep within her body. It...

1

DeathIscariot joined the club

As Rowan's meat plunged deeper into her muff, snapping her hymen and throwing her back into an arch, Natia couldn't hold back the symphony of moans in her ecstasy. "Ooh fuck! Rowan!!" While his cock was certainly taking claim of her body once again, her cunt certainly wasn't going to let go either. This cock was hers. At least for now. And she was...

1

vindiction joined the club

Location: Hermitage. Daedrin looked up when Izanagi walked in through the door with the nurse with the water. He took the cup from her, nodding his head at her. He ignored his friend for the moment as Daedrin told the woman, "Take a break. I'll look after Lucius for the moment." She glanced at the human on the bed before looking at...

1

Location: Hermitage. Izanagi was still enjoying his meal when Daedrin said he was going to check up on Lucius, so he simply nodded a bit before saying, "Yeah, I'll go after I am done here" in response. The demon took his sweet time eating, since he had eaten stew and meat for the last few days. While Daedrin's cooking skills proved...

1

Another growl clawed its way up Rowan's throat, this time a little quieter, as he encountered the resistance of the hymen against the top of his dick. He heard her words, but they barely registered with him as he was running primarily on base instincts. He tightened his grip of her, before pulling his lips back slightly and then slamming his...

1

Warning: This Side Story will contain scenes of a graphic nature. This includes, but is not limited to, Heterosexual sex, dress up, seduction. If you find either of these themes distasteful, then please do not read. Participants: Rowan and Natia Description: Upon reaching Ryn'tur, Rowan and Natia visited Glenda's shop, where Natia bought...

1

Welcome to the Creaky Tavern (Age of Conan concept art) Welcome to the Creaky Tavern, a place for roleplayers from all over Craethiel Kingdom to come and gather to talk about their characters and any of their plots. If you are new to the Kingdom of Craethiel, then this is a good place to advertise your character. The Creaky Tavern is...

Craethiel Kingdom (Photographer Steve Highfield) The Craethiel Kingdom is a wild, and untamed land where the monsters and animals of the land rule with an iron fist. Where legends stalk the lands like giants, and myths are the way of the world. A land filled with beauty and wonder, that the unwary traveller would find enchanting and...
Newsletter

Want to keep up to date with all our latest news and information?

Sign Up