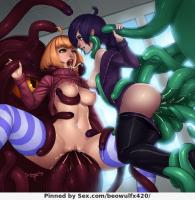 Characters
Add your characters here. Please specific whether or not your character is a human or tentacle monster, which are the only two options available for this roleplay. Please use the character sheet below.
Character Identity Information
Name: 
Age: 
Gender: 
Species: 
Origin/Nationality: 
Occupation: 
Physical Appearance
Height: 
Weight: 
Eye Color: 
Hair Color: 
Number of Tentacles:
Physical Description: 
Personality, Traits and Abilities
General Overview: 
Strengths, Skills and Abilities: 
Weaknesses: 
Ambitions (Hopes/Dreams): 
Hobbies and Interests: 
Sexual Orientation: 
Turn ons:
Turn offs: 
Extra Information
Bio/Backstory: 
---
Recently Browsing   

0 Dreamers

No registered users viewing this page.