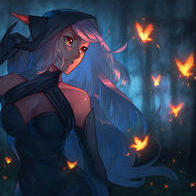 ---
Recently Browsing

0 Dreamers

No registered users viewing this page.

Similar Content

By

Neptune

Warning: This Side Story will contain scenes of a graphic nature. This includes, but is not limited to, Heterosexual sex. If you find either of these themes distasteful, then please do not read.
Participants: Raeghan and Luna
Description: During their quest to find a dragon for an ingredient for Luna, she created a potion to turn Raeghan temporarily into a human. One of his desires for when he was human, was to have sex and Luna had offered to help him with just that.
-x-x-x-x-x-x-x-
Raeghan smiled at her nervous question, his thumb stroking against her cheek again, "Well, you relax. I have more experience than you, even if I haven't done it in a long time. So it would best if, for this kind of dance, you let me take the lead." He said. Before she would be able to respond, he pulled her face closer before kissing her once again. This time, he deepened it by pushing his tongue past her lips and into her mouth to explore the sweet cavern. Now that she was closer, his other arm wrapped around her waist and pulled her towards him, pulling her up onto his lap. It allowed him to lean back a little, and be more leisurely in the kiss. It was quite passionate and heated, but he did it slowly to allow her to get used to the sensation of a deep kiss. He then pulled away from the kiss, tilting his head a little at her. Now that she was sitting on his lap, her head was almost level with his. A fact that quite pleased him as it made it easier for him to kiss her.
Going along the theme of being her teacher, he told her, "Sex isn't just about the pleasure of the one person involved. It's about the pleasure of all. I know you want me to feel good, but I want you to feel good as well." As he spoke, one of his hands moved up her thigh, his fingers ghosting on her pale skin before they dipped slightly under her garment but not fully, as he wanted to tease her a little. He once again kissed her lips with a full kiss that only lasted a few moments before he pulled away and pressed his lips against her throat, planting tender kisses along the unblemished flesh. A lot of women he knew liked this, as it sent tingles of pleasure through them. And he quite liked watching their reactions. Some would sigh and tilt their head for more, while others wriggled and moan. He was very curious to know what Luna's reaction was, if there was one. He hoped that, even as she fulfilled his desire for this kind of contact, that she would get something out of this as well.


By

Neptune

Blackberry Falls Extra Information
It is the modern day, and the place this roleplay finds itself in is Blackberry Falls, a city situated on a large island that is perhaps a little larger than the United Kingdom. This fair, bountiful land is split between two separate countries; Ashaea, and the United Federation of Families which has settled in on the island in recent years. The Capital cities, Blackberry Falls and Xantall'ar, sit on opposite ends of the island, separated by other, smaller cities and a wide expanse of forest that dominates the island. The cities have settled on the southern end of the island, and just to their north is a large cliff that runs from one side of the country to the other. Beyond the cliffs is the rest of the island, dotted here and there with towns and villages. The river that spills down the cliffside splits into two large rivers, with one headed towards Blackberry Falls and the other heading into UFF country, so that both reap the benefits of the strange water.
For the moment, the relationship between the two countries is an uneasy peace. They mostly stay out of each other's business, although there is limited trade between the two. Between the borders of the two countries is a de-militarised zone, that prevents either side from being able to send any kind of military into the other country. This has helped maintain the delicate truce that the two countries share.
Blackberry Falls is a large, modern city, filled with large skyscrapers, which displays the wealth and development of this human metropolis. One of the things that Blackberry Falls is famous for is its BlackBerries, due to their high quality and abundant Blackberry harvests. There is something in the water of the island that causes the BlackBerry bushes to grow far larger than normal, and the berries to be the most delicious in the world. It also helps the inhabitants of the island stay healthy and helps them live longer.
The time of Blackberry Falls is the early 21st century, and despite the violent economic climate, Blackberry has fared extremely well. This is largely in part thanks to the trade that Ashaea has had with the UFF and their major corporation, Keza Corp. Ashaea has their own corporation, EDANCorp, that has filled Blackberry Falls with technology that suppasses any that other human countries, although it is a few steps behind what Keza Corp has been able to produce, because the UFF tends to keep their own technology to themselves. With the combination of the trade with the UFF, their own self-sustaining ways and EDANCorp, Ashaea has remained prosperous while other economies have faltered. 
For humans, Blackberry Falls has turned into a technology empire, and there are thousands of jobs available for the citizens to apply for. They are also in the lead for the latest medical technology for humans, and it is home to one of the most state of the art human hospital, Blackberry General Hospital. The UFF is home for the most advanced technology in the world, and they actually have the most advanced hospital in the world, Keza Corp Hospital, however due to their restricted borders and lack of interest in sharing what Keza Corp produce, their technology (medical or otherwise) is not available to those in Blackberry Falls. Even if it was available, the UFF is made up of species that have a different biology to humans, Neko's and other species, so the technology would not even be of any use.
As with any city with a large population, crime does still exist and there is even a Black Market there. However, Blackberry Falls keep their prison population low by only putting the most violent offenders in the state-run prison. This keeps the most violent people off of the street, while leaving in peace those who do something as benign as smoking weed in their own home. 
Blackberry Falls is a place where people come and seek their fortunes. Everything about the city is something that most people can only dream of. However, like every city in the world, it has its poor, run-down areas where people live in poverty and where the crime rates are the highest on the entire island. For those who are unable to make the fortunes they dreamed of, this is where they usually end up. The city does all it can to improve the areas, however with the current rising house prices due to the demand, there is little they are able to do apart from support numerous charities that help out in the impoverished areas. 
One thing that the UFF and Ashaea do share in common is that both of them are quite strict when it comes to immigration and customs. The UFF is a lot more strict than Ashaea, with the chances of getting in if you're a non-UFF species being only slightly higher than the chance of getting to the moon as an untrained Astronaut. Ashaea is less strict than the UFF, however they have similar restraints as Australia and New Zealand, especially when it comes to the importation of food which has the potential to destroy their agriculture and bring the economy to its knees. The currency that is used in Blackberry Falls, is the Blackberrian Dollar. It's one of the most valuable human currencies on the planet, which speaks of their strong economy. 
Relevant links:
Main roleplay thread Character ID OOC Here is a rough map to see what Blackberry island looks like:
[New map coming soon]
Notable Laws:
Ashaen Rights Charter Freedom of Speech, expression, press and religion Citizens have the right to carry firearms (As long as they are not a convicted felon. A concealed weapon requires a permit) Citizens have the right to defend themselves Right to privacy The Right for a Fair Trial by Peers Innocent until proven guilty by a Court of Law. Property Rights, as well as Search and Seizure Rights Drug laws: Possession with Intent (To sell) for most Narcotics, is illegal. Simple Possession of a Personal Amount is decriminalised, so someone in possession of a small amount of Meth will not be charged for it.  It is illegal for someone under the influence of any narcotic drug (With exception to Nicotine) to be operating a vehicle, or heavy machinery. A crime committed while under the influence of narcotic drugs (With exception to Nicotine) will have additional charges such as "Committing a Misdemeanor/Felony while Under the Influence". Just because it's legal to consume drugs does not negate any responsibilities from the individual. Cannabis is Legal to possess in any quantity and it is also legal to grow at home for personal use.  The selling of Cannabis, along with Alcohol and Tobacco requires a license. The age in which it is legal to purchase Alcohol, Tobacco and Cannabis is 18.  It is illegal to supply either of the three to minors. Prostitution is legal, under the following guidelines: You do not solicit minors under the age of consent (16) Within a fully legal and licensed brothel. Brothels have a duty of care for their prostitute staff such as medical screenings, contraceptives and security. It is legal to prostitute in your own home. If a prostitute is out on the streets, they can only solicit between the hours of 10PM and 6AM. Citizens are responsible for their actions, even under the influence of drugs Age of consent is 16 years of age. Obviously, things such as murder, rape, fraud, etc, are illegal. So characters will be sought after by the Police if these crimes are committed, and the Police alerted to. Otherwise, the Police are very active in the communities and other places and have a very good relationship with the other civilians. List of things in city:
Thorndown University. Mercury High School. Saint Arc High School. Shopping Centre [ Several ] Main: Blackberry Falls Shopping centre. The Blackberry Farm. The waterfalls named Blackberry Falls due to its close proximity to the Blackberry Farm, just on the city edge. Lots of cinema's for entertainment among other daytime entertainment. Housing [ Large, rented, privately owned ] Blackberry Park [ A large park with kids area as well as a large empty glass field. In the middle of the park is a large woodland area where people can walk through. ] Job Centre. Supermarket, Walmart (ASDA)/Tesco, as well as smaller convenience shops. Blackberry General Hospital. Blackberry Falls Police Station. Blackberry Falls Fire department. Mental Health Clinic Blackberry Primary School. Blackberry Secondary School. Blackberry Sixth Form College. Petrol Stations. Bus/Coach Station. Nearby Blackberry Falls Airport. Nearby Blackberry Falls port. Dock for cargo etc. Military presence: Small Navy port, small airstrip with one fighter jet, a Helipad with a fighter helicopter and a small barracks for ground troops. Office Blocks. Doctor surgeries. Various Religious Buildings. Pubs. Entertainment buildings e.g. Clubs/bars/arcades/laser quest etc. Warehouses for storage. Yards for Road Works etc. Golf Course. Farms (Other) Banks. Shops [Of all kinds] In and out of the Shopping centre. Especially in the City Centre of Blackberry Falls Restaurants. Fitness centres [ Gym and Swimming Pool etc etc ] City Hall. Power Plants [Nuclear and Wind Farms. Their reliance on fossil fuels is quite low.] Courthouses. Jail. Rehabilitation Centre. Museums. Business Buildings [ For All Types ] Lorry depot. Post Office/Sorting centre. Car Parks. Car Wash. Animal Shelter. Blackberry Falls City zoo, which have a wide range of animals. UFF - United Families Federation (Extra Info done by Wolfie) Keza Corp HQ Keza Corp Hospital Keza'maraki Nightclubs (In Blackberry Falls) This is only a brief list of what can be found. For most of these places, what they are is quite obvious, although when I do eventually create a map for it, I might label some of the places on it. Some of the places will get a bit of a description here; however, some of the much larger places will have their own Extra Information, which will be linked below as it would be far too much information to contain to this single extra information. Despite being in their own extra information they are linked to Blackberry Falls, but may have their own limits in place. As the extra information is approved before it is added to this list, then the limits must be observed to be able to roleplay in Blackberry Falls. 
List of related Extra Information: 
United Federation of Families Keza Corp Keza Corp: Housing Estate Agents (Blackberry Falls and UFF) Keza Corp: Champagne Studio's and The Crimson Moon Keza Corp Metal Nightclub (KCMN) (???) Promiscuous Palace The Eldyrannth The Neko Resistance Thorndown University Brief Prospectus High School Information Pamphlet The Pegasus News Corporation Naughty Cow Dairy

By

Neptune

Character Identity Information
Name: Lucius Sheridan
Age: 20
Gender: Male
Religion: Catholic
Species: Human
Origin: Lathulla, Craethiel Kingdom
Nationality: Craetharian
Occupation: Adventurers
Rank/Title: Noble, Lord heir
Physical Appearance
Height: 180cm (5'11")
Weight: 62.5kg (9st 12lbs)
Eye Colour: Blue
Hair Colour: Blond
Physical Description: Lucius is quite a tall man for this era, standing almost six feet tall. He has the lithe frame of a fighter, with a broad muscular chest going into muscular arms that show that he is quite physically strong. He has a trim waist going into long, lithe and muscular legs. So overall he has a strong and healthy body shape that indicates his skill as a fighter. His blond hair is quite long, going down to his waist. He has some that curls around his face, cut shorter than the rest. The rest is usually tied back with a red bow and spills down his back. His hair has an incredible amount of volume and thus it can often seem to be wild and all over the place. He has quite a handsome face, with a slender jawline and well shaped lips. He has a nose that fits well with his face, as well as sharp and an intense blue eye. His left eye, however, is covered by a patch to hide it from view.
He tends to dress in quite a rich manner, with expensive materials. He likes to make himself look very presentable and is somewhat vain when it comes to his appearance. He also has a set of armour that was created by Daedrin, in Selil. It was very expensive, and the metal is darker than a standard steel armour. That is because it is a steel alloy with another metal called Glaedian, a rare exotic metal which strengthens the steel. Lucius has a necklace that hangs around his neck at all times. The main part of the ornament if shaped like a dragons head, with what appears to be a red glowing triangular point underneath it. It appears to be a dragon's scale, and he values it greatly as it was a gift from his mother. 
Personality, Traits and Abilities
General Overview: At first glance, Lucius comes across as a serious and proper young man. He has a golden tongue, and is flawlessly polite in front of the correct company, including his parents. However behind closed doors and in front of the right people, such as his sister, he is less proper and polite. He sometimes swears just for the pleasure it gives him. He often dislikes the kinds of expectations and responsibilities levelled on him by his father, and sometimes chafes at his restrictions, sometimes leading to rebellious behaviour that can cause headaches for his father. He is very adventurous, and loves going and seeing new places. He takes every opportunity to do so, and he has a desire to travel from one end of Craethiel to the other. He faces challenges head on, and does not become stressed easily when faced with a new situation. He is quite a confident young man, easily looking others in the eye, and never letting failures bring him down. When he sets himself a goal, he can sometimes forge himself ahead with a single mindedness that tends to exclude everything, and everyone around him. Thus he has workaholic tendencies, and it is not uncommon for him to spend several days in his lab, not sleeping or eating, when working on a particular project. He is quite observant, often noticing things that others do not. This is more of a developed trait due to his training as a tracker and hunter. He needs to be able to observe the smallest of details in order to hunt someone or something down. 
Strengths, Skills and Abilities: 
Physical strength: Lucius is very strong, and is far stronger than the average human male. While it may pale compared to creatures of magic, it is enough to serve him very well. Lucius has been taught from a young age to be able to fight, and thus he has been given numerous lessons to give him the following combat skills. Swordsmanship: He has been trained from the age of four how to handle a sword and how to fight with one. He has been taught to use a variety of swords from two handed longswords to one handed short swords. He is also proficient in the use of daggers.  Archery: He has known how to use a bow and arrow since age of six. He has spent long hours practicing, and can shoot the arrow off of someone's head at thirty paces. He can also fire arrows with quite a bit of accuracy from a moving horse. Hand to hand combat: When weapons are unavailable, he utilises his fists and feet. He is quite good in a hand to hand combat situation. His natural physical strength greatly helps him. Tracking and Hunting: From a young age, Lucius has been taught how to track things, from hunting game to humans. He can track someone days after they have passed through an area, by looking for signs that they have passed through such as footprints or damage to foliage. He is quite skilled and thus few can cover their tracks enough from him.  Science (Chemistry): In his spare time, Lucius sometimes like to pursue scientific goals. His particular area of interest and expertise is Chemistry. He knows how to do a variety of things with chemicals, including create primitive explosive devices although he doesn't tend to carry them around as they're usually quite unstable.  Weaknesses: Lucius is still human at the end of the day and he can be killed in a variety of ways such as being stabbed in a way that damages major organs. The human body has numerous weak points that can be exploited. If he encounters a fighter of superior skill, he can be overwhelmed by them and be at their mercy. Due to the fact that he has no left eye, he has a blindspot on his left side that can be exploited. He also doesn't know any kind of magic, thus he is weak to magical attacks. He also has a bit of a weakness for good booze and beautiful women. 
Ambitions (Hopes/Dreams): To go on adventures all over Craethiel.
Hobbies and Interests: He loves hunting, as he loves the challenge of tracking animals and then being able to successfully hunt them. His main hobby and love is his science, and will spend hours locked within his lab doing experiments that do sometimes, literally, blow up in his face. He also loves stargazing, and will spend hours glued to his telescope (very primitive compared to modern machines), charting the stars. He also quite enjoys music, and knows how to play the violin. 
Personal Sexual Information 
Sexual Orientation: Heterosexual
Turn ons:
Unprotected sex Being dominant during sex Being rough. He loves pinning his partner down and fucking them roughly. This often involves hair pulling, choking, nails digging into flesh and spanking among other things. Oral, mainly receiving although he does like to give it to women. Having multiple partners, and being able to fuck them all deep and hard Having sex with someone he doesn't love, or even know. He loves the illusion of intimacy.  Turn offs: 
Being in extreme pain The thought of being fucked Scat, and watersports Gore and Vore Penis Length: 11"
Breast Size: N/A
Sensitivity: Average
Additional Sexual Information: His neck can be a little sensitive at times, meaning that if someone were to kiss or even give a love bite, it can cause his cock to become hard. He also likes having his back scratched. Even though it can be painful and pain is a turn off, the pain induced by a female scratching his back during sex causes an increase in his lust, thus encouraging him to fuck them harder and faster.
STD History: Clean
Extra Information 
Father: Edward Sheridan
Mother: Mary Sheridan 
Siblings: Ciara Sheridan
Grandparents: Franklin and Lauren Sheridan on his father's side. George and Jayne Willow on his mother's side.
Children: None
Grand-children: None
House: He loves on his parents estate, out the outskirts of Lathulla. It is a large mansion with extensive grounds that he will one day inherit. It is called the Sheridan Manor. 
Pet: A white stallion by the name of Aeris. He has raised this horse since he was a foal, and he is fifteen hands at the shoulder.
Additional information: He has a sword, that he calls Draden, which roughly translates to Dragon's Tooth, as the colour of the blade matching the scale on his necklace. The blade was made by Daedrin, in Selil, much like his armour and is infused with the metal Mangenarr, which gives the blade its unique red colour.
History
Awards/Commendations: None
Criminal Record: Clean
Medical Record: He lost his eye in a skirmish. Luckily he survived the wound, but lost his eyesight in his left eye.
Bio: Lucius was born with a silver spoon in his mouth. His parents were quite rich as his father was the Lord of Lathulla, but they tended to give over his care to a nanny rather than look after him themselves, thus he didn't form a very close relationship with them when he was a young boy. All he knew of them was that they were distant authority figures that expected him to study hard and to get all of the questions right. He was given a teacher that taught him how to read and write, and drilled manners into him. When he was two years old, his younger sister Ciara came along. He instantly loved her, and would spend his free time playing with her, when he was allowed his free time. However due to the different expectations laid down on them, they were forced to spend most of their time with their respective tutors.
He was taught swordsmanship from a young age, and would be made to spend hours practicing to help bring up his skill with his blade as well as to train his body. As he grew older, this extended into archery, when he was finally strong enough to be able to draw a bowstring. They attempted to teach him how to use a crossbow, and while he accepted the lessons, he much preferred the bow. While it wasn't as powerful as a crossbow, it was far more maneuverable with a greater rate of fire. His parents also hired a local hunter to teach him the skills needed to track and hunt game, a skill that he can also put to use with people as well. 
His adventurous streak caused many headaches for his parents, as he would often wander off out of the estate, often taking Ciara with him as she thirsted for adventure as much as he did. Sometimes it would be to the surrounding wilderness, despite the dangers, but it was often to the town of Lathulla. He liked meeting new people, and learning new things about them. He especially loved meeting the sailors from the ships, who often told him about distant towns, cities and countries. He loved to learn as much as he could, and he became well known in the taverns as the questioning young man.
His father often tried to confine him to the estate, but failed as much with Lucius as he did with Ciara. His mother was not so upset with them, as she seemed to understand their desire for adventure. A desire that she, as she once admitted to Lucius, once shared in her youth. But she had traded her adventures away to marry their father, to settle down and start a family. 
When he was sixteen, a band of robbers broke into their estate home with the intention of stealing their valuables. Lucius refused to be cowed by them, and fought back fiercely, using all the lessons from his youth. He killed most of them, however the last bandit was able to stab him in his left eye before his death. Lucius almost died from the wound, but his mother never gave up and called in healers from all over to tend to him. He recovered from the wound, but he has lost his left eye and thus has a blind spot on his left side. 
This incident did little to hamper his adventurous tendencies, and he is even worse than ever. He argued long and hard with his father, as he wanted to go out and see the world, while Edward wanted to keep his children nice and safe within the estate. Eventually, he won the argument, mainly because he argued that they clearly were not safe on account of the bandits, and their father finally gave permission for him to go on adventures. He is determined to take Ciara with him.