More Information
Club Roleplaying
Club Roleplays, or Public Roleplays as they are also known as, are made by the community for everyone to take part in. If we don't have it, you can create it and become a Game Master. These Roleplays take advantage of the Club system of our site; and can be found under the explore menu, then clubs.
Just above the most right hand side of the clubs display page, you should see a filter option where you can have it so that you're only seeing the roleplay clubs. That way you can see the clubs that are completely dedicating to fulfilling the roleplaying desires. 
Once upon a time, back in the ages of antiquity, there were only a few roleplays on EcchiDreams. The four, fixed Scenarios; Blackberry Falls, Craethiel Kingdom, Utopian Curse and Andromeda. These were the only ones we had, and they were located in the main forums in their own sections. But still, people yearned for their own scenarios. Admittedly, we were sketchy on this idea but we warmed up to it. 
At first, these first customisable roleplays were, like with the old scenarios, sitting in the main forum with their own section. It was still quite restrictive with what you were able to do. Finally, we were introduced to the feature of Clubs. This allowed us to allow Dreamers to have the freedom to set up their roleplay how they wish, as they would own the club. It is even possible for Dreamers to set up their own staff within their club, to be their own moderators.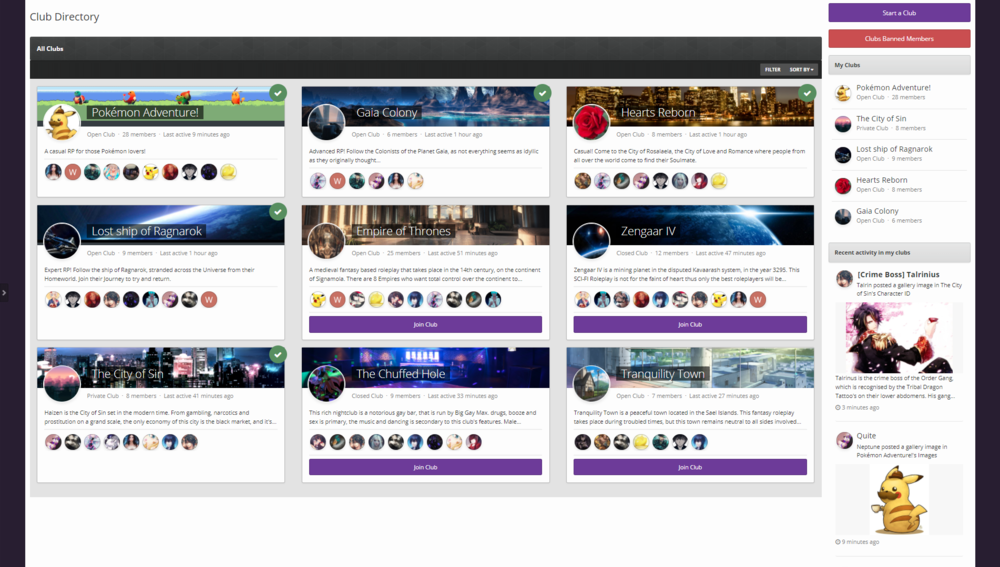 We do, however, recommend that you check out this guide, if you actually want to make one. It will take you through a step-by-step guide as to how to set up your very own Club Roleplay. Once you've organised your idea and put it together, thinking about what kind of people you want to roleplay with you, how much reading you want to be involved with the story, and what criteria you can think of, post it up. Remember; the Home Page of your roleplay is a doorway into your universe. 
There are a few tools within this club that can be utilised by the Club Creator:
Home Page - You are able to set up a Home Page for your Roleplay, that you can customise to your liking. It acts as the doorway into your Roleplay and is the first thing a potential Roleplayer sees when they first enter your Club. This is the perfect place to hold vital information, such as the difficulty rating of the roleplay and links to important threads. To find out more about how to set up a great homepage to your club, click or tap here.
Gallery Category - This allows you to have a special category, and even albums within it, for the images that relate to your club. You could set one up to hold the character images and their profiles. You are able to have more than one category, allowing you to set up a separate one for different functions such as characters, and extra information images.
Topic Forums - This allows you to have a special forum where your topics can be posted, such as the main roleplay thread, extra information threads, or even side stories. Again, you are able to have more than one forum allowing you to set up a separate one for different functions such as roleplay threads, side story threads, character threads or even extra information threads.
Staff - As an owner of a Club, you have the power to make members of your Club into staff for that particular club. You have the ability to grant individuals Moderator, or Administrator titles, both with abilities to moderate the club. See the Club Roleplaying and You guide for more information on their permissions.
One thing we absolutely recommend spending some time on is a Roleplayer Preferences sheet. And if you can, advertise your roleplay with our Advertising Services, which uses EcchiCredits, our contribution based currency. 
Lastly; in the unfortunate event that a Dreamer has come into your universe and is starting to become a nightmare: Just report their post, and let us know if you need an impartial third party arbitrator; if we've tried everything to resolve and it's not working for whatever reason then we can take a last resort method, and close the door to that dreamer from your roleplay and removing them from your club.