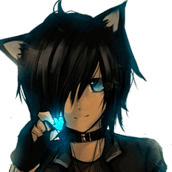 Comments & Suggestions
Constructive Comments, Suggestions, Feedback and so on about EcchiDreams is welcome here. If something sucks, explain why you think it sucks and how you think it can be improved. It is best to try and be as detailed, and specific as you can so that we can better understand your comment, or suggestion. Being vague might not get you anywhere, because we might not be able to understand what you're trying to say sometimes.
---
80 topics in this forum
So I've been away from the site for a while. I have a constant notification that I have a new request received, however when I click it there is nothing there. I Imagine the person who sent it got banned or deactivated their account or something.

I been havin some troubles with the texts and hopin that there are either answers to fix it now or it can be added someday maybe! It really hard to tells which messages are new. I mean the threads with new messages are bold but they're only BARELY bold so it's really hard to see specially on a mobiles. Could maybe changes the color as well as the bold or prefixes wiff "(New)" in the title or something? It hard to tells which threads have been responded last by somebody else. So like for RPs it would mean "hey Gidgy, it your turn so pay attentions!" Maybe an icon added to the list view indicating "U" or "Not-U" having posted lasts. I started puttin thin…

How is the Ecchi bank gonna attracts new customers if it no pay better interest than thats?!

Now, I understand this might not be "needed" or ever suggested by anyone before but there is a first time for everything. To best explain what I will go on about, see my album of characters. The point: I think we should have a setting when we create albums (Or edit them) to mark a character as available or not and maybe a between option for "waiting for confirmation", "in standby" or the likes. When a roleplayer would check the characters (albums) of a potential partner, they would therefore know if a character is available to be requested or not in a roleplay. I do believe it would make things slightly better and it would be a fun and useful settings to have around…

Please, for the love of heavens, allow us to manually sort images within albums. While I understand that albums are now made for only a single characters, this exactly increased the priority of this suggestion. Most people may not require that their images hold a certain sorting order but I kinda do. Images that I uploaded the first time (that I use as main images) should not be kicked back with new images being uploaded, when they are supposed to be secondary images to support the first one. I know that I can make an image THE main image of the album but this isn't the issue. I want my images to be in order so the most important ones are first and the least importan…

I am speaking on behalf of a friend on here who wishes for their visits to remain private. They have activated the privacy option, but from what I understand, people can still spot them on the users list: They, and I am sure others, would appreciate if their online status be 100% hidden.

Hi there! Maybe it's just me, but I keep seeing someone's avatar, check their profile and I realize that I've checked them already at least two times (that very day), and then maybe I already either followed them (because I thought they are great folks) or decided we wouldn't click (but they are still great folks, so I don't want to ignore them). Would that be a huge problem to add an overlay tags to avatars, seen only by a particular user; say I would mark someone "interesting", "not a match" (or "followed" created by following someone) and then the next time I would see them in a list of users I wouldn't scare them with yet another visit to their profile?

I'm seeing a ton of people either getting deactivated or banned, one of them being a roleplayer that I was having a fun time writing with. Is the purge happening or somethin?

For Ecchitexts, it would be great if you could pin a conversation to the top of the inbox. Make it so the ones you want to keep an eye on don't get buried when you get a bunch coming in.

Thank you for allowing me to join EcchiDreams!.....have only been a member for a couple days and already got more RP requests than I know how to handle....

I took a look at a few sites before commiting to one, and this one has by far the nicest layout, most up-to-date UI and it's intuitive to use. I think clubs are a super good idea. I like the way EcchiTexts work. The Community seems pretty cool (though i'm still new, probably haven't met the inevitable assholes yet, but that's a good sign in and of itself). The folks i've spoken too have all been welcoming and accomodating. My first roleplay is a lot of fun already (Shoutout too @PervertedDragon). Thank you to the staff, all of you. I don't know any of you well yet, but you're doing a great job as far as I can see. Thanks to the people I've talked too already, you kno…

Community Administrator

Senior Staff

4

replies

122

views

If it's possible, would there be a way to hide latest images? I don't want to force anyone to add an extra tag to their photos, but it's a bit awkward for me if I want to scroll down and look at statuses and stuff while I'm at my campuses library or just generally out in public. It's fine on my phone, since images appear at the very bottom of the page. If it's not possible, I understand! The ecchitexts tab is just big enough to cover up most of it as I scroll past

I noticed the following tags weren't on your index and thought I'd suggest them. 🙂 Cock Sleeve Cum Dumpster Objectification

I'm being thinking on...stuff as usual And what about something that let others know that you up for Role Playing? Something like a 🚥 thing? Like a "Green Sign" is available Yellow is,ask first And red is...I guess you get the drill. What yall thoughts?

What is says on the tin. If I had a penny for every time I closed a page by accident and had to rewrite my entire post from scratch, I'd have around a dozen pennies. And that's way too many pennies! What I'm suggesting is to add a prompt to confirm whenever a tab is closed while there is still text in the "new post" box (or any text-box if possible), to avoid instances of mistakenly ereasing all of one's written content. I'm sure it would save people many frustrations.

I'm being thinking on something Aside from other things "like if you can or not play as a girl or man" What about adding "prefer partners"?

by

Typical Blue Haired Dude

I hope everyone is doing well today! I was going to try to change my signature into a cursive font, but sadly I don't see any options for that with the current font options. I was wondering if it would be possible to add more fonts, especially those that are similar to cursive? Of course, this is not required by any means, nor is it urgent. I was just curious and decided to ask. I understand that there are much more pressing matters, so I will be patient with this request. Again, hope things are going well and please take care of yourself.

Not sure if this is the right place but here we go! I love the text app! It used to allow me to write replies without going into the chat system and revealing what I am doing as others would see me writing replies (charade is using Ecchi text) and would get upset if they had not received one from me yet. I figured out how to hide what I am doing and to disable the messenger to stop unwanted spam. I have anxiety telling people no. :[ **I write on grammarly and copy/paste to the site when doing rp replies** When I am in the mail messenger, it double spaces and when I put it in text messenger it takes away the spaces and makes it a blob of text. Am I doing so…

Does anybody else have trouble joining the discord? It says im already in but I sure as hell am not

I see that EcchiMates are still in BETA so I was wondering since that is a new feature added then maybe it should show either when they are online your friends there or maybe have it show the notifications you would get from them either EcchiText or Posts so that you could differentiate your Friends from everyone else, it is just a little suggestion that I wanted to throw your way since I do like to keep Acquaintances separated from my Friends 😄 Ooh and maybe have it show on Your Profile who your Friends are at least for one self because it is weird I can see my Followers but not my Friends 😅

Hi! I seem to be unable to unlock a topic in my club. I am sure I tested it earlier and it worked, but maybe it's on a timer or something? (The option has just entirely disappeared, and I can only pin/unpin now.) Anyway, since I can't edit it when it's locked, that's a problem because it's a rules document and I want to update it, now and likely several times in the future. If locking means I lose access to the topic, then I'll avoid it in the future. But in that case it would be nice if an admin could unlock it for me. Thanks!

Normally, I get an email when someone sends me a message. Today, I didn't get one. I checked my account notification settings, and my spam folder and everything looks fine. Is there a problem with notifications currently that I missed?

Community Administrator

Senior Staff

21

replies

1k

views

I made probably the most basic post possible, and it seems like I'm being pressured to leave the site because of it. I dunno, the whole thing doesn't sit right with me. All I did was ask that my roleplayer be female. That's it. Next thing I know, people are putting tons of words into my mouth. Like, what's going on here? Could a member of staff other than Aura please take a look at this? Seems like some of what I said (especially in the first post) was construed to be more negative than I meant...had I known then how people would take things like this I would never have said the first post the way I did. But it just doesn't sit right with me that I would be made t…

Ignored Users shouldn't appear in the community wall. Simple as that. I realize there may be limitations and this may be impossible but if it isn't I think it would improve the site.

As I am currently running multiple clubs with open world settings, I have had the need sometimes to address everyone who is a member of the club at once, for large announcements and other things. I would like to hear if it's possible to have a tag that could target all members within a club at once.
Recently Browsing   

0 Dreamers

There are no registered users currently online