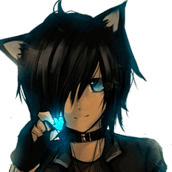 ---
Recently Browsing

0 Dreamers

No registered users viewing this page.

Similar Content

By LazarusLuna

I noticed that you have to choose between male or female and it doesn't accept when you choose the "blank" options - I was wondering if it would be possible to have "androgynous" option for those who do not wish to give away their gender identity? 


By Serlina

So I was chatting to NeppyNepNep a couple of days ago when I was putting together my Creative thread with my signatures and wallpapers, it came to me that it would be so awesome if ED had an option where you could Watermark your work!
 
You would be able to, as an example, tick a box to Watermark your image with your Username to prevent people out with ED stealing your image and using it as their own!
 
I don't know if this is something that ED would want to do or could even make it happen but I just thought I would mention it, it was just a thought that came to me while I was working away with PS. :)


By

Temaelrin

So I had this idea...
When the RP opened up originally in 2007 we needed to base the RP off of some laws that already existed to save time on writing the rules. The leader of the RP section at the time had this somewhat narrowminded idea that really at the time would have solved the immediate problem but was never conceived in the larger scale. I think at the time I was admittedly that Roleplay Adminstrator.
Of course back then it was just Thorndown Highschool which was very limiting. Now we have a fully open island based RPs (and Andromeda which is a open space RP and in my opinion virtually limitless if you can use your imagination.) It was admittedly a narrowminded idea which I think was actually mine. This idea now is rather... Limiting and unfair. 
Blackberry Falls is ran by the UK/US government. Therefore it's a blend of their laws.
Now obviously this has changed with the RP department but the extent of change is the name. Nothing else. 
So I'm thinking to make the RP more free-ranged and less strict, which may (I'm guessing here) put off less-serious RPers and people who aren't from the UK or the USA who may (again just guessing here) feel sectioned and isolated from the RP.
I think focus should be rules of the Roleplay. Not rules within the roleplay which may feel restrictive. It was all unintentional as I didn't anticipate this at the time and the community if memory serves me didn't care either way, but had a few loud voices who had one opinion or the other. 
I understand that there is BOUND to be laws in a civilization. But perhaps this could just be Blackberry Fall's laws rather than a fixed set of laws the exist in real life. It should be up to people to communicate with each other the cause and effect, the consequences of this cause and effect and think about their RP in a dynamic sort of way, they should be able to choose if they want to do that, not have it forced on them. If that makes sense. Now I posted this up publicly because I want roleplayers to put their voices, to get some real information. So in short I'm not really sure what to say, it's something I noticed and wanted to bring to attention. A sort of "Do we need to improve this?" sort of deal. 
One last thing. People shouldn't be scared to post suggestions up in the suggestion's forums. I want to assure everyone that I read every single suggestion personally, it's my job to. If there are other ideas and stuff that you want to share that you think may improve the site it doesn't hurt to bring it up. It's better that we are aware of any problems rather than being unaware. 


By

Eternal Ethos

Banned

For: @Wolfie and @Neptune
Talk Openly. Develop Openly.
     I feel your community could really stand to gain on having a much quicker and easier to read Code of Conduct as opposed to your very long Terms of Service which is extremely problematic. It's far too long and your definition of harassment is woefully inaccurate and marginalizes what harassment actually means. I'd almost think or say that you did it on purpose! ;)
     From one developer to another, I implore you to consider updating it something that is open source and free for you to use and is much less for your members to read. Also, and please take this as a ''side suggestion'', consider opening a forum for women only, it's my experience that women need a safe space to communicate, especially on a community like this. I will however, praise EcchiDreams for having equal genders as "Community Administrators" that's awesome!!! well done!!!
      For more information and to see the CoC for yourselves go to http://todogroup.org/opencodeofconduct/ I realize you're a small, and probably even a new community and you probably invested a lot of time in making your Terms of Service but I really feel it could say a lot about your character if you adopt this as your new Code of Conduct. Be on the right side of history :)
Thanks!!!