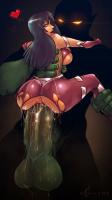 OOC topics.
Everything that falls under OOC belongs here, including your planning topics.
Do not create any new topics beyond those you use for planning roleplays.
Planning topics: Make a topic titled with what you seek overall - these are used as both adverts for your ideas as well to plan within.
Request threads will be deleted after 30 days.
---
5 topics in this forum
This is where you may ask for certain kinks. People with like minded interest can of course seek you out and plan anything with the/those interests you seek out. Shortly put: Tell others what you are currently craving of the more weird/rare/extreme kind.

This is for regular talking and such. Fetish talk is not to be discussed here and has its own topic, so please use that for this specific purpose.

Here you may discuss any sort of extreme, weird or rare kink you may want to discuss. Anything goes here, so be warned. These kinks include, but are not limited to: Ageplay Extreme size difference Rape and other types of non-con Inanimate objects Filth play Inflation Extreme transformation

Older male dom x 16-18 yr old virgin girl NOTE: This idea isn't completely fleshed out yet as I love to encorperate my partners ideas and kinks into my plots. (ps. I love a spit roast so if you want to play more than one character that'd be awesome - otherwise a dildo gag works - 😜) Basic idea: yc (preferably someone with power over her eg, teacher, brother/father, priest etc) plans to turn an innocent, skinny, virgin, into a thiccc, curvy fuck toy cum dump. Slipping aphrodisiacs, hormones and extra calories into her food, putting subliminal messages in her favourite music, tricking her into submission (eg mesmerising her with drugs in her food. - I'd al…

Lately I have been getting into lovely, fun and exciting kink of "bleaching", which basically means women exclusively into white males. I do not have a solid idea for a story to give you guys, but I can give an overall idea to a few images from my gallery. Generally I do want to avoid the following "themes": Mysogyny Rape or other sorts of non-con Evil or asshole characters Any sort of gore, blood or killling Hatsune Miku: Idea: She would be using her songs to deliver more and more pro-Aryan lyrics that helps other Asians emulate her Helltaker: Idea: The demon or demons begin to understand the superiority of the whi…
Recently Browsing   

0 Dreamers

There are no registered users currently online