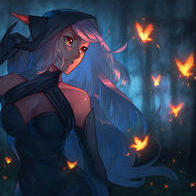 ---
Recently Browsing

0 Dreamers

No registered users viewing this page.

Similar Content

By

Neptune

Character Identity Information
Name: Lucius Sheridan
Age: 20
Gender: Male
Religion: Catholic
Species: Human
Origin: Lathulla, Craethiel Kingdom
Nationality: Craetharian
Occupation: Adventurers
Rank/Title: Noble, Lord heir
Physical Appearance
Height: 180cm (5'11")
Weight: 62.5kg (9st 12lbs)
Eye Colour: Blue
Hair Colour: Blond
Physical Description: Lucius is quite a tall man for this era, standing almost six feet tall. He has the lithe frame of a fighter, with a broad muscular chest going into muscular arms that show that he is quite physically strong. He has a trim waist going into long, lithe and muscular legs. So overall he has a strong and healthy body shape that indicates his skill as a fighter. His blond hair is quite long, going down to his waist. He has some that curls around his face, cut shorter than the rest. The rest is usually tied back with a red bow and spills down his back. His hair has an incredible amount of volume and thus it can often seem to be wild and all over the place. He has quite a handsome face, with a slender jawline and well shaped lips. He has a nose that fits well with his face, as well as sharp and an intense blue eye. His left eye, however, is covered by a patch to hide it from view.
He tends to dress in quite a rich manner, with expensive materials. He likes to make himself look very presentable and is somewhat vain when it comes to his appearance. He also has a set of armour that was created by Daedrin, in Selil. It was very expensive, and the metal is darker than a standard steel armour. That is because it is a steel alloy with another metal called Glaedian, a rare exotic metal which strengthens the steel. Lucius has a necklace that hangs around his neck at all times. The main part of the ornament if shaped like a dragons head, with what appears to be a red glowing triangular point underneath it. It appears to be a dragon's scale, and he values it greatly as it was a gift from his mother. 
Personality, Traits and Abilities
General Overview: At first glance, Lucius comes across as a serious and proper young man. He has a golden tongue, and is flawlessly polite in front of the correct company, including his parents. However behind closed doors and in front of the right people, such as his sister, he is less proper and polite. He sometimes swears just for the pleasure it gives him. He often dislikes the kinds of expectations and responsibilities levelled on him by his father, and sometimes chafes at his restrictions, sometimes leading to rebellious behaviour that can cause headaches for his father. He is very adventurous, and loves going and seeing new places. He takes every opportunity to do so, and he has a desire to travel from one end of Craethiel to the other. He faces challenges head on, and does not become stressed easily when faced with a new situation. He is quite a confident young man, easily looking others in the eye, and never letting failures bring him down. When he sets himself a goal, he can sometimes forge himself ahead with a single mindedness that tends to exclude everything, and everyone around him. Thus he has workaholic tendencies, and it is not uncommon for him to spend several days in his lab, not sleeping or eating, when working on a particular project. He is quite observant, often noticing things that others do not. This is more of a developed trait due to his training as a tracker and hunter. He needs to be able to observe the smallest of details in order to hunt someone or something down. 
Strengths, Skills and Abilities: 
Physical strength: Lucius is very strong, and is far stronger than the average human male. While it may pale compared to creatures of magic, it is enough to serve him very well. Lucius has been taught from a young age to be able to fight, and thus he has been given numerous lessons to give him the following combat skills. Swordsmanship: He has been trained from the age of four how to handle a sword and how to fight with one. He has been taught to use a variety of swords from two handed longswords to one handed short swords. He is also proficient in the use of daggers.  Archery: He has known how to use a bow and arrow since age of six. He has spent long hours practicing, and can shoot the arrow off of someone's head at thirty paces. He can also fire arrows with quite a bit of accuracy from a moving horse. Hand to hand combat: When weapons are unavailable, he utilises his fists and feet. He is quite good in a hand to hand combat situation. His natural physical strength greatly helps him. Tracking and Hunting: From a young age, Lucius has been taught how to track things, from hunting game to humans. He can track someone days after they have passed through an area, by looking for signs that they have passed through such as footprints or damage to foliage. He is quite skilled and thus few can cover their tracks enough from him.  Science (Chemistry): In his spare time, Lucius sometimes like to pursue scientific goals. His particular area of interest and expertise is Chemistry. He knows how to do a variety of things with chemicals, including create primitive explosive devices although he doesn't tend to carry them around as they're usually quite unstable.  Weaknesses: Lucius is still human at the end of the day and he can be killed in a variety of ways such as being stabbed in a way that damages major organs. The human body has numerous weak points that can be exploited. If he encounters a fighter of superior skill, he can be overwhelmed by them and be at their mercy. Due to the fact that he has no left eye, he has a blindspot on his left side that can be exploited. He also doesn't know any kind of magic, thus he is weak to magical attacks. He also has a bit of a weakness for good booze and beautiful women. 
Ambitions (Hopes/Dreams): To go on adventures all over Craethiel.
Hobbies and Interests: He loves hunting, as he loves the challenge of tracking animals and then being able to successfully hunt them. His main hobby and love is his science, and will spend hours locked within his lab doing experiments that do sometimes, literally, blow up in his face. He also loves stargazing, and will spend hours glued to his telescope (very primitive compared to modern machines), charting the stars. He also quite enjoys music, and knows how to play the violin. 
Personal Sexual Information 
Sexual Orientation: Heterosexual
Turn ons:
Unprotected sex Being dominant during sex Being rough. He loves pinning his partner down and fucking them roughly. This often involves hair pulling, choking, nails digging into flesh and spanking among other things. Oral, mainly receiving although he does like to give it to women. Having multiple partners, and being able to fuck them all deep and hard Having sex with someone he doesn't love, or even know. He loves the illusion of intimacy.  Turn offs: 
Being in extreme pain The thought of being fucked Scat, and watersports Gore and Vore Penis Length: 11"
Breast Size: N/A
Sensitivity: Average
Additional Sexual Information: His neck can be a little sensitive at times, meaning that if someone were to kiss or even give a love bite, it can cause his cock to become hard. He also likes having his back scratched. Even though it can be painful and pain is a turn off, the pain induced by a female scratching his back during sex causes an increase in his lust, thus encouraging him to fuck them harder and faster.
STD History: Clean
Extra Information 
Father: Edward Sheridan
Mother: Mary Sheridan 
Siblings: Ciara Sheridan
Grandparents: Franklin and Lauren Sheridan on his father's side. George and Jayne Willow on his mother's side.
Children: None
Grand-children: None
House: He loves on his parents estate, out the outskirts of Lathulla. It is a large mansion with extensive grounds that he will one day inherit. It is called the Sheridan Manor. 
Pet: A white stallion by the name of Aeris. He has raised this horse since he was a foal, and he is fifteen hands at the shoulder.
Additional information: He has a sword, that he calls Draden, which roughly translates to Dragon's Tooth, as the colour of the blade matching the scale on his necklace. The blade was made by Daedrin, in Selil, much like his armour and is infused with the metal Mangenarr, which gives the blade its unique red colour.
History
Awards/Commendations: None
Criminal Record: Clean
Medical Record: He lost his eye in a skirmish. Luckily he survived the wound, but lost his eyesight in his left eye.
Bio: Lucius was born with a silver spoon in his mouth. His parents were quite rich as his father was the Lord of Lathulla, but they tended to give over his care to a nanny rather than look after him themselves, thus he didn't form a very close relationship with them when he was a young boy. All he knew of them was that they were distant authority figures that expected him to study hard and to get all of the questions right. He was given a teacher that taught him how to read and write, and drilled manners into him. When he was two years old, his younger sister Ciara came along. He instantly loved her, and would spend his free time playing with her, when he was allowed his free time. However due to the different expectations laid down on them, they were forced to spend most of their time with their respective tutors.
He was taught swordsmanship from a young age, and would be made to spend hours practicing to help bring up his skill with his blade as well as to train his body. As he grew older, this extended into archery, when he was finally strong enough to be able to draw a bowstring. They attempted to teach him how to use a crossbow, and while he accepted the lessons, he much preferred the bow. While it wasn't as powerful as a crossbow, it was far more maneuverable with a greater rate of fire. His parents also hired a local hunter to teach him the skills needed to track and hunt game, a skill that he can also put to use with people as well. 
His adventurous streak caused many headaches for his parents, as he would often wander off out of the estate, often taking Ciara with him as she thirsted for adventure as much as he did. Sometimes it would be to the surrounding wilderness, despite the dangers, but it was often to the town of Lathulla. He liked meeting new people, and learning new things about them. He especially loved meeting the sailors from the ships, who often told him about distant towns, cities and countries. He loved to learn as much as he could, and he became well known in the taverns as the questioning young man.
His father often tried to confine him to the estate, but failed as much with Lucius as he did with Ciara. His mother was not so upset with them, as she seemed to understand their desire for adventure. A desire that she, as she once admitted to Lucius, once shared in her youth. But she had traded her adventures away to marry their father, to settle down and start a family. 
When he was sixteen, a band of robbers broke into their estate home with the intention of stealing their valuables. Lucius refused to be cowed by them, and fought back fiercely, using all the lessons from his youth. He killed most of them, however the last bandit was able to stab him in his left eye before his death. Lucius almost died from the wound, but his mother never gave up and called in healers from all over to tend to him. He recovered from the wound, but he has lost his left eye and thus has a blind spot on his left side. 
This incident did little to hamper his adventurous tendencies, and he is even worse than ever. He argued long and hard with his father, as he wanted to go out and see the world, while Edward wanted to keep his children nice and safe within the estate. Eventually, he won the argument, mainly because he argued that they clearly were not safe on account of the bandits, and their father finally gave permission for him to go on adventures. 


By Mr. Hat-and-Clogs

I'm looking for any anime or manga to seeking RP for ecchi. Please let me know as soon.


By Imouto Kanna

Name: Gaia Roygold
Role/Occupation: Mother of Titania; Queen
Age: 40
Sex: Female
Weight: 150lbs
Hair: strawberry blonde
Eyes: warm light brown 
Height: 5'5"
Hobbies and Interests: Food, cooking, gardening, sweets, partying
Ambitions (Hopes/Dreams): Wants Titania to have a fulfilling life
Strengths, Skills, Abilities: Excellent housewife (sewing, cooking, cleaning, etc.), over-caring mother
Weaknesses:  Immature,  insatiable sex drive, difficult to conceive
Which Kingdom are you from and live? Roygolden 
Bra size: 36F
Measurements: 36-28-38 (inches)
Body Type: chubby
Traits: lewd, relaxed, organized
Sexual History: Only ever had sex with the former King
Sexually Active: Not since the King has died
Family Members: Husband (deceased), Daughter- Titania
Sexual Orientation: Straight (Bi-curious)
Turn ons: large penises, voyeurism, oral, humiliation, name calling, bdsm, impregnation, body worship
Turn offs: monotonous sex, orgasm denial, small cocks, 
Curious about: Women, anal, fisting, female domination, futanari
Gaia was arranged to marry the King at a young age. She was to save herself until their wedding day and she was married the week after her 18th birthday. The King was a few years older than Gaia and seemed just as inexperienced as her. The King did his best to please his wife but her sexual needs were beyond anything he could have ever expected and he was never able to find the balance between his duties and satisfying Gaia. The King knew Gaia was unhappy with her life but he also knew that they could not get divorced. He offered Gaia the ability to have an open relationship but she knew that was not possible as the rulers of this country. She and the King made the best of their situation that they could but Gaia was always desiring something more. One day seemingly out of the blue, the King became ill and despite the best doctors of the country, the King didn't make it. With him gone (may he rest in peace), will she explore the side of herself she never got to?