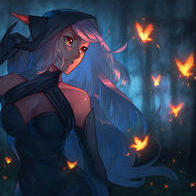 ---
Recently Browsing

0 Dreamers

No registered users viewing this page.

Similar Content

By

Akira

Character Identity Information
Name: Isaac Yamasaki.
Age/Date of Birth: 17
Gender: Male.
Religion: Antiquorum's follower.
Species: Human.
Origin: Born in Tiloga.
Nationality: Ashaean.
Occupation: Supernatural Detective.
Physical Appearance
Height: 1,77 meters
Weight: 73 kg
Eye Colour: Light blue.
Hair Colour: Silver.
Physical Description: Isaac himself isn't very different from a normal guy of his age, asside from his hair maybe. He doesn't really like getting attention, so he normally wears common clothes along with a usually grey hoodie. He was never really good at sports, which is why is somewhat skinny when you look up close. Overall, Isaac's appearance is pretty damn normal, allowing him to "blend with the crowd" so to speak and he likes it better that way.
Personality, Traits and Abilities
General Overview: Isaac is an overall calm guy. He hardly loses his temper even while under dire and stressful situations. He greatly values true bonds of trust and friendship and likes helping people if possible, but only when it involves something serious and/or important, which is why he decided to become a supernatural detective. Thanks to his powers, he can easily deal with pretty much any danger that comes his way. He doesn't like hurting people he doesn't consider to be deserving, however, under certain circuntances he will kill evil spirits and maybe even people. That's very unlikely, thought.
When it comes to his friends or people he actually like, Isaac is very loyal and like to make bad jokes whenever he can to lighten up the mood. It might take him some time to go from a professional relationship, or any kind of relationship, to a more personal one. He likes people he can count on and he has a soft spot for strong and badass woman.

Strengths, Skills and Abilities: As a kid, he learned karate and eventually mixed that knowledge with his powers to create his own fighting style. Isaac can also summon a few Yokai spirits to help him in many situations. Those spirits can't be killed but if they take enough damage they will be forced back into the Yokai world. Some spirits can be summoned in a "etheral" state, they'll be invisible to anyone but Isaac and will be able phase through any non-enchanted object and even interact with small items. Yokais summoned in their normal state can be seen by anyone.
Isaac can also use his link to the Yokai world to draw power from it. Said power can be used for many things such as replanishing his stamina. To defend himself, Isaac uses his energy to manifest very thin and sharp blue strings from the tip of his fingers (which CAN be seen by normal people). Said strings can be used to hold, entangle and even cut almost anything, with enough force that is. They can't be cut by normal blades, only enchanted ones. In the case of Yokai spirits, those strings are among the few things capable of actually destroying the core of said spirit, which are small orbs usually located in the torso, basically killing them. If not destroyed, the core will dissipate and return to the Yokai world.
Isaac can enter the Yokai world through a portal he can manifest using his strings. There, he has a modest house along with a field where he cultivates food, such as fruits and vegetables. The part of the Yokai world in which he lives is a very pretty and fullbof life green field near a forest. He can always get get meat in the human world if he wants to. Should he trust someone enough, he can bring other people to the Yokai world with him.
Yokai spirits:
Yoshitzune:
https://pin.it/7ilasilfo2yhg5
Isaac's go to Yokai spirit, Yoshitzune is incredibly fast, agile and strong. He can deflect bullets and slice through titanium with his swords. He is the Yokai whom with Isaac has the deepest bond of all. So much so in fact that he can manifest itself without Isaac's conscent if necessary, but doing so greatly reduces his power and only allows him to manifest for a few seconds, 2 minutes at maximum.

Weaknesses: Isaac is still human, meaning he has all the weakness a normal person would. Very few Yokai actually have healing capabilities and even then, said capabilities are somewhat limited.

Ambitions (Hopes/Dreams): With his Yokai friends by his side, Isaac wants to improve the bond between humans and Yokai, maybe even create a world where both can live in harmony.

Hobbies and Interests: Isaac has a deep interest in art and music. He likes playing his guitar when he can. Reading books is also something he really likes doing, specially detective stories and shows.
Personal Sexual Information:
Sexual Orientation: Heterosexual.
Turn ons: Actual love and afection, big breasts, thigs and butts.
Turn offs: Humiliation, pain, BDSM.
Sensitivity: Normal.
Aditional sexual information: he is sterile.
STD History: Clean.
Extra Information:
Father: Ichirose Yamasaki.
Mother: Lucy Yamasaki.
Siblings: a little sister named Marie Yamasaki.
Grandparents: unknown.
Children: none.
Grand-children: none.
House: He has a house in the Yokai world.
Car: none.
Pet: none.
Additional information: Upon exiting the Yokai world, Isaac will always be teleported to the same area in there human world from which he entered.
History:
Isaac was born with a mysterious link to the Yokai world, ever since he can remember, he has spoken with many spirits. His parents thought they were nothing imaginary friends, but usually those are incapable of helping kids at physically beating bullies. Of couse, some of those spirits alao had bad intentions, but hia will power and spiritual friends kept him safe on that regard. Since he always had Yokai by his side, Isaac never was the social type. Even now he has some trouble socializing with most people.
When he was 12 he entered the Yokai world for the first time. It was then that he met Yoshitzune, who took a liking on the boy due to his pure intentions and strong willpower, the marks of a true warrior just like him. Over the years, Isaac created a really special bond with the warrior Yokai and made a pact with Antiquorum, one of the two godesses who created the Yokai world and it's habitants. The other sister believes that happiness is only achieved by absolute freedom, therefore she allows some Yokai to slip into the human world, while Antiquorum belives co-existance, but with a few restrictions. Isaac's job is to bring any Yokai that causes problems to the human world back to the Yokai world. In a few cases, when there spirit has done something beyond redemption, he will kill said spirit. As such, Isaac is a sworn follower of Antiquorum and the good Yokai.
Not long after completing 17 years of age, Isaac heard rumors of weird cases happening in Blackberry Falls, as such he decided to move there and have a look by himself.
Awards/Commendations: becoming a fairly well known detective in the region.
Criminal Record: clean.
Medical Record: nothing relevant.
Bio: nothing else to add.


By LucidREM

Hello, there stranger yes you. im talking to you.
(((I use (  -action- dialogue ) format in Ooc only ))
Hi im LucidREM or Lucid Or Rem how ever you prefer to call me. I am still working out where things are and stuff but this is pretty cool. Ive been role playing for like 4+ years, So I would like to think im competent, But you can check out my profile, and preference sheet, I have given an example of how I like to rp and such. I used to rp on an app called amino, i mean I still do but its mostly just ooc, no one really rps anymore on there, so I was looking for new places, to get my daily dose of role play. And i found this place, crazy right? Well maybe not to you but to me its pretty crazy. Any way Im still trying to make friends finding some partners to rp with so hit me up. Ill show you a good time, you just have to take my hand -winks- Come on just take my hand I don't bite,  -taps my lips- well i do bite not gonna lie, only in bed though .-laughs- 
Oh I almost for got to give you your invitations - Pulls out a Red envelope and holds it out to you.- 
Just hand me the invitation if you should wish to engage in a wonderful dream.
-Laughs and blows a kiss - see you around cutie.
 
((disclaimer lolz i feel like im giving off such top energy, but im a switch btw. Im cool with all kids of rps, polyamorous and monogamous, etc. ))
 
Thanks for reading. 
LucidREM


By Yikes

Hey I'm new. And don't have a plot in mind. I'll do most ideas if you've got any. I roleplay a male also so. 


By Mythra

I'm kind of bored, and I just came up with these RP topics. 
Note: please don't message me if you aren't interested in the 'required fetishes' section. And please don't message me asking to make other changes either. These can't really be altered or the rp plots don't make sense. 
I am seeking MALES who are interested in playing with my female characters. I don't reply in first person, only third. 
Required fetishes - rape 
Optional fetishes - age difference (older man/younger woman), teen sex (my characters are 16-18, but I can go up to 22), place of work/public (some plots rely on it) gang bang... hit me up with suggestions, there's a lot of sexual stuff (handjob/oral/etc) that I didn't want to list here because it would be too long.
🍹 Plot 1.) Home Free 
you are a homeless man for [insert reason here]. You had a girlfriend who no longer is interested in the relationship, and it's been a long time since you've been sexually active  after some time, you've started to recognize one of the women who passes your side of the sidewalk every weekday twice a day. Once in the morning and once in the evening. she's pretty enough, well, actually she's very beautiful, you struggle to keep your cock down when she passes and you find yourself thinking about her frequently. Today however, is the day that you are unable to resist the temptation, and she's taken to [someplace you feel appropriate for this rp] 
 
🍹 plot 2.) The princess and the peeve 
additional notes: fantasy au, Ella only. 
Elf princess Elisabeth has been captured once again, her knights searching everywhere with little to no luck finding her  her captor? A person who wants to sell her to her rival kingdom for a high price, as a sex item. However, to make sure that she works as a sex item, they "have" to test her out themselves first. 
 
🍹 Plot 3.) what a beach 
you're at the beach with some guy friends, and spot a girl you had known in high school for being a total bitch to people, you included. As payback for how she treated you, you (and your friends if you want), go and give her what she asked for back in school. It's payback against her will. 
 
🍹 Plot 4.) better miss the bus.
note: this one has to do with teen sex, so if you're not into that, don't message me. 
its after school and time to go home! Unfortunately the bus drivers kind of kookoo  he doesn't see public sex as a bad thing, so when your characters board the bus and get frisky with the only girl there, he has no plans of stopping them  
 
🍹 Plot 5.)  All bark and no bite
Note: fantasy AU, two roles: Ella, Rachel, or both.

Ella and Rachel are both brave fighters of their kingdom - Ella the Elf Princess and Rachel her noble knight and right hand woman. The two are also the strongest fighters in their kingdom, and are commonly praised for their amazing skill. However, one evening they are overwhelmed in battle, and lose the fight. Will one fall while the other is kept? Will they both be kept? Who knows what will happen...
—-
i hope some of these plots are of interest, please send me an ecchi text with the title of the RP you wanna do if you're interested 


By

Neptune

Warning: This Side Story will contain scenes of a graphic nature. This includes, but is not limited to, Heterosexual sex. If you find either of these themes distasteful, then please do not read.
Participants: Raeghan and Luna
Description: During their quest to find a dragon for an ingredient for Luna, she created a potion to turn Raeghan temporarily into a human. One of his desires for when he was human, was to have sex and Luna had offered to help him with just that.
-x-x-x-x-x-x-x-
Raeghan smiled at her nervous question, his thumb stroking against her cheek again, "Well, you relax. I have more experience than you, even if I haven't done it in a long time. So it would best if, for this kind of dance, you let me take the lead." He said. Before she would be able to respond, he pulled her face closer before kissing her once again. This time, he deepened it by pushing his tongue past her lips and into her mouth to explore the sweet cavern. Now that she was closer, his other arm wrapped around her waist and pulled her towards him, pulling her up onto his lap. It allowed him to lean back a little, and be more leisurely in the kiss. It was quite passionate and heated, but he did it slowly to allow her to get used to the sensation of a deep kiss. He then pulled away from the kiss, tilting his head a little at her. Now that she was sitting on his lap, her head was almost level with his. A fact that quite pleased him as it made it easier for him to kiss her.
Going along the theme of being her teacher, he told her, "Sex isn't just about the pleasure of the one person involved. It's about the pleasure of all. I know you want me to feel good, but I want you to feel good as well." As he spoke, one of his hands moved up her thigh, his fingers ghosting on her pale skin before they dipped slightly under her garment but not fully, as he wanted to tease her a little. He once again kissed her lips with a full kiss that only lasted a few moments before he pulled away and pressed his lips against her throat, planting tender kisses along the unblemished flesh. A lot of women he knew liked this, as it sent tingles of pleasure through them. And he quite liked watching their reactions. Some would sigh and tilt their head for more, while others wriggled and moan. He was very curious to know what Luna's reaction was, if there was one. He hoped that, even as she fulfilled his desire for this kind of contact, that she would get something out of this as well.