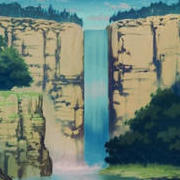 This topic is now closed to further replies.
---
Recently Browsing

0 members

No registered users viewing this page.

Similar Content

By Matty

The creator of that book and summoner of Eddie had been watching the entire time, mind-jobs and all. He had no idea who this fox was or what her deal was but he was not too keen on her running around in Eddie's head, at least not while he was still doing work for him. Although he had no idea what it was she found he certainly recognized her magic. After sitting back for some time Eddie's summoner had figured it was best to try and talk to this "Ren" character while she was still separated from any possible allies.
Somewhere underground, though he was unsure of where, sat a beast of man. While his form was nowhere to be seen by Ren his voice reverberated throughout her. Not one person around seemed to pay any mind though and simply continued about their business.
"Ehm-! Is this thing on?"
Something sounding like glass being tapped on had suddenly surrounded Ren.
"You got a moment?"


By

Neptune

Warning: This Side Story will contain scenes of a graphic nature. This includes, but is not limited to, sex, threesomes, first times. If you find either of these themes distasteful, then please do not read. This thread will not contain any sex; it is an adventure thread.
 
Participants: Wolfe, Cole and Hanako
Description: After settling in a somewhat safe house, Wolfe and Hanako planned on having a bath with the houses supply of water. Before they could, Cole stumbled onto their doorstep where he begged entrance. As they have yet to put their trust in Cole, they had decided to take Cole with them for their bath where they hope to release some pent up tension.
State changes for all participants: -20 Hunger points, -30 Thirst points, +20 Sanity points.
-x-x-x-x-x-x-x-
Wolfe's blue eyes shifted to look at Cole before he gave a slightly strained smile, "A little tired, perhaps. Who isn't these days?" He asked back, skirting around the question that he really didn't want to answer. Besides, it wasn't entirely untrue. He was tired. He had been tired for about a year now. One had always sleep lightly in these times. If one didn't, one might get caught off-guard by zombies sneaking up on them. He then looked over at Hanako when she spoke and he gave her one his charming smiles, "We'll be there in a few minutes." He said, watching as she walked out of the garage. After a moment, he turned back and said, "We'll give her a couple of minutes to settle. Besides; I want to get Penny up into the attic so that she can sit with Zoe while we're in the bathroom. I trust her judgement of you but… I don't quite trust you alone with my little sister. Not yet, anyway." He didn't bother apologising for it, because he had the feeling that Cole would understand. Personality-wise, Cole seemed quite a good man. Someone that could be dependable. But Wolfe was cautious of putting him with that level of trust just yet.
He then stood up, stroking along Penny's face as she whined in disappointed, "Come on, Penny." He said, his fingers tickling behind her ear before he looked at Cole and jerked his head towards the door. He then turned and left the garage, holding the door open for Penny to slip past him as well as for Cole, "Just lock the door behind you." He said to the other man, pointing with his good hand towards the lock of the garage door into the study which had a key in it. He waited until Cole had done that before leading him out into the main hallway and to the stairs. He carefully stepped over Hanako's noise trap while Penny slipped underneath it. He moved up the curved stairs to the landing, where the ladder was still down from the attic. He looked down at Penny and indicated with his arm for her to go up, "Up you go, Penny." He said.
She tilted her head at him, whining softly. She nuzzled his leg before gingerly placing her front legs on the steps of the ladder. As it was one that was angled, rather than straight up, he was able to then scramble up. He watched carefully, ready to help her up if he needed to, but she disappeared from view into the dark attic. He nodded in satisfaction before bending and grabbing onto the ladder and pushing it up so that the attic was locked. It would keep the two of them safe while the three of them were having their bath. He then grinned at Cole before moving into the master bedroom. He could hear splashing from the bathroom, which could only be Hanako. 
He reached up and undid the zip of his leather jacket before he frowned as he realised it was going to be awkward undressing with his broken wrist. He looked at Cole and asked, "Do you mind helping me undress? At least, if you're not too shy to?" He hoped Cole wasn't the shy type. He would really appreciate the help undressing because otherwise it would take longer than he liked to get out of his clothes. 


By Imouto Kanna

Pretty new to this and i just discovered this club... kind of enjoy the idea of other people watching us hehe
Ecchitext me for more details if you're interested. I've been doing exclusively incest rps with my character as a lolicon. I'm willing to branch out from that~
 
My preferences: 
 


By nwaomi

are traps even allowed in this site? i joined a web and got banned thrice. please help me ovo


By Akira

Character Identity Information
Name: Izanagi Durum
Age: 23
Gender: Male
Species: Born human, but had his body demonified and his soul fused with Oduim, the demon that embodies the deadly sin of wrath, against his will through a ritual.
Origin: City of Hitsuyo, Japan.
Nationality: Asian.
Occupation: None.
Rank/Title: Refugee.
Physical Appearance
Height: 5,9 ft 
Weight: 75 kg
Eye color: Left eye blue and right eye red
Hair color: White
Physical description: Izanagis skin a little pale and despite his super strength he is by no means a muscly guy, which leads to most of his adversaries underestimating him.
Personality, Traits and Abilities
General overview: Izanagi is overall, a cold person and because of his past he has difficulty when it comes to socializing with others despite his efforts. He will, however, defend his friends and any person he holds dear to the last breath if necessary. Thanks to his relationship with Odium, the demon won't try to possess him anymore and they do trust each other as partners. Despite finding it hard to understand the feelings of others, Izanagi tries his best to help those in need when he can, in an attempt to atone for his sins.
Strenghts, skills and abilities: 
 Super human status: such as strenght, speed, resistence and even a minor healing factor that helps him recover faster than a normal human, even though it is nowhere near Deadpool's healing factor, the more his body merges with Odium the stronger he gets, but there is always the risk of losing control.
 Hell's Chain: a weapon that cames from Izanagi's own soul, they are black chains that can be summoned from thin air through small portals, nearly indestructible, while it's maximum lenght is unknown, it can be extended to nearly unlimited sizes and can be spawned with a small blade at the tip, so it can attach to most surfaces or pierce through light to medium armor. All of the chain's rings are magically linked in a way that what happens to one also happens to the others, for instance: if one or more of the rings are set on fire on heaten up, so will all the others.
 The Evil One: a 4,9 ft long katana linked to Odium's soul, the blade is dark grey with a few orange runes in it and the handle is white and red, can manifest Wrathful Flame to deal extra damage. 
 (Base image)
Wrathful Flame: a blood red colored flame that is three times hotter than normal fire and can only be extinguished by the caster or by specifics spells. Being the embodiment of wrath, Odium has total control over the flame and can use it to execute special attacks with it, Izanagi does have some control over it, but not as much as Odium. 
        Wrathful Blast: fires a projectile made of Wrathful Flame that can be exploded by will, blast power and radius depends on the amount of energy used.
        Wrathful Fist: a punch that hit it's victim with explosive force, killing or at least sending the target flying, power determined by the amount of energy used.
        Wrathful Slash: requires a bladed weapon in hand, creates a wave of Wrathful Flame around the used blade and fires it towards the target, with the right amount of energy, it can cut pretty much anything.
Weapon mastery: through all these years travelling Izanagi met all sorts of people, some of then even tought him how to use different types of weapons, nowdays he is very skilled with pretty much any type of bladed weapon, but he still prefers to use a katana, after all, Izanagi's skills with as a quick-draw style katana user are legendary.
          Quick Slash: quick-draw special move, Izanagi moves hia arm too fast to be seen by the eye, quickly cutting a single targed in close to medium distance, can be used in quick succession.
           Dimensional Slash: cuts pretty much everything in a certain area, during a short period of time, Izanagi moves so fast that he is able to cut through dimensions, can hit multiple enemies at the same time and ignores armor.
 Soul Eye: his right eye glows dark purple, allows him to see better in the dark and to see people's souls, useful for detection of illusions and a few other things...
Secret Arts: extremely powerful techniques that are capable of taking most foes with a single hit, but they also require a lot of energy to be used, or simply stress Izanagi's body a lot. Since frequent use of said techniques can cost him greatly, Izanagi won't use them unless necessary.
Weaknesses: his biggest weaknesses is the constant risk of losing control of his power, while Odium isn't actively trying to take over all the time, it's still a risk.
 Using the Hell's Chain costs energy and if Izanagi doesn't pay attention to that he can get vunerable, plus, if one of the chain's rings is broken, as unlikely as it may be, so will the entire chain, forncing Izanagi to summon it again. 
  Despite having super human stats he doesn't have any way to heal himself other than his own healing factor, which isn't really much.
Ambitions (Hopes/Dreams): His main objective is to find a place where he can live without being descriminated, somewhere he can just relax and be himself.
Hobbies and Interests: After learning how to keep his powers at bay so he wouldn't hunt anyone by accident, Izanagi developed a taste for fighting strong enemies (he probably got that from Odium), mainly monsters.
History
Awards/Commendaitions: None
Criminal Record: Killed all of the seven poeple involved on the ritual that demonified him and had to steal food a few times to survive.
Medical Record: Nothing relevant.
Bio: He had lived his childhood in the city of Hitsuyo, Japan. When he was 11 years old the entire country broke out into a civil war which eventually resulted in his father's death on the battlefield, giving Izanagi his first real taste of the despair and pain that war can bring, as result he bacame the men of the house, forcing him to mature a lot quicker than he should have. The government was desperate to end the war as fast as possible so they decided to take desperate measures. At the age of 13, they kidnapped Izanagi along with a few other children of the city, who they knew it wouldn't be missed by anyone important, and submitted them to the demonificaton ritual, which was incredibly painful for the victims. Izanagi was the only survivor and his soul was fused with Odium the demon of wrath.

When the ritual was over Odium took control over his body, and as result all of those involved in the ritual were killed by them before Izanagi could assume control again. He didn't want to go back home and risk killing his mother, so he snuck into a boat to flee the country, traveling through the world looking for a place that he could call home. 
With time, Izanagi learned how to keep his demon half under control and eventually even formed a bond with him - becoming his partner, however, should Izanagi became overwhelmed with negative emotions, especially hate, both him and Odium can be overwhelmed with wrath and turn the pure incarnation of the deadly sin of wrath. A creature known as The Wrathful Blazerker. The transformation grants insane power, but in this form Izanagi has no control whatsoever of his powers, becoming no better than a wild beast who only thinks about murdering and drestroying anything on it's path.
 (Minus the tail)
When tapping on the demon's power Izanagi's skin gets covered by a dark energy that represents his body merging with the demon, kinda like this:

But if he loses control, he can turn into The Wrathful Blazerker and cause incalculable destruction.