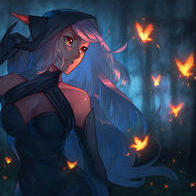 ---
Recently Browsing

0 Dreamers

No registered users viewing this page.

Similar Content

By

Neptune

Participants:

@Phrincut: Brynjar Frodisson

 
@Neptune: Zoraelia Weir


By Mz.Hyde

Hi all, looking for someone to do a multiple girl harem role play with me. Your character would be a male from outside of the country looking to capture women in a slavery legal country and make a harem. I will be playing multiple girls which is not limited to but will include humans, elves, demons, angels, animal girls (no furries), and monster girls. The world will be fantasy set so basically castles and the premise of the role play will be that your character inherits a castle in the country and finds a bunch of old magic slave collars which he can use for enslaving girls. There will be magic included in the world if you want to have your character know some. 


By Kittyslave01

I need a submissive girl who is into gore. She would be roleplaying a demon neko and she would devour alive the enemies of her Master 


By

Akira

Character Identity Information
Name: Isaac Yamasaki.
Age/Date of Birth: 17
Gender: Male.
Religion: Antiquorum's follower.
Species: Human.
Origin: Born in Tiloga.
Nationality: Ashaean.
Occupation: Supernatural Detective.
Physical Appearance
Height: 1,77 meters
Weight: 73 kg
Eye Colour: Light blue.
Hair Colour: Silver.
Physical Description: Isaac himself isn't very different from a normal guy of his age, asside from his hair maybe. He doesn't really like getting attention, so he normally wears common clothes along with a usually grey hoodie. He was never really good at sports, which is why is somewhat skinny when you look up close. Overall, Isaac's appearance is pretty damn normal, allowing him to "blend with the crowd" so to speak and he likes it better that way.
Personality, Traits and Abilities
General Overview: Isaac is an overall calm guy. He hardly loses his temper even while under dire and stressful situations. He greatly values true bonds of trust and friendship and likes helping people if possible, but only when it involves something serious and/or important, which is why he decided to become a supernatural detective. Thanks to his powers, he can easily deal with pretty much any danger that comes his way. He doesn't like hurting people he doesn't consider to be deserving, however, under certain circuntances he will kill evil spirits and maybe even people. That's very unlikely, thought.
When it comes to his friends or people he actually like, Isaac is very loyal and like to make bad jokes whenever he can to lighten up the mood. It might take him some time to go from a professional relationship, or any kind of relationship, to a more personal one. He likes people he can count on and he has a soft spot for strong and badass woman.

Strengths, Skills and Abilities: As a kid, he learned karate and eventually mixed that knowledge with his powers to create his own fighting style. Isaac can also summon a few Yokai spirits to help him in many situations. Those spirits can't be killed but if they take enough damage they will be forced back into the Yokai world. Some spirits can be summoned in a "etheral" state, they'll be invisible to anyone but Isaac and will be able phase through any non-enchanted object and even interact with small items. Yokais summoned in their normal state can be seen by anyone.
Isaac can also use his link to the Yokai world to draw power from it. Said power can be used for many things such as replanishing his stamina. To defend himself, Isaac uses his energy to manifest very thin and sharp blue strings from the tip of his fingers (which CAN be seen by normal people). Said strings can be used to hold, entangle and even cut almost anything, with enough force that is. They can't be cut by normal blades, only enchanted ones. In the case of Yokai spirits, those strings are among the few things capable of actually destroying the core of said spirit, which are small orbs usually located in the torso, basically killing them. If not destroyed, the core will dissipate and return to the Yokai world.
Isaac can enter the Yokai world through a portal he can manifest using his strings. There, he has a modest house along with a field where he cultivates food, such as fruits and vegetables. The part of the Yokai world in which he lives is a very pretty and fullbof life green field near a forest. He can always get get meat in the human world if he wants to. Should he trust someone enough, he can bring other people to the Yokai world with him.
Yokai spirits:
Yoshitzune:
https://pin.it/7ilasilfo2yhg5
Isaac's go to Yokai spirit, Yoshitzune is incredibly fast, agile and strong. He can deflect bullets and slice through titanium with his swords. He is the Yokai whom with Isaac has the deepest bond of all. So much so in fact that he can manifest itself without Isaac's conscent if necessary, but doing so greatly reduces his power and only allows him to manifest for a few seconds, 2 minutes at maximum.

Weaknesses: Isaac is still human, meaning he has all the weakness a normal person would. Very few Yokai actually have healing capabilities and even then, said capabilities are somewhat limited.

Ambitions (Hopes/Dreams): With his Yokai friends by his side, Isaac wants to improve the bond between humans and Yokai, maybe even create a world where both can live in harmony.

Hobbies and Interests: Isaac has a deep interest in art and music. He likes playing his guitar when he can. Reading books is also something he really likes doing, specially detective stories and shows.
Personal Sexual Information:
Sexual Orientation: Heterosexual.
Turn ons: Actual love and afection, big breasts, thigs and butts.
Turn offs: Humiliation, pain, BDSM.
Sensitivity: Normal.
Aditional sexual information: he is sterile.
STD History: Clean.
Extra Information:
Father: Ichirose Yamasaki.
Mother: Lucy Yamasaki.
Siblings: a little sister named Marie Yamasaki.
Grandparents: unknown.
Children: none.
Grand-children: none.
House: He has a house in the Yokai world.
Car: none.
Pet: none.
Additional information: Upon exiting the Yokai world, Isaac will always be teleported to the same area in there human world from which he entered.
History:
Isaac was born with a mysterious link to the Yokai world, ever since he can remember, he has spoken with many spirits. His parents thought they were nothing imaginary friends, but usually those are incapable of helping kids at physically beating bullies. Of couse, some of those spirits alao had bad intentions, but hia will power and spiritual friends kept him safe on that regard. Since he always had Yokai by his side, Isaac never was the social type. Even now he has some trouble socializing with most people.
When he was 12 he entered the Yokai world for the first time. It was then that he met Yoshitzune, who took a liking on the boy due to his pure intentions and strong willpower, the marks of a true warrior just like him. Over the years, Isaac created a really special bond with the warrior Yokai and made a pact with Antiquorum, one of the two godesses who created the Yokai world and it's habitants. The other sister believes that happiness is only achieved by absolute freedom, therefore she allows some Yokai to slip into the human world, while Antiquorum belives co-existance, but with a few restrictions. Isaac's job is to bring any Yokai that causes problems to the human world back to the Yokai world. In a few cases, when there spirit has done something beyond redemption, he will kill said spirit. As such, Isaac is a sworn follower of Antiquorum and the good Yokai.
Not long after completing 17 years of age, Isaac heard rumors of weird cases happening in Blackberry Falls, as such he decided to move there and have a look by himself.
Awards/Commendations: becoming a fairly well known detective in the region.
Criminal Record: clean.
Medical Record: nothing relevant.
Bio: nothing else to add.


By abagel2

So, I came here looking to do more rps after getting a taste. Specifically adult rp's featuring ENF. I like to play a friend or someone opposite the girl going through it. I have an original female character I play opposite but I'm also open to any scenario we can dream up with any character, real or fictional.
 
Really want to try this and jump into this new world I discovered. Don't be shy!
As for the character, her name is Liv! 
She's a college freshman with a sort of old-fashion/hipster aesthetic with deep brown eyes, a slight tan and she's a brunette. She's a little clumsy but very enthusiastic and friendly. She hangs out with a lot of the guys and goes to concerts and is really involved with the music scene even though she doesn't sing. My idea is that she went to a psychic show where there was a seance and ends up bonded to this promiscuous spirit who was a nudist. And so even though Liv is in control this spirit tries to make her get more comfortable (aka totally naked) for both of them. And it leads to lots of embarrassment, especially if it eventually forces her to stop wearing clothes altogether.