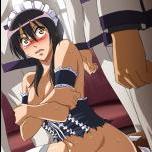 ---
Recently Browsing

0 Dreamers

No registered users viewing this page.

Similar Content

By

Neptune

Warning: This Side Story will contain scenes of a graphic nature. This includes, but is not limited to, Heterosexual sex. If you find either of these themes distasteful, then please do not read.
Participants: Raeghan and Luna
Description: During their quest to find a dragon for an ingredient for Luna, she created a potion to turn Raeghan temporarily into a human. One of his desires for when he was human, was to have sex and Luna had offered to help him with just that.
-x-x-x-x-x-x-x-
Raeghan smiled at her nervous question, his thumb stroking against her cheek again, "Well, you relax. I have more experience than you, even if I haven't done it in a long time. So it would best if, for this kind of dance, you let me take the lead." He said. Before she would be able to respond, he pulled her face closer before kissing her once again. This time, he deepened it by pushing his tongue past her lips and into her mouth to explore the sweet cavern. Now that she was closer, his other arm wrapped around her waist and pulled her towards him, pulling her up onto his lap. It allowed him to lean back a little, and be more leisurely in the kiss. It was quite passionate and heated, but he did it slowly to allow her to get used to the sensation of a deep kiss. He then pulled away from the kiss, tilting his head a little at her. Now that she was sitting on his lap, her head was almost level with his. A fact that quite pleased him as it made it easier for him to kiss her.
Going along the theme of being her teacher, he told her, "Sex isn't just about the pleasure of the one person involved. It's about the pleasure of all. I know you want me to feel good, but I want you to feel good as well." As he spoke, one of his hands moved up her thigh, his fingers ghosting on her pale skin before they dipped slightly under her garment but not fully, as he wanted to tease her a little. He once again kissed her lips with a full kiss that only lasted a few moments before he pulled away and pressed his lips against her throat, planting tender kisses along the unblemished flesh. A lot of women he knew liked this, as it sent tingles of pleasure through them. And he quite liked watching their reactions. Some would sigh and tilt their head for more, while others wriggled and moan. He was very curious to know what Luna's reaction was, if there was one. He hoped that, even as she fulfilled his desire for this kind of contact, that she would get something out of this as well.


By

Neptune

Warning: This Side Story will contain scenes of a graphic nature. This includes, but is not limited to, sex, threesomes, first times. If you find either of these themes distasteful, then please do not read. This thread will not contain any sex; it is an adventure thread.
 
Participants: Wolfe, Cole and Hanako
Description: After settling in a somewhat safe house, Wolfe and Hanako planned on having a bath with the houses supply of water. Before they could, Cole stumbled onto their doorstep where he begged entrance. As they have yet to put their trust in Cole, they had decided to take Cole with them for their bath where they hope to release some pent up tension.
State changes for all participants: -20 Hunger points, -30 Thirst points, +20 Sanity points.
-x-x-x-x-x-x-x-
Wolfe's blue eyes shifted to look at Cole before he gave a slightly strained smile, "A little tired, perhaps. Who isn't these days?" He asked back, skirting around the question that he really didn't want to answer. Besides, it wasn't entirely untrue. He was tired. He had been tired for about a year now. One had always sleep lightly in these times. If one didn't, one might get caught off-guard by zombies sneaking up on them. He then looked over at Hanako when she spoke and he gave her one his charming smiles, "We'll be there in a few minutes." He said, watching as she walked out of the garage. After a moment, he turned back and said, "We'll give her a couple of minutes to settle. Besides; I want to get Penny up into the attic so that she can sit with Zoe while we're in the bathroom. I trust her judgement of you but… I don't quite trust you alone with my little sister. Not yet, anyway." He didn't bother apologising for it, because he had the feeling that Cole would understand. Personality-wise, Cole seemed quite a good man. Someone that could be dependable. But Wolfe was cautious of putting him with that level of trust just yet.
He then stood up, stroking along Penny's face as she whined in disappointed, "Come on, Penny." He said, his fingers tickling behind her ear before he looked at Cole and jerked his head towards the door. He then turned and left the garage, holding the door open for Penny to slip past him as well as for Cole, "Just lock the door behind you." He said to the other man, pointing with his good hand towards the lock of the garage door into the study which had a key in it. He waited until Cole had done that before leading him out into the main hallway and to the stairs. He carefully stepped over Hanako's noise trap while Penny slipped underneath it. He moved up the curved stairs to the landing, where the ladder was still down from the attic. He looked down at Penny and indicated with his arm for her to go up, "Up you go, Penny." He said.
She tilted her head at him, whining softly. She nuzzled his leg before gingerly placing her front legs on the steps of the ladder. As it was one that was angled, rather than straight up, he was able to then scramble up. He watched carefully, ready to help her up if he needed to, but she disappeared from view into the dark attic. He nodded in satisfaction before bending and grabbing onto the ladder and pushing it up so that the attic was locked. It would keep the two of them safe while the three of them were having their bath. He then grinned at Cole before moving into the master bedroom. He could hear splashing from the bathroom, which could only be Hanako. 
He reached up and undid the zip of his leather jacket before he frowned as he realised it was going to be awkward undressing with his broken wrist. He looked at Cole and asked, "Do you mind helping me undress? At least, if you're not too shy to?" He hoped Cole wasn't the shy type. He would really appreciate the help undressing because otherwise it would take longer than he liked to get out of his clothes. 


By

Neptune

Warning: This Side Story will contain scenes of a graphic sexual nature. This includes, but is not limited to, non consensual sex, bondage, rough sex, prostitution. If you find either of these themes distasteful, then please do not read. This thread will not contain any sex; it is an adventure thread.
Participants: Zack Winter and Aria Gale.
Description: After becoming frustrated with his wife at work, Zack had disappeared to buy alcohol and cigarettes in an effort to calm down. On his way back, he encountered a young, shy prostitute who offered to sell him her virginity. After some consideration, he decided to accept her offer and has taken her to the Star Lite Motel to take advantage of her services.
-x-x-x-x-x-x-x-
Normally, Zack wouldn't be able to stand the sight of a woman crying. Especially one so young and innocent. But today, it was bringing out a beast within him that was demanding to allow free reign on this unsuspecting woman. He wasn't entirely sure if he should give into its demands, and yet he found himself not really caring as to what would happen to this young woman. He didn't really care for what she wanted. Despite her insistence on a condom unless he paid more, he was going to fuck her without one regardless. He did have some condoms on him, for when he usually fucked prostitutes. After all, he didn't want to contract an STD from them. But this was a young, innocent young woman. Yet untouched by anyone else. It was a rare chance to go flesh on flesh without the fear of becoming infected with some disease. Plus, he was getting a strange thrill out of taking advantage of this young woman. He supposed it was because of how similar she was to Silvia when they first met. He was going to be taking out his anger and frustrations with his wife, on this young woman. 
He smirked down at her, his cock twitching at her submissive nature. He shifted so that he was sat on the bed, reaching down and tugging his shirt from his trousers as he said, "Good. Just like how a good whore should be. Now get over here and suck my cock." He ordered her, wanting to enjoy the sight of this fresh virgin sucking on his cock. If she was good enough, he might even return the favour. Especially if she was shy and embarrassed enough. He wanted to humiliate her which was why he had brought in his bag of goods. He wanted her completely exposed and vulnerable to him so that he could enjoy her fully. His dark green eyes watched her carefully, analysing her every movement and every facial expression. 


By

Neptune

Warning: This Side Story will contain scenes of a graphic nature. This includes, but is not limited to, extreme violence and gore. If you find either of these themes distasteful, then please do not read. This thread will not contain any sex; it is an adventure thread.
Participants: Daedrin and Izanagi
Description: After Izanagi found a mysterious sword in the forest, he approached Deadrin to have it repaired however lacked the funds required to repair the sword. So the two came to an agreement that if Izanagi went into the Rosayia Forest and got his hands on Kraerhil, a rare exotic metal used in sword making, Daedrin would pay him for however much he retrieved. After some discussion, Daedrin agreed to accompany him on this quest as well to be a guide through the forest as well as to get their hands on more. 
-x-x-x-x-x-x-x-
Once Izanagi joined him, Daedrin gave him a nod to show his approval before he turned back towards the forest. It seemed a little too quiet for his tastes, and he already had a gut feeling that they were going to encounter something very soon. But then he had inherited his Fathers tendency to get into trouble. He snorted a little in amusement at that though, the sound soft enough not to be overheard by Izanagi. Daegrin stirred a little restlessly, and Daedrin stroked his neck gently,
"Daegrin senses that there's something nearby. Let's move, and keep an eye out." Daedrin said in warning as he kicked Daegrin's flanks lightly causing the Aelda to move forwards slightly, heading along the river. Daedrin pulled out his sword, not wanting to be caught completely off guard. He could cut their travel time down by cutting through the forest, but it was rather dangerous due to the fact that the more dangerous monsters lived deeper inside the forest. He didn't fear being lost, as his sense of direction was as good as any Eldyrannth, allowing him to navigate the forest with ease without being caught in never-ending circles. Daedrin cast an eye up at the sun, seeing that it was the mid-afternoon so they had at least a few hours of travelling time left in the day before they even considered settling down for the night. His eyes returned to the forest, watching it carefully as he strained his ears for anything.
In the end, he wasn't able to see or hear anything. But he could smell something with his sharp nose. He opened his mouth slightly, inhaling sharply before snapping his mouth shut as he resisted the urge to evacuate the contents of his stomach. The stench of rotting flesh pervaded the air, getting stronger by the moment. Daegrin stirred again, snorting in a challenging manner. Daedrin looked over at Izanagi, "We have company. There are ghouls nearby…" He said, before casting his mind out around them, careful to avoid going close to Izanagi's just in case the man could sense the touch of telepathy. He could sense at least five of the bastards that were homing in on their direction. He pulled his mind back, shifting the grip on his sword to be more comfortable. 
There was a sudden growl from the bushes as something leapt out towards Daedrin. The figure was completely naked, and was so emaciated that it would have been mistaken for a reanimated skeleton if it wasn't for the rotting pieces of flesh that clung to its body. Its hands, although human-like, looked like claws with filthy black fingernails. Its cheeks were gaunt, as its eye sockets were sunken into its face as the eyes gave them a gormless look that was filled with an insatiable hunger. Its jaw was hanging low, only attached by a few thin threads of flesh, as its tongue dangled from its mouth. As it flew through the air, Daegrin jumped to the side as Daedrin swung his blade in an arch. The silver blade easily sunk through the flesh of its neck, chopping its head off. The body tumbled to the ground as the head sailed further through the air before rolling into some bushes.
The remaining four ghouls appeared, snarling at the two of them. Daedrin glanced at Izanagi before returning his gaze to the rotting creatures. Two of them completely ignored him and leapt towards Izanagi, leaving Daedrin dealing with the remaining two. One of them leapt forwards, but Daegrin danced out of the way before twisting around and kicking out with his powerful hint-quarters. Daedrin could hear the snapping of bones as the ghoul was kicked back at its companion, knocking them both to the ground. Daegrin turned around just as the two scrambled to their feet and lunged again. Daedrin brought down his sword, the sharp blade slicing down through its skull and into what remained on its brain causing it to become limp and drop to the floor, dead. Unfortunately, his blade seemed content to remain lodged within its skull despite how hard he tugged it. The third creature leapt up towards him, intending on pushing him out of his saddle. Daedrin tugged at his sword more, but it refused to move. He turned his head towards the creature, intending on using telekinesis to deflect it however Daegrin reared up with an angry whinny. He lashed out with his front legs, knocking the ghoul down onto the floor. Before it could even get up, Daegrin brought his polished hooves down and began to stamp the monster into the ground until it lay lifeless beneath him, as if the Aelda took the danger it posed as a personal affront. This gave Daedrin enough time to pull his foot from his stirrup and use the strength of his leg to push the ghoul off of his sword. He then turned in his saddle to see how Izanagi was fairing. 


By

Neptune

Warning: This Side Story will contain scenes of a graphic nature. This includes, but is not limited to, Heterosexual sex, First time. If you find either of these themes distasteful, then please do not read.
Participants: Rowan and Natia
Description: After rescuing Natia from Rosayia Forest, Rowan and Natia have begun to grow closer to each other as a love has started to blossom between the two, and the tension between them has reached breaking point. The two have stopped in a small clearing where they have made a frank admission to their feelings for one another and they have become more intimate with one another in their desire to give each other everything.
-x-x-x-x-x-x-x-
Rowan watched as Natia bit her lip, causing him to shiver slightly as a stab of desire shot through him. It was such a small, endearing gesture that struck a chord deep inside of him. He found it absolutely adorable, and he had to restrain himself from kissing her face off. He stilled as he listened to her words, her silent offer to give him everything. His will could not deny her such a request. She had managed to neatly wrap him around her little finger and she hadn't even realised it. He smiled at her in return, "Then I will show you just what you mean to me." He told her in a soft whisper, his lips brushing against hers for a moment before he began to kiss her again. The pressure was light, the kiss almost chaste as his hands moved, lightly tracing down her pale neck before moving down her sides in light, teasing touches. As his hands settled on her pale thighs, he started to deepen the kiss, pressing his tongue into her mouth as the kiss became more passionate and heated. He wasn't that surprised to find that she tasted like wild fruits, a taste that suited her and a taste that he found addicting. 
As he distracted her with his mouth, his fingers moved up underneath the tunic that she was wearing. He delighted in the feeling of her soft flesh under his fingertips, both soft and warm at the same time. It made him desire more of her. Already his own cock was reacting, but he ignored it in favour of putting his entire focus on Natia. His hands slipped up further, causing the tunic to hitch up as he ran his hands up her sides as he explored her small, slim body. He marvelled at how delicate she felt, and yet he couldn't help but to want more. His hands moved around her back, before pulling her closer to him so that their bodies were pressed against each other, sharing their warmth with one another. A groan almost made its way out of his throat, because of how perfectly her body molded to him, as if she belonged there. He just wanted to clutch her to him, and never let her go.
As his lungs started to protest the lack of air, Rowan pulled back, panting softly. He couldn't help but to give her sweet lips one more kiss before pulling backwards slightly. He looked at her, an amused twinkle in his eyes before he suddenly pulled the tunic up and off of her. Instead of throwing it aside though, he put it down in front of him so that he could use it to make Natia more comfortable, so that the sticks wouldn't be poking up into her painfully. Considering what she was like, and how her people lived, it seemed fitting that her first time would be outside in the wilderness like this. But now that she was naked, he pulled back to roam his eyes over her body as he drank in the sight of her flesh on full display, "Beautiful…" He murmured softly before looking up into her eyes once again before leaning forwards and capturing her lips for another searing kiss. He was having trouble controlling his lustful desire for her, but he was managed to keep a leash on himself. His desire to make her feel good, to give her mind-blowing pleasure far outweighed his desire to just fuck her. She was too precious to him to simply use to get his rocks off. His hands moved once again, moving up her sides before lightly gripping her shoulders. With his grip on her, he shifted them, moving them so that Natia was now lying down on the tunic that he had stripped from her. He pulled back from the kiss, gazing down into her eyes to see her reaction.