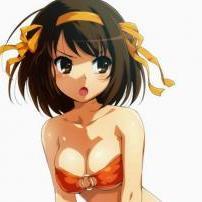 ---
Recently Browsing

0 Dreamers

No registered users viewing this page.

Similar Content

By DeezyLo

Deactived

Let me preface this by stating that if you're interested in any of these, don't tell me the name of the spoiler. That tells me nothing. Tell me what you wanna do that's inside the spoiler.
The Maid
Looking for a Rebound Celebrity x Maid Older Woman
Male student x Female professor Young man x Acquaintance's mother Opposites Attract
Good guy x Bad girl Well-off x Recently homeless General ideas
Athlete x Athlete Athlete x Cheerleader Celebrity x Celebrity

By LadyAwesome713

Hi~
Thanks for clicking~

I am currently in the mood - no pun intended - for a completely smut FxF or MxF RP. I want there to be a little of story development in the beginning of course, but for the most part, this is all smut.

I can play either Dom or Sub, and I don't have much of a preference really. Bondage is a must. Nothing too crazy or intense and not a lot of pain- these are my favorites:

~Orgasm Control (Denial\Forced\Ruined)
~Voyeurism & Exhibitionism
~Tied & Blindfolded
~Some Electro Play (Toys that give small shocks)
~Toys (vibes are preferred, but not limited to)
~Teasing
~Nipple Play
~Light Punishment

What you can expect from me and what I prefer in a partner:

~I am semi-lit and have a one paragraph minimum. I CAN write more than that if my partner is more into the longer replies. I don't line one or two line responses; I need something to work off of.
~I can respond a few times a week at the least. I do work full time and am a full time student, so some days are easier to respond than others. But I can usually get back to you in a few days.
~Proper grammar, spelling, punctuation, etc. are appreciated, however, I know that people make mistakes and I'm not going to rage because you missed a few periods.
~COMMUNICATION - If you don't like something that's happening, let's change it! I want us both to be enjoying!!

Pairings & Plots
~***Tentacle Creature x Human (I have a seriously HUGE craving for this.)
~Slave x Master
~Kidnapper x Kidnapped (Okay - I don't mean a rape scenario. That's a hard no for me. BUT I do enjoy when one character is reluctant and therefore is struggling against the other person, but secretly ends up loving it and does everything in their power to keep it from the other person.)
~Bad Girl x Good Girl (Maybe the good girl owes the bad girl some money, or refuses to do her homework, or something like that and has to be taught a lesson. I'm open to just about anything.)
~Cheerleader x New Girl (Maybe the cheerleader is showing the new girl her place, or she's jealous that the boys are all drooling over her, something like that.)
~Neko x Human (I prefer being the human, but I am willing to play the Neko.)
~Best Friends (I was thinking something along the lines of two friends make a bet, one loses and has to be the other's slave for a day.)
~Thief\Spy\Assassin x Homeowner (One character breaks into the home of another - could be to steal something, or could be a hired gun to gather information on them, or is there to kill them. They get caught and the homeowner does whatever she needs to to get the truth out of her.)

Those are just my favorites. If it's not on the list, that doesn't mean I'm not open to it! Feel free to throw some ideas at me!

HARD NO'S:

~Rape (see kidnapper x kidnapped scenario above)
~Incest
~Age-play (I'm not into teacher x student, babysitter x parent, that kind of stuff)
~Vore\Gore\Anything that goes into the toilet

***For a complete list, here's my F-List: https://www.f-list.net/c/awesomesauce_is_good/
***And my BDSM Test results: https://bdsmtest.org/r/e3UpYzdj

I think that's about it. I'm always open for discussing ideas, so don't be afraid to speak up! If you've stuck around until now, then PM me and let's chat!


By elesei

Deactived

Hey ya'll!
Female switch looking for basically any long-term modern role-play. Any. Literally.
But, since this ad would suck ass if I didn't put any examples on here, here are some:
brother/sister college roommates high school couple experimenting wife cheating on her husband and a myriad of others don't be scared to ask me about anything!


By Aurora Krasyva

Interested in smutty slice-of-life. Sorry if this post is terribly bland, looking for someone to spark my imagination. My preferences are listed, more leaning towards modern with some taboo or maybe even cheating/consequences at the moment but I am very open minded and quite eager and curious to suggestions. Can play any age range or character. 
Original characters are preferred, lets cook something up. Message me! 


By Imouto Kanna

Here are the two roleplays I am looking for partners currently  outside of my main little sister roleplays.  Not currently looking for partners for this but I might in the future so when I am less busy and stressed
They are slice of life with focuse on the relationship between the two people.  Length is important to me, only a couple of sentences every time you respond isn't enough for me to stay interested. There are no particular kinks I want to include in this (unless otherwise noted) but I am open to hearing out yours. The descriptions are vague on purpose so we can flesh out the details together. They are not concrete, just  preferred. Also I prefer to stick with Japanese names for the characters as the setting is Japan.
Older sister/shota brother character sheet:


Mother/son character sheet:
 
 
Important side note: I deal with some mental and physical health issues so sometimes I don't have the energy to be social, I will try my best to communicate when this happens so you're not left on read. So I hope you can be patient with my responses.