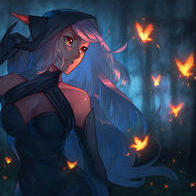 ---
Recently Browsing

0 Dreamers

No registered users viewing this page.

Similar Content

By LanaLayne

I'm looking for a detailed female role play partner who can keep up with me. 


By Sunshine

You are a dead hero, now living in the afterlife in paradise as a reward for your good and selfless deeds throughout your life. You had two wives in your life, with one passing away first before she got replaced by the second one. Now, you were reunited with both of them, with you and them as your young selves.
 
And naturally, they both wanted you. But they didn't want to make the other feel jealous. So they agreed to share you.
 
It was not just them that wanted you however.
 
There was your childhood friend that always had a crush on you, who died tragically in a demon attack at the start of your journey. And there was the princess who could not confess to you as she had her arranged marriage for the good of the country, which turned to be a mistake as her spouse was an abusive bastard who always cheated on her with the maids and courtesans he frequented. And then there was your mage companion who withdrew after she saw how much you clearly loved your first wife.
 
And then there were the many angels given to you by the goddess as your eternal, faithful servants.
 
Harem members:
First wife: Long, jet-black wavy hair. Dresses in black and purple robes. The priestess. A couple years older than you. Died from an illness just five years after you got married, sending you into a spiral of depression. She has a cold attitude, always belittling you and nagging at your foolish naivety. But secretly, she's fond of that side of you. She just hates how you always make her worry. You often argue like your typical married couple, but you would always have sex every single day once you tie the knot. Thinks the second wife deserves you more as she lived longer with you. Has a secret inferiority complex of how her boobs and butt were flatter than hers. Also wished she could be as cheerful and honest as her.
 
Second wife: After five years of wandering, raising your young daughter as a depressed man, you find an ordinary farm girl that charms your heart once again. She's younger than you, and you last far longer with her, until you and her grew old. Has bigger boobs and fuller hips than the first wife. Thinks the first wife deserves you more than her. Secretly feels jealous of her to the point of inferiority complex, thinking that you always love her more. Has a cheerful personality, in contrast to your first wife, whose smile only belongs to you.
 
The princess, childhood friend, and the mage were reluctant at first to be with you, as you already had two wives competing for your affection. However, the second wife couldn't help but notice how sad and lonely they looked. After talking to them, confirming just how much they love you, she agrees, along with the first wife, to share you with them as well.
 
Thank the goddess you have unlimited stamina in heaven, along with the capability to do normally impossible sex acts like penetrating all girls at once.
 
Your harem would also ask to do specific fetishes, settings, or roleplays with you. In Paradise, you could project any imagination you have and make it become true.
 
This is a fluffy yet smut heavy ERP, focusing on how you, as a good hero and husband, would satisfy your wives.


By

Neptune

Thorndown University Brief Prospectus

The Administration building of Thorndown University.
 
This brief prospectus contains all the information that you need to know about the Thorndown University. The facilities it has to offer, the Accommodation for the Students and the Courses that they are free to chose from. Thorndown University is dedicated to educate the minds of tomorrow with the best education that the University can provide.
Thorndown is situated off of Blackberry Falls island, on it's own separate island. It is connected to the main island by the large, elegant bridge that spans the gap. Surrounding the University is a large, dark forest that the University works hard at keeping completely natural. The forest is quite large, covering the remaining island in woodland. Students and Staff are discouraged from entering due to the danger that the forest poses, as it is not maintained and it is not fully understood. It is one of the largest project that the University is undertaking, to study the natural processes that occur in the unique forest. It is protected by law from the protection of tampering as rare species of animals have been documented to reside there, including species found no-where else.
Students come from all over the globe to this award-winning University. It is one of the top Universities in the world, with a wide range of courses from Mathematics to Psychic Sciences. The tuition fee for the courses are cheap, if hard to qualify for with strict entrance requirements. There is more than enough accommodation for every student that studies at the University, which is cheap but kept to the highest standards. It is also welcomed that students find their own accommodation in Blackberry Falls City and commute to the University for their classes.
The University is funded by the UFF based company Keza Corp, and the Blackberry based company EDAN Industries, to improve the facilities on campus and bring the Students the most cutting edge technology. Both corporations have expressed interest in helping improve the quality of the education that Blackberry Falls University offers to the Students that attend the prestigious institute.
This brief prospectus is split up into sections:
Campus Buildings and University Rules. Accommodation. Courses list and Schedule.