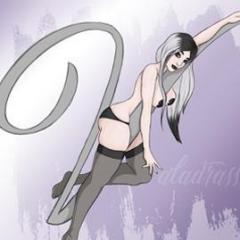 ---
Recently Browsing

0 Dreamers

No registered users viewing this page.

Similar Content

By EnchantedNymph

Looking for a literate roleplay partner to try out some of my roleplay ideas. I would like to add that these ideas would include actually story lines and depth. If interested in any of them feel free to message me and we can see if we can work something out.
~~~~~~~~~~
Alright, I have a few specific ideas I really want to try out. I will list them in order and if any of them interest you feel free to ecchitext me! 
~~~~~~~~~~~~~
¤ Thriller/Smut style roleplay. I'm ready to dive into the spooky season. This could mean your character is some supernatural creature on the hunt, a serial killer, or a mixture of the two. My character would be a victim. I can easily switch characters so if one ends up dying, on to the next!
¤ Character comes to life: I've seen this idea before and really want to try. Basically your character(or mine. Whichever you prefer) is a character created in a story/manga/comic and one day magically they appear before the other. Neither know how they arrived but the character from the book needs to adjust to the real word with the help of their creator. 
¤  Opposing street gangs: Think something like West Side story. Your character is the leader of one, mine the leader of the other and our gangs clash all the time until things get a little too heated and it turns into more than just a brawl. (We can work on the plot more in ecchitext. This is just the general idea)
¤ Lastly I had an idea about my character could be some sort of celebrity and your character an obsessed fan who stalks and eventually kidnaps mine. Bunch of shit could happen in this one so it could constitute as a thriller as well but yea.
~~~~~~~~~~~~~~
Thanks for taking the time to read~ ✌
Now let's get this party started ××


By TinyPandaHero

Well this is my first post for asking for a 1 on 1 role play. What i'm looking for is someone to play a Male character that will be a 'top' to my character. This is able to be MxF or MxM
(YC)Demonic Cultivator X Disciple (MC)
   The Demonic Cultivator picks up his New Disciple off the streets to bring up into the perfect partner for dual cultivation. The Disciple would have a Superior spirit route suited for             Healing and Dual Cultivation but not understanding any of this.  
(YC)Stalker X Model(MC)
  The Stalker has always watched the Model regardless of whatever job they did. Wanting to possess the Model and make them theirs. Using any means possible, kidnapping or rape.
(YC)Emperor X Fallen Royalty(MC)
  The Emperor has taken over the neighboring kingdom into his own hands, Eliminating the Royal family of the fallen Empire other than the beautiful Prince/Princess that they then      took into their own harem by force.
(YC)Master X Slave(MC)
  No real set plot other than the Master getting a new slave to enjoy and break in.
(YC)Serial Killer X Victim(MC)
  Serial Killer has found a new target, though instead of killing them they'd rather just enjoy the taste of the other parties pain and pleasure.


By lemonade

sup,
 
i'm new here. first off, i'm new here, hello.
 
secondly, i wanted to start out by roleplaying one of my most classic roleplays: the orc roleplay. 
it's pretty simple. the whole thing is, woman wanders forest, orc sees woman in forest, orc likes woman.
anyway, ecchi text me or whatever it's called. i don't really like one liners and i'm pretty descriptive in my roleplays. however i don't mind roleplaying with someone below my writing level, as long as they don't sit there and do *i look* all the time, ya know? probably around like 5+ lines or so would be good enough for me.
 
anyway, thanks, and if you want to do this just message me.


By SataiRolePlayingGuy

I thought about posting this earlier, but it was long enough (and much darker than previous ideas) that I thought it should have its own ad.  Since I don't want to risk having too many ads at one time, this may be the last new one for a while.
 
The concept here is a story that starts with a monster and human girl, though that will change over the course of the story. Fair warning again, that it gets rather dark.  Hopefully I am right in my understanding it isn't too dark for the site.
 
 
 
 
 
 
One way or another a monster ended up under the girl's bed. How did it get there? Portal from another world/dimension? A unnoticed egg mixed with other stuff put under there? It is a fairly small detail that does not have to be considered but we can figure it out if you want to. The monster quietly grows under the bed and waits, sneaking out to eat at night. The girl may or may not notice it, but if she does she is too afraid to try to get rid of it. Until one night.
 
The exact nature/shape/features of the creature can be discussed. But one night, once they are both old enough, it comes out and onto her bed. Maybe it is has a stinger, maybe it bites her, one way or another it gives her some sort of toxic relaxant. She is not put to sleep or immobilized, but it relaxes her to the point she does resist at all as it mates with her. She does not care, maybe even enjoys it (at least for the night, while its happening, when she wakes up she is likely not nearly so happy about it, but she might be also confused as to whether it was a nightmare or real).
 
What she does not know at this point is that was only the beginning. Rather than inseminate her, the mating released a fluid into her that slowly begins a process of changing her. It takes a while, and possibly multiple mating sessions, but eventually her mind and body start to change. She first begins to take on physical aspects of the creature, the initial changes can possibly be hidden with varying degrees of difficulty, but eventually she will have to abandon her current life.
 
As more of her body changes, she becomes somewhat more comfortable with the creature and it no longer gives her the toxins. Instead it offers her raw meat from his hunts, encouraging her to eat it. This speeds up the physical changes and starts the mental ones. She feels uncomfortable around other people (which was already somewhat true due to the changes she had to hide, but now it is more hostile than scared). Eventually she snaps and kills someone. That is when all the pieces comes together and she figures out more of what is happening. Her mate had been feeding her human meat. His kind, and what she is becoming, are predators that feed on many things but often crave humans. Possibly with some lingering shame and humiliation, she eats the person she just killed.
 
This is when the mental changes really intensify. At some level she remembers she used to be human, but no longer thinks of herself as one, no longer thinks like one. They become prey and she loses any remaining shame about hunting and feeding on them. At this point she has to find a new place to live, and the male returns, to lead her to a place he had in mind. At this point they mate again, this time her body fully changed, and the purpose becomes to have children, which they both want at this point. 
 
At this point things can go a few different ways. Maybe these creatures mate for life. In which case their 'relationship' is not something we would recognize as love, but act as a couple of sorts and work together and keep having children, more similar to animals who mate for life. Another option would be that the first male's role is done after his first child/children are born and she has to seek out other males of her new kind maybe once a year or so. I like the idea that she can only give birth (lay eggs maybe) to males and females have to be created the way she was. They are creatures who are unique in the world but due to very small numbers and secrecy, have not been discovered yet.  It could continue on to explore the lives for such creatures and the sorts of things they might encounter that humans know nothing about.


By buttercup

Hello, everyone! My name's Buttercup. Here's a little about me, and my preferences when it comes to roleplaying:
I'm looking for roleplaying partners who can write a solid paragraph every reply (more is accepted, but not required), with proper grammar, spelling, and punctuation. I also require that my roleplaying partners write in the third person. I'm entirely ditch-friendly. I don't require an explanation if you want to stop roleplaying--you don't even have to tell me, if you don't want to--and I will almost always be happy to start back up again if you regain interest later on. The only caveat to this is that I expect you to return the favor, and not pester me if I lose interest. I only roleplay through PMs. Sorry, but I ony roleplay on site, and prefer to have a semblance of privacy with it. I always play a submissive female role, and don't double up. I'm sorry if that's inconvenient, but I'm just not comfortable playing dominant characters. I'm looking for roleplaying partners that will play dominant futa character. All of my storylines will involve noncon. If you're going to find that triggering, you probably shouldn't take part in a roleplay with me. Please understand that while I find noncon and its consequences to be intriguing to explore throughout writing, since I find dark writing significantly more interesting, I don't think rape is even remotely acceptable in real life. The rest of my roleplaying preferences can be found here. If all of those preferences are okay with you, feel free to look over the storylines below! They're listed from what I'm most to least interested in, so if any of those interest you, shoot me an EcchiText!
1. Best Friends Forever
YC has been madly in love with her best friend, MC, for years. Unfortunately, MC is straight, and has only ever seen YC in a sisterly light. YC, knowing this, has always kept her feelings for MC secret, hiding, with great difficulty, the fantasies that so frequently invade her head about having MC as a doting, submissive wife. However, longer it's gone on, the harder it's become to hide. So when YC learns that MC, lower on the financial ladder than YC is and miserable with her family, wants to run away, YC says that she'll go with her. She'll get them a home, and they can live freely, far away from their small town and restrictive families. MC is ecstatic, and agrees immediately. If only she knew the plans that YC had for her.
2. His Mine
Long divorced and raising a teenage son on her own, YC becomes infatuated with her son's girlfriend, MC. Knowing how wrong it is, YC tries to curb the obsession, but the more she sees MC, the stronger it gets. She becomes convinced that she loves MC more than her son does, desires her more strongly. Finally, she snaps. The basement has always been her personal studio, a place her son isn't allowed to go. Without his knowledge, she converts it into a sex dungeon, and then uses his phone to invite MC over, deleting the texts afterwards. Pretending that her son had gone out to get groceries and would be back shortly, YC gives MC a drugged drink, and then brings her down to the basement. It's time for MC to finally become hers.
3. Mommy Issues
YC has always had a thing for younger women. Working as a therapist in a high school/college, she has plenty of access to them. Her most recent target is MC, a gorgeous young woman with a troubled background and boatload of mommy issues. Desperate for validation and affection anywhere she can get it, YC takes advantage of MC's trust in and dependence on her, and slowly manipulates her into an incredibly unhealthy relationship. She starts with innocent touches, rubbing MC's shoulders or knees and brushing her hair back from her face, and then begins to escalate. She'll put her hand on MC's waist, or her inner thigh, or the bottom of her back. Then, she begins putting her hands on MC's inner thighs, rubbing her sides and letting her hands drift high enough to touch her breasts. Finally, she makes the decisive move, and kisses her. Though MC initially rebuffs her, when YC responds with aggravation, claiming that she's only trying to show MC how much she cares and that if MC doesn't want it they can just stop having meetings, MC caves. She'll do anything to keep getting validation and affection from her maternal figure, and YC knows it.
4. Devotion // Damnation
MC is a priestess, whose life is devoted to the worship of a goddess. Unbeknownst to her, the goddess, YC, is not the perfect saint the myths have always made her out to be. While she's done many acts of benevolence and rewarded plenty a moral person, YC is also not above using her godly status to get what she wants from the mortals. More often than not, what she wants is mortal women, who she uses as she wants and disposes of when she's done. Because MC is a priestess, her entire life is devoted to YC. She lives in YC's temple, and is not allowed to marry or leave the temple; as part of her devotion to YC, she must remain pure, and mingling with the outside world would only taint her. She's a perfect fruit ripe for the plucking, and YC can't wait to break her.
5. Dollhouse
YC has always had an obsession with Barbie dolls. However, she's never viewed herself as Barbie. In her mind, YC has always been Ken, and she's spent years searching for her perfect Barbie doll. The girls she met online were never quite right, whether it was because their eyes weren't blue enough or their blonde hair wasn't natural or their voices weren't the right cadence. Then, waiting for the bus one afternoon, she hears it: "Hey, Barbie!" She whips around, and there stands MC, being approached by one of her friends. Her eyes are just the right shade of blue, her hair the perfect blonde, her voice entirely sweet, and good lord, her name was even Barbie! It was practically fate. So, YC spent a few weeks stalking MC, learning her schedule and habits, and then YC pounced, kidnapping MC. Sure, her Barbie was a little scared now, but YC was sure she'd come to love living in the dream house with her doting Ken eventually.