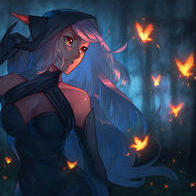 ---
Recently Browsing

0 Dreamers

No registered users viewing this page.

Similar Content

By Sunshine

I am a teenage mage who just made a familiar contract with you, a female spirit. Not knowing that a familiar shares an emotional and psychic connection to her master, I didn't stop my habit of masturbation, even though you can feel what i'm doing. Even my lewd fantasies would be transmitted to you. At first, you decide to keep quiet, not wanting to upset me, but after one month of nearly daily masturbation, you just have to speak up about it.
Besides, you can't help but feel upset how I never fantasize about you, when I fantasize all those other girls I've met.
I'm thinking of your character being somewhat of a prude/unapproachable. Maybe an Angel familiar or a gloomy dark elemental. Someone I would never show my perversion to.


By Crazybrd91

Greetings and welcome to my search thread!
 
 
 
Introduction.
 
 
A bit about myself, I am a 26 year old male living somewhere in the central United states! I have been roleplaying for over a decade at this point and consider myself literate to advanced literate. I love all sorts of settings and plots, from fantasy, to sci-fi, to slice of life. I also very much love romance, and would like to include it in some fashion in almost all of my writing.  One thing to note is I will provide a list of pairings and I would be extra happy to do them, but if you have ideas of your own feel free to present them. I work Thursday through Tuesday. But even on days I work you can expect 1-2 replies depending on how well our schedules match. The very minimum would be 1 a day. As of 2/12/19 I am bedridden so replies will be much more plentiful.  A note about smut, I am cool with any ratio of plot to smut. I love plot and I love smut. Currently I would be craving mostly smut and my star ratings for craving kind of indicate that. But any pairing can be made into a plot or smut based rp, or any mix in-between. I want to talk to you and find out what your craving too and mesh together something that works well for both of us, otherwise... someone will get bored. So please be up front and honest with anything you want. I will do the same.
 
 
A few notes.
 
I only do MxF pairings, and I would be playing the male.
I am looking for long term roleplays.
I enjoy plot and smut in equal portions.I am typically a mirror poster when it comes to length.
Please PM all inquires
I am a Dom so my characters tend to be dominant.
I enjoy OOC very much, whether its random chatter or plotting!
I can and do double!
 
Pairings
 
more stars = more craving
First role would be my preferred role
Once again feel free to pitch your own ideas, or mix them with mine, or just PM me with a general idea and we will brainstorm.
 
 
 
*Slice of life/modern*
 
 
⚛Cop X Druggie stripper☆
 
 
⚛Cop X Drunken stripper☆☆☆☆☆
 
 
⚛Best friend X Best friend battling a sickness☆
 
 
⚛Gangster X FBI agent☆
 
 
⚛Gangster X Drug Mule ☆
 
 
⚛Body guard X drunken celebrity☆☆
 
 
⚛Husband X Drunken wife. ☆☆☆☆☆
 
 
⚛Parole officer X Habitual DUI case☆☆☆☆
 
 
⚛Master X Pet☆☆☆
 
 
⚛Master X Drunken pet☆☆☆☆☆
 
 
⚛Kidnapper X Troubled youth
 
 
⚛Rich man (dom) X Poor drunken woman(sub)☆☆☆☆
 
 
⚛Photographer X Drunken model ☆☆☆☆☆☆☆☆
 
 
⚛Wealthy man X Female Idol of some sort (could be an actress or musician etc.)☆☆
 
 
⚛Drug dealer X Druggie/drunkie Police officer☆☆☆☆☆
 
 
 
 
 
 
*Fantasy/sci-fi/modern*
 
 
 
 
⚛Wizard X Witch☆☆
 
 
⚛Time traveler X Woman of significance he is tasked to guard☆☆
 
 
⚛Super Hero X drunken super heroine (Or anything X drunken super heroine)☆☆☆☆☆☆
 
 
⚛Mutant X Mercanary ☆☆
 
 
⚛Undercover cop X Undercover cop☆
 
 
⚛Smuggler X smuggled person☆
 
 
⚛Alien X Super Heroine from earth☆☆☆☆
 
 
⚛Alien X Drunken super Heroine from earth☆☆☆☆☆
 
 
⚛Famous world conquering alien X Earths greatest super soldier ☆☆☆
 
 
⚛Lycan X Drunken witch (modern) ☆☆☆☆☆
 
 
⚛Master X Pet (with a fantasy twist)☆☆☆☆☆
 
 
⚛Master X Drunken pet (with a fantasy twist. )☆☆☆☆☆
 
 
⚛Starship Captian X Subordinate☆☆
 
 
⚛Man X Drunken genie ☆☆☆☆☆☆☆☆☆☆☆☆☆☆☆☆
 
 
 
 
(Anything star trek I would be super into!)
 
 
 
 
 
 
 
 
 
 
*Fantasy*
 
 
 
 
⚛King X Drunken queen/princess/sorceress. ☆☆☆☆☆
 
 
⚛Mage X Mage☆
 
 
⚛Necromancer X Washed up drunken Warrior☆☆☆
 
 
⚛Warrior X Warrior☆☆
 
 
⚛Mage X Dragon rider☆
 
 
⚛Amateur mage X Master sorceress☆☆☆☆
 
 
⚛Cleric X Archer ☆
 
 
⚛Druid X Druid☆☆
 
 
⚛Warrior X Bandit☆☆☆
 
 
⚛Bounty hunter X Bounty ☆☆
 
 
⚛Planeswalker X Captured Drunken fairy (or other magical creature)
 
 
⚛King of a magic kingdom X Drunken concubine☆☆☆☆☆☆
 
 
⚛Bard X Drunken queen☆☆☆☆☆
 
 
⚛Bard X Drunken princess☆☆☆☆
 
 
⚛Bard X Vampire huntress ☆
 
 
⚛Ninja Grandmaster X Student ☆
 
 
⚛ Wizard X Conjured pet☆☆
 
 
⚛Wizard X Drunken conjured sexual pet☆☆☆☆
 
 
⚛Necromancer X Palladian☆☆
 
 
 
 
Please do pm me if you are interested!


By Daryll

Hello Dreamers! Welcome to my 'ad' thread. Why is it an ad thread? Because Its very broad, just kind of putting my profile/character out there rather than requesting ideas. Ideas in this thead are very barebones, I discuss them and make them more personal between us in the DMs. I have both animated and real life references for my character, so dont let the icon throw you off!
 
Let's jump right into the juicy stuff, no?
 
Where do you roleplay?
I roleplay over Private Message, or on the Forums.
 
Whats your style of roleplay?
I play in third person, and around three paragraphs on average. You can play in whatever perspective you want, and whatever post length you are comfortable with!
 
Will you play multiple characters?
No, I only play Daryll. Sure there are NPCs in the roleplay, but other than that Daryll is my primary and only character.
 
Whats your preferred smut:story ratio?
Really fluctuates day-day and story-story. Modern settings tend to be more smut heavy, 60:40, whereas medieval, post-apocalyptic, and fantasy settings are usually 50:50 to 40:60
 
What're your top kinks?
None of these are required!
Interracial
Big Breasts
Big Asses
Humor
Build-up/Teasing
Age Difference
Cheating/Adultery
More kinks can be found on my f-list (NSFW)
 
Now for the Ideas, these are very basic general ideas, nothing in-depth.
Special Holiday Scenes
-Daryll owns a halloween store, and a customer comes in and needs help trying on costumes
-Daryll is black Santa! Coming down the chimney, who knows whats waiting on the other side of that fireplace?
-Thanksgiving is a very special time in America when everyone gets very generous. Daryll is a homeless man in the downtown part of the city. Who decides to be his angel?
General Modern
-Darylls son/step-sons girlfriend is coming over for dinner, and shows up early. Her boyfriends upstairs playing fortnite, maybe she should help Daryll cook dinner?
-His daughter is having friends over for movie night, and he decides to join them. It seems their short a seat! Who gets to sit on his lap?
-Darylls brothers' wife is a masseuse, and Daryll decides to use that free massage coupon she gave him for christmas!
-Daryll takes the bus/train to and from work everyday. Who could he meet on his commute?
Neighbor
-Darylls taking on a photography hobby and his neighbor offers, or he offers to pay her, to be his first model
-Daryll goes on his daily morning run and his neighbor/their daughter joins him.
-Daryll decides to help out his neighbor with her workout session
 
Daddy/Step-Daddy
-Recently married, Daryll notices his step-daughter isnt very fond of him. Deciding he wants to bond with her, he takes her camping or out on his boat for a weekend.
-Daryll gets into a car accident, not his fault, with his daughter/step-daughter and she gets injured, or permanently injured, and he needs to help her out with day to day things.
-His daughter/step-daughter is trying out for for a sport and wants to get into shape, asking Daryll to help her workout.
-Daryll has recently taken up photography as a hobby, using his daughter/step-daughter as a model!
Prison
-Darylls a long-time inmate at a prison, and grows a liking for the new guard.
-Co-ed prisons, another way the state found a way to cut their budget. Maybe even a nudist prison?
Modern-fantasy
-Daryll just became a vigilante/villain! Whose going to be a speed bump in his path?
-What would happen when you realize your neighbor likes to go out at odd hours of the night, would you follow him?
-Daryll moves into a nudist colony, who does he meet?
Medieval
-Daryll just finally took over a neighboring kingdom, absorbing it to become apart of his own. He killed the previous king/queen and adopted their daughter. Why did he have to kill her parents?
-Daryll applies to be the newest royal guard for the Queen or Princess.
-Daryll is appointed as the new master of coin, granting him a seat in the council
-Daryll is a mute warrior in the forest and saves a damsel in distress!
If you'd like to see more, my <Mod Note: Removed Link as per Section 14, Section 1> has a few more and a few more categories aswell!
 
Congrats on making it to the end! Heres 200+ NSFW interracial GIF(t)S! Feel free to send me a message, and include some of your favorites!


By Mz.Hyde

Hi all, looking for someone to do a multiple girl harem role play with me. Your character would be a male from outside of the country looking to capture women in a slavery legal country and make a harem. I will be playing multiple girls which is not limited to but will include humans, elves, demons, angels, animal girls (no furries), and monster girls. The world will be fantasy set so basically castles and the premise of the role play will be that your character inherits a castle in the country and finds a bunch of old magic slave collars which he can use for enslaving girls. There will be magic included in the world if you want to have your character know some.