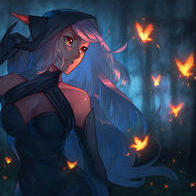 ---
Recently Browsing

0 Dreamers

No registered users viewing this page.

Similar Content

By LanaLayne

I'm looking for a detailed female role play partner who can keep up with me. 


By Hand Solo

Incoming Message From The Big, Giant Head
Yodel! Yodel all the live long day! Wassup, you all! I am Solo, please refer to me as such while here. First off, lemme say, I've never been quite adept at talking about myself, so pardon me if anything info-wise is missing. But, seriously, I am male and of age, hah hah, so no worries there. Been RPing and writing for years and have recently decided to step away from mainstream roleplay for the kinkier side, less for the sex but the freedom such forums allow, like Hentai and the sordid yet diverse tales they tell; sex should be a fantasy cum true, no? Hah hah!
I reside in Manhattan, in the Lower East Side; that's NYC for those who don't know the area, and have lived there nearly...oooh, at least ten or more years, but who's counting?
Sexually, my kinks are varied (see my F-list!) and it's easier to list what I don't like than I do: no guy on guy or homoerotic play (to each his own, though), Futari (why ruin a perfectly good anime Goddess by giving her a dick??? lol), furries or animals or anything non-human looking (but, if say, a housecat turned itself into a hot anime chick, all aboard!), blood (excessive amounts), violence (like cutting off body parts or other extremes), scat/vore/puke/death and most likely more I cannot think of off-hand. It's best you DM me and we can talk about it if you are not sure.
It's not impossible to talk me into a new kink if it isn't one of the above.
My hobbies are probably mundane to you, and I suffer no delusions of being Mr. Cool: I like to write, read (comics and the like, but some non-fiction if it catches my attention), roleplay, daydream, slack-off in bed all day (hah!), smoking, porn/hentai, movies (mostly Indies these days: FUCK HOLLYWOOD!), sci-fi and historical fantasy (or, fantasy of any kind, really), magic, telling stupid jokes (EH JU BEEN WAAARNED!), laughing at my own stupid jokes, music (all sorts), forum-building, and being a cool loner hah hah!
I hope to start a new club here, a place I'll be calling Fuck House!, a hentai-based roleplay about a magic house in an enchanted forest for lovers of straight (aged-up!) Shota lol. It's also very loosely inspired by the Mayohiga no Oneesan series. Would that perhaps interest you? If so, then you should contact me and join the fun!


By Sunshine

You are a dead hero, now living in the afterlife in paradise as a reward for your good and selfless deeds throughout your life. You had two wives in your life, with one passing away first before she got replaced by the second one. Now, you were reunited with both of them, with you and them as your young selves.
 
And naturally, they both wanted you. But they didn't want to make the other feel jealous. So they agreed to share you.
 
It was not just them that wanted you however.
 
There was your childhood friend that always had a crush on you, who died tragically in a demon attack at the start of your journey. And there was the princess who could not confess to you as she had her arranged marriage for the good of the country, which turned to be a mistake as her spouse was an abusive bastard who always cheated on her with the maids and courtesans he frequented. And then there was your mage companion who withdrew after she saw how much you clearly loved your first wife.
 
And then there were the many angels given to you by the goddess as your eternal, faithful servants.
 
Harem members:
First wife: Long, jet-black wavy hair. Dresses in black and purple robes. The priestess. A couple years older than you. Died from an illness just five years after you got married, sending you into a spiral of depression. She has a cold attitude, always belittling you and nagging at your foolish naivety. But secretly, she's fond of that side of you. She just hates how you always make her worry. You often argue like your typical married couple, but you would always have sex every single day once you tie the knot. Thinks the second wife deserves you more as she lived longer with you. Has a secret inferiority complex of how her boobs and butt were flatter than hers. Also wished she could be as cheerful and honest as her.
 
Second wife: After five years of wandering, raising your young daughter as a depressed man, you find an ordinary farm girl that charms your heart once again. She's younger than you, and you last far longer with her, until you and her grew old. Has bigger boobs and fuller hips than the first wife. Thinks the first wife deserves you more than her. Secretly feels jealous of her to the point of inferiority complex, thinking that you always love her more. Has a cheerful personality, in contrast to your first wife, whose smile only belongs to you.
 
The princess, childhood friend, and the mage were reluctant at first to be with you, as you already had two wives competing for your affection. However, the second wife couldn't help but notice how sad and lonely they looked. After talking to them, confirming just how much they love you, she agrees, along with the first wife, to share you with them as well.
 
Thank the goddess you have unlimited stamina in heaven, along with the capability to do normally impossible sex acts like penetrating all girls at once.
 
Your harem would also ask to do specific fetishes, settings, or roleplays with you. In Paradise, you could project any imagination you have and make it become true.
 
This is a fluffy yet smut heavy ERP, focusing on how you, as a good hero and husband, would satisfy your wives.


By Writtingforfun

So this is something that popped into my head and I've been working on for a while (Thank you Powerwolf songs for inspiring me.) and pretty much its a longer term roleplay that can be full of content. First I'll give you a little bit of what I have:
It has been about three years since the hero had slain the Lord of Evil. All seemed well once coming back: Peace came back to the land, the princess was married off to the hero, monsters and humans lived together happily, and everyone seemed to live in perfect harmony. However, this was very short lived because in the short three years that the hero had taken the throne everything seemed to do down hill despite his best efforts. Monsters and hybrids who have bread with humans were cast down to the lowest part of the social totem pole, the latter being considered abominations. Pure humans are on the top of the pole being the most educated and wealthy of everyone along with that the church has risen to power spouting their words that pure humans are ones with the Celestial ones, what would be considered angels and heaven. They have given some of the lower class the ability to be in their army and earn a chance to enter the realm of the celestial ones despite being naturally corrupted as long as they disown everything from their family to their own being giving everything they have to the church to try and "bless", more exterminate, the ones that dare cross the churches path. You would think the king would stop something like this but he is someone who seems to be turning a blind eye to everything. 
For our character(s) it would depend on what you want your character to be. There are some basics that would have to be laid down such as:
Pure humans may learn magic however it is only a limited amount of magic they may access. These may include enchantments of weapons and armors, healing magic, basics like fireballs or lightning strikes but they are not as powerful as non humans doing them, and holy magic but this is something that takes years of dedication and can be very risky.
Pure monsters depend on what they are to learn magic and that can go for any monster/human hybrid, for example:
Slime, human/slime, centaurs, human/minotaurs, and harpies cannot learn magic and have to rely on their physical traits.
Nagas, Lich/humans, elves, and demon/humans may use magic.
(I'm taking a lot from the Monster Girl Encyclopedia cant ya tell lol.)
This Could go many ways that I don't mind like a long adventure with romance that slowly burns for the characters or a pure smut fest. 
If you're interested let me know and we can work out a lot more like characters and other fine details.