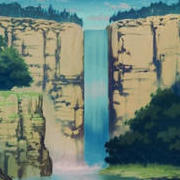 ---
Recently Browsing

0 members

No registered users viewing this page.

Similar Content

By

Neptune

Character Identity Information
Name: Kaylaen Anderson
Age: 21
Gender: Male
Religion: None.
Species: Officially, he is recorded down as Human. However he is a Taru'zenari, which is a human with ancestry from one of the UFFian species. In his case, he has Eldyrannth ancestry.
Origin/Nationality: Ashaen. Born in Blackberry Falls City
Occupation: Kitchen cook for a restaurant.
Physical Appearance
Height: 5'8 (172cm)
Weight: 96lbs (43.5kg)
Eye Colour: Black
Hair Colour: Black
Physical Description: Kaylaen stands at under the average height of a caucasian male. He is extremely skinny, and is slightly underweight for his age and height. As such he has a very slender body build, and is even able to wear children's clothing he is that skinny. He does have some muscles on him, but not an awful lot. But he's still reasonably strong for his weight and size, but he most certainly wouldn't be a match for someone that's taller than he is. He keeps his hair at a medium length, just below his ears around the sides of his head, and just to the bottom of his neck around the back. His face does have a slightly effeminate look to it, with a smooth jawline and high cheekbones. His eyes are slightly angled, and he has a nose that has a small flick on the end. Due to his slenderness, his hips do have a slight curve to them.
Out in public, and his work, he dresses in a rather casual-formal manner, with clothes such as jeans and shirts, both usually dark in colour. His shoes are usually either polished black smart shoes, trainers or even converse. In private, though, he likes to cross-dress and due to his feminine figure, he can do it very well. Sometimes, he might do things like wear feminine underwear when going out and about, but will generally wear masculine clothing.
Personality, Traits and Abilities
General Overview: Kaylaen is quite a friendly, confident individual. He treats everyone with the same level of decency and respect. He never cares about peoples race, species, gender or sexuality. To him they are all sentient species and deserve the right to be treated equally. He judges a person on their merit and their character, not those four qualities. As such, he tends to make all kinds of friends, and tends to get on with a lot of people. That said, he won't let anyone walk all over him. If someone is disrespecting him, or treating others with disdain then he will not hesitate to tell them. He's a very good team player, working well with others when in a team and doing what is needed to get the job done. He never tries to get all the glory, even if means destroying the group work. As a team leader, he is firm but fair, and decisive. He will stand for no silliness and expects the team to work together. He has little patience for those that wish to waste his time, and will tell them to leave. He also does not stand for insubordination, nor willingness under his leadership and will pull people up short for it. But he will give them a chance to redeem themselves. He expects a lot from those under him, but then he also expects the same from himself. So he is not asking for more from them, as he is willing to give himself. Outside of the work environment, Kaylaen is friendly, and kind. He is always willing to help out a friend if they need it. He doesn't like his friendly and kind nature being taken advantage of, though, thus if someone attempts to begin using him for their own advantage, Kaylaen will drop them easily as a friend when he figures it out.
Strengths, Skills and Abilities: Kaylaen has a few small abilities that come from the fact that he is partially Eldyrannth. 
Telepathy: Due to his Eldyrannth ancestry, Kaylaen does have a touch of telepathy. He can, with effort, reach out and plant thoughts into the minds of others. But he can only speak to them, or show them images. He does not have the power to be able to modify anything within someone else's mind. He cannot passively pick up thoughts, for which he is thankful, but he is much more aware of the emotional auras that people give off. Thus he might be able to tell if someone is becoming angry with him. Speed and agility: Due to his small size, as well as the fact that he is extremely skinny, Kaylaen is extremely agile and he can move quite quickly. He can run quite fast, and he can also jump quite far as well. Thus he can easily outrun most human opponents.  Strength: He is stronger than he appears. This is due to the fact that his muscles are more dense than a human's. Despite looking as if he has no muscle mass at all, he is about as strong as an average human male. Strong bones: Another feature that he has inherited from his Eldyrannth ancestry. His bones are stronger than normal for a human. Instead of the usual bone marrow that is found in human bones, his bones have more of a honey-combed structure which gives it additional structural strength. It makes them a lot harder to break. However, it does mean that they are slightly lighter than normal human bones which can cause other complications as well as advantages.  Eyesight: Kaylaen's eyesight is a lot sharper than a normal human. He is also able to see much further, as well as see more colours. Again, this is down to his Eldyrannth ancestry, whose eyesight far outstripes any other species on Earth.  Taste and smell: Again, due to his Eldyrannth ancestry, he has a boost to his sense of smell and taste which work in tandem with one another. His tongue can sample a wider range of flavours than a human can, allowing him to detect much more. Not only that, but he has a special organ on the roof of his mouth, which can process scents better than his nose. This is extremely useful in his line of work. Culinary skills: He is very good at cooking, and prefers to use only the freshest of ingredients with his food. He can make a complete, three course meal from scratch.  Leadership skills: He's quite good at being a leader. He will treat everyone firmly, but fairly. He uses the strengths of those within his team to their best potential, and can help them either improve on their weaknesses, or get other team members to cover them.  Weaknesses: 
Mortality: He is still a human at the end of the day, and thus he can be killed in any number of ways through poison and fatal injuries. Telepathy: Using it too much can cause crippling headaches, to the point where he would be physically sick due to the pain. Quite often, because he needs to put in the effort to push his mind out to touch another's, people are aware of what he's doing. Thus he can never be subtle about it. He also can't pick up the thoughts of others. While this prevents him from being overwhelmed by random thoughts, it does prevent him from engaging in two way telepathic exchange unless the person who is speaking to him plants their thoughts into his mind as well. Speed and Agility: Due to how quickly he can move, if he stumbles or is blocked from moving, he has the greater chance to accidentally hurt himself. In a fighting situation, or even fleeing from his opponent, this can cause his advantage to work against him in quite a big way. Strength: He still needs to train for his strength, thus he needs to go to the gym often to keep himself at peak physical strength. That said, despite his muscles being denser, there are still others that are much stronger than he is. So while it elevates his strength to that of the average human male, it might not grant him that much of an advantage. Bones: His bones are lighter, and thus means that his weight does not match with his body shape or muscle mass. This means that it is easier to throw or push him, because he doesn't have the weight to resist. It also might result in situations where there are strong winds which easily pick him up.  Enhanced senses: In regards to the three enhanced senses; eyesight, smell and taste, it can be easily to overwhelm them and render him incapacitated. For example, a sudden flash would render him completely blind for quite a while depending on how intense the flash was and how close it was. His taste and smell, because of how linked they are, can be easily overwhelmed by something that either tastes or smells horrendous. Due to how sensitive they are, it can be easy to cause him to throw up which is a significant distraction. Ambitions (Hopes/Dreams): He wants to be a famous Michelin Three Star Chef, and owning his own restaurant that he builds from the ground up. He plans on calling it "The White Lily" in honour of his mother.
Hobbies and Interests: His main hobby and interest is his work; cooking. He loves cooking, and will never cheap out or become lazy when it comes to his meals. He likes gardening, and has a small herb garden on his balcony which he uses for fresh herbs. He likes to read whenever he has the time or inclination to, especially if he's in the mood to just stay at home and spend some time with himself. If not, he does like to go out to places, and he likes to go shopping even if he doesn't need anything or even intending to buy anything.
Personal Sexual Information
Sexual Orientation: Pan-sexual
Turn ons:
Having unprotected sex. Having multiple partners Being on the receiving end of anal sex. He really likes it. Making love to someone, and being made love to. With a partner, he loves the intimacy between them and loves being close to them. With a stranger, or a friend, he loves the illusion of intimacy.  Having friends with benefits.  No Strings Attached sex that don't require any commitment past the sex. Giving, and taking it roughly. Sometimes he is in the mood for a rough, hard, furious fucking. When fucking someone, he loves to dig in nails into them, pull their hair, choke them and kiss roughly. When being fucked, he likes those things being done to him. When with a masculine partner, he likes to crossdress for them and to be treated like a woman.  Turn offs: 
Causing, and receiving pain from his partners. Scat, vore, gore and golden showers. Penis Length: 10" from the base, to the tip. Which, for a human, is quite respectable.
Breast Size: N/A although when cross-dressing he might wear a padded bra that would give him A, or B-cup breasts.
Sensitivity: His cock is, on average, the same sensitivity for a normal human male. His arsehole, though, is a little more sensitive than other humans, making being on the receiving end of anal sex quite pleasurable.
Additional Sexual Information: Kaylaen will have sex with anyone, regardless to their gender, and species. If he finds them attractive, he will fuck them. However with individuals that have cocks, he much prefers being on the receiving end on sex, than the giving although he makes a good switcher. When it comes to a committed relationship, he much prefers males over any other gender, but will, for example, have a girlfriend. However, he isn't a monogamous in relationship, at least when it comes to sex. His cock also seemed to have slight protrusions running along the underside, which add extra texture to his cock. Not only that, but his cock has very strong pulses to them when he is aroused. If aroused enough, it might even pulsate to the point where it seems to vibrate softly. He also has an extremely impressive stamina for a human, and is able to have several orgasms in a single sex session.
STD History: Clean.
Extra Information
Father: Talius Lindemann
Mother: Lily Anderson
Siblings: None. He is an only child.
Grandparents: The only ones he knows about are Jake Anderson and Helen Anderson, both of which died when he was only three years old.
House: He currently lives in a small, one-bedroom flat in the suburbs of Blackberry Falls. It is more of a studio flat, than a regular flat. He lives on the top floor of the three story building. There is a garden behind the property, that he shares with the other tenants but he doesn't tend to use it. For the last staircase, leading to the top floor, he has a locked door which he has a key to access. It leads into a small landing that has the stairs leading up. But there is also a small door that leads onto a small, private balcony. For further details, read the extra info on his flat.
Car: None.
Pet: None. He doesn't have the time to be looking after pets.
Additional information: He does occasionally take drugs, more notably cannabis and LSD although he might do cocaine on very rare occasions. And he will only take drugs when he knows he has the time to.
History
Awards/Commendations: None.
Criminal Record: Clean.
Medical Record: He broke his arm when he was ten years old, but he has not had any significant medical treatment since.
Bio: Kaylaen grew up as a single child, to a single mother. His mother was low to middle class, and lived in a reasonably sized two bedroom house. She worked as a wedding planner, and was considered one of the best in Blackberry Falls. She would often take him with her, whenever he wasn't in school, to be with her as she went to weddings and went to planning sessions. He would often try and help the best he could. The one thing he loved helping with, was planning of the menu. His mother noticed rather quickly that he was quite talented in picking out a good menu for the guests and encouraged his interest. She also began to teach him how to cook from a young age, an activity he loved. He seemed to know exactly how much seasoning to put into the dishes he cooked so that they always came out at their best. He helped his mother, when he was able to, to come up with mouth-watering food for the wedding guests of the weddings she planned. She always put aside a little money in a bank account for him, whenever he did, so that she could give it to him when he was older.
Lily was someone that Kaylaen much admired as he was growing up. She treated everyone with the same level of base respect, never said anything mean about anyone and never spoke bad behind peoples backs. She was always upfront and honest with them, and was never afraid to speak her mind. She also did not let anyone walk all over her, and take advantage of her. She was a good team leader for those that worked for her, and she always treated them fairly and always told them upfront when she thought they were doing something wrong. She was a strong, confident woman that, while very independant, was not afraid to ask for help from others when she knew she needed it. She believed in working hard, and would never cut corners or give up easily when faced with a problem. She treated her son well, and always encouraged his interests and instilled in him the qualities of hard work and treating others equally while not playing into peoples victimhood, or having his own victimhood.
Kaylaen did well in school, effortlessly getting top grades. He was not only intelligent, but the values his mother taught him helped keep him focused and working to the best of his abilities. He was reasonably popular in school, although he only had a small group of close friends. Everyone knew him, and everyone liked him. He wasn't one to stand for bullies, though, and would always stand up for classmates that were picked on. This did result in him getting into a fight a few times, but he always argued that he was defending someone else who wasn't able to stand up for themselves. His mother never punished him, even though he was suspended numerous times from school.
When he was ten, he approached his mother with a question he had been thinking on for the last few years. He wanted to know who his father was, and why he wasn't there in his life. As much as he loved his mother, he couldn't help but wonder. When he asked, Lily sat him down and was quite honest and brunt about it as she didn't like to hide anything from him. In her opinion, if he was old enough to ask questions, he was old enough to get answers. She explained that she didn't know who his father was. He was a stranger to her, one that she had met one sunny September day. She had come across him loading supplies into a car, and she offered to help him. He introduced himself as Talius Lindemann, and he had a strong German accent. The one thing she found really sexy about his voice, was that it was so soothing to listen to and he had a habit of rolling his r's. After she had helped him, he gave her some money and thanked her before he got in his car and left. She didn't see him again for several days, where she bumped into him in her favourite café. He bought her a drink and the two spoke. He told her that he wasn't staying long in Blackberry Falls, but he wanted to see her again before he left. The two ended up having a couple of dates, and in the end she had sex with him. She explained to Kaylaen that he was what she considered her miracle child. Until she fell pregnant with him, the doctors had told her that she was completely sterile and that she had no chance of ever having a baby. But, somehow, Talius had managed to get her pregnant. Unfortunately, he had left before she found out. She didn't feel angry at him, as she knew that it was highly unlikely that he would have known. If anything, she cried in happiness, and felt blessed to have met him because he had unknowingly given her something she had wanted her entire life. A child. She told Kaylaen that even though his father was not around, he was a good man. Kaylaen listened, enthralled. While he wished he could met the man that was his father, he understood that his father didn't know about him. His mother promised him that if she could, she would have Talius in Kaylaen's life. He told her that he understood, and that he didn't feel angry towards either of his parents, and he told her firmly that he loved her. If anything, the conversation helped bring him closer to his mother. 
He continued to work hard at school, and as he grew into his teenage years he completely took over cooking at home. His mother often worked long hours, and sometimes wasn't able to cook a meal for him in the evenings. So he would always make sure that she had something good to eat when she eventually did get back. It allowed him to expand on his skills, and to invent new dishes. He loved cooking and thus didn't mind doing it. As soon as he was sixteen, he applied for a part-time job at a local restaurant and became one of the cooks which allowed him to get some real-world experience of the career he wanted. He loved every moment of it, and loved the challenge of being in a demanding job, working at intense speeds to churn out food for their customers. When he was eighteen, he attended Thorndown University, still keeping his job as he studied a culinary course to be able to better run his own restaurant in the future.
He finished the course in two years, leaving when he was twenty. He was extremely proud of himself, however his happiness was short-lived as his mother had to break the news to him that she had a brain tumour that was inoperable. He had to watch, as for the next few months, she began to fade away as the cancer was taking its toll. Despite this, she encouraged him to continue as she wanted to see him continue working hard in her final days. He applied for a job at one of Blackberry Falls most notable restaurants, The Wolfae, as one of the cooks. This job was even more demanding than the previous one, but his outstanding skills and his hard-working ethic settled him into place very quickly. His mother was extremely proud, as The Wolfae was known to be one of the top fifty restaurants in the world. A month after he got this job, Lily passed away, leaving him alone in the world. He was devastated, but he wanted to succeed, for her.
Days after her death, a lawyer came to see him with his mother's will, which had left everything to him. At first, he didn't know what to do, but he went over to her house to have a look around and to be in the place he had grown up. He walked around the empty house, grieving the loss of the only family he had known. As his grandparents had died when he was so young, he didn't remember them. And as far as he was aware, his mother had no siblings. When he went into her bedroom, he found an envelope on her bedside table, with his name on it. He picked it up and opened the letter, which she had written just before her death;
'My dear little Kaylaen,
It's time, my fine young son. I have lived a happy, full life and I am satisfied with how things have turned out. My only regret, is not seeing you achieve your dreams with my own eyes. But I know you will do it, and I am so very proud of you. I have loved you from the very moment I first laid my eyes on you. You were such a beautiful baby, and you have grown into such a handsome young man. 
But I am going to embark on the next journey in life. My time on this world has come to an end. It is time for me to go, but this will not be the last time we will speak. I will be waiting for you, so that I can again hold you in my arms. Because I saw him, my son, for who he really was. A Divine. A God. He came to me, in my last moments. I saw him for who he truly was, and he showed me things that I cannot even begin to put into words. I am going with him, my little Kaylaen, to live on in their world. And when it is your time, he will come and give you the same chance. 
I know you will not be able to afford to live here with your current money. Thus, I shall impart some advice to you. Put the house up for sale, and put the money into savings. It is my last gift to you. Use the money to put towards opening your own restaurant. This is the last thing I can do for you, my son. Use the money wisely.
There is one thing I wish for you to keep. In the top drawer of my bedside table, is a necklace. Wear it. If you do, the Divine will watch over you and protect you from harm. 
I cannot wait to meet you again, son, and I wish you luck.
With my deepest love,
Your mother xxx'
Kaylaen wasn't sure what to make of the letter at first. He had no idea that his mother was religious. She had never spoken on it before. He himself wasn't particularly religious. He had no real opinion on the subject, but a part of him really did wish that she was somewhere better, and that he would get to see her again. He went to the bedside table and opened it up, where he found a small jewelry box. He picked it out and opened it up to see a necklace made from gold. The chain was so delicate that he also had trouble seeing the links of the chain. The main decoration of the necklace with a tree made from gold. It was attached to the chain by the top of its leaved branched, before going down into the trunk and into what looked like the roots of a tree. He remembered that his mother had always worn this. Only ever taking it off at night. With a sad smile, he put the necklace on, and pocketed its box.
Before he could sell the house, he had to clean it out and sell the furniture that he could. Each time he sold a piece, he put the money into a bank account to put towards his savings. He bought himself a small flat, that was essentially a studio apartment. While it wasn't what he wanted in a home, it would do until he could sell the house and he can open his own restaurant and use the money generated from that to buy his own home. Once he had everything cleared out, and made any fixes that needed to be done, it had been six months since Lily's death. He approached an estate agent and had the house put up for sale, for a hundred-and-fifty-thousand Blackberrian Dollars. He continued working where he was, keeping himself busy to get his mind off his mother's death. To this day, he still works there, and the house had not yet been sold. 


By

Temaelrin

Friendly Notice: I am currently in the process of updating my Character ID's and Extra Information topics relating to Blackberry Falls, please be patient with me as this is neither a quick or easy process.
The United Federation of Families [UFF]
1) Introduction
The United Federation of Families is a peaceful collective, made up of groups of races who wish to completely co-exist with each other in the name of cooperation and peace. [it is the beginning "roots" of the EPSI Federation which has people new and old.] 
The UFF was founded by Talivana Eldyrannth, Kaylarvana Eldyrannth, Triavana Eldyrannth and a group of Coda'zotoxi, and the UFF consisted almost entirely of Coda'zotoxi people. But it had always been open to the 'Children of Epsus'. 
The five races who entered this agreement in the 21st Century are:
Keza'maraki - Human's believe they look an awful lot like Neko's. Mako'demeri - Human's believe they look an awful lot like Wolf Anthros. Coda'zotoxi - Human's believe they look an awful lot like Fox Anthros. Zeta'muluri - Human's believe they look an awful lot like Dragon Anthros. Xeno'vitiri - Human's have not ever seen a Xeno'vitiri. (BUT if they did, Angel/Demon). DO NOT CREATE A CHARACTER WHO IS ANY ONE OF THESE WITHOUT PERMISSION.
This is an original creation, yes using elements of both real life and stuff already done but the people, their culture, their history, is work of the collaboration and hard work that those who are allowed to play it have put into it. Whilst it's okay to have a fox anthro for example; and I can't stop you. It's not okay to have a Coda'zotoxi unless I, or anyone authorised say's so. Also the surnames (species names) fit a certain format that can't be replicated by accident, do not attempt to make your own species that replicates the format of their names as there is a specific reason for their format. I purposefully picked specific patterns so that it couldn't be "Just by mistake". Once again; can't stop you from having something similar, but not if it conforms to all of the patterns. (Thanks.)
Before then, the Keza'maraki and Mako'demeri were at war since the 13th century, and more recently the Zeta'muluri and Xeno'vitiri went to war. 
The UFF did have a temporary HQ in Blackberry Falls. The location of which was classified and driving to/from had to be done blindfolded with a contracted driver. The location of this is still classified, and the driver has since been assigned another job with the UFF. What is housed there today is unknown, not many people are aware of it's existence and even then where exactly it is no one seems to know. It's not likely anyone in the UFF knows either due to the security protocols. [Not known by anyone other than SMFoxy's characters; as it's a CODA base]
In 2010 they proven that they had military experience (thanks to the joining of the joint Keza and Mako forces) as they along with Keza Corp retook the Keza'maraki Mansion and shut down the biggest illegal prostitution ring on Blackberry Falls Island. They worked with Blackberry Falls Police and the Military bases in open ended co-operation. However they denied the transfer of the prisoner to the Police and Blackberry Falls City Magistrates Court on the grounds that he was being detained by their country's Prime Minster (Talivana Eldyrannth), who would be putting him on trial for crimes he committed against the UFF people. The trial was monitored by the Courts of the US and UK, and it was found to be extremely fair, unbiased and honest. 
The UFF sentenced their first prisoner of war in 2011, and arrested him for 63 counts of murder, piracy, mind control, forced prostitution, and torture. He pleaded guilty but showed little to no remorse. The host of the "Corrupted Symbiote" was apparently long dead, as the Symbiote had completely taken control and deleted Aleksandr's memories and existence. A crime now illegal under UFF law, although some have said that this is simply untrue; he's just suppressing the host the same way he suppressed his victims. 
The UFF was a small country/state that had it's own laws, and still does today. It's existed since the 1800s and was founded by Coda'zotoxi race as they were not fighting any wars. At the time the Xeno'vitiri weren't on Earth and the Zeta'muluri were fighting with other species but hadn't had a war with Human's since the early 1200s. The UFF doesn't conform to the Human Rights Act; as they are not humans. However they do have their Universal Right to Life Act, which covers everything from Human to Alien. They also have a very strict First Contact With New and Alien Lifeforms Protocols. Although todate they neither confirm nor deny any contact with Alien Lifeforms, with outside governments. 
They have made contact with two Alien lifeforms. One in 1942; the Xeno'vitiri and in 2011; the Aymar'telshen (the Aymar). There is strong suspicion that the Aymar might have interacted with the United States Government on the same day in 1942 (Roswell Incident?). Although there are things recently come to light that have shown the Aymar as far back as the 13th century at least according to the Sin-Clan Keza'maraki Royal Family Children in Selil who described "Derrick" to be a purple changeling associated with fun and adventure. Although he was seen as some kind of imaginary friend to adults that is until he ran into King Rowan [Who was a prince at the time, although the UFF don't actually know that yet. Their history to them is pieced together from different perspectives and a lot of it is destroyed]
The UFF have quickly become a country fuelled by the Keza Corporation it's economy is very good and provides work for construction workers who maybe otherwise out of work in Blackberry Falls. After the UFF v Aleksandr siege; what was left of the country was burning and as it had been one of the driest and hottest summers on record. Taking nearly a week to put out the fire, began the clean up work that never stopped. The full land boarder was opened up, previously fenced off, as everything across the bridge and 2 miles south of the northern lake was Tripp's private country. Tripp then sold his country to the UFF Government for just £1, (The biggest loss he's ever made) which he then gave back to the UFF Government as a 'National Party Fund' donation and Tripp gave the land to the Government of the United Federation of Families. Ever since things have progressed quickly and the UFF has... Ambitious plans. 
This is a first draft, mistakes and errors might be abound, but it's definitely not complete yet.

When coming from Blackberry Falls:
Blackberry Falls City - 666 Miles (In the direction of the top of the picture, which in this case is East)
--Blackberry Falls Boarder Patrol and Customs Outpost--
Genitals Cross Over
International Bridge over Blackberry River (1 Mile)
--UFF Boarder Patrol and Customs HQ--
Xantall'ar City - 48 Miles (In the direction of the south of the picture, which in this case would be south-south west from the bridge.)
Genitals Cross Over:
Blackberry Falls drives on the RIGHT. The UFF drive on the LEFT. At the Blackberry Falls end of the bridge you will be required to change lanes and starting from the bridge into the UFF, drive on the LEFT of the road.

(Picture representation only)
--------------------

Uh no. The UFF doesn't look like this yet. It's what they envision Xantall'ar to look like in 2025.
Location: South-west Blackberry Island (Directly west from Blackberry Falls City)
- Capital City: Xantall'ar
Demonym: UFFian [U-F-F-Ian]
Government: Federal Grand Council (Libertarian)
- Prime Minister: Talivana Eldyrannth
Currency: The UFFian Kredit.
Date Format: dd/mm/yyyy (24 hour time)
Drives on the: Left
Calling Code: +666
ISO-3166-3: UFF
TLD: .uff
Current Population (2016): 4.66 million (+43.82%)
-2015 Population: 3.24 million (+166.6%)*
-2014 Population: 1.95 million (+142%)*
-2013 Population: 786,290 people
- Adult Unemployment Rate: 0.09% [4194 People**]
Language: Kezamarakian, Makodemerian, Codazotoxian, Zetamulurian, Xenovitirian, Eldyrannthian
- Also: British, English. American, English. Kezamarakian, Russian.
Trade Status: Open
- Major Imports: Building Resources, Luxury Goods
- Major Exports: Cannabis, Fish, Food and Drink, Technology, Clothing Goods and Oil.
* Caused by Relocation and Immigration of UFFian species. 
** This is caused by the strict immigration policy. These people are either 'Between Jobs' or 'Reacquiring Education' (65% of the Unemployed), 'Work Outside of the UFF' (25%) 'Disabled/Unfit for Work*** (5%) or 'By choice' (5%)
*** Disabled rates are so low because of Nanotechnology. 
The UFF at the moment is a hive of activity, you have various companies and corporations holding up the economy and you have construction constantly going on. One of the first things started was housing which is still in progress today with two million homes built just last year. The key has been Blackberry Falls unemployed skilled construction workers which have been invaluable to the UFF, and paid generously, some now have jobs secure for at least a decade. The city of Xantall'ar the country's capital, is also being built with several buildings being worked on at once.
The UFF had to seriously relax it's immigration policy in 2012; priority was given for people who were skilled construction workers or other skilled workers that were otherwise out of a job, but in 2015 this was restored to normal status It also allocated some for Corporations, Staff and Families so corporations could move their operations over to the UFF and start planning and building their own Headquarters in the city. 
The population is mainly made up of Keza's, Coda's, Zeta's, Xeno's and Mako's. There are some humans living here of various ethnicities, a quarter of these humans are descendants to a 'Child of Epsus' meaning they have either Keza, Mako, Coda, Zeta or (least likely) Xeno DNA in their genetic make up that aren't found normally in humans. This usually shows up with their eyes, physical shape, sexual appetite, stamina and accommodation.
The UFF have a simple goal at the moment; as they're in the Golden Age as it were their goal is to build Xantall'ar City (or at least the majority of it) by 2025. Whilst it's still a long way off progress can be clearly seen every month and there are; which can be seen at build-rome-in-a-day.uff a website which shows brilliant, level and accurately positioned pictures like a fade into existence-montage. The identity of the website owner is unknown. [Kim Keza'maraki]
Major Corporations and Companies: 

Name: Keza Corp
Full Trading Name: The Keza Corporation
Field of Expertise: Multi-industry, from Agriculture to Technology. 
Extra Information: .:: United Federation of Families : The UFF ::. | .:: Keza Corp: The Keza Corporation ::.

Name: Xendaar Corporation
Full Trading Name: Xendaar Corporation
Field of Expertise: Global Consumer Goods, usually luxury items.
Extra Information: .:: United Federation of Families : The UFF ::.

Name: Centovski Corp
Full Trading Name: Centovski Metal and Minerals Mining Corporation
Field of Expertise: Mining
Extra Information: .:: United Federation of Families : The UFF ::.

Name: Aizu & Aizio
Full Trading Name: Aizu & Aizio Corporation
Field of Expertise: Retail Corporation
Extra Information: .:: United Federation of Families : The UFF ::.

Name: Codaphone
Full Trading Name: Codaphone Telecommunications Corporation
Field of Expertise: Telecommunications, Mobile Telecommunications and Broadband/Fibre Optic
Extra Information: .:: United Federation of Families : The UFF ::.

Name: Epsi-Dynamics
Full Trading Name: Epsilon Dynamics
Field of Expertise: A very classified Science Research and Space Program Corporation.
Extra Information: .:: United Federation of Families : The UFF ::.

Name: Hax Industries
Full Trading Name: Haxor Computer Technology Research Industries
Field of Expertise: Again, a very classified cyber security, computer technology research, and security.
Extra Information: .:: United Federation of Families : The UFF ::.

Name: Pegasus News Corp
Full Trading Name: Pegasus News Corporation
Field of Expertise: News, Media, Television
Extra Information: .:: United Federation of Families : The UFF ::. | The Pegasus News Corporation
Friendly Reminder: Respect this country's laws, I don't have to tell you that in real life if you break a country's laws you'll be punished by that country's legal system. It doesn't matter what country you come from or who you're friends are. Unlike Blackberry Falls City, Bribery will most likely get you locked up. [Government here is not corrupt, nor are the police]


By

Neptune

This image is used in the opening post of the Blackberry Café OOC thread, to represent a place where roleplayers can come together and talk to one another.


By

Neptune

This is the picture that is used in not only the Home page of the club, but also in the opening post of the main roleplay thread.


By

Neptune

This is the image that represents my character, Talrin, in his natural Eldyrannth form.